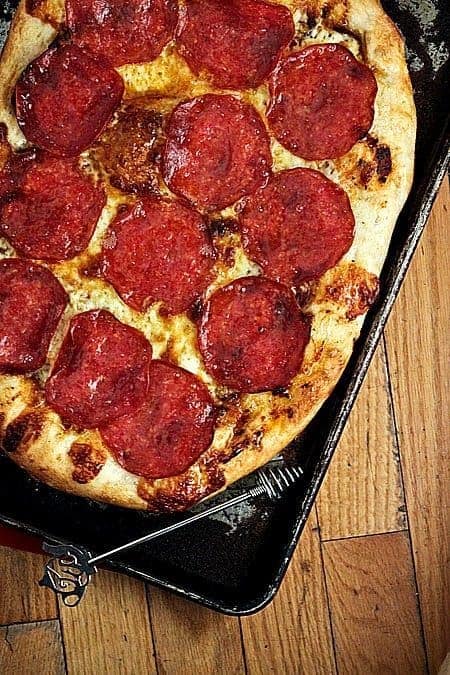 You know those things? Those things that if you change one thing, bad things will happen? Pizza is NOT one of those things. Not even close. Pizza is one of those gloriously erasable and re-writable canvases that can take on any personality at any time as long as the flavours you pile on top of it work together. They're works of art. They're perfect for every occasion. They're… well… how do I say it? They're perfect.
And once in a while, a pizza comes along that makes you stop, scratch your head, and consider just how something so very simple could turn out so very wonderful. This pizza is one of those things.
My good friend Meseidy of The Noshery posted a picture of a pizza she was eating at a pizzeria in Dallas a couple of weeks ago. It was called a 'Pig and Honey' pizza and according to her description, was pretty much a salami pizza drizzled with honey. I was intrigued, so I grabbed a piece of salami from my refrigerator (because FIVE BOYS and I always have salami, that's why),  drizzled some honey on it, rolled it up, popped it in my mouth and swooned like Johnny Depp was standing in my kitchen flanked by George Clooney and Benedict Cumberbatch offering to help my husband with some construction projects around our property and then do some poetry reading while I served tea. Mrawrrrrrr. (What? Like your fantasies are better?)
I knew at that moment that the pizza would have to be made. And soon. All but one of my boys are serious salami aficionados, so I knew it would be a happy, happy thing for them, too. I wasn't wrong. I was way right. There's just something about the garlicky, salty, porky deli-meat when it crisps up around the edges. One of my boys said it was like everything wonderful about bacon but with salami. I will second that. But there's a magic when you take a chewy pizza topped with provolone and mozzarella with the crispy, ruffled-edge salami perched on top and drizzle just a wee bit of honey on it. It wakes up and sings, I tell you.
This pizza is being added to our holiday guest meal rotation. It takes the prize by virtue of the fact that I almost always have all of the requisite ingredients, it smells like a million bucks while it's baking, it's simple to make (no whacky, difficult to source ingredients or crazy equipment needed), it's impressive to behold, and even more impressive to eat.
Should you show up to sing a carol at our home -you intrepid soul, you, ploughing through snow and up a four hundred foot driveway- you are likely to have a slice of this shoved into your hands to warm you. Because really? That's just how we roll. Pizza.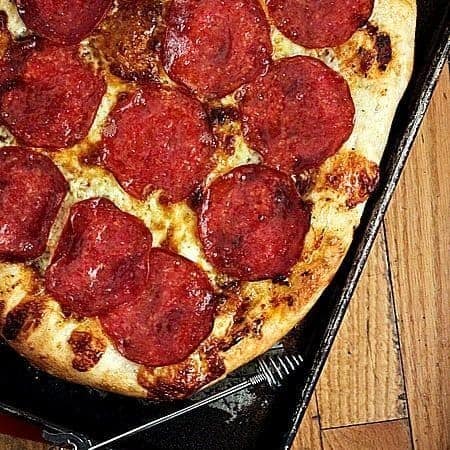 Ingredients
2

tablespoons

olive oil

1

tablespoon

semolina or corn meal

1

pound

pizza dough

homemade or purchased

3/4

cup

pizza sauce

homemade or purchased

7-8

ounces

KRAFT Natural Cheese shredded Mozzarella

about 2 cups

4

slices

Kraft Provolone cheese

12

thin slices hard salami

2

tablespoons

mild honey

or more to taste
Instructions
Preheat the oven to 475°F.

Drizzle 2 tablespoons of olive oil over the bottom of a rimmed half sheet pan. Sprinkle the semolina or cornmeal over the surface evenly. Use oiled hands to press the pizza dough over the bottom of the half sheet pan, stretching the dough as thinly as possible without tearing it. Try to get the dough to reach into the corners and up to the edges of the pan. If the dough is fighting you, let it rest for 10 minutes then try again. The dough should be more relaxed at that point.

Spread the pizza sauce evenly over the crust, then scatter the mozzarella over the top. Tear the provolone slices into 2-inch pieces and distribute that evenly over the mozzarella. Arrange the salami slices on top. Bake the pizza for 15 minutes, or until the crust is deep golden brown around the outside, the cheese is melted and bubbly, and the salami pieces have curled and are crisp on the edges. As soon as the pizza comes out of the oven, drizzle the honey mainly over the salami pieces, but also over the outer edges of the crust. Cut into rectangles and serve immediately with many, many napkins.
Nutritional information is an estimate and provided to you as a courtesy. You should calculate the nutritional information with the actual ingredients used in your recipe using your preferred nutrition calculator.
Do you need more fantastic  appetizers or Christmas recipes suitable for entertaining guests? Please visit KraftRecipes.com.
Disclosure: This post was sponsored by Kraft Foods, Inc. and I am a proud member of the Kraft Tastemakers 2013 team. All recipes, photos, and opinions remain my own.