I spent nearly seven years as a vegetarian; those years were spent subsisting mainly on hummus, cheese and big green salads. I long ago enthusiastically re-entered the omnivore world* but still spend a great deal of time conveying hummus to my mouth on various crudites and pita chips.
Hummus is the first rite of spring that I observe every year and it's on nearly every family-get-together-buffet. When the weather warms up my brain starts nagging me, "Hummus. You want hummus. You need some hummus. Make some hummus." And like all good voices in the head, it only goes away when it's obeyed. But I jest. I don't have voices in my head nagging me about hummus; they nag me to eat chocolate. But that's another cuppa tea…
The point is this. When I posted about the dreadfully addictive Mediterranean Hummus Pizza I mentioned that I was willing to share my hummus recipe if anyone wanted it. I assumed everyone had their own hummus recipe and that everyone had spent years as a vegetarian living mainly on hummus. That's the way my thought process works, you see… "If I have done it, everyone has done it, too." Let's just say this; apparently not everyone went through a seven-year vegetarian phase the way I did. And equally apparently, not everyone has made a cubic ton of hummus over their lifetime. I see this now. I understand. And I'm going to show you the way.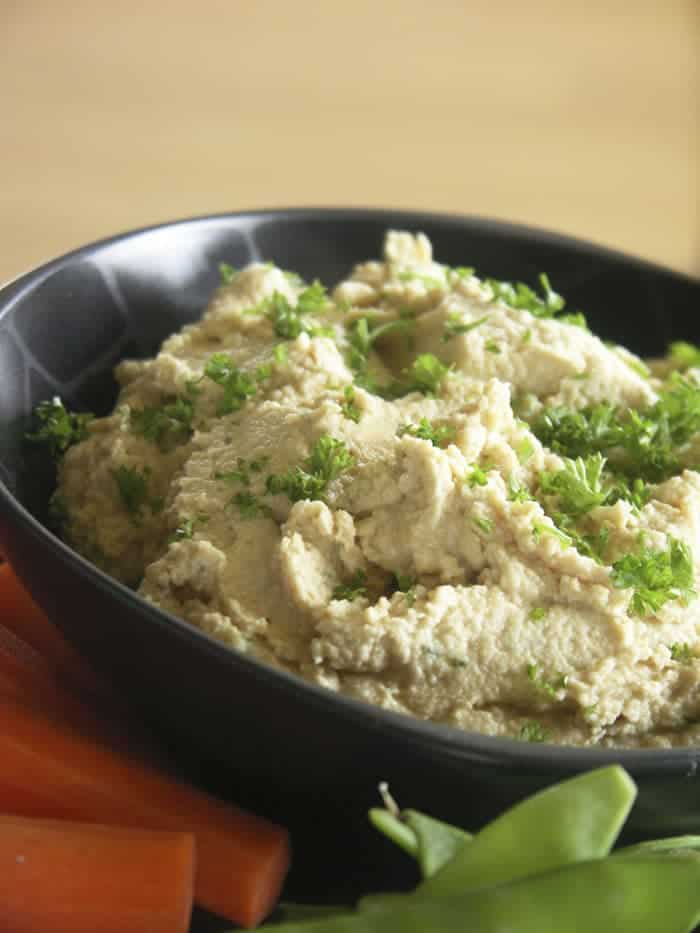 Extraordinary hummus is so easy to make at home that you'll never pay for deli-case hummus again. Unless, of course, you're away from your home and food processor and are struck with a sudden, unabating craving for hummus and there is a tub of Tribe of Umpteen Sheiks staring you in the face. In that case, I fully stand behind spending way too much money on a snack. It could be worse, after all; you could be spending it on Ho-Ho's. *
*Note to self: Put Ho-Ho's on grocery list in code so the kids don't see it. Hide the Ho-Ho's in apron pocket, hide in closet and apply directly to mouth when needed (i.e. when kids are fighting, arguing, breathing, etc…)
There are a couple of camps in the hummus loving crowd; the smooth hummus lovers and the rustic hummus aficianados. The rustic-hummus crowd is a good one to which to belong if you don't own a food processor. It is full of coarse pieces of garbanzo beans and bits of minced garlic. It is easily accomplished by mooshing all the hummus ingredients together with a potato masher or -in a gadgetless kitchen- with the clean bottom of a heavy can.
I am an unapologetic, card-carrying member of the smooth hummus contingent. I like a super-smooth, chunk-free hummus that can be spread as easily inside a pita pocket as it is dipped onto a carrot stick or tortilla chip. And since I'm making it, I'm in control here. (This, quite honestly, is probably one of the main reasons I love cooking so much. Control. For more musings on control as a common trait among obsessive cooks -and a killer coffee cake recipe-, see this hilarious post from my 'Evil' friend.)
When you make your hummus, you'll be the one in control. If you want it more coarse, just stop processing it earlier or use something less efficient than a food processor to do your squishing work for you.
Having a container of hummus in the refrigerator is like having one of those Jetson's food synthesizing devices in your kitchen. Stuff a pita pocket with a layer of hummus, some thinly sliced vegetables and a handful of sprouts and you have a filling, light, healthy lunch in less than five minutes. Feeling peckish? Scoop some hummus into a bowl and serve with a fistful of carrot and celery sticks or tortilla chips.
*Well, like a Jetson's Food-A-Rac-A-Cycle minus Rosie the Robot Maid and the button that makes food materialize. But you catch my drift, right?
For a photo-free, Chatty-Cathy-free, printer-friendly version of this recipe, click here!
Homemade Hummus
Basic Ingredients:
1-4 peeled garlic cloves, minced or pressed
3 cups cooked chickpeas (or 2 [15.5 ounce] cans, drained with liquid reserved) + 1/2 cup of the cooking liquid
6 Tablespoons tahini
6 Tablespoons lemon juice
up to 2 Tablespoons of extra virgin olive oil
1/4 cup fresh parsley leaves, curly or flat, rinsed and drained
1/2 to 1-1/2 teaspoons salt, to taste
1/8 to 3/4 teaspoons cayenne pepper (or other ground hot chile pepper), to taste
fresh ground black pepper, to taste
Optional, but delicious possible additions:
Minced green onions, cumin, roasted red peppers, roasted garlic, curry powder, fresh cilantro leaves, and garlic scapes. But probably not all at once, eh?
Add garlic cloves, chickpeas, tahini, and lemon juice to the bowl of a food processor fitted with a blade. After putting the lid tightly in place, process until a thick, coarse paste is formed, about 1 to 2 minutes. Check the consistency of the hummus. If you're happy with the texture of the hummus, add the salt, parsley, black pepper and cayenne pepper, and any optional add-ins, and pulse until evenly combined.
If you would like it to be thinner and/or smoother, add the olive oil and process for an additional minute. If you would like it thinner yet, add some of the cooking liquid from the chickpeas along with the parsley, salt, black pepper and cayenne pepper, and any optional add-ins and process for an additional 3 to 4 minutes.
Serve plain as pictured below, or with a sprinkling of minced parsley as pictured above. Either way it's magnificent!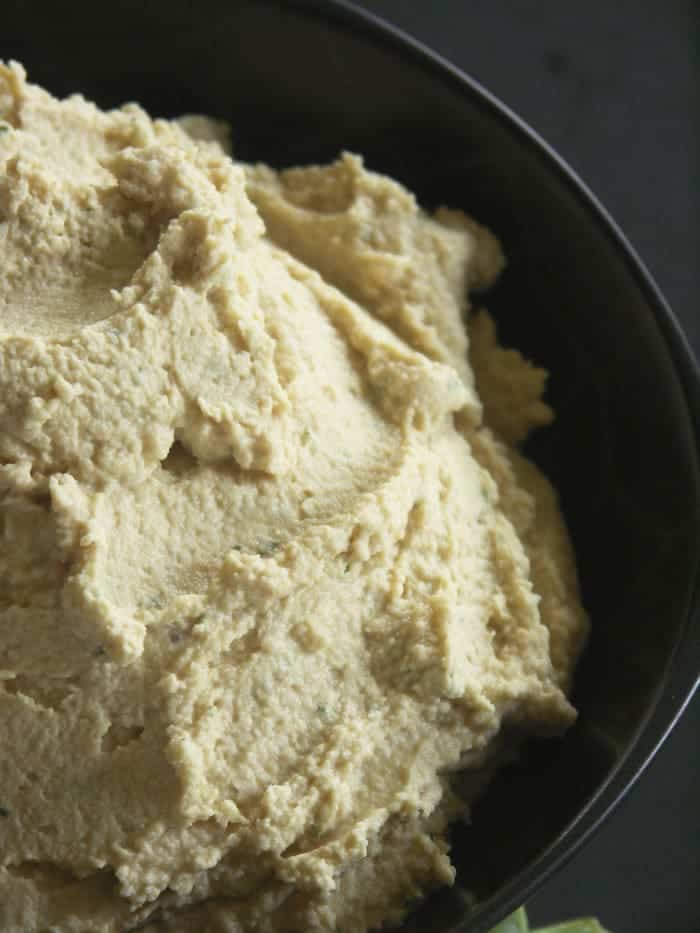 Don't forget the goodies for dipping!