When I posted my Cool Ranch Baked Tortilla Salad Bowls a few weeks ago, you probably knew I was going to go here, right? I think I probably telegraphed it. Why in the world would I make SALAD BOWLS with a dialed in homemade Cool Ranch seasoning and not go the full distance and make Homemade Cool Ranch Doritos?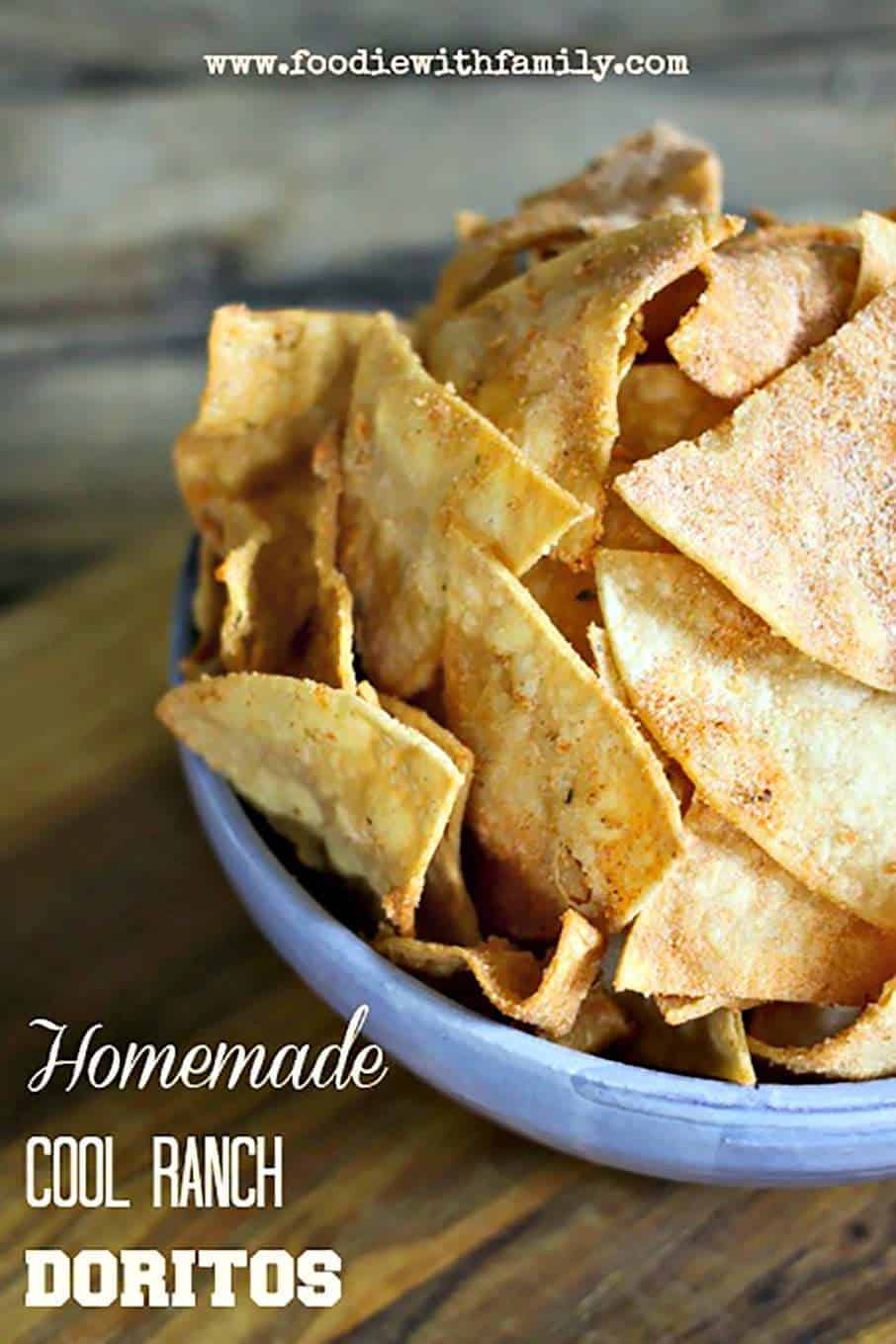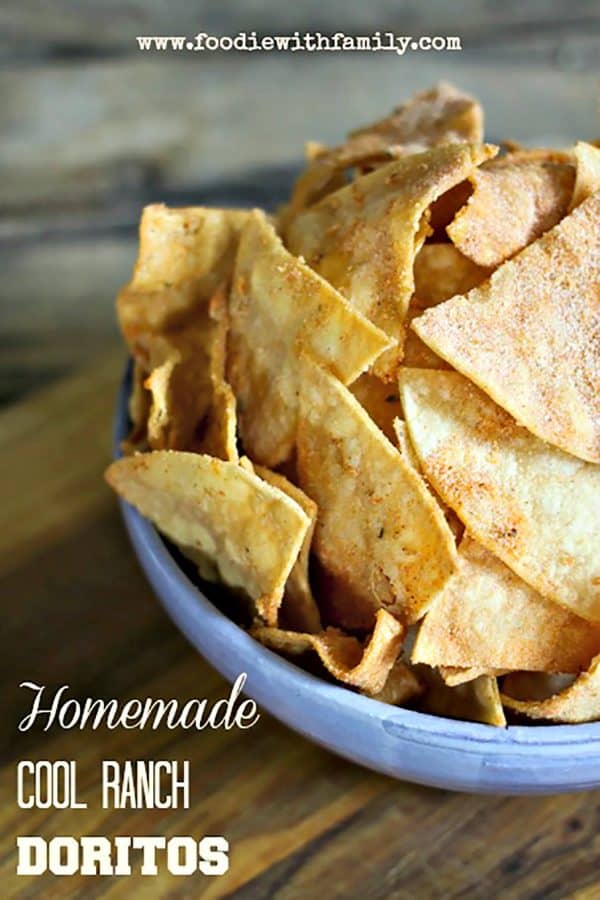 Because let me tell you something; Cool Ranch Doritos and I go way back. We go so far back that I can remember when they actually became a THING. As in, I remember life before the EXISTENCE of Cool Ranch Doritos. Tuna sandwiches were so boring back then, friends. (I cannot be the only person in the world who puts Cool Ranch Doritos ON their tuna sandwiches in addition to having a giant pile next to them, can I?)
My love affair with Cool Ranch Doritos that dates back to the first time I tried them in the 80's. They were and are everything I wanted in a chip. Well, except for the artificial colours and CRAZY long ingredients list. But the taste… the CRUNCH… the EVERYTHING kept me coming back.
And then I realized I could do it myself, make them taste seriously close to the originals AND eliminate the three big factors that made me cringe a wee bit every time I put a bag of Cool Ranch Doritos in the cart at the grocery store: the aforementioned artificial colours and interminable ingredients list, AND the cost.
Ugh. Six dollars on sale for two half-empty bags just sticks in my craw no matter how much I love the contents of said bags. I don't know about your household, but when I open a bag of chips, children swarm from all corners of the property like locusts and descend on the unsuspecting bag. If you don't get a handful within two minutes of opening it, you wont get any at all. It's like watching them eat money and it hurts me deep down in my penny-pinching soul just a little bit.
Granted, you have to go all in for a few ingredients here, and it looks like a bit bite, but you can get so many batches out of each item that it's crazy. I'm not even counting the corn tortillas in the overall cost because they're WICKED cheap. I can get a gigantic bag of them (the equivalent to several bags of Doritos) for under $2.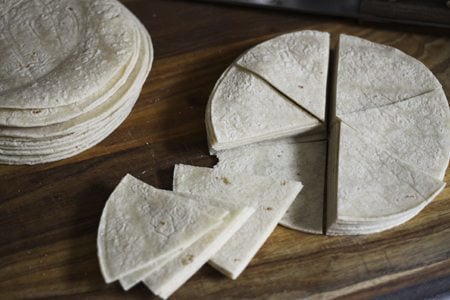 There's a good chance that many of you already have the Dry Ranch Dressing Mix, Smoked Paprika, Granulated Garlic and Onion, and Popcorn salt, so that takes the initial Homemade Cool Ranch Doritos investment to a reasonable purchase of White Cheddar Cheese Powder and Dried Tomato Powder. The truth is that EVERY. SINGLE. ITEM in this list of ingredients is a multi-tasker. They're not things you'll need to purchase that are ONLY useful for this recipe. The White Cheddar Cheese Powder is also great on popcorn, in homemade dips, baked into bread, and as a homemade alternative to boxed mac-and-cheese. The Dried Tomato Powder has a similar list (popcorn, dips, bread, and mac and cheese) but it also good added to soups for a boost in flavour and to pasta dough as both a natural colour, nutrition booster, and flavouring agent. Additionally, when these are properly stored (in a cool, dark cabinet), these last forever and a day. So, now that I've given you justification on why you should spend close to $30 on two ingredients, let's talk method.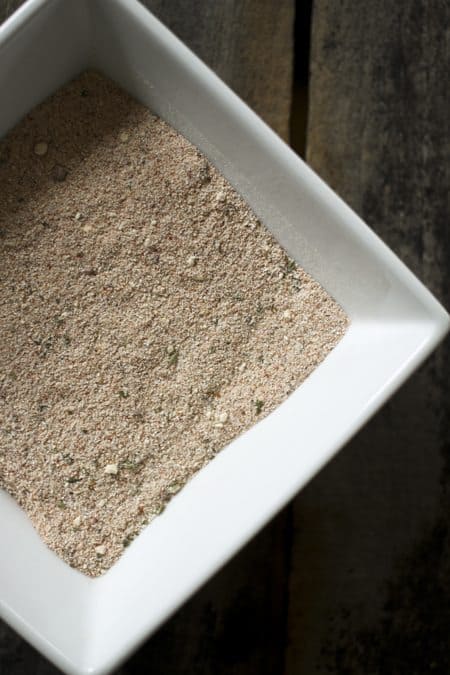 Cook's Notes:
You can use homemade dry ranch dressing mix if you'd like. That is a way to guarantee that these homemade Doritos end up gluten-free if that is a concern. That's right, friends, gluten-free Doritos!
Use whichever oil you prefer for deep frying. We like peanut oil for snacks, but lard would also work well as would canola or vegetable. You don't need a ton, just a couple inches in a pan.
Use corn tortillas that you like to eat plain. The fresher they are the better!
Why popcorn salt? In short, because it's finer and gives the final product a more chippy feel. If you don't have it/don't want to buy it, put your regular salt in your blender and blitz it 'til it's finely powdered for a similar effect.
When you are making your spice mix be sure to whisk it well to remove any clumps.
To cut the tortillas, I stack them 10 high, then cut the stack into 6 wedges. This recipe is, however, scale-able. In other words, you can make as few or as many chips as you'd like. I don't recommend doing less than 20 chips total, though, because each batch that goes into the oil should be roughly 20 chips.
You do NOT need a dedicated deep fryer for this. You can simply put a couple inches of your chosen oil in a heavy-bottomed, high-sided pot. Remember that the level of the oil rises both as it boils and as things are added to it, so choose your pot accordingly.
Long handled tongs are your friends! They're the perfect tool for stirring the chips in the oil to prevent clumping, retrieving the crispy chips from the oil, and tossing them with the Cool Ranch Spice Mix.
You'll want two bowls for the chip making process: one lined with paper towels for the chips to drain in briefly after coming out of the fryer, and one for tossing the chips with the spice mix.
When you drain the chips, you don't want to let them sit there too long. A little oil left on the chips combined with residual heat in them will help hold onto the spice mix.
Whether you opt to eat them plain,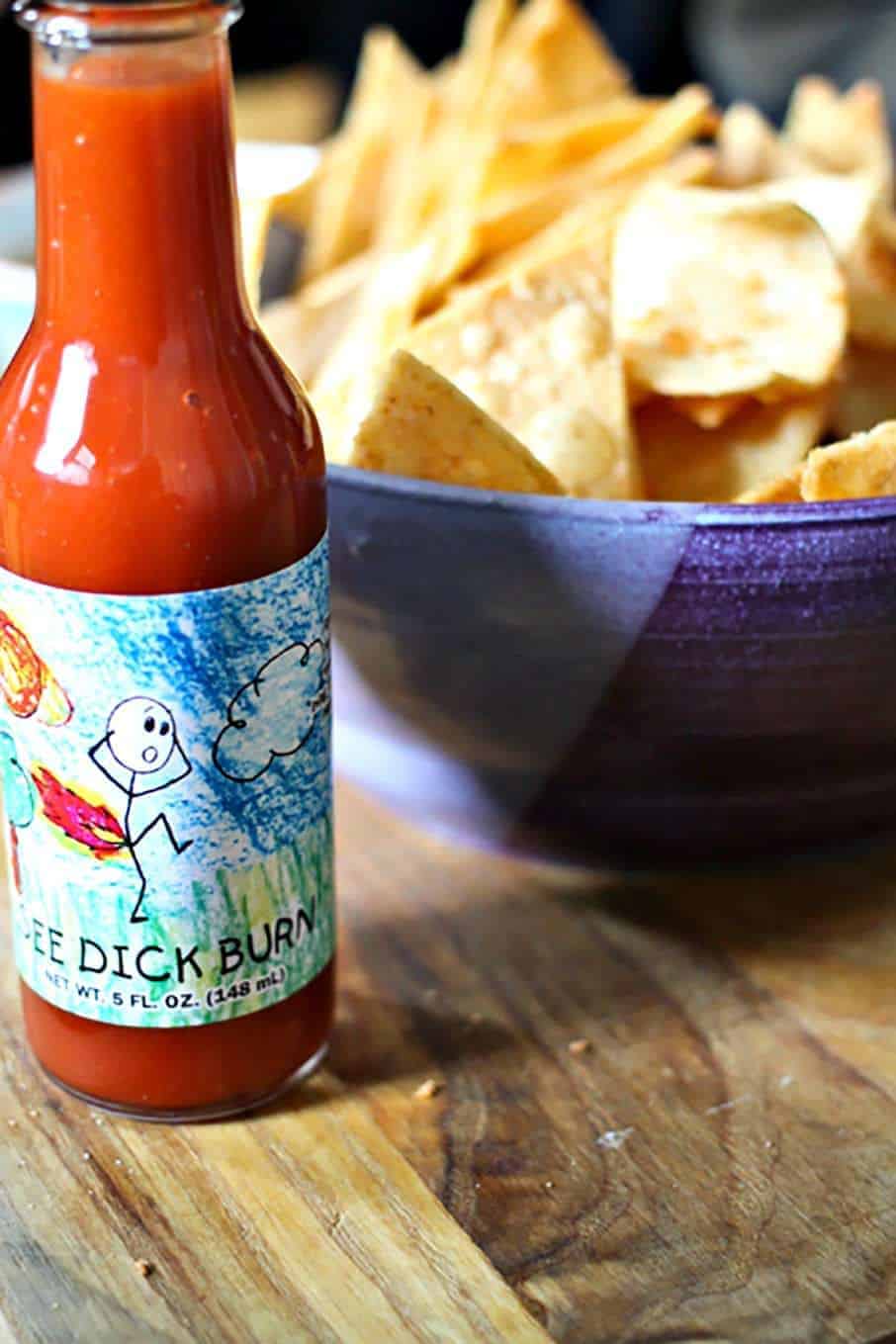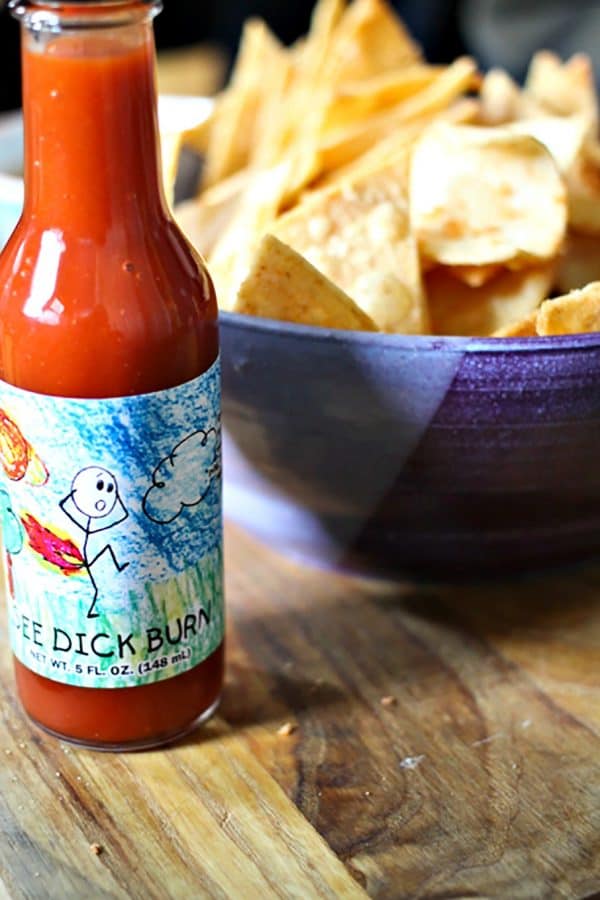 Or with your favourite hot sauce. You're in for a real treat. If you love Cool Ranch Doritos, you're going to go NUTS for the same flavours on a sturdier chip while it's still warm from the fryer! It's worth the little bit of effort required to produce something so delicious, because warm Homemade Cool Ranch Doritos are the bees-knees.
I'm telling you, these disappeared at warp speed. Luckily, I had enough to make another batch of Homemade Cool Ranch Doritos the next day. I was a very popular mom.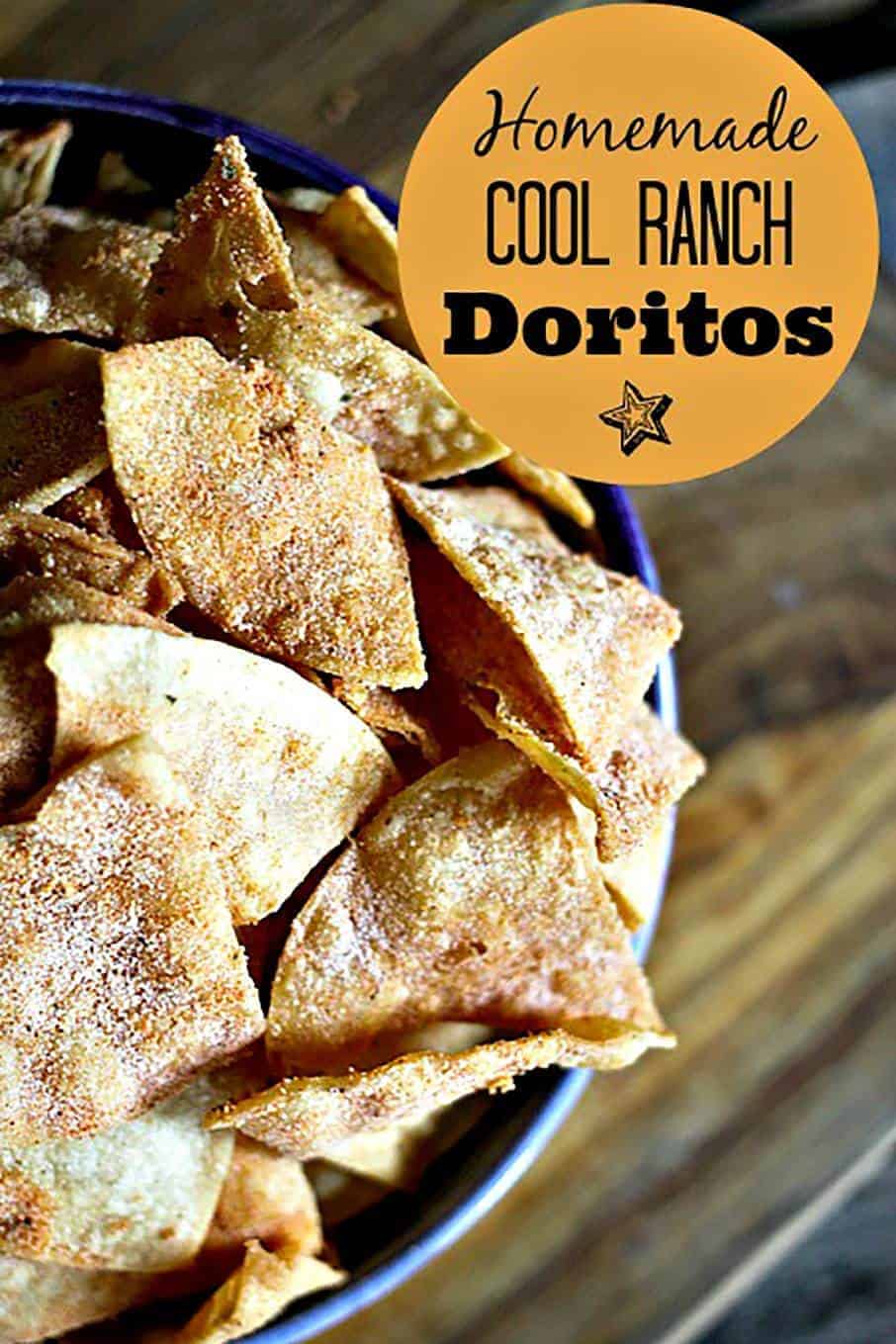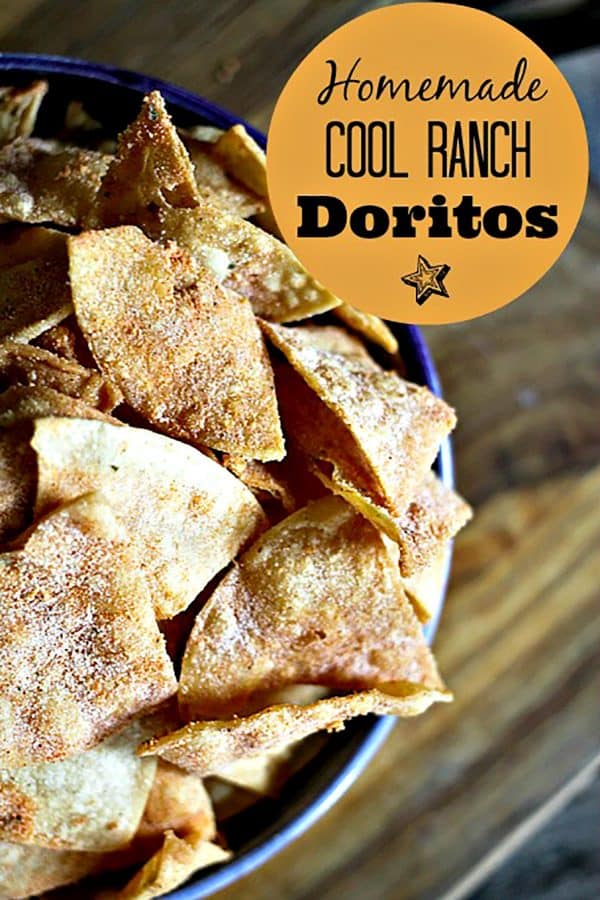 Use this to make Homemade Cool Ranch Doritos: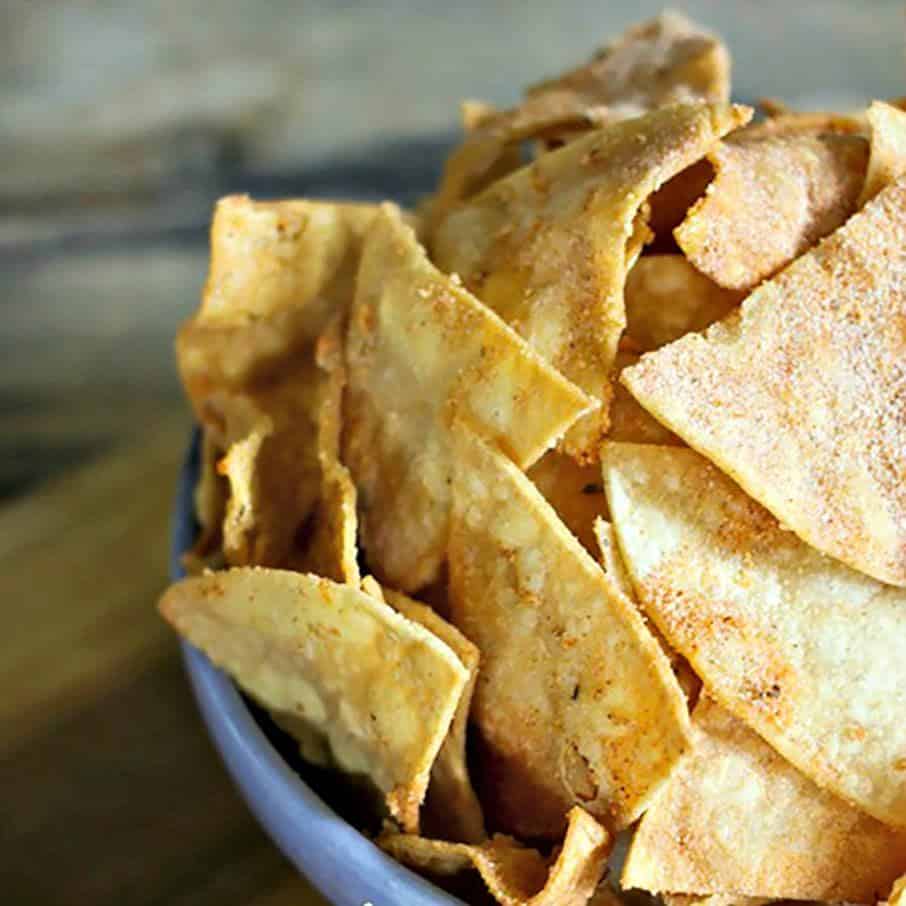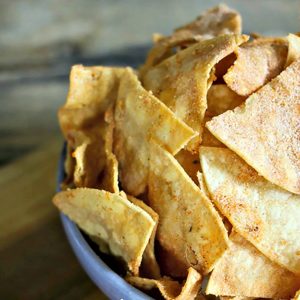 If you love Cool Ranch Doritos, you're going to go NUTS for the same flavours on a sturdier chip while it's still warm from the fryer! It's worth the little bit of effort required to produce something so delicious, because warm Homemade Cool Ranch Doritos are the bees-knees.
Ingredients
For the Cool Ranch Seasoning Mix:
1/4

cup

dry ranch dressing mix

2

tablespoons

plus 2 teaspoons white Cheddar cheese powder

2

teaspoons

smoked paprika

2

teaspoons

dried tomato powder

1

teaspoon

granulated garlic

1

teaspoon

granulated onion

1

teaspoon

finely powdered salt

popcorn salt
For the Cool Ranch Doritos:
2-

inches

of peanut oil in a heavy-bottomed

or lard or canola or vegetable oil, high-sided pot or a deep-fryer

Desired number of corn tortillas cut into wedges

Cool Ranch Seasoning Mix
Instructions
To Make the Cool Ranch Seasoning Mix:
Whisk all the seasoning mix ingredients together in a small bowl until it is lump free. Transfer to a jar with a tight fitting lid. This can be stored indefinitely at room temperature in a dark place. You may need to whisk each time you use it to remove lumps.
To Make the Cool Ranch Doritos:
Heat oil to 350°F. Line one mixing bowl or plate with paper towels. Have an additional large, heat-safe bowl standing by.

When the oil is hot, drop about 20 of the tortilla wedges into it one at a time. Fry, stirring frequently with long-handled tongs for 2 1/2-3 1/2 minutes, or until crisp. Use the tongs to transfer them to the paper towel lined plate or bowl then quickly put them into the large mixing bowl. The chips should still be quite hot and making a little noise. Immediately sprinkle 2 teaspoons of the Cool Ranch Seasoning Mix over the top and toss them in the bowl (either using the tongs to mix them, or actually tossing them around in the bowl.) Repeat until you've fried and seasoned all of the tortillas you wish to cook. Taste the chips. If you'd like, you can sprinkle them with additional Cool Ranch Seasoning Mix before serving.

These chips are best eaten the day they're made, but can be refreshed on a baking sheet in a hot oven a day or two after they're made.
Nutrition
Calories:
67
kcal
Carbohydrates:
13
g
Protein:
1
g
Sodium:
115
mg
Potassium:
61
mg
Fiber:
1
g
Vitamin A:
70
IU
Calcium:
25
mg
Iron:
0.4
mg
Nutritional information is an estimate and provided to you as a courtesy. You should calculate the nutritional information with the actual ingredients used in your recipe using your preferred nutrition calculator.


This post was originally published on March 24, 2014.