A Homemade Banana Cream Pie recipe has to be one of the great comforts of the food world. I know there are many variations on the theme, but pretty much everyone agrees that it starts with a pie crust filled with creamy, silky vanilla custard infused with the sweet perfume of perfectly ripe bananas topped with a seriously decadent amount of whipped cream. In the case of my kids' and husband's favourite Homemade Banana Cream Pie recipe, you start with a homey graham cracker crumb crust, fill with loads of slices of perfectly ripe banana, and pour in a luscious vanilla bean flecked custard made extra rich by the whole milk and heavy cream or half and half by which it is made. Now here is where we have a little fork in the road…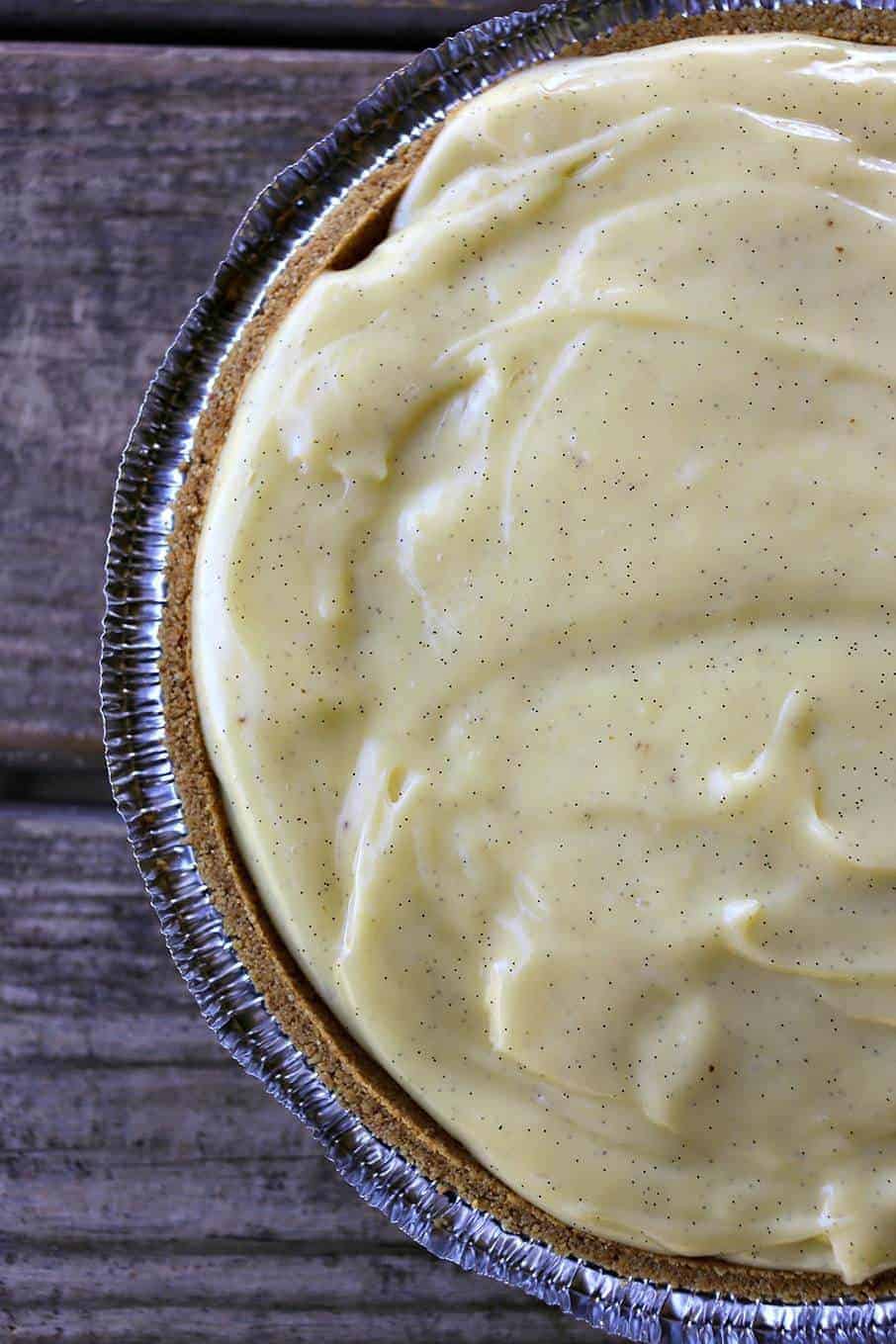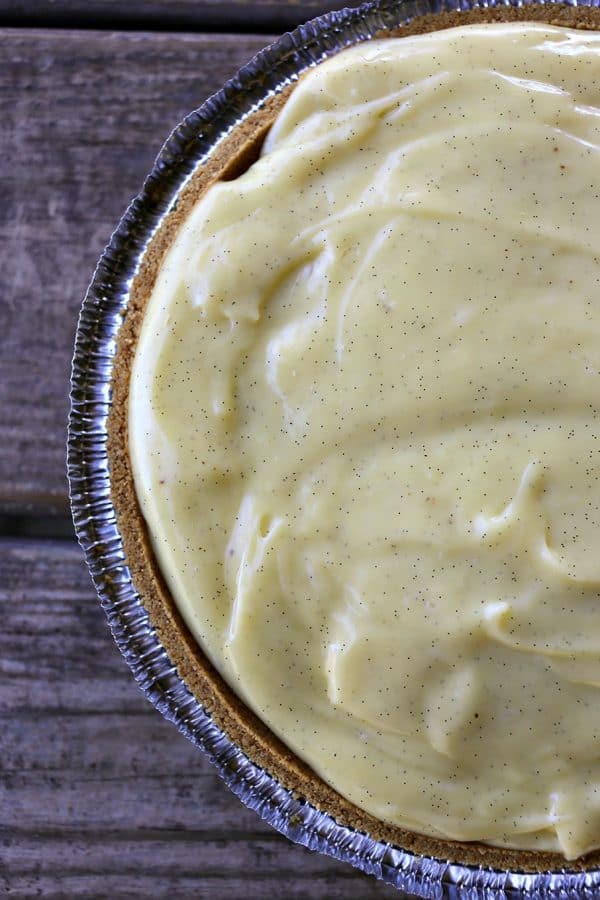 If I know that all 8 slices of pie from our perfect Homemade Banana Cream Pie recipe will be eaten in one sitting, I will top the whole thing with a scandalous amount of whipped cream. The presentation is pretty as can be and it looks so inviting that everyone around the table wants to dive in head first. If, however, our Homemade Banana Cream Pie recipe is going to be one among several desserts and there's a good chance the whole thing won't be inhaled before the night is over…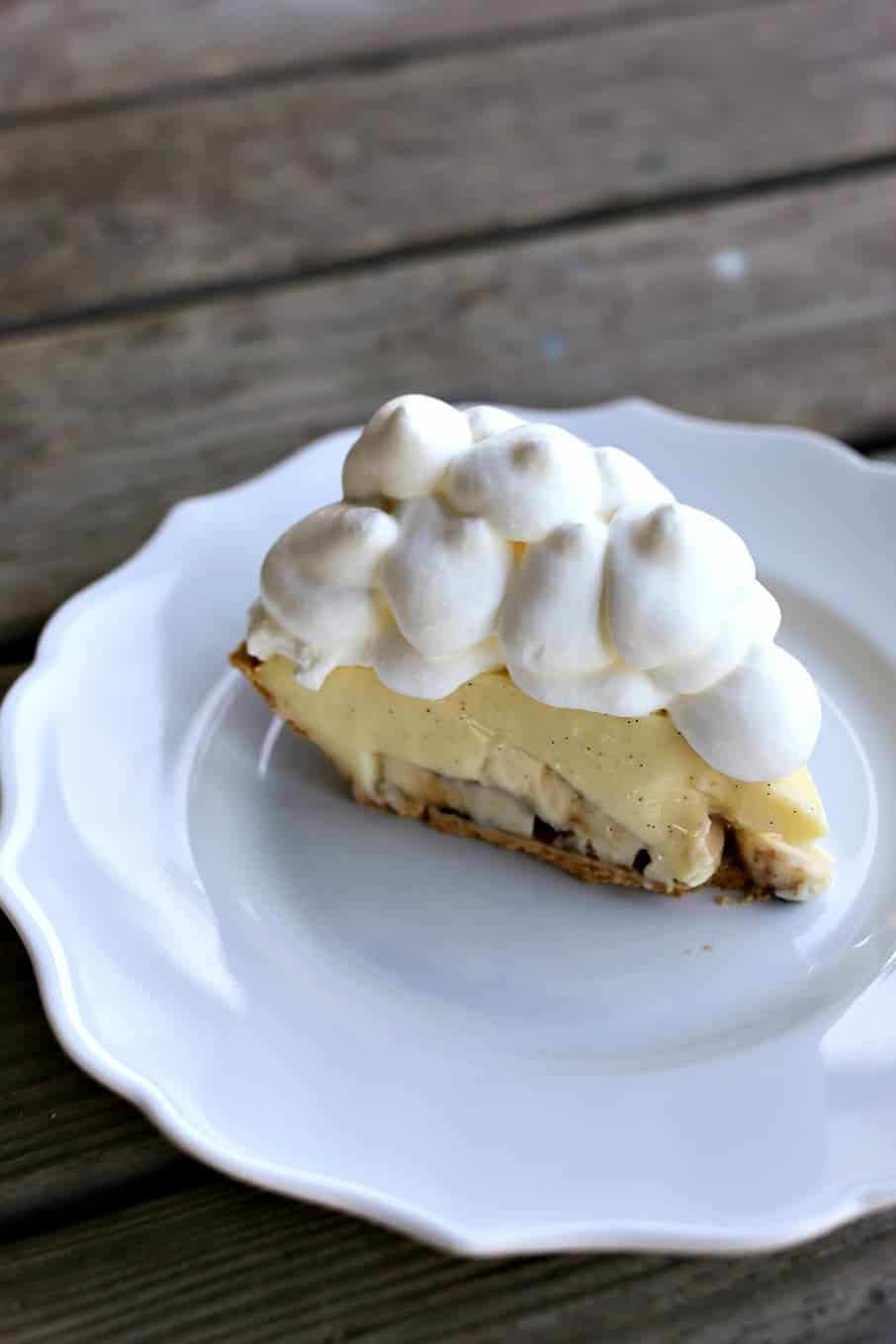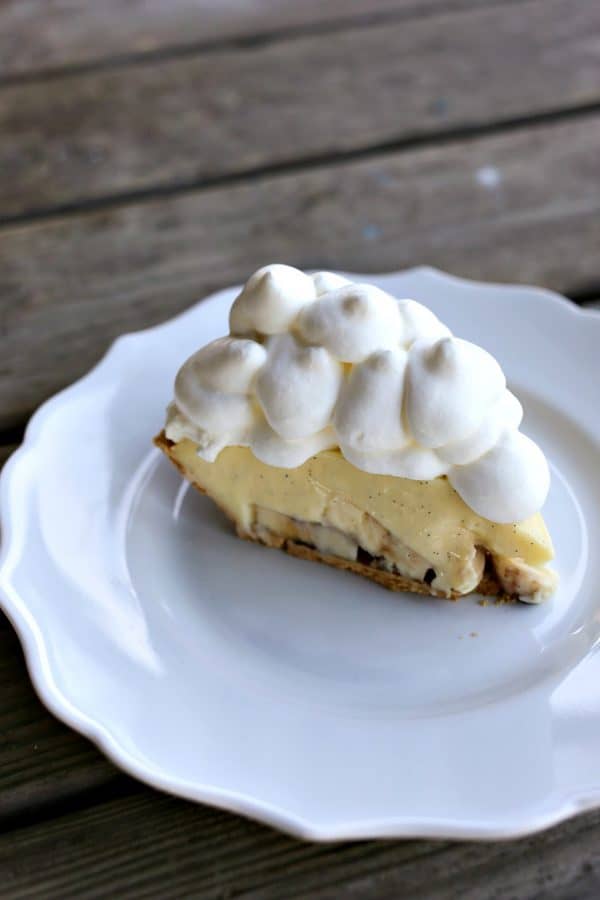 I'll slice the pie and serve it with a bowl or a cream whipper full of pure whipped cream alongside the pie with the instructions to top "as you will". Even though my husband is a chocoholic, it's the fruit based desserts that make his eyes bug out of his head, and this is truly one of his favourites. He insists it's the "best banana cream pie I've ever had!" I'm inclined to agree.
Cook's Notes
If you're a stickler for a short crust vs. a crumb crust, feel free to replace the crumb crust with your favourite pre-baked pie crust, be it homemade or purchased.
You will get significantly more banana oomph from very ripe bananas. You want to choose bananas that are firm enough to hold up, though, so stop short of "banana bread ready" fruit.
A vanilla bean is a crowning touch for the Homemade Banana Cream Pie recipe, in my book. It gives those distinctive flecks of vanilla throughout the custard and gives a more round vanilla flavour than extract. The good news is that you don't have to mortage the house to buy a silly tiny glass jar with one or two vanilla beans in them at the grocery store. Amazon has a plethora of options from 10-pack for $12 to a quarter pound for $25. You can throw vanilla beans around like glitter at a cheerleading competition.
Want a little frugal heads up if you're still hestitating over the vanilla beans? If you rinse one off when you fish it out of the custard, you can dry it off with a paper towel then pop it into a jar with raw sugar or granulated sugar. Cover and shake. Let it sit for a few days (and add more vanilla beans as you have them) and you'll end up with delicious vanilla sugar for adding to coffee, tea, or baked goods!
A word about the custard: this one has both cornstarch AND eggs. This yields a custard that has body and richness and cuts into neat slices. I know it can be intimidating to temper eggs, but I promise it's quite easy. Be sure to beat your eggs very well (almost to the point of being frothy) before adding the two ladles-ful of hot custard. And please, for the love of smooth custard, whisk constantly as you add the hot custard. Then you reverse the process. You whisk the hot pan full of custard constantly as you add the now warmer egg mixture back into the pot. When it is homogenous in colour, just keep stirring until the custard has thickened, and you are el-done-o. It's not terribly complicated; the goal is to raise the temperature of the eggs slowly before returning to the custard. This prevents the egg from scrambling when it hits the hot custard in the pan.
I'm a fan of taking extra steps to ensure smooth custard, and I do this by pouring the finished custard through a fine-mesh sieve into a large glass measuring cup or batter bowl.
Use a silicone spatula to help push the custard through the sieve.
When the hot custard is poured over the bananas, it will release some of the aroma of the bananas into the custard. I dislike fake banana flavour, and prefer the subtle presence of the banana vs. a robust artificial one.
To keep your custard from forming a skin, lay a piece of plastic wrap directly on the surface of the custard before refrigerating it.
Connect with Foodie with Family
facebook | pinterest | instagram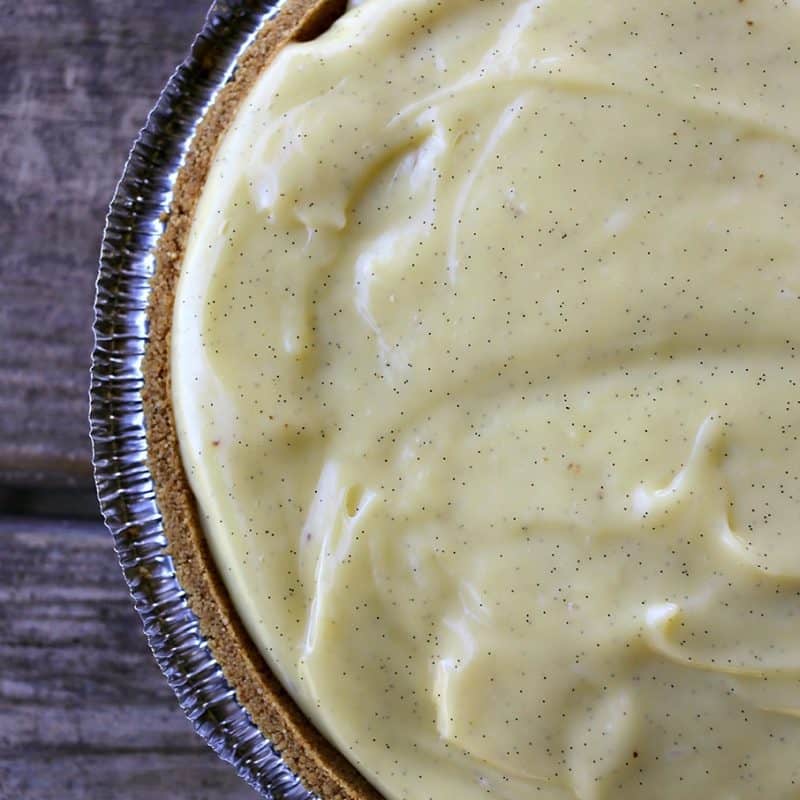 Ingredients
3/4

cup

granulated sugar

5

level tablespoons cornstarch

1/4

teaspoon

kosher salt

1 1/4

cups

whole milk

1

cup

half and half

or heavy cream

1

vanilla bean

split lengthwise and scraped to release seeds

1

whole egg

well beaten in a heat-proof bowl or liquid measuring cup

1

graham cracker crust

see notes if you need a recipe for a homemade graham cracker crust

3

perfectly ripe large bananas
For Serving:
1

pint

of heavy whipping cream whipped to medium peaks
Instructions
Whisk the granulated sugar together with the cornstarch and salt in a 2 1/2 quart, heavy-bottomed saucepan. Add the vanilla beans and scrapings into the sugar.

In a liquid measuring cup, stir together the milk and half and half or cream. Very slowly pour the liquids into the sugar mixture while whisking constantly. When the mixture is homogenous, turn the burner onto medium heat. When steam is rising from the top, drop the heat to medium low, then ladle some of the hot milk mixture into the beaten egg, whisking vigorously and constantly. When that ladle-ful is incorporated, whisk another in, whisking constantly again. do this once more, then pour the warm egg mixture into the hot milk/custard in the pan, whisking constantly and vigorously. Whisk constantly or stir vigorously with a wooden spoon until the mixture has thickened. Pour through a fine mesh sieve positioned over a batter bowl or large heat-proof measuring cup or bowl.

Peel the bananas and slice them and distribute them over the base of your crumb crust. Pour the hot, strained custard over the top of the bananas and smooth the surface. Place a piece of plastic wrap directly on the surface of the custard and place in the refrigerator. Let chill for at least 4 hours or overnight. Serve topped with or with whipped cream on the side.
Nutritional information is an estimate and provided to you as a courtesy. You should calculate the nutritional information with the actual ingredients used in your recipe using your preferred nutrition calculator.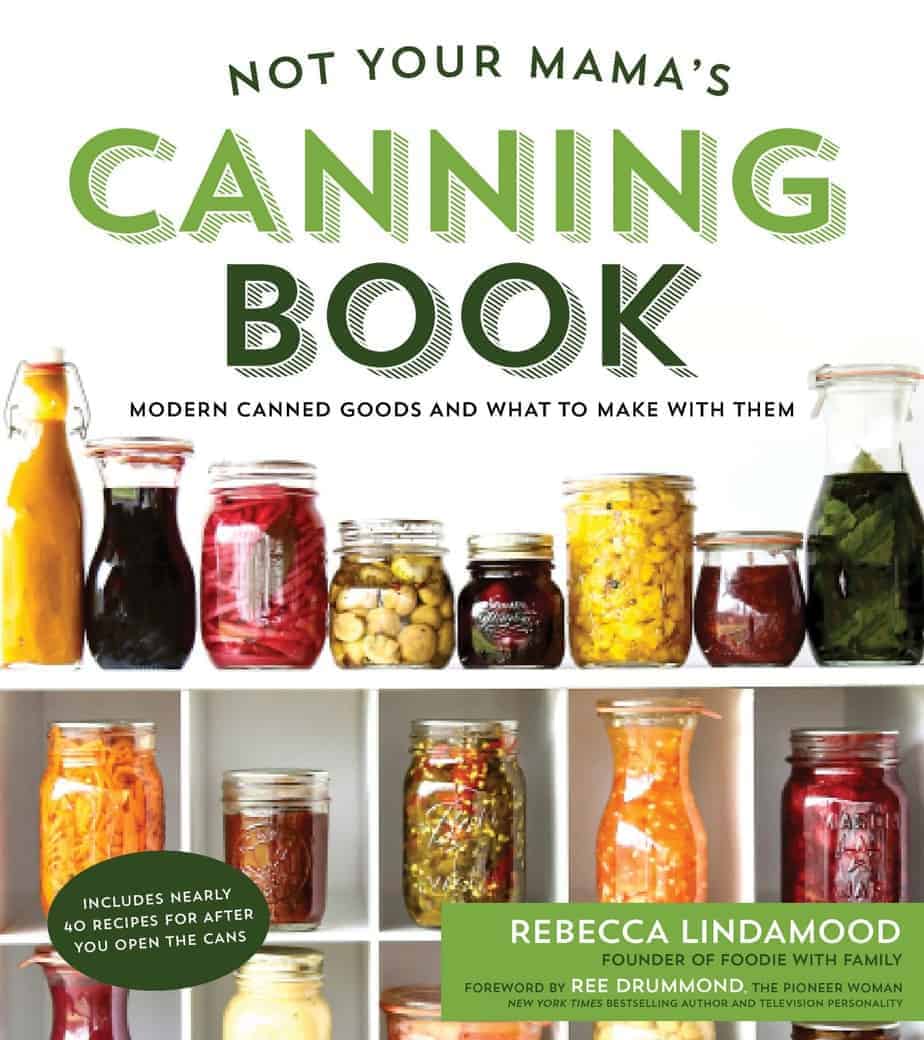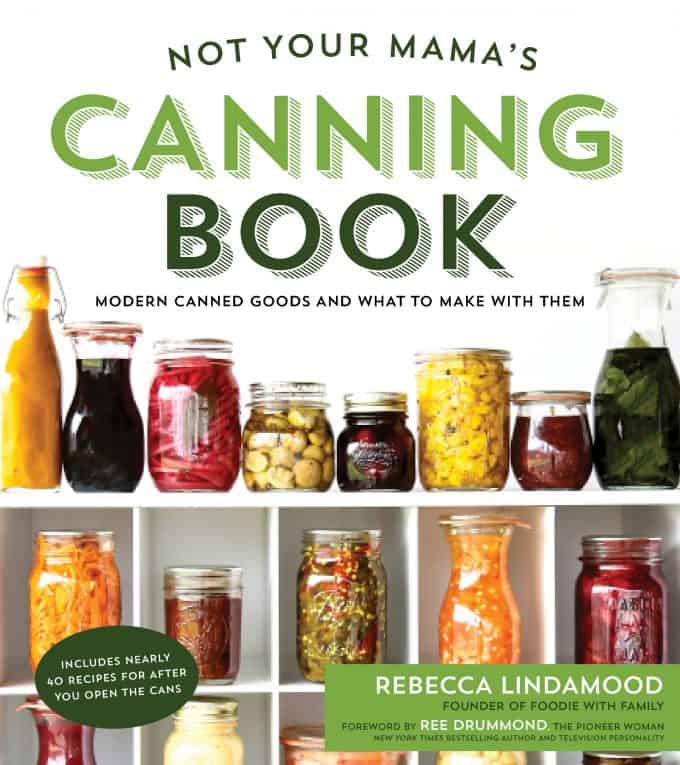 Not Your Mama's Canning Book: Modern Canned Goods and What to Make with Them is available to order through these fine retailers!