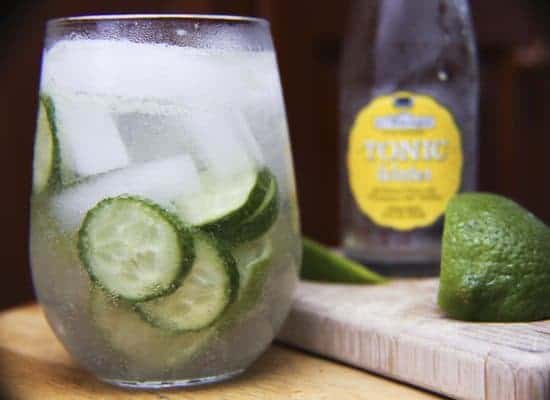 I'm not a very accomplished bartender. The sum of my barkeep experience was stalling the patrons at the restaurant where I worked on the late shift while the real, honest-to-goodness bartender ran into the back to make a personal phone call. When she returned to her post, I gratefully returned to mine; the deep-fryer and flat top pub-grub station in the kitchen.
I'm also not much of a drinker. The first few sips of a glass of wine or a beer leave me pink-cheeked and the last couple sips leave me looking for a pillow on which to lay my sleepy head.
For the most part, my indulgences are confined to a glass of red wine or home brewed beer. I couldn't tell you what goes in most mixed drinks without the assistance of Google, but there is one cocktail I love in the summertime that I do very, very well: The Gin & Tonic.
As with most foods and beverages to which I am partial, there's back story. The Evil Genius and I honeymooned in August of-way-back-when on a cruise that went up the East coast of the United States. We had used all of our funds on the wedding and the trip itself and had very little left spending money to take with us. In order to save our cash-ola for goodies in port (like lobster dinnahs in Maine and Nova Scotia, thankyouverymuch), we bought a bottle of Tanqueray Gin in the on-board duty-free shop, a bag of limes and a six-pack of tonic in the first town where we disembarked. For the remainder of the trip, instead of buying two twelve-dollar drinks in the evening, we mixed our own chi-chi hot weather G & Ts in our commemorative cups in the room before wandering around, pinkies in the air, enjoying the ship and our frugal triumph.
Those Gin & Tonics tasted like relaxation and summer. On super hot days, there's really nothing like it. Or at least there wasn't until I saw these Cucumber Gin Coolers over on Saveur. I knew right away that this was going to be good. A lot of gin tastes faintly of cucumbers already, so the pairing was inspired and natural. They mixed theirs a bit stronger than I like (using a 1:1 ratio of gin to lime juice with a splash of tonic) but the idea of combining my beloved Gin & Tonic with lime and seedless cucumbers caught hold of my brain. When our first legitimately warm day burst onto the scene yesterday, the evening was pre-destined to end with one of these…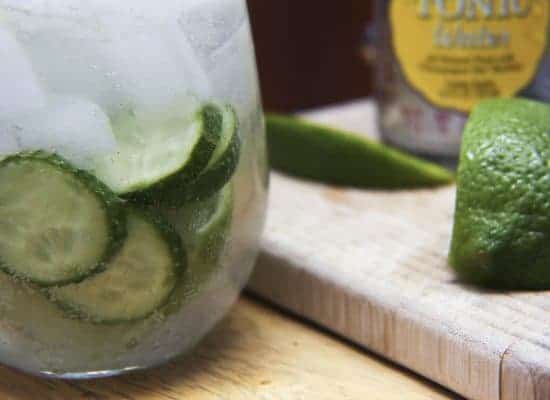 To better suit my lightweight tastes, I changed Saveur's ratios to a one part gin to two parts tonic to one quarter of a fresh lime and boosted the amount of cucumber in the drink. I fully intended to wait until the drink was finished to nibble those gin and lime and tonic soaked cucumber slices. The wait was worth it. Sitting in the glass, almost pickling a bit in the liquid left the slices crisp, bursting with flavour and a treat in themselves.
Since there are so few ingredients in this drink, it is important to use the best ingredients you can. Use a good, dry gin. I'm partial to Tanqueray, Bombay or Hendricks. Do not skimp and buy the el-cheapo stuff. For the love of all that is good in this world, do not use bottled lime juice here. I understand that a good lime can be hard to find occasionally, but this is one instance where you're better off waiting than settling. The oils in the skin of the lime are crucial to the outcome of the drink. Tonic water is a matter of preference. I like Stirrings for a multitude of reasons; crisp, clean, quinine-centric taste and no high fructose corn syrup or aspartame. Use whichever tonic water flicks your Bic. And as for the cukes, use a nice, firm seedless variety with an edible skin. The skin of the cucumber stays in place for both visual and taste appeal here, so a thick, wax-coated number is going to be a giant sour clunker of a note in your symphonic cocktail.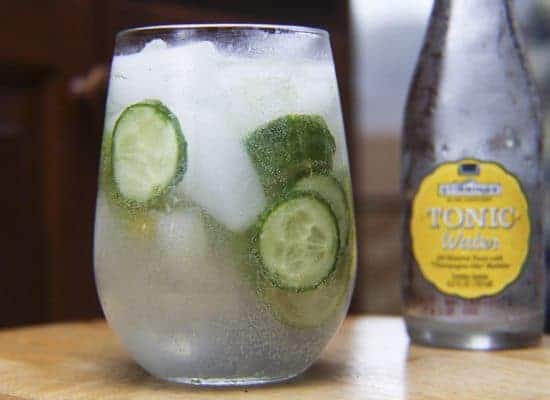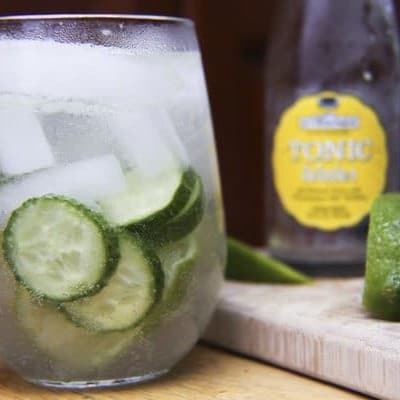 This cucumber and lime infused Gin & Tonic takes refreshing to a whole new level. Wait 'til you reach the end of the drink to nibble on the flavour soaked cucumber slices for an extra treat!
Ingredients
1/2

of a fresh lime

sliced into two wedges

1/2

cup

of seedless cucumber

sliced into 1/8"-thick rounds

4

ounces

of good

Tanqueray, Hendricks, or Bombay are good choices., dry gin

8

ounces

of very chilled tonic water

1/2

cup

plain ice cubes
Instructions
Add all ingredients to a cocktail shaker or large pitcher.
To prepare with a cocktail shaker:
If using the shaker, shake hard five times before dividing the contents of the shaker between two chilled glasses.

Serve immediately.
To prepare with a large pitcher:
Use a long handled wooden spoon to stir vigorously for about 20 seconds before dividing the contents between two chilled glasses.

Serve immediately.
Notes
Try to make yourself wait until you've finished the drink to nibble the cucumber slices. It's completely worth it!
Nutritional information is an estimate and provided to you as a courtesy. You should calculate the nutritional information with the actual ingredients used in your recipe using your preferred nutrition calculator.