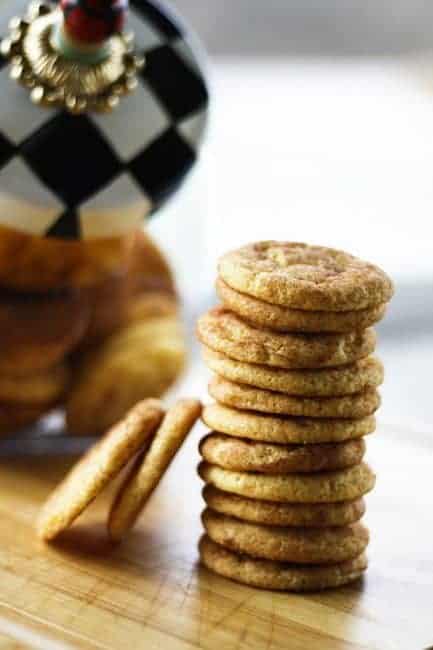 My family lives, talks, dreams, plans, prepares, preaches, and eats food. We don't breathe it, however, as aspirating food is generally acknowledged to be a bad idea. In short, we are all food maniacs.
There have been a handful of time that I've been brought up short when chatting with people and they inform me that their family tradition is to keep their recipes secret. At those moments, my jaw has dropped open like a cod and I've been at a loss from words. This is probably because in my family, if you even imply you like something we've cooked for you, we hurriedly jot down the recipe and cram it into your hands.
The recipe I'm sharing today is my Grandma's snickerdoodle recipe. When I posted a picture of it on facebook, one of my aunts said, "I can smell them now!" Thus is the power of Grandma's snickerdoodles. My Grandma's version of this classic cookie is a classic itself. And while I'm certain Grandma made them for everyone, I always felt like she made them just for me. And THUS is the power of my Grandma.
I've talked before about my prized possessions: my handwritten recipe cards that Grandma gave me in my first years of marriage. (You can read a couple of those posts here and here.) I cannot even find the words to say what my Grandma means to me. Every single one of those now-laminated recipe cards represents my Grandma thinking of me when I wasn't there and wanting me to eat well. And honestly, friends, I think that's what our compulsive recipe sharing boils down to; it's our desire to be part of feeding you and caring for you even when we're not there.
Can you imagine anything better than coming in from playing in the snow for hours to the smell of snickerdoodles fresh from the oven? There really is only one thing better than that: sitting down at the table of someone you love, being handed a plate of those cookies and a mug full of warm tea.
There's something about the scent of those cinnamon and sugar crusted butter cookies that -to this day- puts me back at the table in Grandma's dining room. I suspect that for the rest of my life, cinnamon is going to smell like hugs to me. I'll take it.
Fair warning, though: these cookies are absolutely irresistible. And when I say irresistible, I mean that you'll be unable to walk past the cookie jar without fishing out one… or two… or three…(or five. Oh dear.) You wouldn't say no to Grandma's cookies, would you?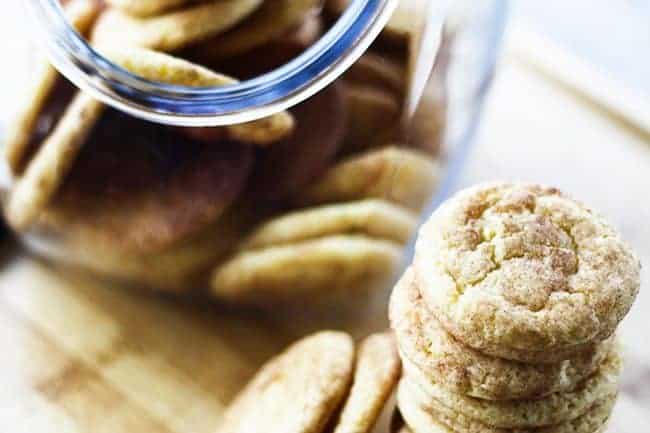 My Grandma's Snickerdoodles are a perfect rendition of the classic: tender butter cookies with a cinnamon sugar crust. Be warned, though, they are completely irresistible.
Ingredients
1

cup

butter

softened

1 1/2

cups

and 2 tablespoons granulated white sugar

separated

2

eggs

2 3/4

cup

flour

2

teaspoons

cream of tartar

1

teaspoon

baking soda

1/2

teaspoon

salt

2

teaspoons

ground cinnamon
Instructions
Cream together the butter, 1 1/2 cups of sugar and eggs until smooth. In a separate bowl, use a whisk or fork to combine the flour, cream of tartar, baking soda, and salt. Add the dry mixture to the wet mixture and mix until well combined. Cover the dough and chill for at least 30 minutes but up to 24 hours before working with it.

Preheat oven to 400°F. Line cookie sheets with silpats or parchment paper.

Use a fork to combine the remaining 2 tablespoons of sugar with the 2 teaspoons of ground cinnamon.

Use a small disher (cookie scoop) or teaspoons to scoop about 2 teaspoons of cookie dough, roll it into a ball and then roll them in the cinnamon sugar to coat. Place the cookies 2-inches apart on the cookie sheets. Bake for 8-10 minutes, or until lightly browned but still soft. Let them rest on the cookie sheets for one minute before transferring to a cooling rack.

Store at room temperature in an airtight container.
Nutritional information is an estimate and provided to you as a courtesy. You should calculate the nutritional information with the actual ingredients used in your recipe using your preferred nutrition calculator.