Easy Bacon Wrapped Onion Rings are my streamlined version of this recipe, making an equally delicious result with significantly less mess and swearing.

We just finished up our birthday season around here. Fitting five kids' birthday feasts in to a span of 86 days that also includes Halloween, Thanksgiving, Christmas, and New Year's is not for the weak of heart or constitution. Boy-oh-boy do we do festive right. The last birthday of our season is also technically the first birthday of the year; a fact that this particular son is quick to point out to his brothers. "Now you have to wait aaaaaaaallllll year long for your birthday!" We excuse him this behaviour because a) we love him and b) he chooses a birthday meal that we all love; fried chicken.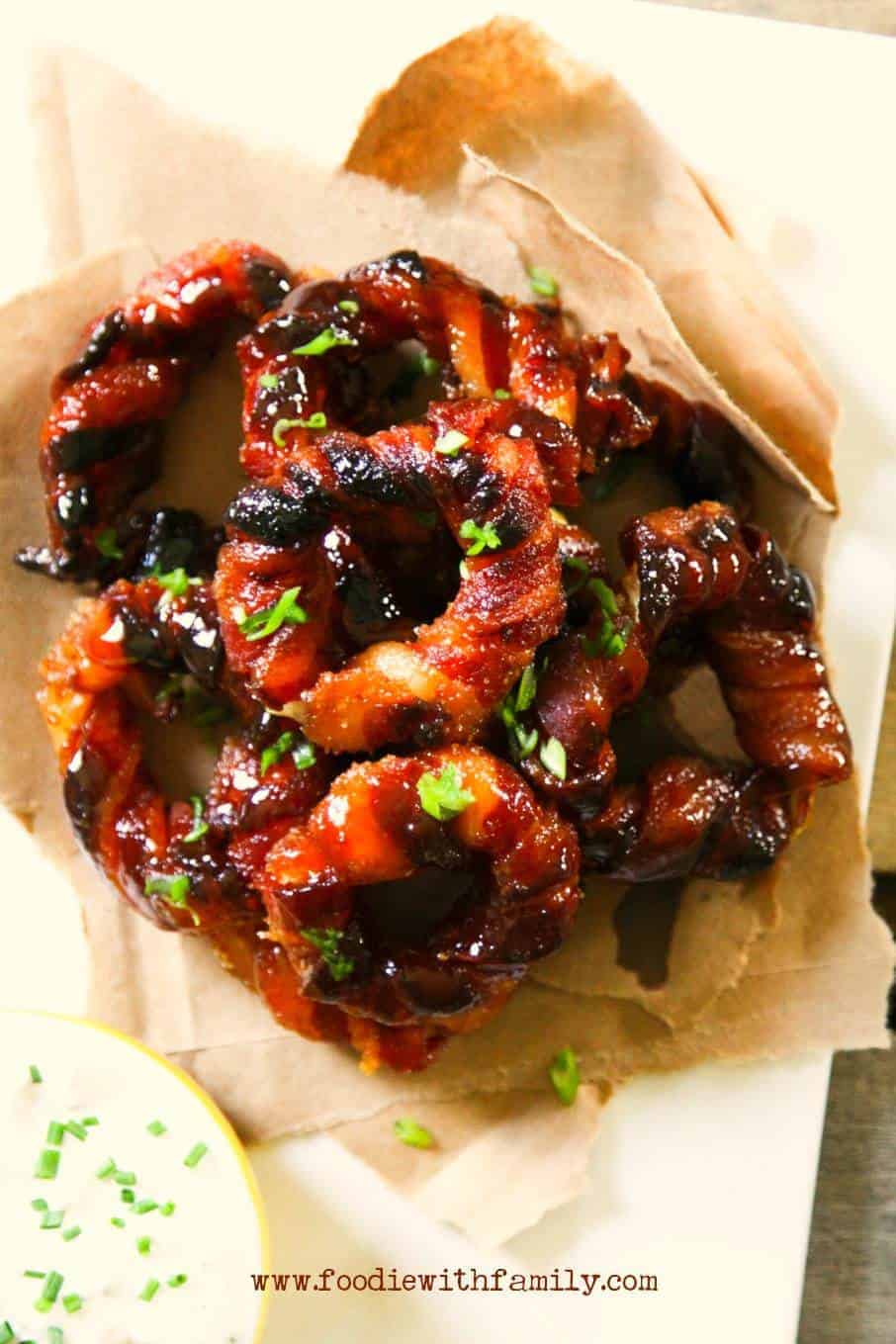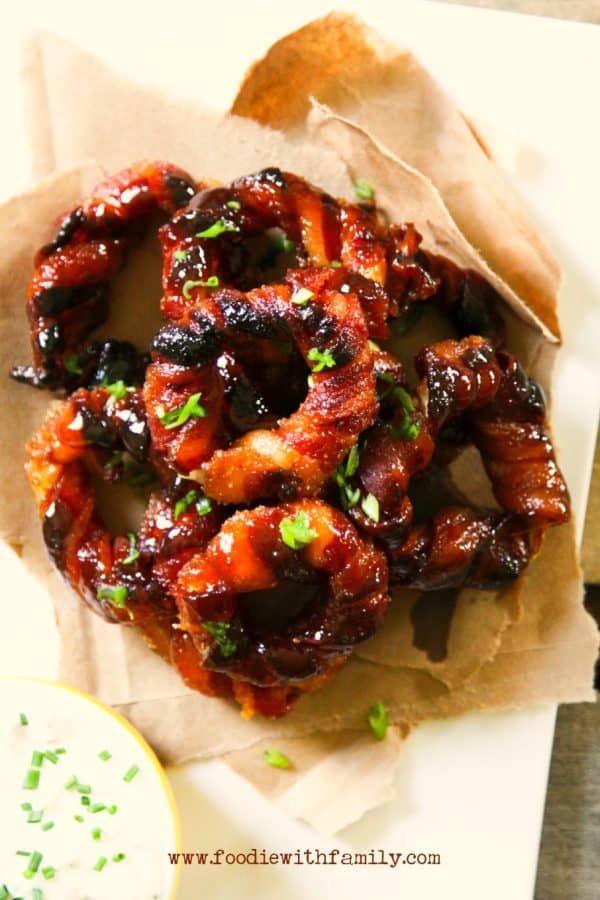 This particular child is also a giant fan of both onions and bacon, so I decided to indulge his twin food loves for lunch by combining them into something I'd seen circulating around the interwebs. All the recipes I'd seen before called for dunking the onion rings in or brushing them with sriracha (yum) then dredging raw bacon in brown sugar  and wrapping around the aforementioned onion rings. Um, I'm okay with making a mess in the kitchen but this was killin' me. Slippery onion rings and strategic wrapping of brown sugar coated bacon? Holy wah. That was a test of my patience. The sriracha made the onions slippery, and the sugar made the bacon slip around on the already teflon-like onion rings. It was HARD to get that bacon to stay in place. I knew there had to be a more streamlined way to deliver all the flavour with none of the unnecessary gloppage.Enter Easy Bacon Wrapped Onion Rings: stage right.
Instead, I used a fork to toss cayenne pepper into my brown sugar, wrapped the plain bacon around the onion rings, gave the wrapped package a toss in the spicy sugar, then baked. Voila! Easy Bacon Wrapped Onion Rings that delivered A.L.L. of the spicy, sweet, smoky, meaty flavour with significantly less mess, and a whole lot less frustration. This is the ULTIMATE in snack food right here. The aroma escaping the onion while these Easy Bacon Wrapped Onion Rings bake is almost unbearably tempting. It's the scent of bacon and onions baking together. My husband came drifting downstairs with his nose in the air asking, "What is that I smell? I can't even handle it!"
When I cracked open the oven to give him a peek at the contents, he gasped. My husband isn't a gasper, people, but he did. "WHAT in the WORLD is THAT and WHEN can I EAT it???"
Crispy, salty, savoury, sweet bacon creates a shell around meltingly tender, fragrant onions. Yes, this is unabashedly dude food, but it's also mom food. This mom, anyway. The guys lit into the tray of these like locusts and declared that these were now on the Superbowl Menu (high praise indeed from my manly crew).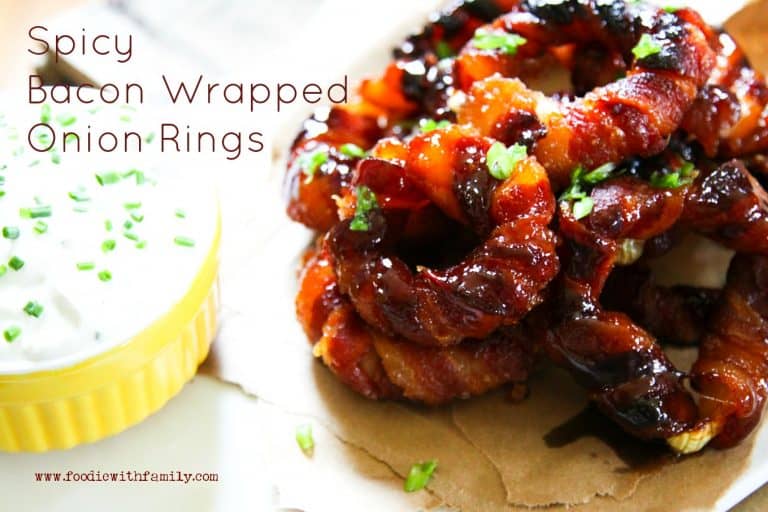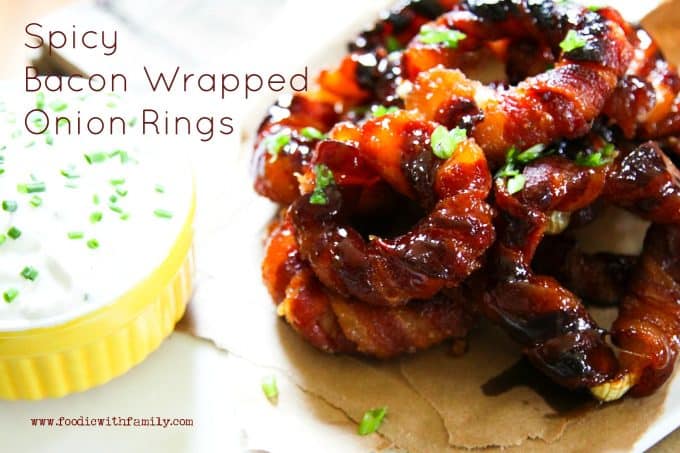 Cook's Notes
You don't need to use Vidalia onions for these onion rings, but they're certainly convenient because of their large size. Whichever onions you use, pick the largest, firmest ones you can find. You'll just be lobbing off both the root and blossom ends and cutting the onions into 1/2-inch thick slabs.
Separate the slabs into smaller ring sections that have two concentric rings of the onion together. You don't want single rings of onion because they won't have enough body to stand up to the bacon wrapping process. Any ring sections that are too small to be wrapped with bacon can be tucked into a zipper bag in the refrigerator to be used in another recipe.
Please line your baking pan with heavy-duty foil, parchment, or a silpat. The heavy-duty foil makes the clean-up process significantly easier.
Toothpicks are strictly optional, but will yield a cleaner looking finished product. I use them to keep the bacon from unraveling.
There is a range given on the amount of cayenne pepper. The lower end of things is a tiny hint of heat, the higher end is a nice presence. Adjust according to your own personal preference. We like a little BANG with our sweet bacon, so we go with the larger amount.
There is no typo when I say to put the pan in a cold oven. This helps reduce the amount of shapeshifting and shrinking the bacon does while cooking, thereby preserving all the careful work you did wrapping your lovely little onion rings.
Halfway through the cooking process, you'll need to flip the Easy Bacon Wrapped Onion Rings. This is not difficult, but do take your time. Gently slide a spatula underneath, and use a fork or smaller spatula over the top to help you flip them over. This will keep them intact.
See that? It's not there because it's a pretty picture. It's there because that's what your pan should look like when the Easy Bacon Wrapped Onion Rings are done. There will be a good deal of heavy caramelization on the pan (read: it'll look like some sugar is burnt) and a lot of fat. It IS bacon wrapped, after all. Don't worry! A little bit of char on the bacon is to be desired (see the photos near the top of the post). It lends to the crispy, candied bacon effect.
You can serve this with Smoked Paprika and Chipotle Sauce, Sriracha mayo, or ketchup, but I'm ridiculously fond of serving it with Easy Bleu Cheese Dip or Dressing. Bacon and Bleu cheese? MATCH MADE IN HEAVEN.
Connect with Foodie with Family
facebook | pinterest | instagram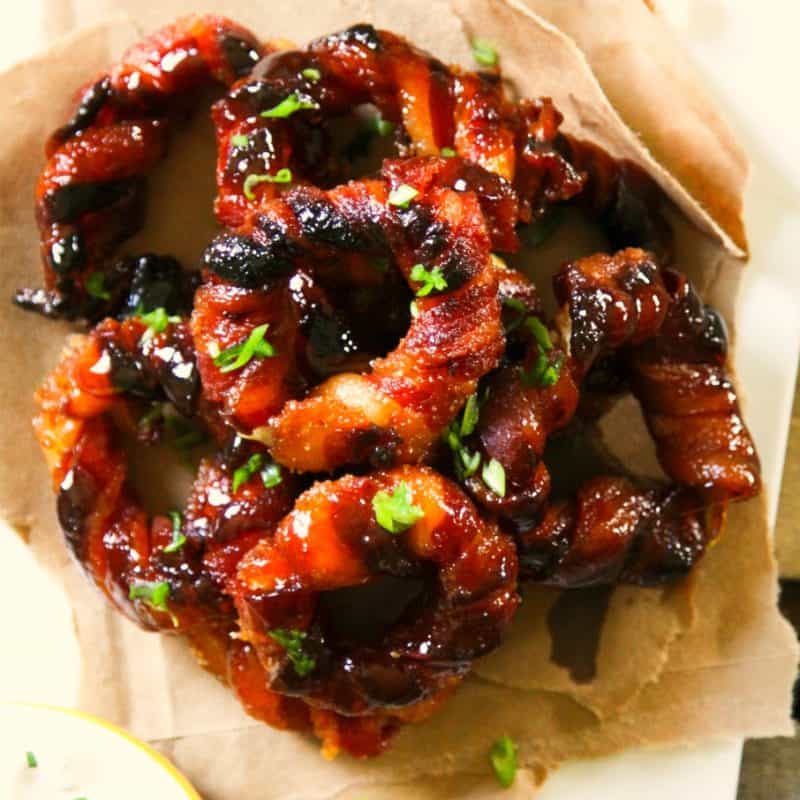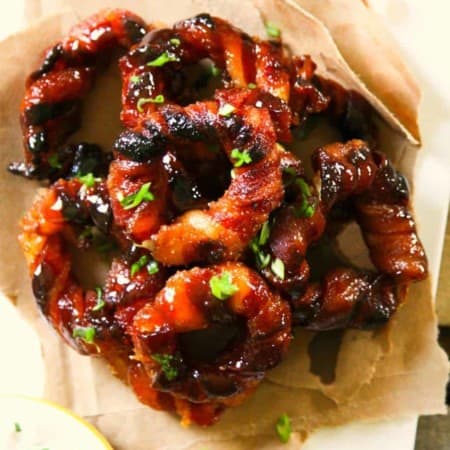 Crispy, salty, savoury, sweet bacon creates a shell around meltingly tender, fragrant onions. Go on. Do it.
Ingredients
2

large onions

vidalia or otherwise, but quite large, stem and blossom ends removed, sliced into 1/2-inch slabs, peels removed, and separated into two-ring sections.

1

pound

thick sliced bacon

have a second package handy if needed

1 1/2

cups

light brown sugar

1/2

to 1 1/2 teaspoons cayenne pepper

1/2

teaspoon

kosher salt

1/2

teaspoon

granulated garlic

1/4

teaspoon

granulated onion
Instructions
Line a half sheet pan with a layer of heavy duty foil, parchment, or a silpat. In a pie plate, use a fork to toss together the brown sugar, cayenne pepper, salt, granulated garlic, and onion until evenly combined.

Take one slice of bacon and gently stretch it to lengthen it. Hold one edge against an onion ring and wrap it around the onion, just barely overlapping the bacon by 1/8-inch or so. If needed, use part of a second strip to finish wrapping the onion. Use a toothpick to secure the bacon to the onion. Place the bacon wrapped onion ring in the bowl of brown sugar and flip. Use your hands to help sprinkle over the onion ring to ensure the entire thing is covered generously with the brown sugar mixture. Place on the prepared pan.

Repeat with the remaining bacon and onion rings. Place in a cold oven and turn the temperature to 325°F. Bake for 30 minutes before removing from the oven and gently flipping the Easy Bacon Wrapped Onion Rings. Bake for another 20 to 30 minutes, or until the bacon is crispy and deep mahogany in colour. Transfer to a paper towel or paper bag lined plate to cool in a single layer for at least 5 minutes before serving.
Nutrition
Calories:
560
kcal
Carbohydrates:
63
g
Protein:
10
g
Fat:
30
g
Saturated Fat:
10
g
Cholesterol:
49
mg
Sodium:
718
mg
Potassium:
354
mg
Sugar:
58
g
Vitamin A:
65
IU
Vitamin C:
5.3
mg
Calcium:
71
mg
Iron:
1
mg
Nutritional information is an estimate and provided to you as a courtesy. You should calculate the nutritional information with the actual ingredients used in your recipe using your preferred nutrition calculator.
Originally posted January 7th, 2015.