Visit our Bread Recipes page for more wonderful homemade bread recipes!

The body of this post and the printable recipe do NOT contain SPOILERS, however, I cannot make any promises about the comments section. If you are not caught up on Downton Abbey (Episode 1 of Season 3 as of this writing on January 12th, 2013), you may not want to read comments. I also ask -No, I BEG and PLEAD- that our friends overseas (or those who somehow saw all of Season 3 already) refrain from giving away what happens in any episodes past where I am!
Whoopsie! Forgot to include how MUCH cream in the ingredients list. It is fixed now!
I am an unapologetic anglophile from television programs to music to art to literature to food.
It is an idea that started with a simple question on the Foodie with Family facebook page…
"Are there any Downton Abbey fans here?"
In sixteen hours, more than seventy people 'liked' the post and there were twenty four comments. I knew I wasn't the only mega Downton Abbey fan out there. Obviously. I hear internet chatter. I read newspapers. I see the news. I know it's a big deal. What I didn't know was how many Foodie with Family readers would be interested in me blathering on about how on Sunday the children are duct taped into bed after I rush home from taking my eldest to youth group at lightning speed just so I can see the Dowager Countess, Lady Grantham, Lady Mary, Sybil, Edith, week-ends, Mr. Bates and Anna, the abhorrent Thomas, Mr. Carson, Mrs. Hughes, Mrs. Pattimore, Daisy, Mrs. O'Brien, upstairs and downstairs, and lush costuming.
OH, THOSE COSTUMES. The dresses! The DRESSES, I tell you!!!!!!
Yes, I record it on the DVR, but if you have to ask that, you're not getting my point. I want to watch it the very second it's airing on PBS. I don't want to wait one fraction of a second to get my weekly Downton fix.
More than I want to dress like Lady Mary, do something jolly with my hair like Edith, or just plain LOOK like Sybil from time to time, I want to be as witty, incorrigible and stalwart as the Dowager Countess Violet. Every time she speaks, I hush the imaginary people in the room with me. Imaginary, because I DO NOT allow anyone in the room with me lest they should talk over, wiggle, or otherwise interrupt my show.
My husband likes to sit in the other room with the door closed and laugh at me as I yell at the t.v. (Thomas, Mrs. O'Brien, and the former Mrs. Bates, I'm looking at you…), swoon (Oh hello, Lady Mary and Matthew, Anna and Mr. Bates. Yes. You all make my heart go pitter patter.), and otherwise sigh, moon, and mope when episodes conclude. After listening to me watch the conclusion of Season 2, he asked, "Is that what I sound like when I watch football?" My response included something intimating that if football had dresses like that I'd watch it, too.
I was late to the Downton party because of a fun little personality quirk where I deliberately avoid trying anything large crowds of people love. Yeah. That's working out really well… So far, I can add Harry Potter books, Downton Abbey, and So You Think You Can Dance to that list.* The ONLY advantage to having taken so long to discover the series (midway through Season 2) was that I got to park myself on the couch for an indecent amount of time and watch Season 1 in one sitting.
*To be fair to myself, I can also add the Twilight books, which -after reading- led me to conclude that my personality quirk might actually be useful in some ways. To quote Snorg Tees, "Real men don't sparkle. Real men defeat dark wizards!"
I quickly discovered that I really couldn't get through an episode of the show without something to eat since so much of it revolves around time spent at the dinner table or in the kitchen. Since I love a good theme, I decided to stock myself with British Isles treats to nibble while slowly and inexorably becoming part of my furniture. And here's where my idea came sidling in like Mr. Carson in the dining room. Why not post a little of the grub I made to sustain myself during my Downton Abbey marathon sessions? Just as quickly as the thought was hatched, I could almost hear the Dowager Countess saying, "What IS grub?" The Dowager Countess is apparently my grammatical conscience.
Today is my first contribution to the Downton Grub Files and it's a doozy; Earl Grey Raisin Scones with Sticky Lemon Glaze. These moist, flaky scones are packed with Earl Grey soaked raisins and a touch of lemon zest and topped with a sticky, absolutely, unequivocally un-Downton finger-licking, Sticky Lemon Glaze. Every time you bite into one of the juicy soaked raisins, you get a little subtle pop of Earl Grey tea. I'm pretty sure Mrs. Patimore would be a-okay with slurping the glaze from your fingers, so go for it.
Tune in every Saturday while Downton Abbey airs for a great new classic British fare recipe to eat while you watch on Sundays! Who's your favourite on Downton? What moments made you GASP? Cry? Scream at the television? (Come on, I can't be the only one who did it!)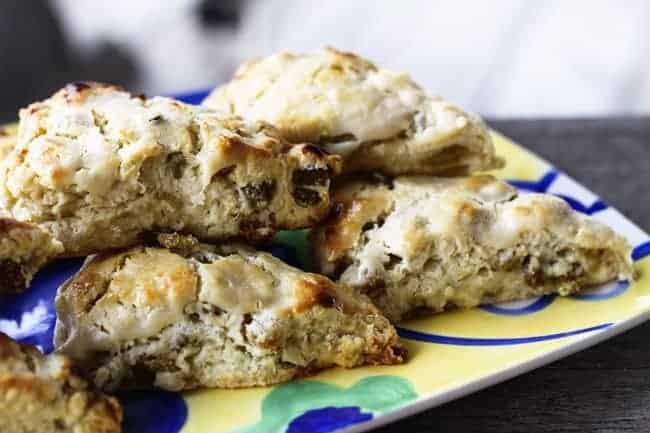 Earl Grey Raisin Scones with Sticky Lemon Glaze | Downton Grub Files
Rate Recipe
Moist, flaky lightly lemony scones studded with Earl Grey soaked golden raisins are perfect to nibble while watching Downton Abbey or just because you can.
Ingredients
1

cup

golden raisins soaked in 1 1/2 cups hot

12 ounces, extra-strong Earl Grey tea for at least an hour

4

cups

all-purpose flour

1 pound 1 ounce, by weight, preferably King Arthur all-purpose or Galahad flour.

2

teaspoons

salt

2

tablespoons

baking powder

2

tablespoons

sugar

8

tablespoons

butter, cut into small cubes

1 1/2

cups

heavy cream

zest of one lemon

divided

juice of one lemon

1/2

cup

sweetened condensed milk
Instructions
Preheat the oven to 400°F. Line a baking sheet with a silpat or parchment paper and set aside.

Pour the raisins and tea into a fine mesh strainer and let drain thoroughly.

Whisk together the flour, salt, baking powder and sugar in a large mixing bowl. Add about 1/2 of the cubed butter and work in with a fork, two knives, a pastry cutter or your fingers until the mixture resembles lentils. Add the remaining butter and work in, leaving some slightly larger pea sized -or even larger- flakes of butter.

Add half of the lemon zest, and the drained raisins to the flour, then toss through gently until evenly distributed, taking care not to mash it in. Add 1 1/2 cups of the cream, sprinkling it over the top, then tossing to combine. Pick up a small amount of the mixture and try squeezing it gently together. If it crumbles, or if there are dry crumbs in the bottom of the bowl, add more cream -1 tablespoon at a time- until you have a mixture that holds together as a shaggy dough when squeezed gently. Use a bench scraper or spatula to gently fold the dough in on itself until it forms a shaggy mass you can turn out onto a very lightly floured surface.

Divide the dough in half and gently pat out the dough into two 7-8 inch discs that are about 3/4 of an inch thick. Carefully transfer the discs to a parchment lined baking sheet. Use a bench knife or Chef's knife to cut each disc into 8 wedges, cutting straight down and not sawing back and forth to help it rise higher in the oven. Gently separate the wedges so there is a little space between them.

Whisk together the remaining lemon zest, the lemon juice and the sweetened condensed milk until smooth. Lightly brush the tops of the unbaked scones with the glaze.

%https://www.foodiewithfamily.com/wp-content/uploads/2013/01/Earl-Grey-Raisin-Scones-ready-to-bake-from-Foodie-with-Family.jpg

Bake for about 30 minutes, or until the scones are puffy and golden brown on top.

Spoon any leftover glaze on the hot scones and spread it over the tops. Let cool 'til comfortable to handle!
Nutritional information is an estimate and provided to you as a courtesy. You should calculate the nutritional information with the actual ingredients used in your recipe using your preferred nutrition calculator.
Save
Save