I love pretty clothes, nice smelling candles, and makeup. It's no small feat managing to stay a girly-girl in the House-O-Men. I steadfastly cling to my God-given right to remain high-maintenance in a home full of people who may or may not actually pull a brush through their hair every day. The little boys find gawking at me when I am putting on mascara or lipstick to be irresistible.
I'm fairly choosy when it comes to which products I'll use on my face. That doesn't mean it has to be pricey, it just has to be something that doesn't irritate my sensitive, also-high-maintenance skin. When I stopped using shampoo 3 or so years ago, my skin became a lot healthier, but I also got to where I noticed when something was making it react in unpleasant (read: pimply, rashy, red, or what-have-you) ways. There were NO commercially available make-up removers or make-up removal towelettes that didn't a) dry my skin to the point of wanting to claw it, b) leave such a film of grease on my skin that it broke out into pimples, c) turn my face into a red, rashy mess, d) require me to wash my face to remove the make-up remover, or e) all of the above. I relied on good old Cetaphil face soap to remove my make-up, but sometimes a girl needs a little extra oomph to get the layers of mascara off, right? Good times, folks.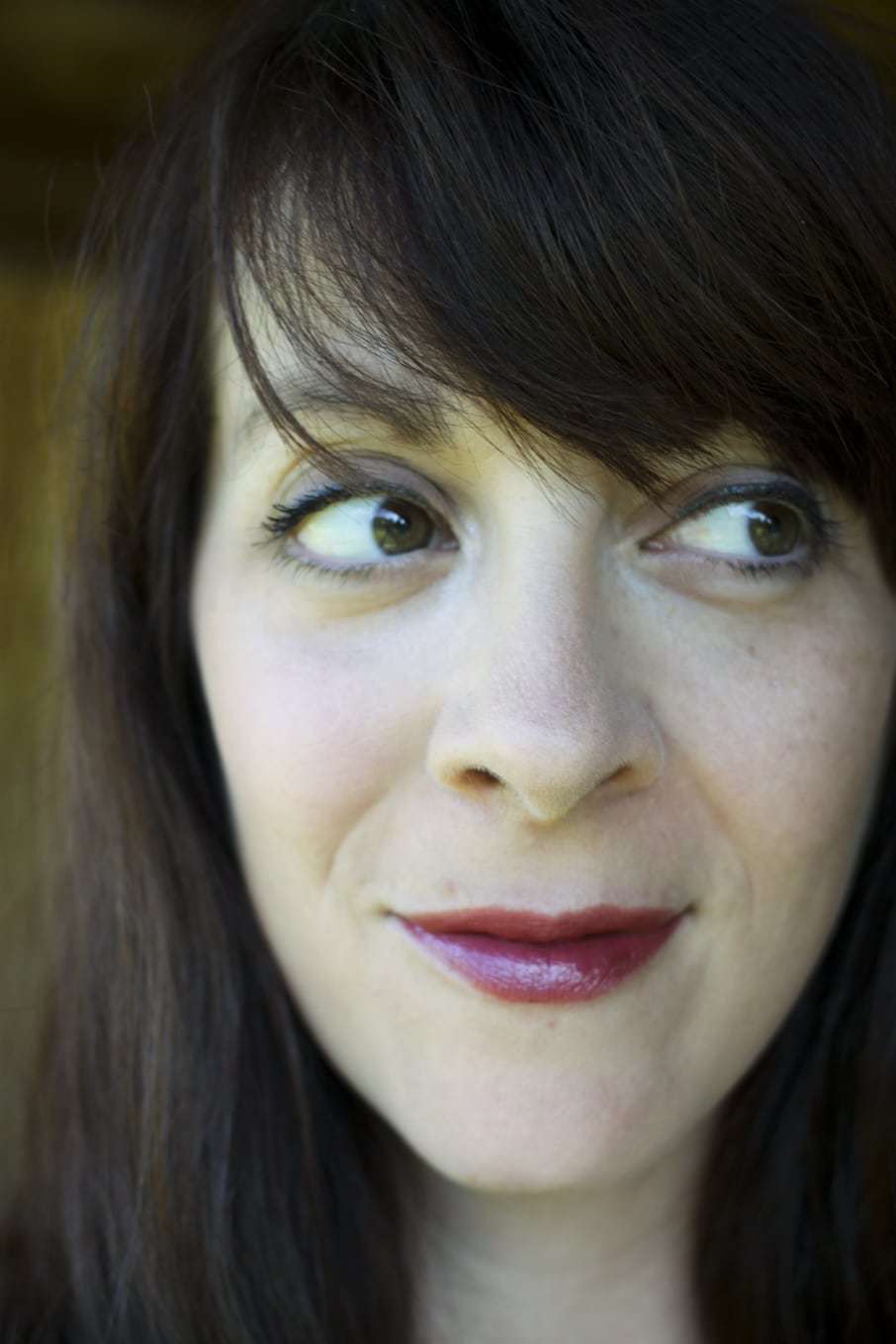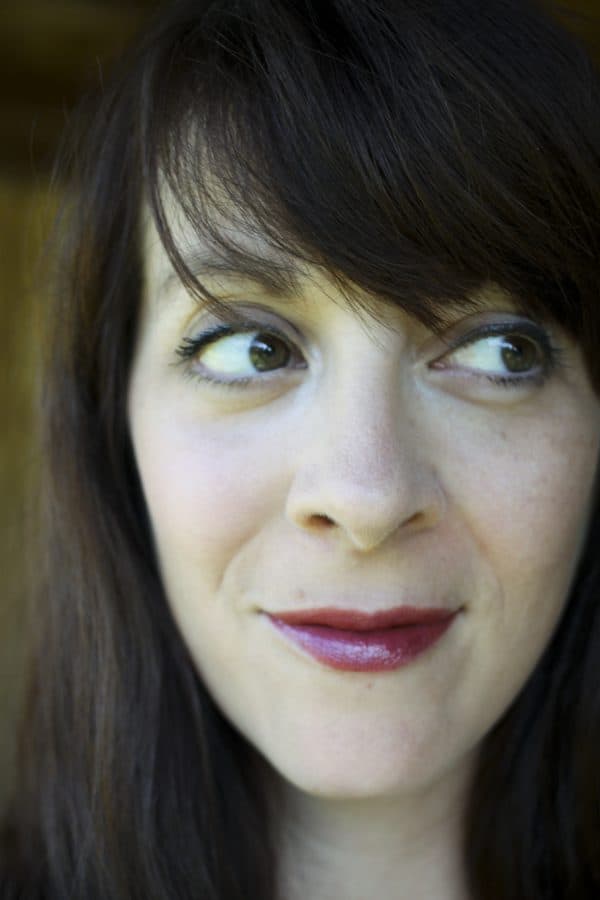 See? I'm a fan of the face paint! My options were narrowed down to carrying on with the soap or making something myself. Recalling that we had made our own baby wipes for our sensitive-skinned kiddos when they were still in diapers, I did a little variation on the theme and made my own wipes. As we had done for the boys, I started with Viva brand paper towels. Yep. I'm brand specific here. I am not affiliated with them at all, but these paper towels are more like cloths than any other paper towel I've seen on the market. They can be absolutely saturated with liquid and still remain strong enough to scrub make-up off a face or you-know-what from a baby tush.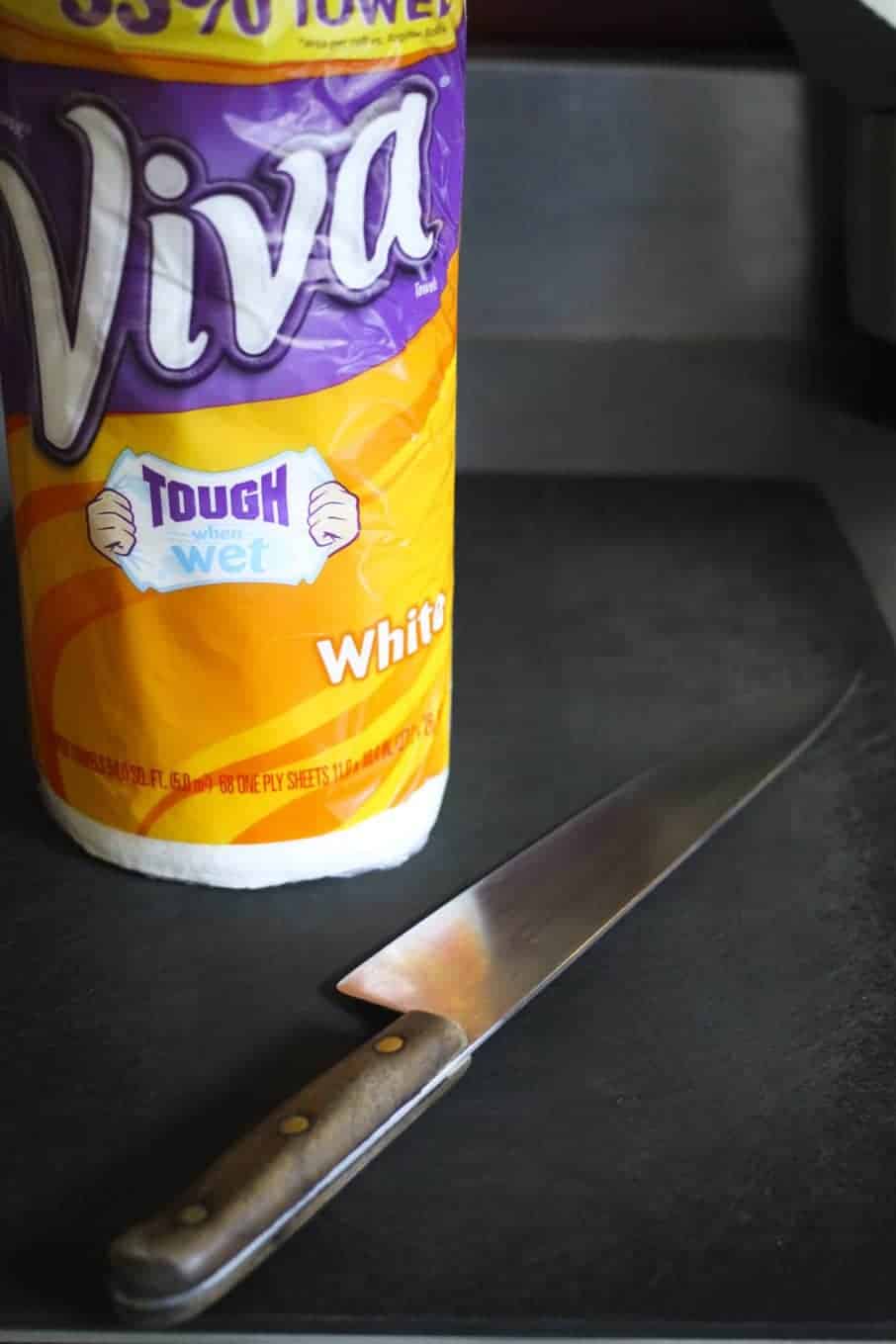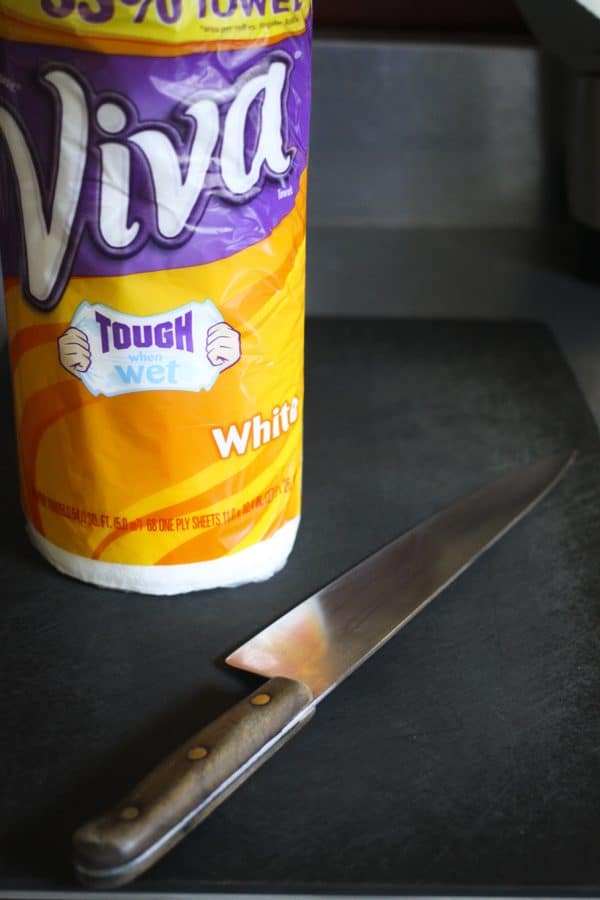 There are two kinds of Viva paper towels, and I recommend the 'regular' ones. These are so soft and gentle on the skin. The other ones (Viva Vantage) are a little too scratchy for me, and they're not quite as sturdy overall. The disadvantage to using these is that (as far as I know) they don't come in select-a-size form. That means we have to get creative.
It's not a complicated procedure, but you do have to cut a roll of the towels in half lengthwise. A sharp knife or a marginally decent serrated knife should make the job less fraught with concern of lobbing off fingers. If you're lucky enough to have an obliging spouse who has a handy way with power tools, hand it to them and have them cut it in half. If they balk, tell them you're saving money. That'll usually do it.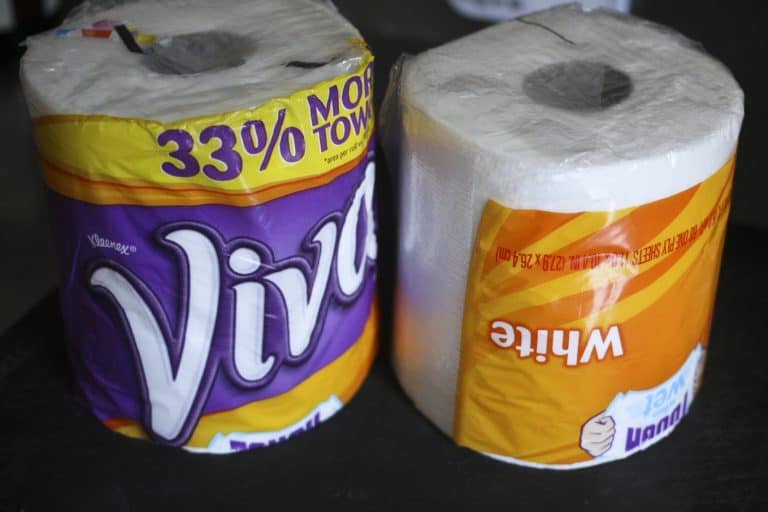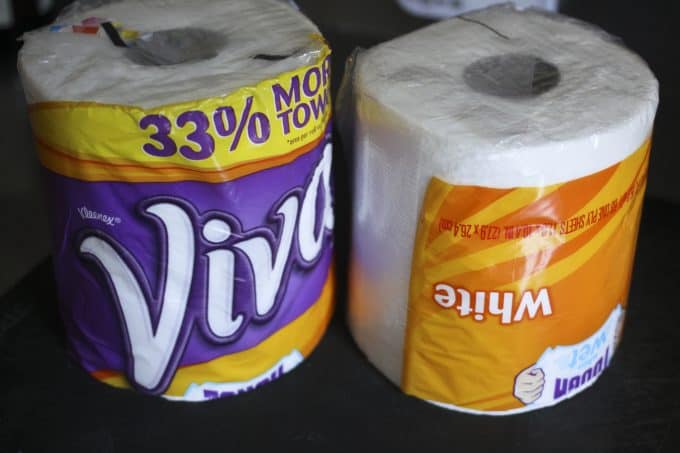 When you have your two halves, carefully remove the wrapper from one half and slide it over the exposed end of the second half. That'll keep your other roll dust/spider/grubby fingerprint free until you're ready to use it. I pull off about 14 sheets, fold them in half, and set them aside for a moment. Wrap up the rest of that roll in a zipper top bag or plastic wrap to keep it clean, as well.
Into a small, sandwich sized container with a tight fitting lid goes a mixture of alcohol-free witch hazel (crucial, because alcohol HURTS THE EYES!! Trust me.), aloe vera (not the goopy gel, but I'll expound on that in a moment), a little lavender essential oil, and just a drop or two of liquid castile soap.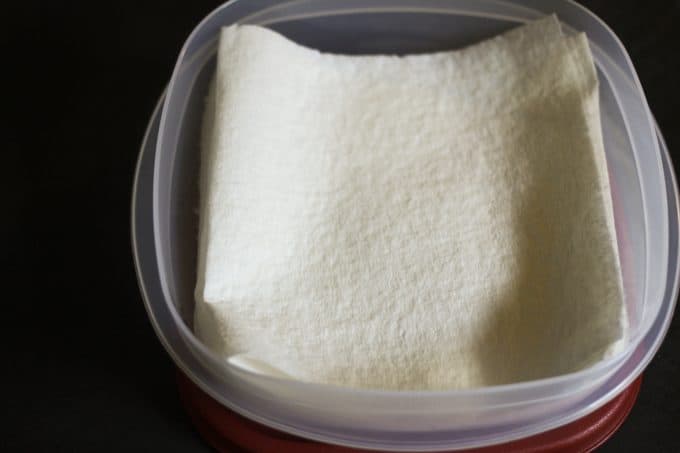 I swirl it a bit, and then lay my pile of folded half-sheets of Viva in the container, put the lid tightly in place, and invert it for 5 minutes. After that, I flip it right-side up, and my wipes are ready to go!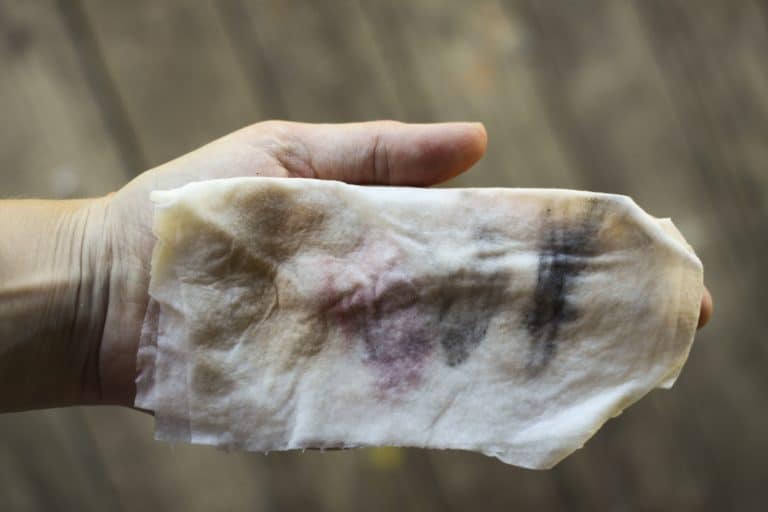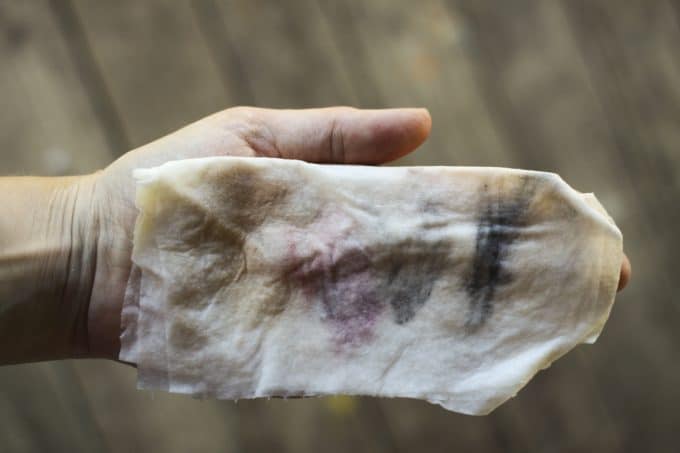 They work like a charm! They clean everything -mascara, eyeliner, eye-shadow, foundation, blush, and lipstick- without irritating or drying my skin.
Some notes on why and how:
Witch Hazel is a beautiful thing for your skin. I'm not talking about the $0.99 bottle from Dollar General, though. The real deal is alcohol free and helps balance your skin. It's recommended for acne prone, dry, AND oily skin, in addition to being a great first line of defense against many skin conditions. You can get it through Amazon by clicking this link!
Likewise, the el-cheapo bottle of aloe vera that's a garish green colour is really NOT what you want for your skin. Aubrey Organics Aloe Vera is 100% PURE ALOE VERA. There are no artificial thickeners or dyes in it. It is another skin serum that can't be beat. This is also available at Amazon through this link.
You may be wondering why I said you could put soap on your face in the form of liquid castille soap and leave it there. Dr. Bronner's Liquid Castille Soap isn't just any soap. It is MARVELOUS for sensitive skin and it's free of anything that might irritate it. In the small amount in which it's added to the liquid for the DIY All-Natural Makeup Removal Towelettes, Dr. Bronner's does not bother my skin.
The Lavender essential oil is there for a couple of reasons. It's anti-bacterial, anti-microbial, anti-fungal, meaning it helps both the shelf-life of your wipes, and it smells great. That's all kinds of win/win.
Speaking of shelf-life, there is a method behind the madness of only making 14 wipes at a time. This keeps the wipes from growing  bacteria or other nasties that could harm your skin or overall health. To me, it's a snap to whip up a batch of wipes every 10 to 14 days (depending on whether I use more than one on a given day), especially if I've already cut my roll of towels in half, and the trade-off is so worth it.
Do you have any great DIY beauty tips to share?
Ingredients:
1/2 cup alcohol free witch hazel
1/8 cup Aubrey Organics 100% Pure Aloe Vera
5 drops Lavender Essential Oil (preferably Spark Naturals)
2 drops Dr. Bronner's Lavender Pure Castille Soap
15 half sheets Viva Paper Towels, folded in half from end to end
Instructions:
Combine the witch hazel, aloe vera, Lavender essential oil, and Dr. Bronner's soap in a container with a tight fitting lid. Swirl to combine. Lay the stack of folded paper towels in the mixture, lid it tightly, invert for several minutes, then turn it back right side up. Use within 14 days.
This is my first post in my commitment to post every. single. day in November for NaBloPoMo (National Blog Posting Month). Am I nuts? Maaaaaybe. We'll decide later!