I'm clearly on an ice pop kick. I could blame the weather; it has been hot, after all. I could say I do it for any or all of my five kids. The truth is, though, that I love them madly. I love having a variety of frozen pops waiting for that moment that I decide I need a little special treat: in other words, several times daily. Dark Chocolate Almond Frozen Yogurt Pops currently enjoy the status of "most devoured" ice pop in my freezer. They're about as simple as can be -as ice pops are wont to be- being made of three simple ingredients ; Honey Yogurt, homemade Dark Chocolate Magic Shell, and chopped toasted almonds. The yogurt freezes up perfectly and pairs like a dream with the thin coating of snappy chocolate shell and buttery almonds.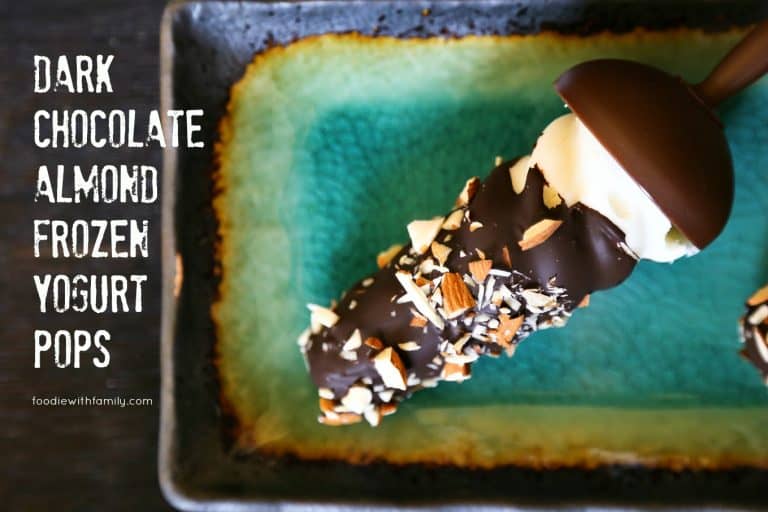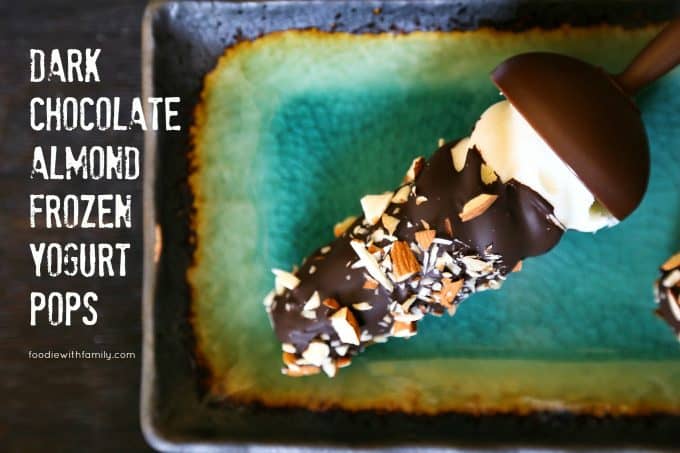 I can't think of a snack in my house that makes me happier than Dark Chocolate Almond Frozen Yogurt Pops. If the taste of cool, creamy heaven isn't enough to recommend it, perhaps its unparalleled ease of preparation will. The honey yogurt makes this as simple as can be by virtue of being delicious. It's as easy as cracking open a container of honey yogurt and spooning it into your popsicle molds, freezing it, then dipping it into homemade dark chocolate magic shell and sprinkling with almonds.
I have owned this particular mold for almost three years and use it nearly daily. It shows no sign of giving up anytime soon, so I highly recommend purchasing a couple. What makes it so handy is that the silicone molds have tabs on them, making it simple to peel the mold back from the ice pop, leaving the beautiful design intact. The stick itself is built into a little cup shape to hold drips if you're too leisurely in eating your Dark Chocolate Almond Frozen Yogurt Pops.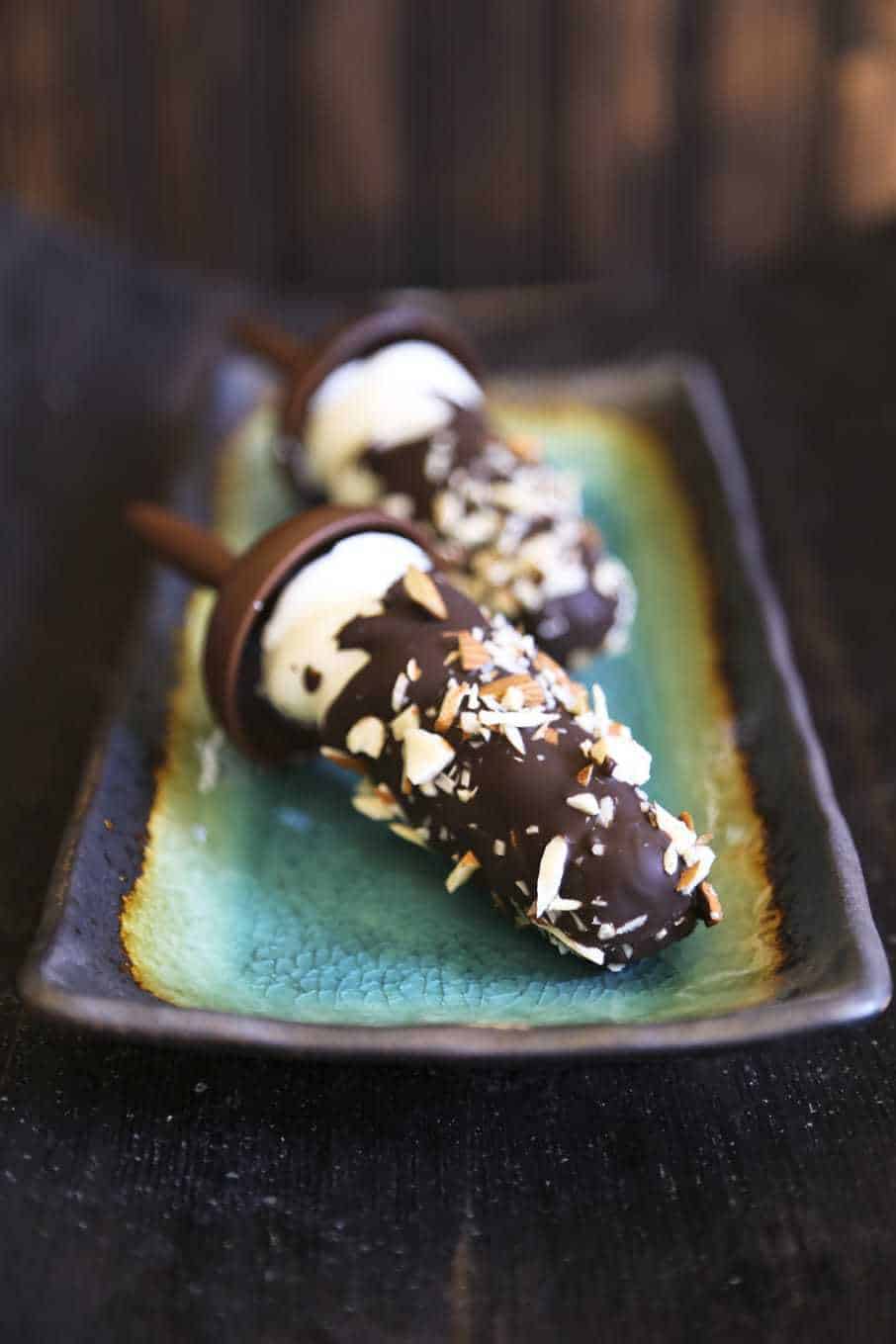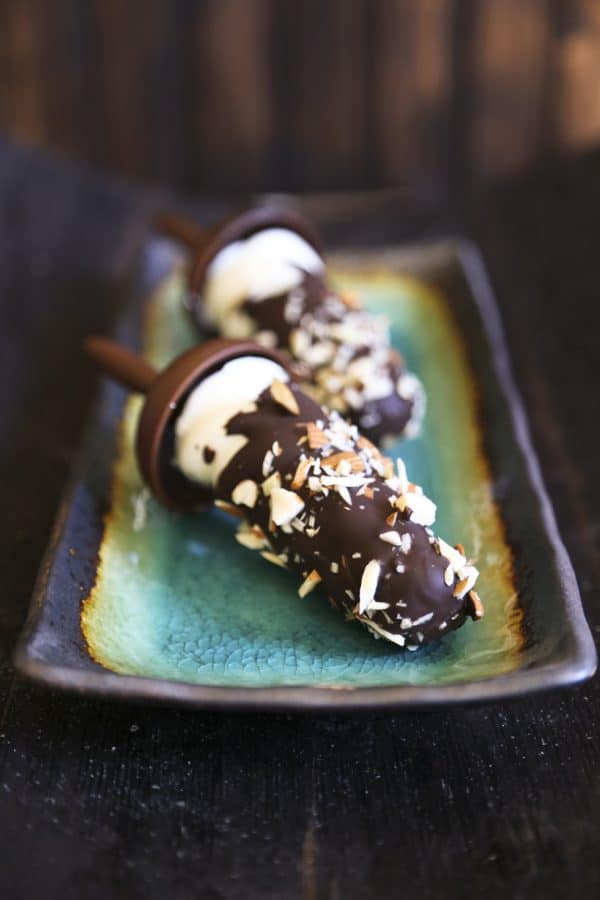 Cook's Notes
Feel free to use whichever honey yogurt you like best. I prefer to use an Australian, Icelandic, or Greek style yogurt here because their thickness helps them freeze into a more luscious ice pop.
If you don't want to keep silicone ice pop molds on hand, you can always freeze the yogurt in little paper cups (the better to peel and tear away) with wooden sticks held in place using plastic wrap or rubber bands.
You can, of course, make as many of these as you'd like depending on how many Dark Chocolate Almond Frozen Yogurt Pops you'd like to have handy and how many molds you have available.
The Homemade Magic Shell will harden VERY quickly on your frozen yogurt pops, so be sure to have your almonds nearby for sprinkling over the shell.
Although the shell does harden quickly, you'll want to work fast to get the pops back into the freezer, especially if the kitchen in which you're working is fairly warm. The yogurt will hold up well to being dipped in the warm chocolate shell, but will need to get back into the deep freeze fast after the process.
I highly recommend lining a plate or cookie sheet with foil or waxed paper before you unmold your frozen yogurt pops for dipping. This will keep the chocolate from adhering to the plate and make the re-frozen pops easier to lift. Personal experience has shown me that the absence of foil will find you trying desperately to pry a Dark Chocolate Almond Frozen Yogurt Pop from a plate with a fork and ending up simply jabbing it and eating whatever pieces you can shovel away.
Connect with Foodie with Family
facebook | pinterest | instagram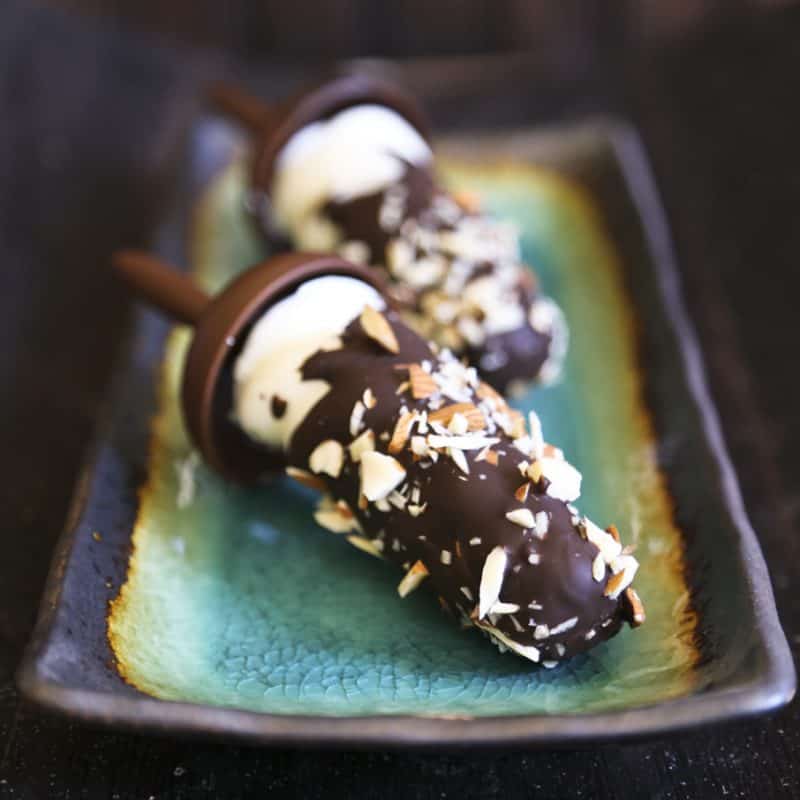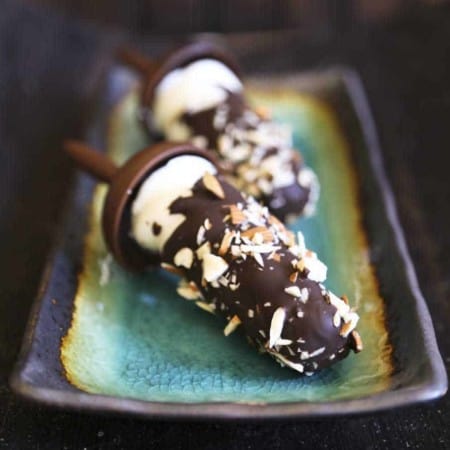 Thick, Aussie style yogurt is frozen in ice pop molds and dipped in homemade dark chocolate magic shell before being sprinkled with chopped, toasted almonds. Decadent tasting but good for you!
Ingredients
Honey Yogurt

Homemade Dark Chocolate Magic Shell

chopped

toasted almonds
Instructions
Line a cookie sheet or platter with foil or waxed paper.

Spoon the Honey Yogurt into the desired ice pop molds or into little paper cups. Add the sticks or ice pop holders and freeze until completely hard, about 4 hours. Unmold the ice pops and -working with one pop at a time- dip in the homemade magic shell, sprinkling generously with almonds after dipping each. Lay them on the prepared cookie sheet or plate, trying to prevent them from touching each other. Return to the freezer for at least 15 minutes before serving.
Nutritional information is an estimate and provided to you as a courtesy. You should calculate the nutritional information with the actual ingredients used in your recipe using your preferred nutrition calculator.
Save
Save