I am proud to let you know that the recipe development for this gorgeous Crispy Skin Salmon with Pine Nut and Parsley Crust was sponsored by DaVinci Wine. Tender, flavourful salmon with a cracker crisp skin and a crunchy panko crust made with pine nuts and parsley is designed for simplicity and the wow-factor.
Whether as part of your Feast of the Seven Fishes, or served on its own, this is a crowd-pleaser. This post is sponsored by DaVinci Wine as part of my partnership with them for the Feast of the Seven Fishes. All opinions, recipes, and photos remain -as always- my own.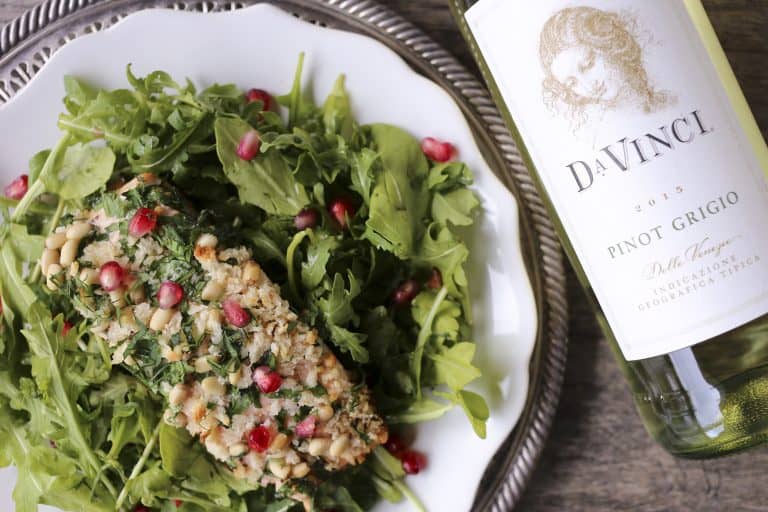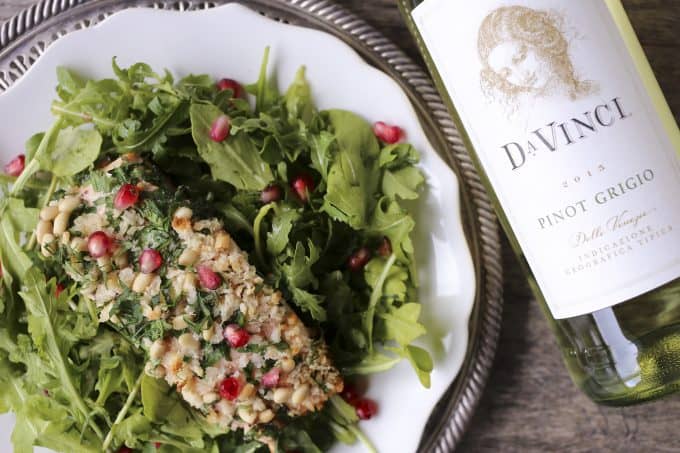 Every single human needs a recipe that is easier than ordering takeout and as impressive as a chic restaurant in their back pocket. I realize that is like the unicorn of recipes, and today's Crispy Skin Salmon with Pine Nut and Parsley Crust is every bit the unicorn; it is magical in its ability both to be made by beginners and still be impressive to even the most jaded gourmet.
To begin with, let's chat about that crispy skin. I know- so many people have only encountered limp, sorry fish skin that is something to be scraped to the side of the plate.
When salmon skin is crispy, though, it delivers a salted, crunchy, cracker-like dose of umami that is incomparable and crave-worthy.
And it is so easy, it's almost criminal. The keys are a seriously hot, seriously heavy pan, some oil, some patience, and a good fan, in that order.
I highly recommend using a cast-iron pan for our Crispy Skin Salmon with Pine Nut and Parsley Crust because it becomes screaming hot and holds that heat beautifully. This is 100% key to getting the coveted crispy skin.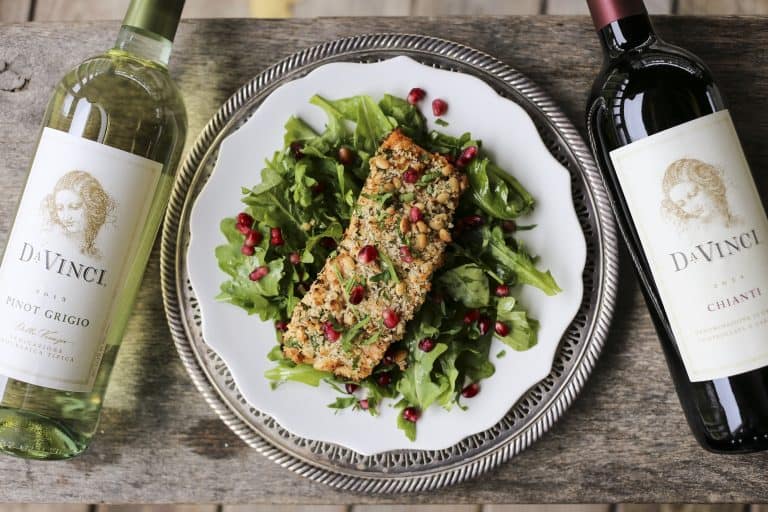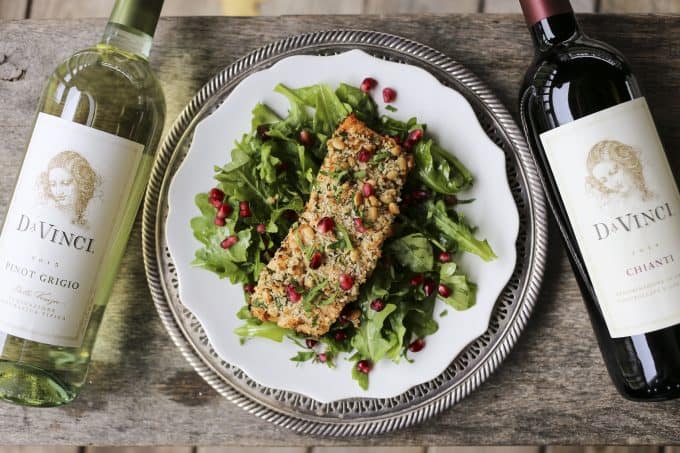 The tender salmon gets a flavour boost from a brushing of white wine infused Dijon mustard and a top crust of crispy panko, rich toasted pine nuts, and fresh parsley. It is served over a lightly lemon dressed bed of peppery arugula and sprinkled with ruby red pomegranate arils.
I share how to de-seed a pomegranate in the easiest, least-messy way. If you're intimidated by working with pomegranates, fear no more!
The cumulative effect is a heady and tantalizing marriage of texture, temperature, and flavour. Wonder of wonders, this unicorn dish pairs equally well with DaVinci Chianti or DaVinci Pinot Grigio, so you can please your red wine and white wine loving friends at the same time.
Whether you serve this as a stand alone dish -because this is all you need to make a meal extraordinary- or as part of your Feast of the Seven Fishes, you will be thrilled with the results.
Crispy Skin Salmon
I cannot emphasize enough how important it is to have a really heavy, oven-safe skillet for this job. The best, most economical choice by far is cast-iron. The next best best is heavy-bottomed stainless steel.
When I say the oil should be smoking, I mean faint wisps of smoke rising from the surface of the oil, and the oil looking shimmery in the pan.
Connect with Foodie with Family
facebook | pinterest | instagram | twitter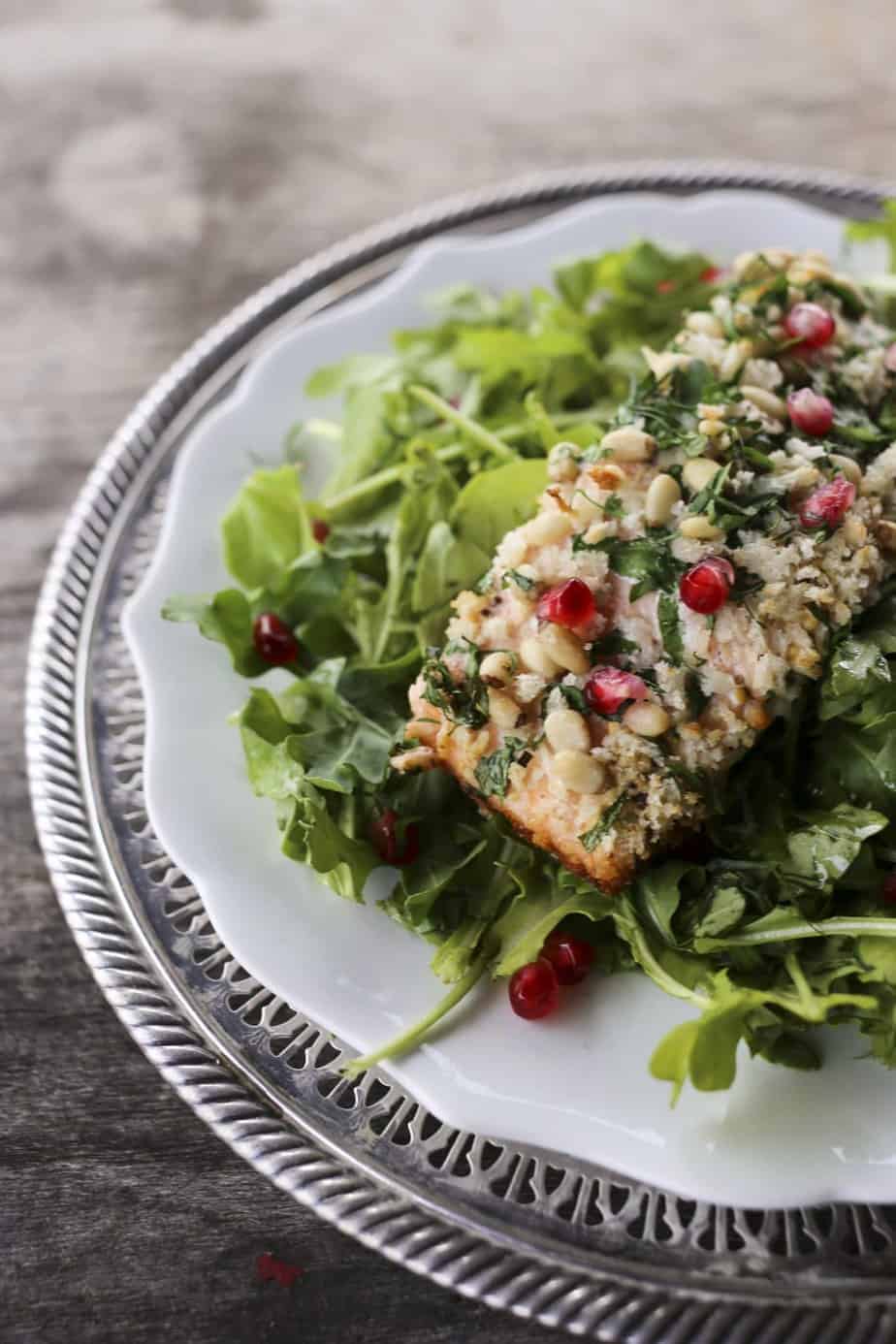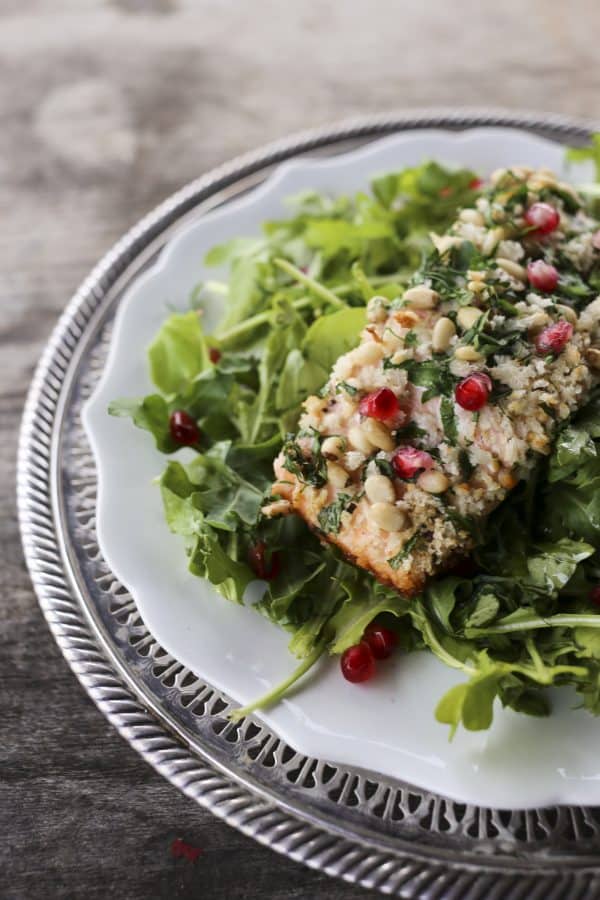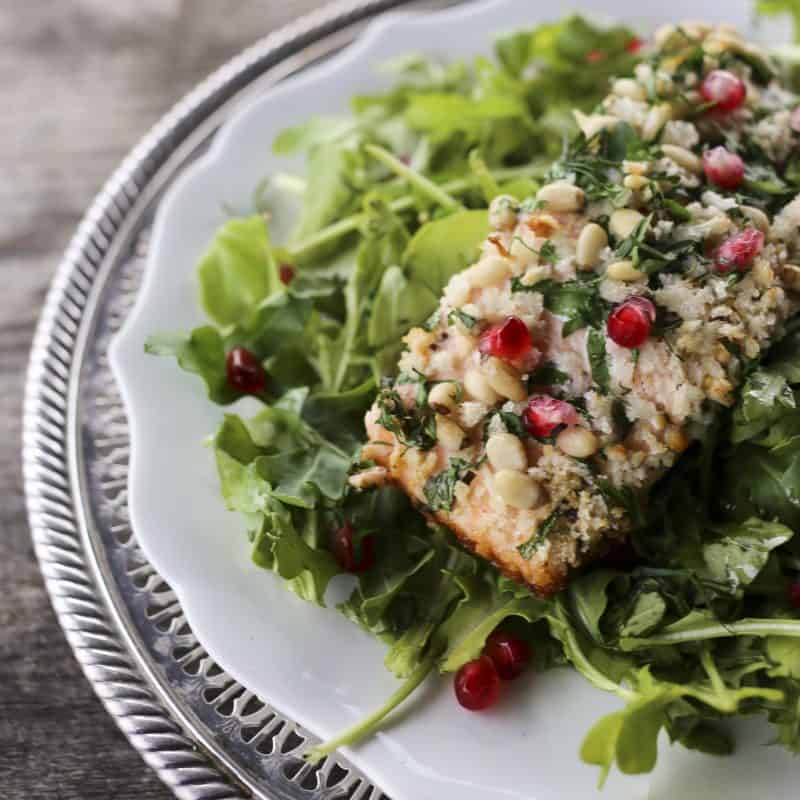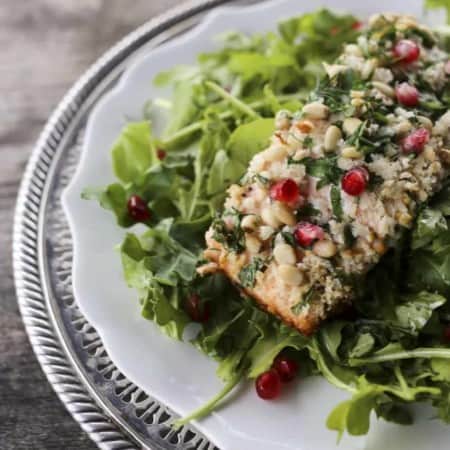 Crispy Skin Salmon with Pine Nut and Parsley Crust
Rate Recipe
This stunning and simple Crispy Skin Salmon with Pine Nut and Parsley Crust is served with lemon dressed arugula and ruby-red pomegranate arils.
Ingredients
For the Salmon:
4

skin-on salmon filets

6 to 8 ounces each

1/3

cup

pine nuts

½

cup

panko bread crumbs

2

tablespoons

chopped fresh parsley

2

tablespoons

whole grain Dijon mustard

Neutral oil

such as canola or grapeseed
For the Salad:
2

tablespoons

olive oil

2

teaspoons

fresh lemon juice

1

teaspoon

whole grain Dijon mustard

¼

teaspoon

kosher salt

¼

teaspoon

sugar

A pinch of fresh lemon zest

8

cups

baby arugula

¼

cup

Pomegranate arils

Additional chopped parsley

for garnish
Instructions
Instructions:
Preheat oven to 425°F.

Lay paper towel out on a pan or cutting board in a double layer. Place the salmon filets skin side down on the paper towel and move them around a bit to ensure the skin is bone-dry. Sprinkle the salmon filets generously with salt and pepper, then brush the upper surface with the Dijon mustard.

Place an oven safe, 10-inch or 12-inch cast-iron or stainless steel frying pan over high heat. Drizzle enough oil over the surface of the pan to coat it easily without having to swirl it, about ¼ cup. Let it stay over the high heat while you finish preparing the salmon filets.

In a pie plate or other shallow bowl, combine the pine nuts, bread crumbs, and parsley. Toss to combine evenly. Lift a salmon filet and place it, mustard down, into the mixture, pressing to help the coating adhere. Move it back to the paper towel, skin side down.

When the oil is smoking slightly, lift one filet of salmon and carefully lower it into the oil, skin side down, away from yourself. Repeat this with the other filets. Do not move the fish at all once it is in the pan. You should hear a lot of violent sizzling and there should be oil popping in the pan. This is good! Allow it to continue to sear for 4 minutes without touching or turning it. After 4 minutes, transfer the pan to the hot oven. Let the fish finish cooking in the oven, 5 to 7 minutes depending on the thickness of the filets, or until the salmon is almost cooked through and the pine nuts look toasted. Remove the pan from the oven, lightly tent with foil (being sure not to crimp the foil around the pan), and let the salmon rest for 5 minutes.
To Make the Salad and Plate the Salmon:
While the salmon rests, whisk together the olive oil, lemon juice, Dijon mustard, lemon zest, salt, and sugar in a mixing bowl. Add the arugula to the bowl and toss to coat evenly. Divide the arugula between 4 serving plates. Divide and scatter the pomegranate arils between the 4 salad plates. Top each salad with one filet of salmon. Garnish with additional chopped parsley, if desired, and serve immediately
Nutritional information is an estimate and provided to you as a courtesy. You should calculate the nutritional information with the actual ingredients used in your recipe using your preferred nutrition calculator.
Be sure to check back in to DaVinci's Facebook page and website, and here on Foodie with Family for the rest of the Feast of the Seven Fishes recipes that I've developed for DaVinci. All of the dishes are wonderful individually, but are designed to be served as a feast in its entirety! Buon Appetito!
It had humble beginnings as a fisherman's stew, but this gorgeous Cioppino or Italian Seafood Stew is now a showstopper of a main dish. Serve on its own or as part of your Feast of the Seven Fishes.