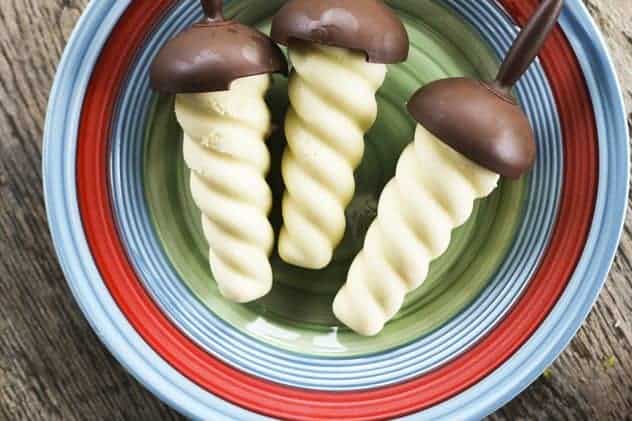 Is school officially out for the summer where you are? We're on the cusp here. So very close! We just have a couple standardized tests to finish up and it's FREEDOM for a couple of hazy, lazy (I wish!) months. My kids want that break so badly they can taste it.
The weather is hot and it's just too hard to sit at the school table without some sort of encouragement. To that end, I've been dangling popsicles like carrots to signify the end of the school day. There is nothing quite like a bit of quiescently frozen whatnot to take your mind off of columns of bubbles that have to be filled in ever so completely without going outside the lines. Popsicles take the sting out of the end of the school year.

Did you ever wonder if the person who invented standardized testing forms is the same one who invented ballots in Florida? But I digress. Politically and otherwise.
The popsicles I'm sharing here today hold the number one spot (not to be dislodged by number two pencils) in our home. Lemony and limey, they're so creamy they almost eat like an ice cream rather than an ice pop. The creaminess comes courtesy of… are you sitting down?… COCONUT MILK and Lemon Lime Curd. That's right. There's no cream or milk anywhere near this. You all know I'm a mega fan of cream, but there is simply no substitute here. There's something magical about what coconut milk does when its frozen. It doesn't taste overly coconut-y, in fact, you're hard pressed to get the coconut flavour at all. It's very faint. But what it lends is an unctuousness that is unparalleled. The Lemon Lime Curd is obviously the main source for the citrus punch, but gets a little helping hand from an extra splash of lemon juice.
If you'd like to make these vegan (it isn't already because of the eggs and butter in the Lemon Lime Curd) there is an easy quick fix. Simply use vegan lemon curd (or vegan lemon lime curd) in place of the traditional curd.
In case you're on the fence about making these thinking, "How could something so easy to make possibly be as good as she says it is?" allow me to share an example. My husband likes food but he believes in the less-is-more approach to food compliments. He does not use superlatives unless a food has earned it. He took a bite of one of these popsicles and his eyes rolled back into his head. He said, "Did you make these up?" When I replied that I had, he said, "These are incredible! Seriously. You have to blog these. Now. Go blog them. People need to make these."
He has suggested I put things up here on Foodie With Family before, but never with this much enthusiasm. Well, there is one exception, but it's coming next week. That's right. I hit it out of the park with The Evil Genius twice in one month. Stay tuned. And in the meantime, whip up a batch of these Creamy Lemon Lime Popsicles. It'll take no time at all and you'll look like a superhero.
One batch of the popsicle mix makes quite a few popsicles, but feel free to double or triple the recipe so that you have them on hand all the time. You're only limited by the amount of moulds and freezer space you have and the number you can eat in a month. Believe me when I tell you you'll be able to eat more than you think! If you wanted to make these in serious quantities for a kids' party or similar event, use little disposable paper cups and short, fat wooden popsicle sticks.
In honour of the end of the school year and an undisclosed high school reunion year ending with a zero (ACK!), I'll close this by saying, "Stay cool! Never change! Love ya like a sister!"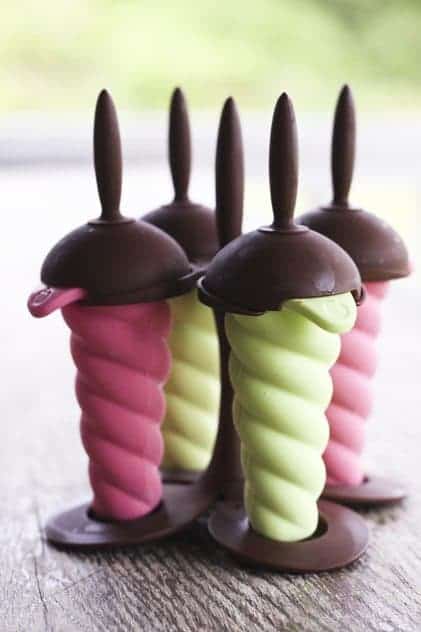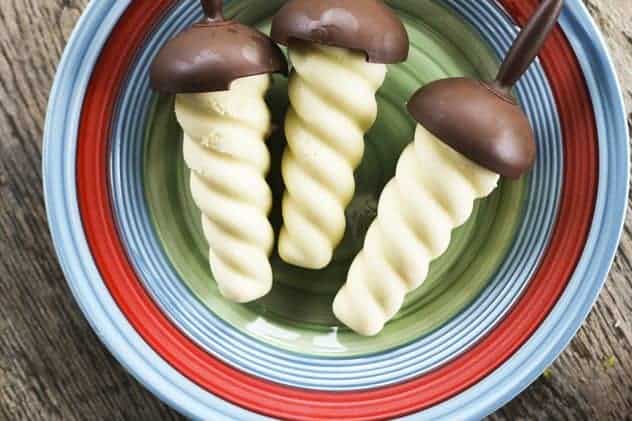 Creamy Lemon Lime Popsicles (Three Ingredients)
Rate Recipe
These lemony, limey, bright, 3-ingredient popsicles are so creamy they almost eat like ice cream rather than ice pops. These will take the edge off of the hottest days and are easily converted to being a vegan-friendly recipe by using vegan lemon curd in place of the traditional Lemon Lime Curd.
Ingredients
1

can

13.5 ounces, approximately full-fat, unsweetened Coconut Milk

1

cup

Lemon Lime Curd

1

tablespoon

lemon

or lime juice
Instructions
Add all ingredients to a blender and blend on high until smooth, about 15 seconds. If you do not have a blender, add to a large mixing bowl and whisk vigorously until smooth. Pour into popsicle moulds, add sticks or handles and freeze 6 hours or until frozen solid. These are best eaten within a month of being made.
Nutritional information is an estimate and provided to you as a courtesy. You should calculate the nutritional information with the actual ingredients used in your recipe using your preferred nutrition calculator.