You have to taste Creamy Garlic Cauliflower Sauce to believe that something so low in calories can taste so unbelievably indulgent and rich. This is a family favourite!
Have you ever stumbled on a recipe that made you holler because it was so good? And then you're shocked to find out that it's low in calories and fat?
Yeah. No.
Neither had I until just a couple of days ago.
I was chatting with my friend and fellow food blogger, Mary Younkin of Barefeet in the Kitchen. She isn't really given to hyperbole about recipes.
She makes good food and is content to know and share it without promising the moon. She started raving about a recipe she had posted a while back.
When she does that, I'm going to listen. She was talking up a creamy cauliflower sauce that she promised was garlicky, thick, rich, and velvety smooth that "didn't taste like cauliflower".
She said her boys –none of whom love cauliflower- watched her make the sauce, tasted it, and proceeded to inhale a batch even though they weren't into cauliflower. I was sold enough to try it.
I have to tell you, this is a SHAZAAM recipe, friends. It is knock your socks off good.
If I hadn't made it myself, I never would've believed it had zero cream in it whatsoever. I would have sworn to you it had a sinful amount, in fact. How is this possible?
It's really a simple process. Simmer the florets from a whole head of cauliflower until fork tender.
While that's simmering, sauté a generous amount of chopped garlic in a small amount of butter or coconut or olive oil until tender and fragrant. And boy, is it fragrant.
Pop the garlic and whichever fat you used into your blender and transfer the softened cauliflower in on top with a bit of the cooking liquid. Blitzkrieg it with some salt and pepper until smooth and then prepare to be wowed.
Thankfully, the recipe yields quite a bit, and is very freezer friendly. I say 'thankfully' because you're going to find yourself wanting this just about everywhere.
When Creamy Garlic Cauliflower Sauce is warm, toss it with freshly cooked pasta for a rich, creamy, satisfying pasta dish that is quite literally unbelievably good for you. It's also mind-bendingly delicious when you spoon the warm sauce over roast or pan-fried pork or chicken.
I have designs on pouring it over sausage biscuits, too, when the opportunity presents itself. Dip tortilla chips in it when it's warm and you'd swear there's cheese in there!
I ate an entire bag of tortilla chips and a whole jar of warm sauce that way. It was research.
Yeah. It was research. Hang on, though; it makes a great cold chip or vegetable tray dip, too.
If you think you can't eat all of this up –and you may surprise yourself once you start nibbling- in three or so days, divide it into small, meal-sized servings (a cup will beautifully coat almost a pound of pasta once cooked and drained), label, and freeze for those inevitable moments when you crave it and your car is socked in by snow.
Hey. It's winter. It could happen.
(Pssst. With the VERY tiny adjustment of using olive oil or Earth Balance instead of butter, this sauce is vegan making it a wonderful vegan stand in for Alfredo sauce or Carbonara. And bonus: it's naturally gluten-free for those who have to worry about it!)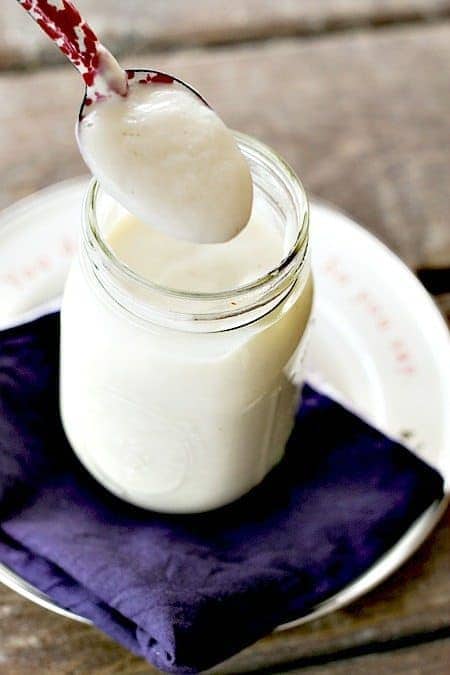 Cook's Notes
There really isn't a whole lot to this, just keep your cauliflower spears roughly the same size so they soften at the same rate.
Boil the cauliflower until it changes in color while the stems look semi translucent and a paring knife slides easily into a thick portion of stem.
I use a colander scoop to remove my cauliflower from the pan, but you can just as easily pour it into a colander positioned over another pan to catch the water. You'll need to reserve 1 cup of the cooking water to rinse the goods from the pan you used to cook the garlic in olive oil or butter into the blender.
DO EXERCISE CAUTION WHEN BLENDING! It will be hot. The safest way to do this is to remove the little vent top and place a folded towel over it. This will allow steam to escape and prevent hot Creamy Garlic Cauliflower Sauce from exploding all over your kitchen.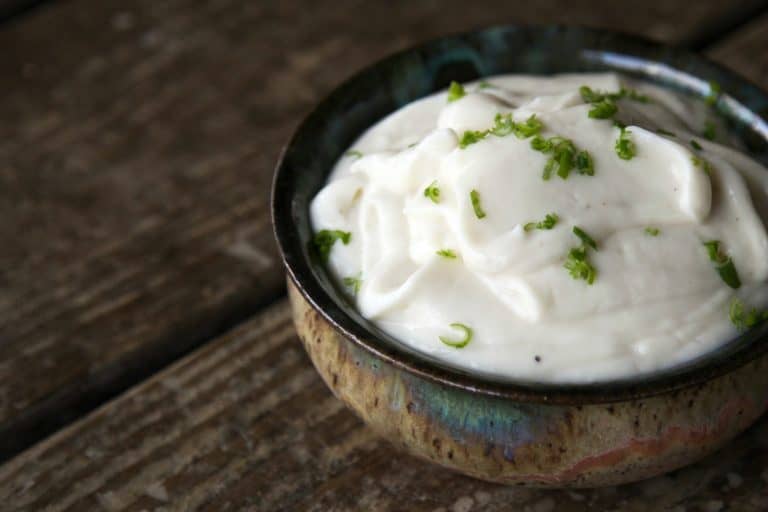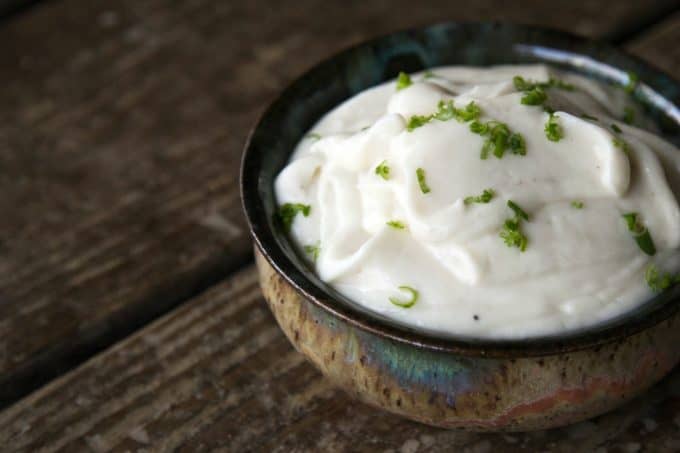 Connect with Foodie with Family
facebook | pinterest | instagram
Use these to make Creamy Garlic Cauliflower Sauce
Blendtec Blender or Vitamix Blender
Are you crazy for cauliflower? Try these other great recipes using the pretty white brassica: Low Carb Cauliflower Croque Monsieur, Winter Vegetable Soup Recipe with Butternut Squash and Cauliflower, Cauliflower Crust Vegetarian Pizza, and Chili Lime Cauliflower Popcorn.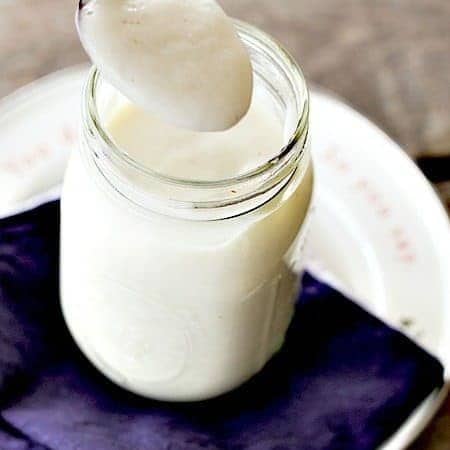 Your tastebuds won't believe it, but this rich, silky, Creamy Garlic Cauliflower sauce is insanely healthy! Toss it with hot pasta or use in place of 'white sauce' on a white pizza. Hooray! Recipe very gently adapted from and with thanks to
Barefeet in the Kitchen.
Ingredients
1

medium to large size head cauliflower

washed and cut into small florets

6

cups

water

5-8

cloves

of garlic

use 8 if your garlic cloves are small or closer to 5 if they're quite large

1 ½

tablespoons

olive oil

butter, or Earth Balance

1 ¼

teaspoons

kosher or sea salt plus a pinch

separated

½ - 1

teaspoon

freshly ground black pepper

Additional water

milk, or vegetable stock, if needed
Instructions
In a stockpot or large saucepan, combine the cauliflower florets and water over high heat. When it reaches boiling, put a lid on the pan and drop the heat to medium low. Simmer for 5 minutes or until the cauliflower is very tender.

While the cauliflower is simmering, melt the butter and olive oil over medium low heat in a small saucepan and stir in the garlic and the pinch of salt. Cook the garlic, stirring frequently –and lowering the heat if necessary to keep it from browning- until the garlic is tender and smells lovely. Scrape the garlic and butter into a blender carafe. Add one cup of the cauliflower cooking liquid to the butter pan, swirl it, and pour that into the blender, too. Use a slotted spoon to drain the cauliflower and add it to the blender as well. Add the salt and black pepper, put the lid firmly in place, and blend on HIGH until silky smooth. If your blender is quite robust, this will only take a minute or so. If it's a little anemic, it may take several minutes. If you find the sauce too thick for your liking, you can thin it just a bit with water, milk, or vegetable stock. I like it thicker, though, and so I omit this step.

Serve immediately or pour into clean jars with tight fitting lids for storage in the refrigerator. Alternatively, you can divide into meal sized portions and freeze for later meals.
Nutrition
Calories:
2
kcal
Sodium:
6
mg
Potassium:
21
mg
Vitamin C:
3.1
mg
Calcium:
5
mg
Nutritional information is an estimate and provided to you as a courtesy. You should calculate the nutritional information with the actual ingredients used in your recipe using your preferred nutrition calculator.

This post was originally published on December 12, 2013.