I'm so excited to bring Chicken Parmesan Meatloaf your way today, friends. We have a tender chicken meatloaf packed with all of the garlic kicked-up tomato sauce, herbs, and melty cheese of the original namesake dish. Happily, it is a more nutritious version made with very little hands on time and a fraction of the mess of the original. That's enough to make me borderline giddy, right there, but with it, I'm reviewing one of my best friend's books, so it's a little extra fun.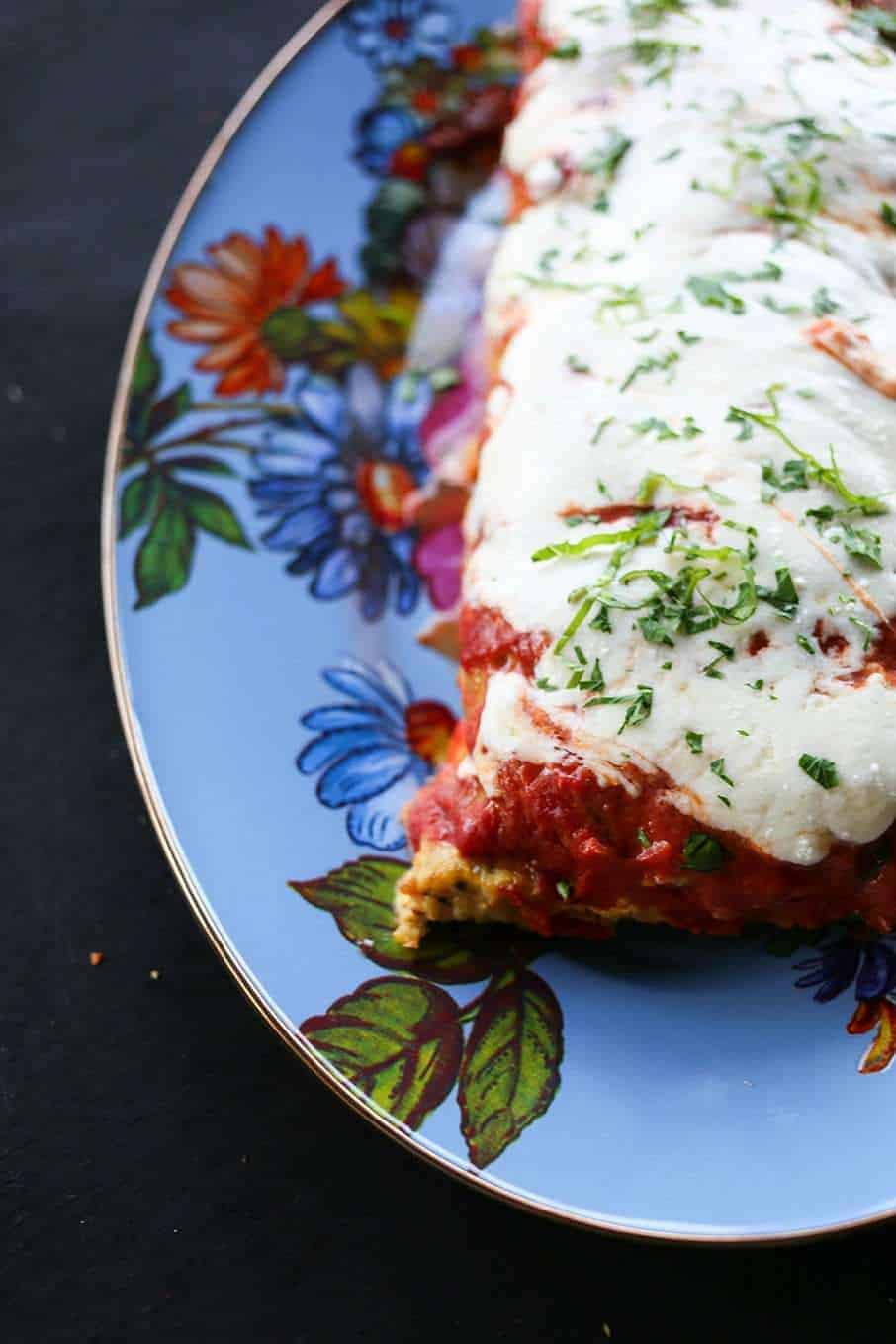 I can't lie. I'm not at all un-biased about Mary's Book "The Weeknight Dinner Cookbook". Mary Younkin is a real blessing in my life. I met her in person a few years ago at a blogging event after having chatted back and forth with her first about blogging, then about life in general for a couple of months. Since that time, we've traveled together, I've stayed at her home a few times, and we have seriously pushed the limits of unlimited texting plans. So why should you listen to me about her book? Because I know her and I know her talent. I've seen her skill for teaching people real life, reliable, delicious recipes. What's more, I have eaten breakfast made by her 12 year old who she taught to cook. She created a cookbook for everyone. The Weeknight Dinner Cookbook is focused on main dish recipes that are arranged by the amount of time needed to complete them; 15-25-Minute Meals, 30-45-Minute Meals, and 5-10-Minute Prep meals that cook on their own. Genius, y'all. No box mixes or some such, just honestly good food made from scratch as simply as possible.
Here's where it gets even better, though. All that real food? It appeals to the kiddo-crowd, too. In an attempt to narrow down which recipe I would choose to review, I handed the book to each of my sons in turn, asking them to choose which recipe they'd like for me to make first. Three of the five kids handed me a list of the multitude of dishes they wanted to try. One boy stabbed at one recipe or another and said, "This one first, then I have some other requests." The final boy said, "I don't care which you choose first, they all look awesome!" At this point, I can personally vouch for the Chicken Parmesan Meatloaf, Sweet Chipotle Chicken Bites, Cheesy Mexican Pasta, Fiery Orange Shrimp Pasta, Maple Herb Roasted Carrots, and that unbelievably good Lemon Lover's Pound Cake. People. Buy the cookbook for that pound cake recipe. Trust me.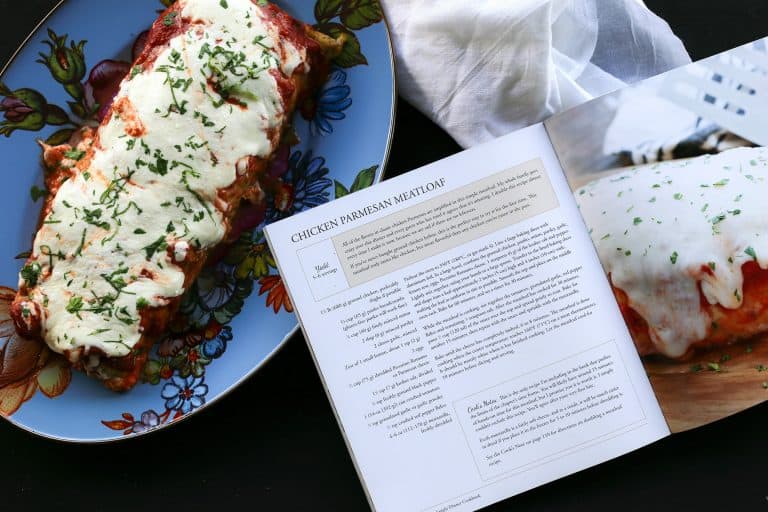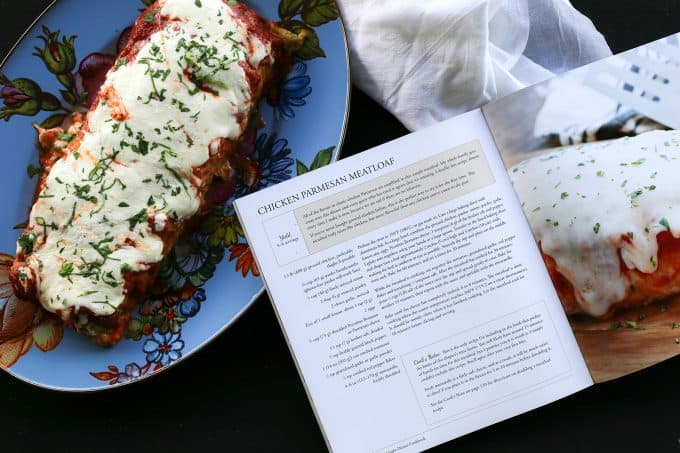 All that being said, I'm a firm believer in showing as well as telling, so let me show you a little bit about how easy this Chicken Parmesan Meatloaf actually is…
Are you hungry yet? Let's get cooking!
Cook's Notes
Mary has excellent cook's notes in the book, but these few notes are my own observations…
Mary calls for 1 1/2 pounds of ground chicken, preferably chicken thighs. I took her at her word and broke out my grinder to do it myself. The results were amazingly good. It was succulent and flavourful and never dried out. If you don't have your own meat grinder, the butchers at the meat counters of many grocery stores will grind a package of thighs for you if you ask nicely and/or share the recipe for Chicken Parmesan Meatloaf with them. Or promise them a slice of meatloaf. Do whatever it takes…
That being said, if you can't grind your own or find a butcher to grind the chicken thighs for you, look for a package of ground chicken in the store that has a label indicated it has at least some thigh meat or one that doesn't say extra lean. That extra lean is your tip-off that it is made mostly or entirely from breast meat. Breast meat will do if you simply can't find a less-lean ground chicken, but the thigh meat is preferable.
I very nearly made a special trip to the grocery store (no small shakes when the closest decent store is a minimum of a half an hour away) to buy the crushed tomatoes I had forgotten, but I figured tomato puree was plenty close enough to crushed tomatoes so I went with it. We loved the result. The moral of the story is use the tomato puree if it saves you a long trip to the grocery store.
Since we're on the subject of playing fast and loose with instructions, I'm here to tell you that I didn't mince my onions and garlic, I plopped them (roughly chopped) into the blender and hit the smoothie button. This is not because I wanted and onion and garlic smoothie; it is because I have a couple of kids who like the taste of onions and garlic, but not the texture of it. This is a little hack I use on all meatballs and meatloaves and in many soups or stews.
In The Weeknight Dinner Cookbook, Mary says she doubles the recipe almost every time she makes it, so I just went straight ahead and doubled it. I'm feeding a large family and I wanted leftovers. That being said, the single recipe is still pretty generous in size. If you're not feeding a regiment like I am, the single recipe should suffice.
If you're going to double the recipe, I recommend using a half-sheet pan. Both loaves fit onto it perfectly.
Mary says it in the recipe, but it bears repeating. You want to hit 160°F as an internal temperature on your Chicken Parmesan Meatloaf. In order to know whether you've accomplished this, you have two choices. Cook it into oblivion or use a $5 instant read thermometer. can you tell which one I'm recommending? You can pick them up in almost any grocery store in the area where they have skewers and whatnot. If you feel disinclined to wander through the grocery store, big box stores like Walmart have them, and Amazon even has some niftier ones with more bells and whistles.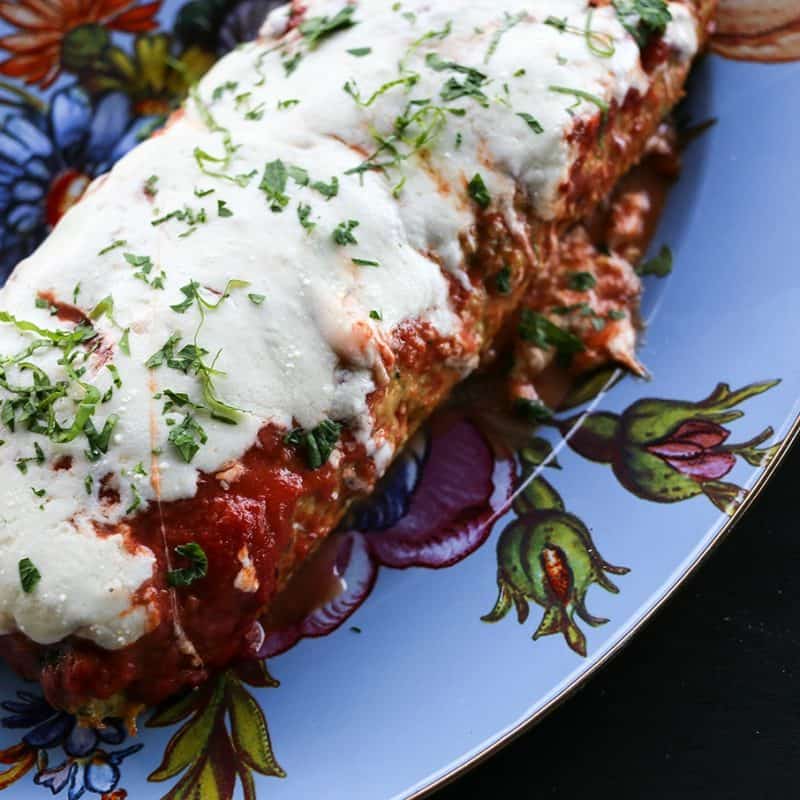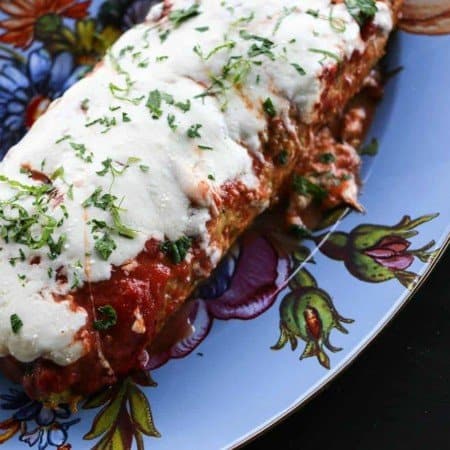 All of the flavours in classic chicken Parmesan are amplified in this simple meatloaf from "The Weeknight Dinner Cookbook" by Mary Younkin.
Ingredients
1 1/2

pounds

ground chicken

preferably thighs if possible

2/3

cup

panko breadcrumbs

gluten free panko will work fine

1/4

cup

finely minced onion

2

tablespoons

minced parsley

2

cloves

garlic

minced

zest of 2 small lemon

about 1 teaspoon

2

eggs

3/4

cup

shredded Pecorino Romano or Parmesan cheese

1 1/2

teaspoons

kosher salt

divided

1/2

teaspoon

freshly ground black pepper

1

can crushed tomatoes

14-ounce

1/2

teaspoon

granulated garlic or garlic powder

1/4

teaspoon

crushed red pepper flakes

4-6

ounces

mozzarella

freshly shredded
Instructions
Preheat the oven to 350°F. Line a large baking sheet with aluminum foil. In a large bowl, combine the ground chicken, panko, onion, parsley, garlic, lemon zest, eggs, Pecorino Romano cheese, 1 teaspoon of the kosher salt, and pepper. Lightly mix together, using your hands or a large spoon. Transfer to the lined baking sheet and shape into a loaf approximately 2 inches high and 4 inches wide, making the loaf as uniform in size as possible. Smooth the top and place on the middle oven rack. Set a timer for 30 minutes.

While the meatloaf is cooking, stir together the tomatoes, granulated garlic, red pepper flakes, and the remaining 1/2 teaspoon salt. After the meatloaf has cooked for 30 minutes, pour 1/2 cup of the sauce over the top and spread gently to coat. Bake for another 15 minutes, then repeat with the sauce and sprinkle with the mozzarella.

Bake until the cheese has completely melted, 6 to 8 minutes. The meatloaf is done cooking when the center temperature reaches 160°F on a meat thermometer. It should be mostly white when it has finished cooking. Let the meatloaf cool for 10 minutes before slicing and serving.
Notes
Cook's Notes (From The Weeknight Dinner Cookbook, by Mary Younkin):
Fresh mozzarella is a fairly soft cheese, and as a result, it will be much easier to shred if you place it in the freezer for 5 to 10 minutes before shredding it.
This recipe doubles nicely. We really like having leftovers for sandwiches the following day. Simply divide the meat mixture in half and form two separate meatloaves. The meatloaves can be cooked together on opposite sides of the same large baking tray.
Nutritional information is an estimate and provided to you as a courtesy. You should calculate the nutritional information with the actual ingredients used in your recipe using your preferred nutrition calculator.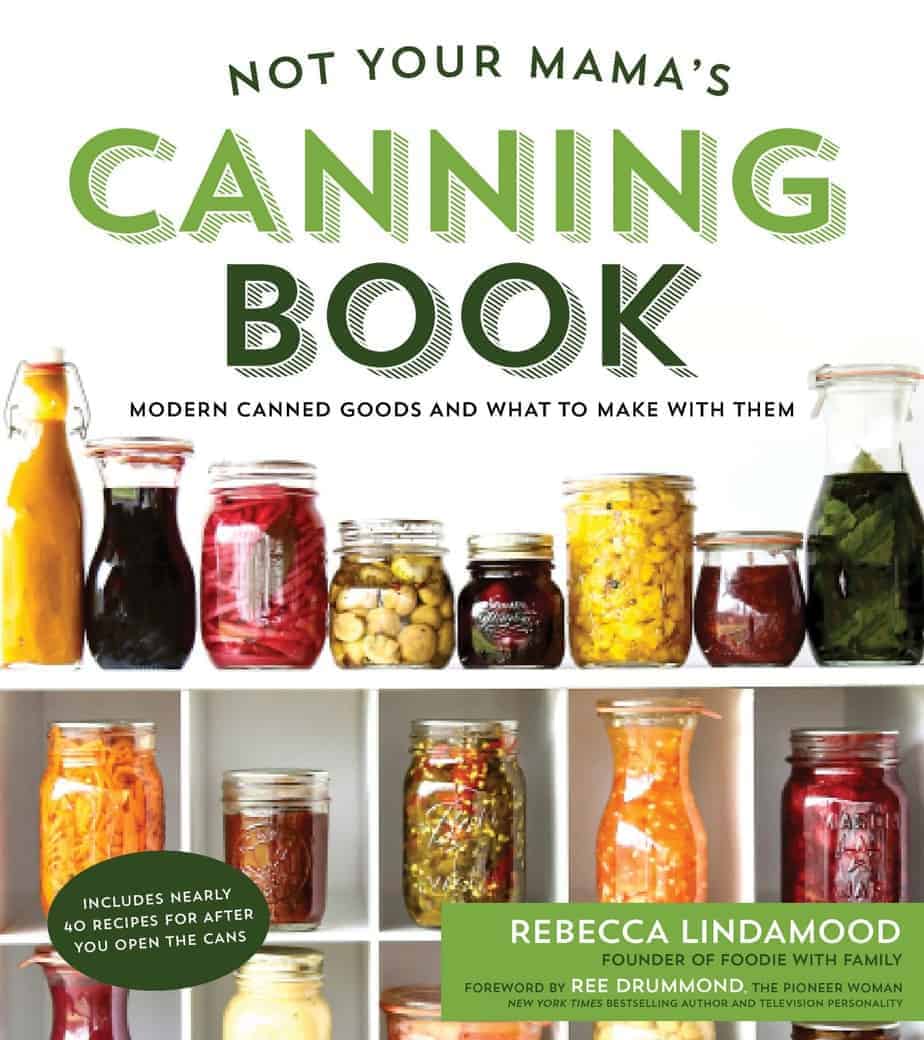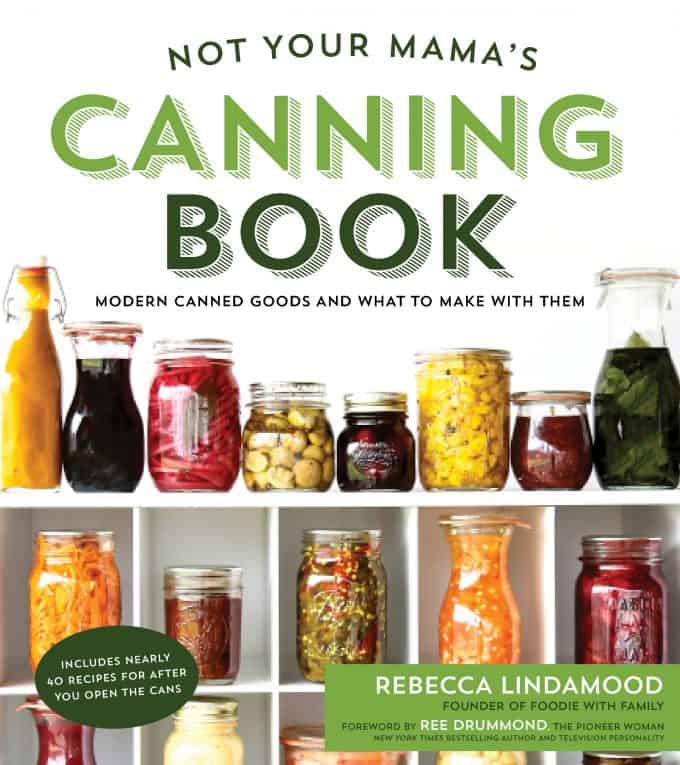 Not Your Mama's Canning Book: Modern Canned Goods and What to Make with Them is available to order through these fine retailers!