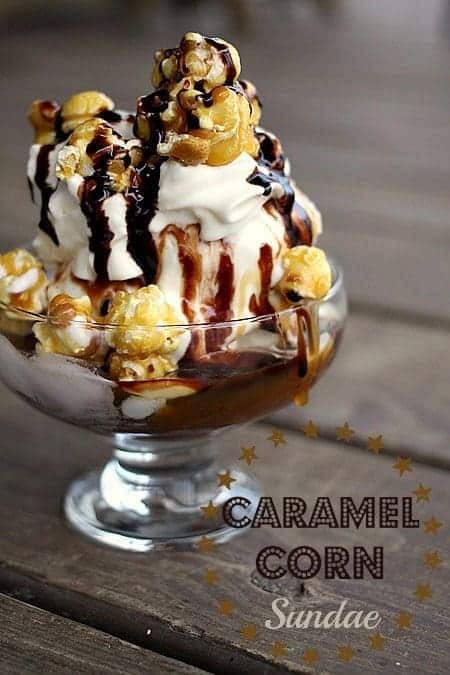 I don't often mess with ice cream because it's the Mary Poppins of food; it's practically perfect in every way. A bowl of ice cream is enough to salvage a dreadful day all on it's own, so why pile on toppings or get all crazy, right?
Because some days call require you to take something that is already perfectly lovely and make it so over the top that it just may make Liberace clap in the grave.
Yesterday was one of those days.
And that ice cream sundae you see in the picture? It's my new dessert best friend. It doesn't hurt that it is complete and ready to soothe your soul in a tidy five minutes. No, that doesn't hurt at all. But better than that is the fact that it hits all my happy points for sweet stuff. It starts with ice cream (because when all is said and done, that will always be my go-to for sweets). It adds not just hot fudge but also caramel sauce, both of which make me swoon because their heat melts a little of the ice cream and makes it pool up at the bottom of the bowl ready to be slurped when you've eaten all of the cold ice cream. It doesn't stop there, though. Next comes a generous cap of whipped cream, followed by a handful of your favourite caramel corn. Caramel corn is a perfect vehicle for adding some texture and pop to ice cream, because the sweet, crunchy caramel coating prevents the popcorn from getting soggy in the melting ice cream. It reminds me of Clark's "non-nutritive food varnish" in "National Lampoon's Christmas Vacation" except that it delivers so much salty/sweet goodness.
Speaking of goodness, OHMYGOODNESS. Drizzle the entire thing with chocolate sauce because why the heck not since you've already gone this far?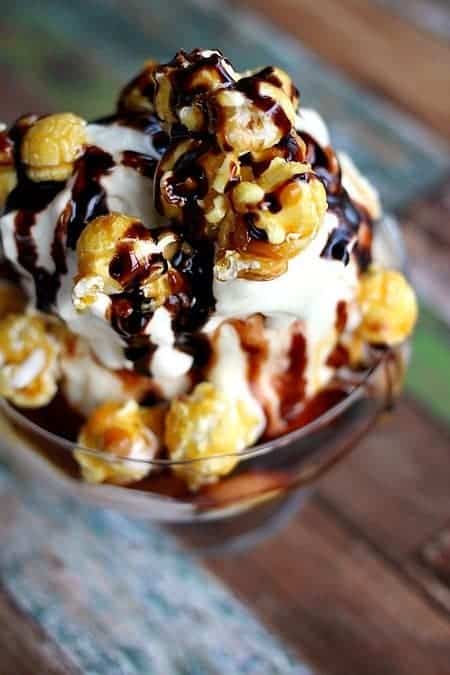 Would you like to guess how quickly that sundae disappeared in front of five boys and two adults with stars in their eyes and spoons in their hands? If you had been there and blinked, you would've missed it. We all tried to remain civilized and took turns dipping our spoons and holding our faces over the bowl so as not to miss one little drip of the sauces that were threatening to run down our chins. We managed, but I could've sworn I heard a few predatory growls in there.
It probably goes without saying it, but I'll say it anyway. You can rock this sundae with all homemade components or store bought ones. Either way will make your heart sing, but you get serious bragging rights if you use homemade! Below is a list of recipes here on Foodie with Family that can be used to assemble this dreamy indulgence. (Would you believe I don't have a homemade vanilla ice cream recipe here? I need to remedy that!)
Now, go forth and conquer Wednesday with a Caramel Corn Sundae and make the second half of your week a lot sweeter.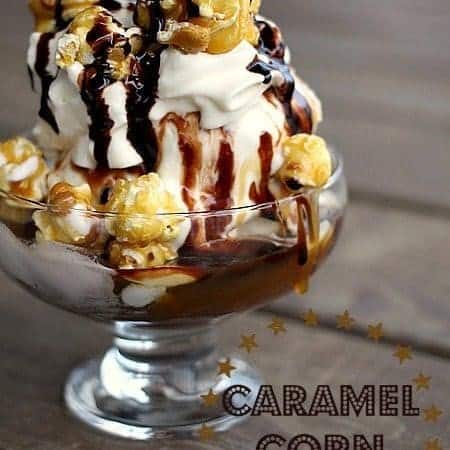 This ice cream sundae is over the top in a practically perfect way: vanilla ice cream, hot fudge sauce, caramel sauce, whipped cream, and chocolate sauce with caramel corn providing sweet and salty crunch. This is how you win the week.
Ingredients
3

scoops vanilla ice cream

1 1/2

tablespoons

hot fudge sauce

or thereabouts

1 1/2

tablespoons

caramel sauce

or close to it

1

goodly dollop of sweetened whipped cream

either hand whipped or from a can

1

handful caramel corn

with or without nuts

1

tablespoon

chocolate syrup

ish
Instructions
Add the vanilla ice cream to a bowl big enough to hold a lot of goodies. Drizzle the hot fudge sauce, then the caramel sauce, add the whipped cream, the caramel corn, and finish with the chocolate sauce. That's all it takes! Now dig in with wild abandon!
Nutritional information is an estimate and provided to you as a courtesy. You should calculate the nutritional information with the actual ingredients used in your recipe using your preferred nutrition calculator.