First of all, you know this is going to be good; it's hot fudge sauce. What you may not know, though, is just how good this particular hot fudge sauce is. It is, in fact, the best hot fudge sauce ever of all time Amen pass the beer nuts. This hot fudge sauce is not just the ne plus ultra of hot fudge sauces, it is a thing of power. Let me tell you a story.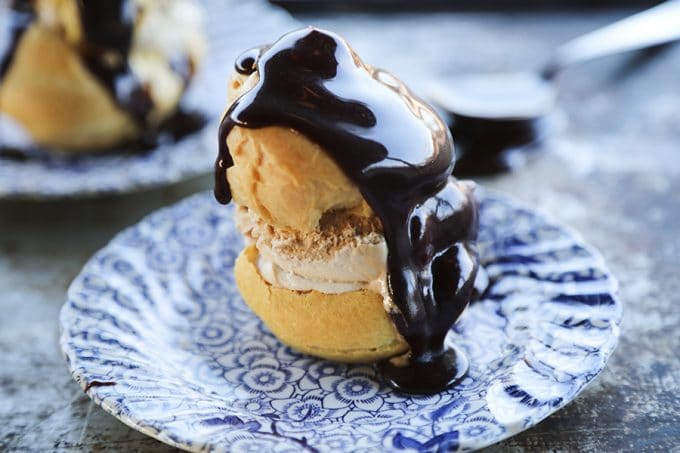 My relationship with my stepmom did not begin smoothly because I was, to put it succinctly, a surly twerp. There was no twerpitude from Val, who assured me kindly that she did not intend to try to take the place of my mother. It was all me people. I had that arena sewn right up.
And Val?
Val never tried to talk me out of  anything. Each time I visited, she smiled, talked books and movies, and fed me. Val turned out amazing food every time I was anywhere near her and it was not long before I removed my foot from my mouth to make room for dinner, and uncrossed my arms so I could hold a fork.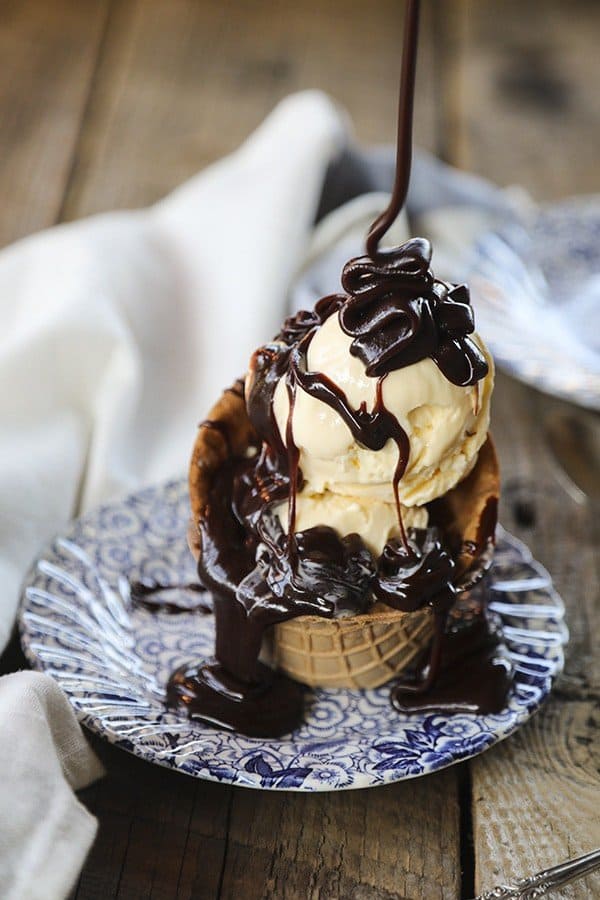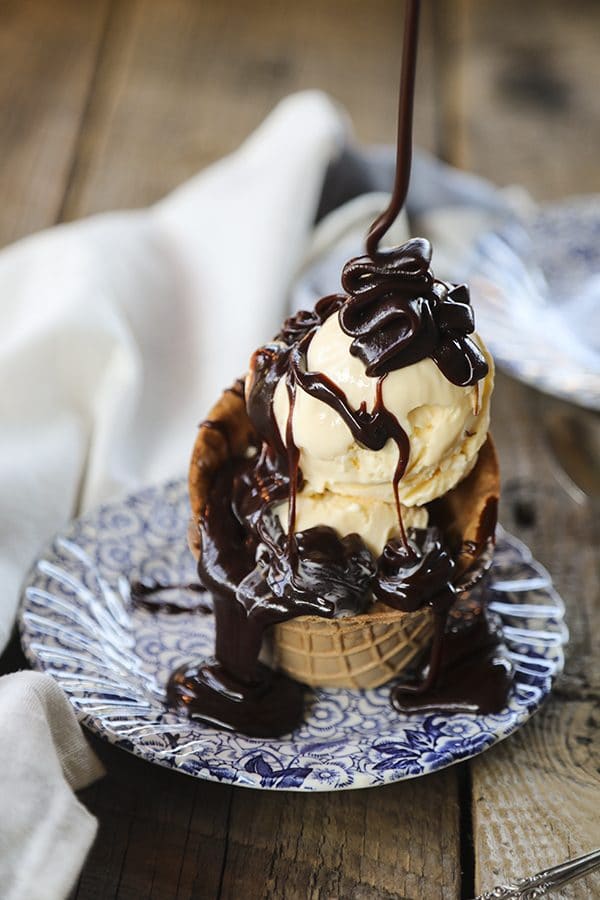 Then one day, Val served me a bowl of ice cream with a generous amount of this hot fudge sauce on it and I was smitten with both the sauce and Val.
I am fortunate enough to know now that my stepmom was one of my best friends AND I have her glorious hot fudge sauce. There isn't enough time in the world for me to tell you all the things that made Val so wonderful, but I can spell out what makes this hot fudge sauce so special.
This is the best kind of hot fudge sauce. It drizzles onto your sundae and then partially firms up to a stretchy, chewy, caramel-like hot fudgy chocolate crown. Tell me you don't want to eat that right now.
It takes 10 minutes to make and 8 of those minutes you are not to stir anything under penalty of sad sauce.
The ingredients are not at all exotic: unsweetened chocolate, butter, sugar, light corn syrup, a pinch of salt and vanilla extract. Hey ho, hot fudge!
A spoonful of this, straight from the jar in the refrigerator, is enough to turn a bad day good very, very quickly. I'll direct your attention to the ingredient list. See? You're smiling already!
This recipe comes from a woman who was arguably one of the most patient, loving, lovely, brilliant, forbearing, forgiving, well-read, witty, insightful people I've ever met. You can't argue with hot fudge that comes from someone like that.
Go make yourself (or someone who you want to make a friend) a batch of this hot fudge sauce. I'll wait. It's worth it. In the meantime, I'm going to lick this spoon…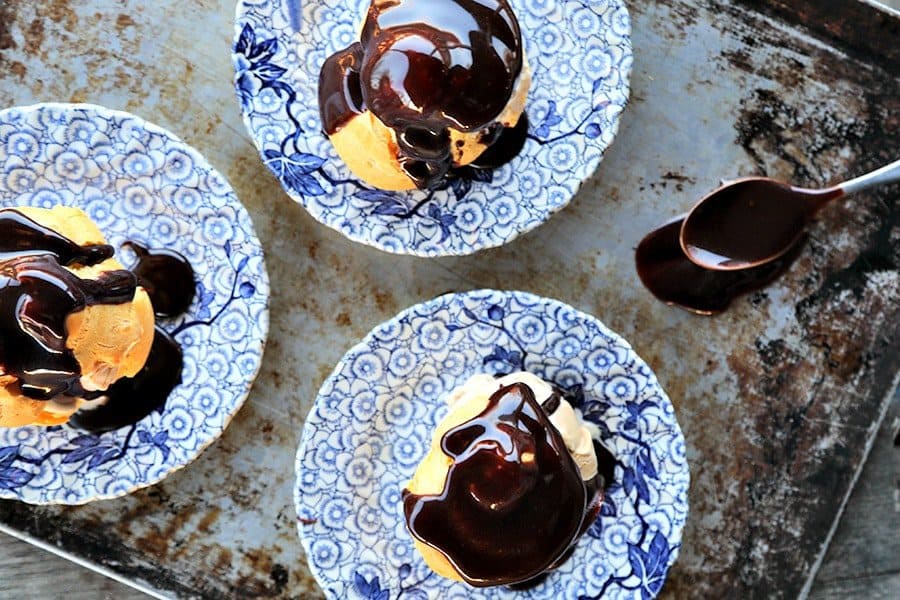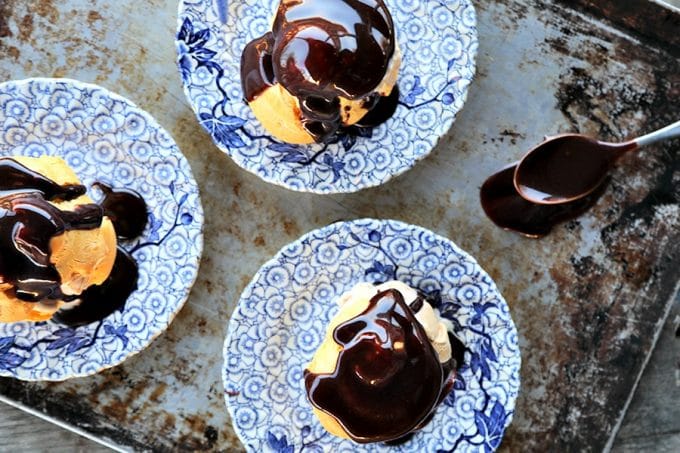 Cook's Notes
Please don't be tempted to use sweetened chocolate in this recipe. You will bitterly regret it.
The chocolate will melt most evenly and quickly if you chop it or break it up before adding to the pan with the butter. The more finely you chop the chocolate, the faster it will melt.
It's best not to use a power burner (if your stove top has one) for this process. They throw a great deal more heat than a regular burner.
You can't walk away from the pan while the chocolate and butter are melting. Because you're melting it over low direct heat, chocolate can scorch. If you're concerned about this, you can take out a little insurance policy by melting the butter gently before adding the chocolate to it.
It is in the recipe, but it bears repeating. Do NOT stir the mixture once it comes to a boil. If you do, you'll have crystals of candied hot fudge in your sauce and that is not the goal here. The goal is silky,shiny, and smooth.
No matter how much you want to, I don't advise licking the spoon until it has thoroughly cooled. I may have learned this one the hard way years ago. Ahem.
Use these to make Grandma Val's Hot Fudge Sauce
How to Make Homemade Hot Fudge Sauce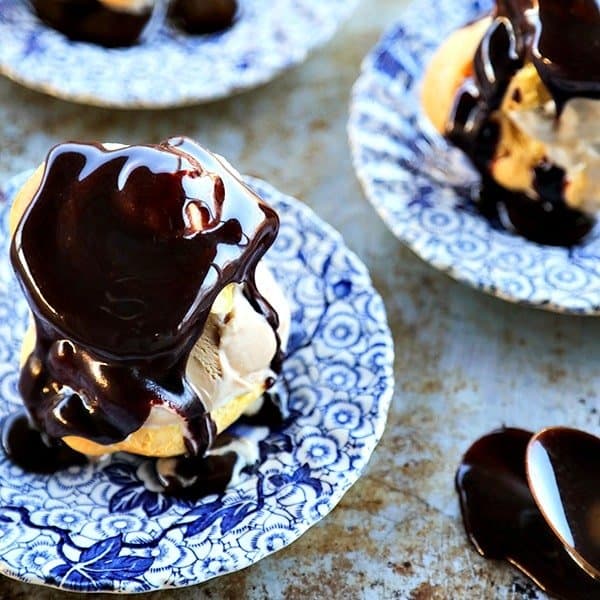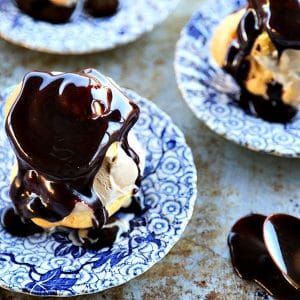 Grandma Val's Hot Fudge Sauce is seriously fudgy hot fudge sauce that firms up ever so slightly when poured over ice cream to form caramel-like ribbons of chocolatey goodness. Oh yes. It does.
Adapted gently from The Houghton College Community Cookbook submitted by Janet Spegen.

Ingredients
6

tablespoons

unsalted butter

6

ounces

unsweetened chocolate

2

cups

granulated sugar

1/2

cup

light corn syrup

3/4

cup

boiling water

1 1/2

teaspoons

vanilla extract

pinch of salt
Instructions
Melt the butter and unsweetened chocolate together in a large, heavy-bottomed saucepan over low heat, stirring occasionally.


Stir the corn syrup and boiling water together in a heat-proof measuring cup then add to the pan with the sugar.

Increase heat to medium and stir mixture until it reaches boiling.

Boil without stirring for 8 minutes. Really. Do not stir that stuff.

Remove from heat and stir in the vanilla extract and salt. It will bubble up violently, so be careful.

Let rest for 5 minutes before pouring into a heat-proof container with a tight fitting lid. (A canning jar works perfectly for this situation.) Be certain the container you use is small enough to fit into the microwave for reheating purposes.

Leftovers can be stored in the refrigerator.
To Reheat:
Remove lid from the jar and microwave for about 30 seconds.

Stir.

Heat in additional 10 second bursts until the hot fudge flows freely when poured.
Nutrition
Calories:
175
kcal
Carbohydrates:
29
g
Protein:
1
g
Fat:
7
g
Saturated Fat:
4
g
Cholesterol:
9
mg
Sodium:
8
mg
Potassium:
70
mg
Fiber:
1
g
Sugar:
26
g
Vitamin A:
105
IU
Calcium:
11
mg
Iron:
1.5
mg
Nutritional information is an estimate and provided to you as a courtesy. You should calculate the nutritional information with the actual ingredients used in your recipe using your preferred nutrition calculator.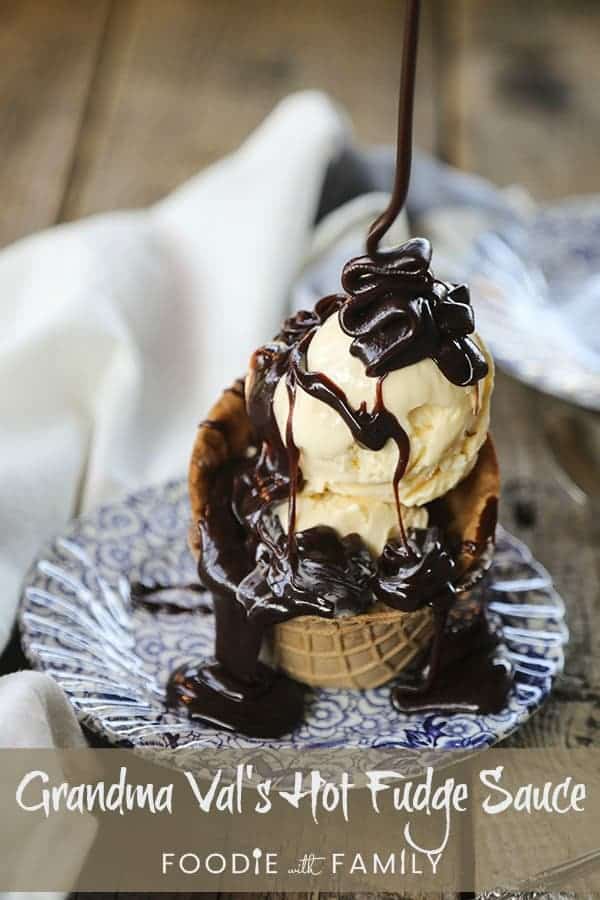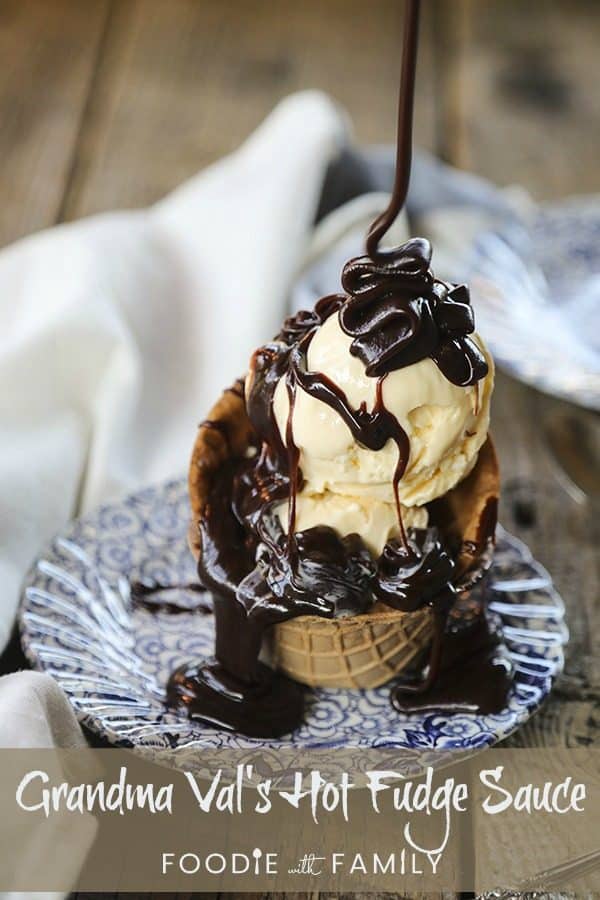 This post was originally published July 7, 2011. Updated photos and Cook's Notes in June 2018.