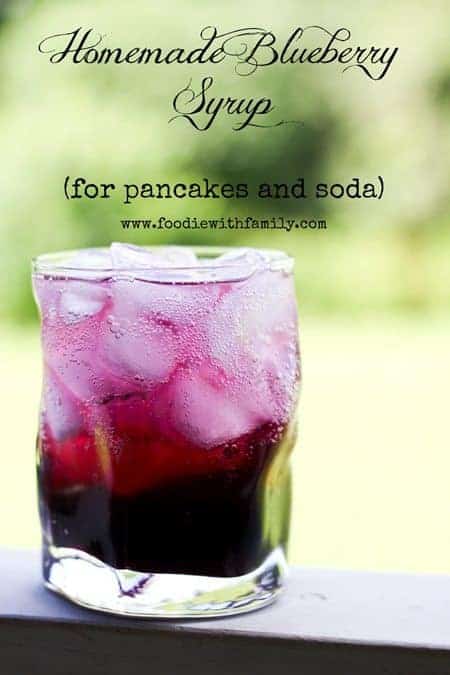 I just turned almost-forty. I believe I'll refer to my entire year that way, because this is my last year before that big four-oh. I think the almost-forty was probably harder than the actual-forty will be to face. The decade birthdays seem like a celebration, where the ones that immediately precede somehow seem like a clanking bell. Or is it just me?
As an almost-forty gift, my family gave me something that makes me happier than just about anything else I can imagine. The boys and I had planned to go to the opening day of our local blueberry patch to attempt to put a sizable dent in our annual one-hundred-pounds-of-blueberries goal. My husband surprised me by taking the morning off of work to accompany us. When I say this never happens I am not exaggerating. My husband works hard and he works long hours, so this was a gift I never expected. He has never seen the boys and me in picking action.
We loaded up the van with every mixing bowl and colander we own, a wagon to pull the aforementioned vessels on the quarter mile trek to and from the patch from the parking area, hats, water bottles, and a wallet full of cash. Once in the berry patch, we tied buckets at our waists and went to town, proverbially. About twenty minutes later, my eldest emptied his first filled bucket into a colander, much to my husband's surprise. Moments later, my thirteen year old emptied his bucket. A few minutes later, the eleven year old emptied his, and so on. My husband was flabbergasted by their speed. We filled everything we had brought to fill (including a three gallon food safe bucket, an enameled wash pan, four massive mixing bowls, two colanders, and a big Tupperware bowl) and took them to the weigh station to tally up our take.
The experience was complete when the man weighing our berries gestured to the boys and me and informed my husband, "These are our champion pickers. I remember the first year they came. They picked til the boys were tired. They slept under that pine tree and your wife just kept picking. We had never had anyone pick one hundred pounds in one day before.
Ah. If I'm remembered for one thing in life and berry picking prowess is that thing, I'm a happy girl. That my dear husband got a completely unsolicited shining review on his wife's berry picking was icing on the cake… Or should I say cream on the berries?
So what do I do with that berry bounty? Aside from the requisite jam, pies, cobblers, crisps and whatnot, I love to make Blueberry Lime Syrup. It's a take on a recipe from the Ball Complete Book of Home Preserving. I swap out lime juice and lime zest for the specified lemon juice and zest. If you'd prefer, you can swap it back to the original form, but we like the extra sweetness that lime provides.
Once the syrup is made, we eat it on pancakes and waffles, like the book recommends, but also like it on French toast and we consume even more of it in the form of Blueberry Soda. It's an easy, healthy alternative to bottled sodas and my kids can't get enough.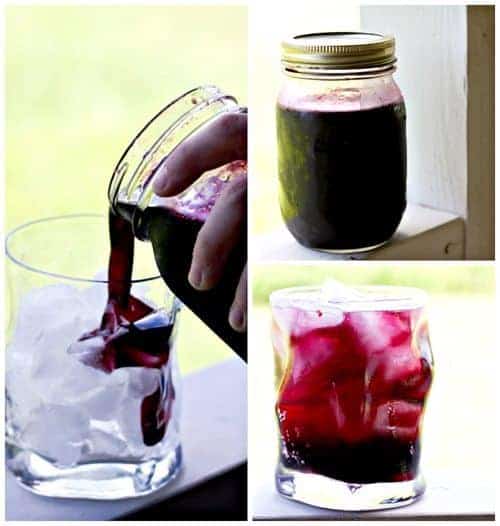 Just How Fresh Should Your Berries Be?
If your blueberries are fresh off of the bush, you may wish to let them age for a few days before attempting the syrup because of the natural pectin in the berries. If you don't wait, you'll get much thicker (and possibly even fully gelled!) syrup.
Wait! My syrup is like a gel!
It's okay! This happens. Blueberries have naturally occurring pectin. All  you need to do is run a for or small whisk through the jar a bit to loosen it up. It's all good!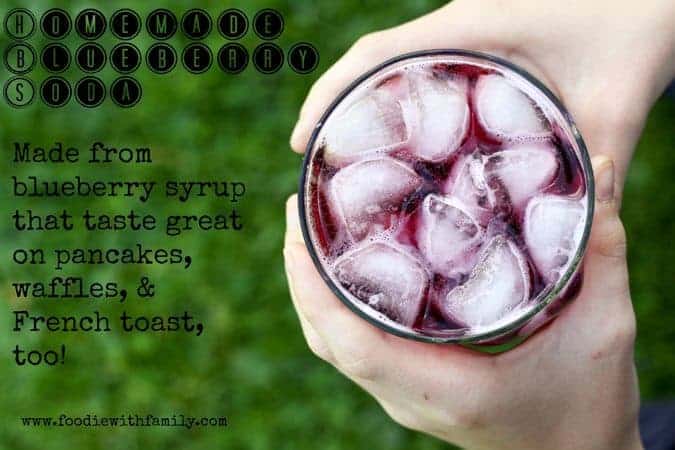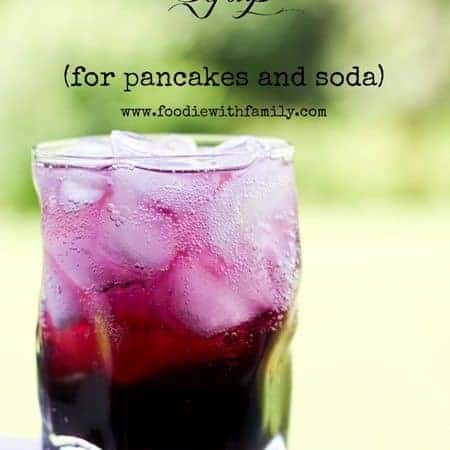 Blueberry Syrup for Pancakes and Homemade Soda | Make Ahead Mondays
Rate Recipe
Do you have a super abundance of blueberries right now? Be sure to set aside at least 8 cups to make a batch of Blueberry Syrup. There's nothing like it on hot buttermilk pancakes, waffles, & French toast ~or~ over ice in a glass with seltzer water for homemade blueberry soda! Adapted gently from The Ball Complete Book of Home Preserving
Ingredients
For the Blueberry Lime Syrup:
8

cups

fresh blueberries

*See Note

6

cups

water

divided

1

tablespoon

lime zest

green part only!

3

cups

granulated sugar

raw sugar is good here, too!

1/4

cup

lime juice
For the Blueberry Lime Soda:
Chilled Blueberry Lime Syrup

Chilled Plain or Berry seltzer water

Ice
Instructions
In a large, stainless steel stockpot, squash the berries just to break them up. You can use a potato masher in the pan to help with the task. Add 2 cups of the water and the lime zest and bring to a boil over medium-high heat, stirring often. Boil the mixture for 5 minutes then remove from the heat.

Line a colander or sieve with two or three layers of cheesecloth and position it over a deep bowl. If you have a super-fine cheesecloth like butter muslin, one layer will suffice. Scoop the boiled blueberry mixture into the cheesecloth and let it drain, undisturbed, for 2 hours. Lay a plate with a little weight on it on top of the blueberry mixture at that point and let it drip for another 15 minutes. Do not squeeze the cheesecloth with your hands, though. You just want juice, not pulp!

Wash out your stock pot to be prepared for the next step.

Stir together the remaining water and the sugar in the clean stockpot and bring to a boil over high heat, stirring just until the sugar is dissolved. Boil it until the mixture reaches 230°F. (**See Notes! Do not skip using a thermometer!) When it reaches 230°F, stir in the blueberry juice and return to a boil. Boil for 5 minutes, remove from the heat, and stir in the lime juice. Ladle the hot syrup into sterilized, prepared pint jars with new two-piece lids, leaving 1/4-inch of headspace. Wipe the rims with a cloth dipped in vinegar, fix the lids in place to finger-tip tight, and place in a canner so that the jars are covered with water. Bring to a boil and process them for 10 minutes. When the 10 minutes is up, shut off the heat, remove the lid from the canner, and let the jars rest in the water for 5 minutes before transferring to a cooling rack or a towel lined counter. Cool completely, wipe clean, label and store in a cool, dark place for up to a year.

Once opened, a jar is good for about 3 weeks.
To Make Blueberry Lime Soda
Fill a glass with ice, pour 2-5 tablespoons of the Berry Lime Syrup (to taste) over the ice, and top it off with seltzer. Use a chopstick or a spoon to gently stir and serve immediately!
Notes
If you have just picked your berries from the bushes, you may want to let them rest a few days in the refrigerator before making this syrup. Blueberries have a great deal of naturally occurring pectin. If your berries are incredibly fresh, this can result in a far thicker than intended (in some cases, fully gelled!) syrup. Letting them mellow in the refrigerator for a handful of days helps counteract this tendency!
*You will need to test this temperature with a thermometer as it is higher than the regular boiling point of water. Visually, the mixture may start to look slightly darker and the bubbles should be thicker and slower to pop. This means the concentration of sugar is higher and it is nearing the 'soft ball' stage on a candy thermometer. This will probably take longer than you expect. It seems like it takes forever for the syrup to go from 212°F (regular boiling point) to the 230°F. Be patient, though... you'll be rewarded for your efforts!
Nutritional information is an estimate and provided to you as a courtesy. You should calculate the nutritional information with the actual ingredients used in your recipe using your preferred nutrition calculator.
This post originally published August 5, 2013. Post notes and recipe updated August 12, 2016.