Does anyone else have kids who fell head-over-heels for those little GoGo SqueeZ Applesauce on the Go
or Fruit Crusher pouches? I know it's  not necessarily a bad thing, given that they're full of healthy applesauce. The trouble is that they're REALLY STINKIN' EXPENSIVE even when purchased in bulk through Amazon. And I have five sons. And one little three ounce pouch per snack just ain't cutting it. My bigger kids could each eat an entire box of those pricey little treats in one sitting. Ouch.
Since this particular delivery device somehow made it magically okay to eat applesauce for two kids who wouldn't have touched it with a ten-foot-pole, I felt pretty motivated to find a lifehack for this so I could get the two aforementioned children to eat all the jars upon jars of applesauce I had canned this fall.
A little research showed me that there were several options for re-fillable food pouches.
I spent what admittedly seemed like a lot of money for two four-packs of resealable pouches, but reasoned that if the kids liked it, I'd save big mucho moolah over their new, yet firmly rooted GoGo Squeez habit. I was right.
I fill the re-usable pouches with my ultra-smooth homemade applesauce (made from apples we picked on our own property) but purchased applesauce from large jars would work equally well and still be more budget-friendly than the little single-use pouches not to mention reducing waste.
How about homemade chunky applesauce? You really do want the smoothest sauce ever to go in the pouches. If you're wondering whether your homemade sauce will work, do a little straw test; put a couple scoops of applesauce in a cup and try to drink it with a regular old plastic straw. If the sauce gets clogged in the straw, you'll probably want to stick it in the blender to smooth it out before filling the pouches.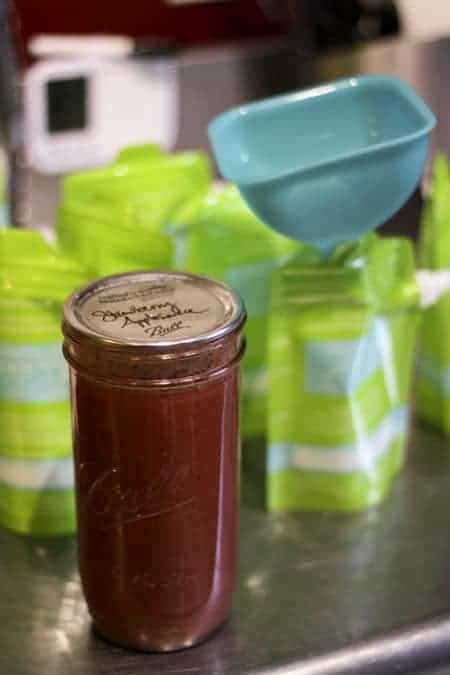 I have a couple tips to make filling these as easy and inexpensive as possible!
Before opening the pouch to fill it, disinfect your mouth by swishing and spitting out a little vodka. Then open the straw portion of the pouch and blow into it to inflate it. This helps the pouch stand a little more sturdy on the counter for filling.
Use a funnel. Don't be a bad*ss here and think you can pour like a champ. A funnel directs the applesauce PAST the zipper which makes it easier and cleaner to seal.
If you don't have steady hands, you can transfer the applesauce to a liquid measuring cup or pitcher before pouring.
These are the pouches I use. To be fair, I haven't tried any other brands, but feel free to explore these other options and let me know what you discover. (The preceding and following links are Amazon affiliate links. If you purchase through these links, I receive a small commission that in no way effects the price of the item for you. Thank you!)
I love that it's easy to see how far you've filled these and that they have ounce markings on the back, that they're dishwasher safe, and that they're BPA/phlalate/PVC-free. I know these pouches would be fabulous for homemade baby food, especially for folks who have to pack a to-go lunch on a regular basis for their little ones. Full confession: everyone in my family loves these things now. They're nice to pack in my husband's lunch and serve as an ice pack for the other foods when I freeze them ahead of time. They're thawed enough for eating by lunch time, too!
Personally, I'm just glad to have discovered a way to get my pickiest ones to try something healthy and new.
Instructions:
Open the straw part of a re-fillable food pouch. Blow into it to inflate the pouch, then open the pouch and stand up on the counter. Use a funnel to fill the pouch 3/4 full. Remove the funnel and seal the zipper on the pouch. These can be refrigerated and eaten within a week or frozen and used as ice-packs in lunch boxes, keeping the other foods cool as the applesauce pouches thaw. Pouches can be kept frozen for up to a month.