This conversation was sponsored by Land O Lakes Deli American, but all opinions and recipes remain, as always, my own!
When I think back to my childhood, I find that the majority of my memories are of or surround meals, the preparation of dishes, procurement of snacks, or some other variation on the theme of food. While we lived in a fairly isolated area of Northern Michigan, and while a wide variety of ethnic foods were difficult to find, there was a Tex Mex place we loved desperately. The fresh tortilla chips and cheese dip (queso) that were brought to the table as soon as we sat down were the stuff of dreams in a cold Michigan winter. I remember sitting in my bed plotting ways I could get my parents to drive into town and take us to the restaurant.
None of them worked.
When we moved, my source of ready queso dried up. To say I was obsessed would be putting it mildly. As a teen, the thought did not occur to me to try making my own, so I consumed many prepackaged queso dips that just didn't hold up to my memory. As an adult, however, I went all in on the experimenting, trying every single kind of cheese I could lay my hands on in just about every combination possible. I finally found the formula for my Ultimate Queso Blanco Dip and I don't mind saying I was a little surprised.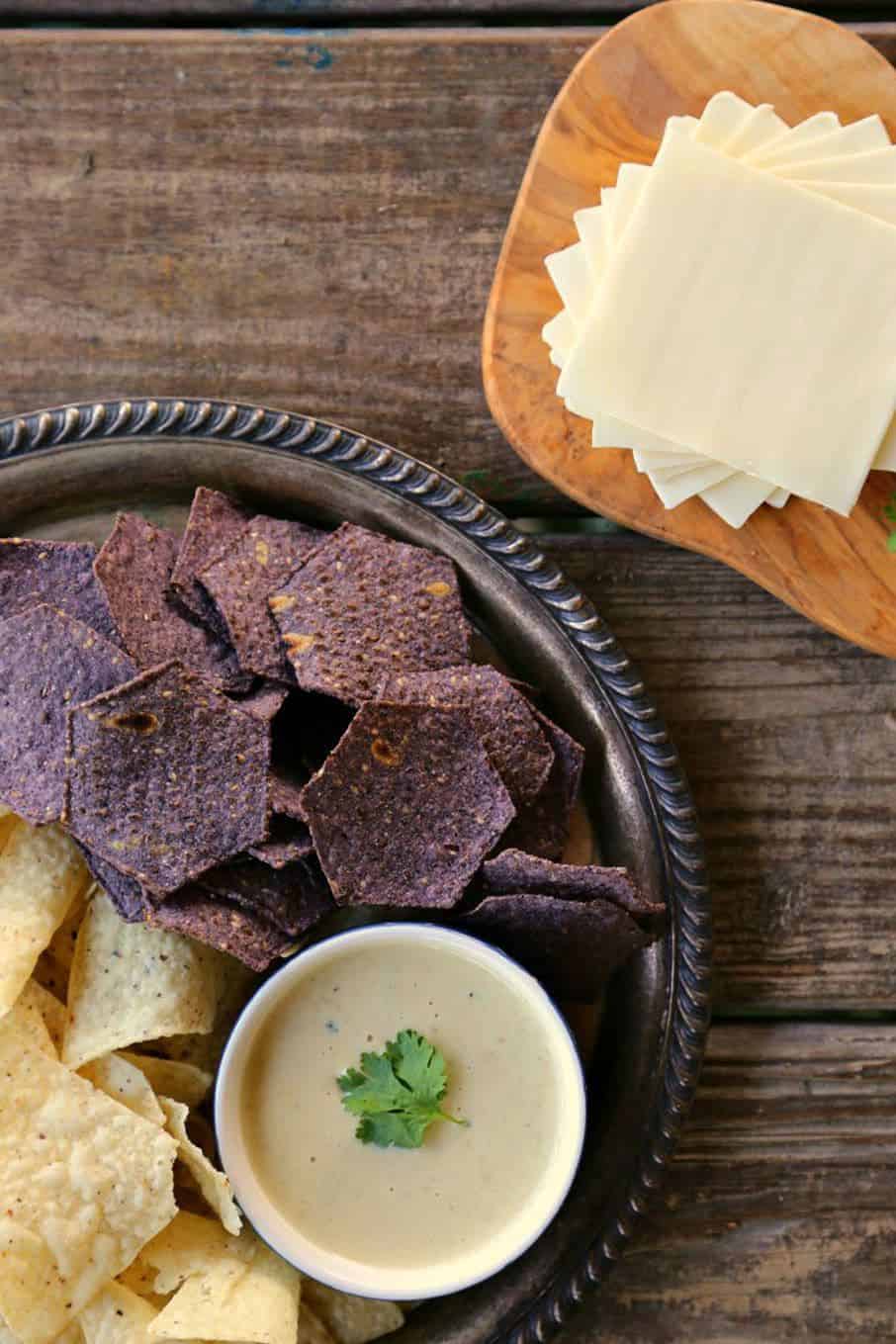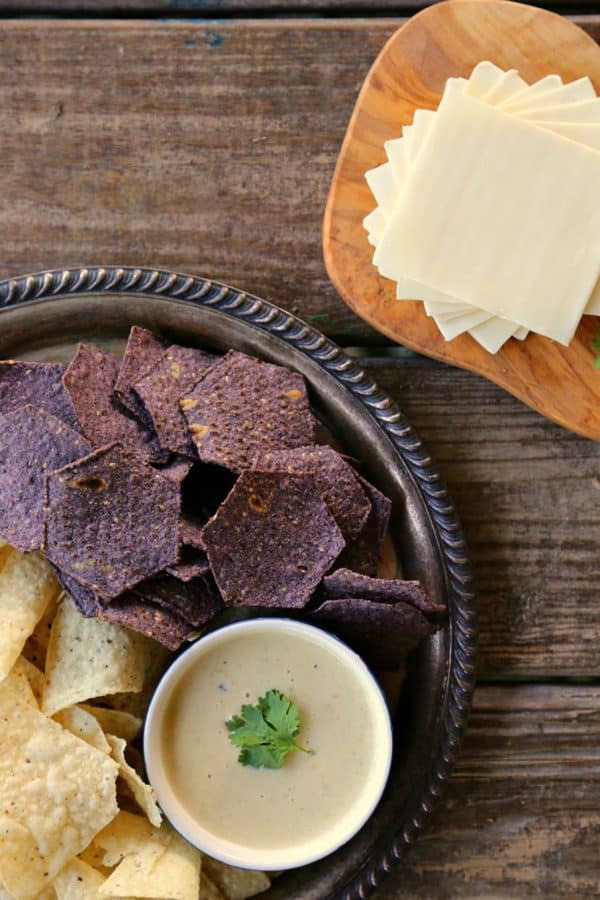 The Ultimate Queso Blanco Dip has a small handful of ingredients -all of which are easy to find in local grocery stores- but it absolutely positively relies on a combination of American cheese (preferably LAND O LAKES® Deli American) and Monterey Jack cheese. You can't leave either of these out upon penalty of sad queso. Why? The Deli American melts perfectly smooth and the Monterey Jack adds a little bit of stretch to the party. They're both mild and positively perfect. Can you add white Cheddar? Um, I'm sorry, no. I've tried it. I really have. It has to be Deli American and Monterey Jack. I love my fancy cheeses, folks… In fact, I brought about 3 pounds of artisan cheeses back from Italy just last week, but this is a job for Deli American.
You'll notice I've mentioned DELI American a couple of times. There's a darned good reason for that. The stuff that comes from the refrigerator case and is individually wrapped in plastic just plain doesn't have the same taste and melting quality that the Deli American possesses. Just say no to the plastic wrapped slices and just say YES!!! to the Land O Lakes Deli American.
It's so easy to keep all of what you need to make it on hand. I try to keep enough for 4 to 8 batches on hand at any given moment. Please remember I have 5 sons, 3 of whom are teens, and they have friends and ALL of them have hollow legs. Or so it seems. Truth: people may give you the hairy eyeball if you're overheard ordering 2 pounds of LAND O LAKES® Deli American at one time at the deli counter. It's okay. Just turn around, look them straight in the eye and say, "Would you like my recipe for The Ultimate Queso?"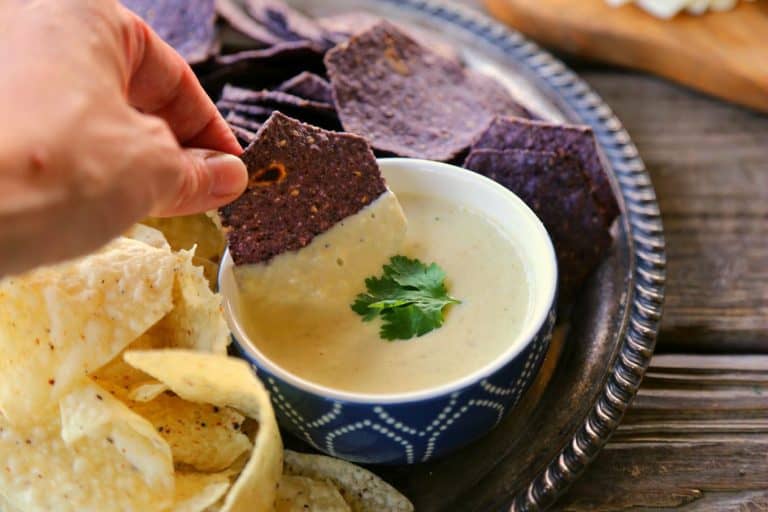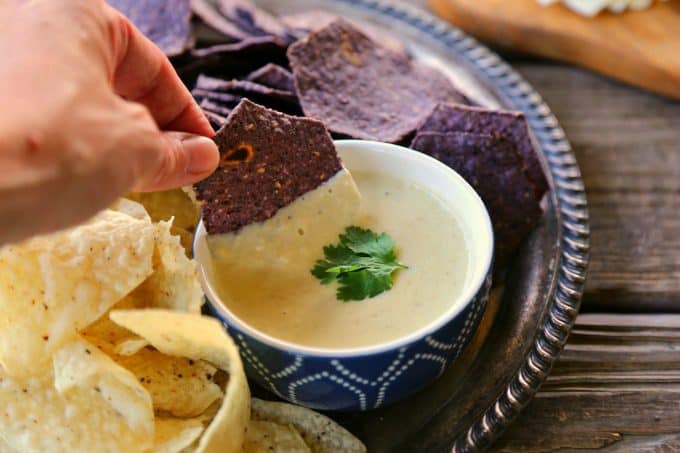 Cook's Notes
Please make sure you have a microwave safe bowl if you're preparing this in the microwave.
If you do NOT have a microwave, you can put all of the ingredients in a small saucepan perched over a larger one with an inch or two of boiling water in the bottom of it. Cook and stir constantly until it's melted and it comes together.
I feel obliged to point out that the Ultimate Queso Blanco Dip can be doubled, tripled, or even quadrupled. Shoot. If you have a big enough microwave and a big enough microwave safe bowl, you could even quintuple it. You will need to adjust your cooking time upwards if you increase the recipe, just be sure to continue stirring well after each minute of cooking time!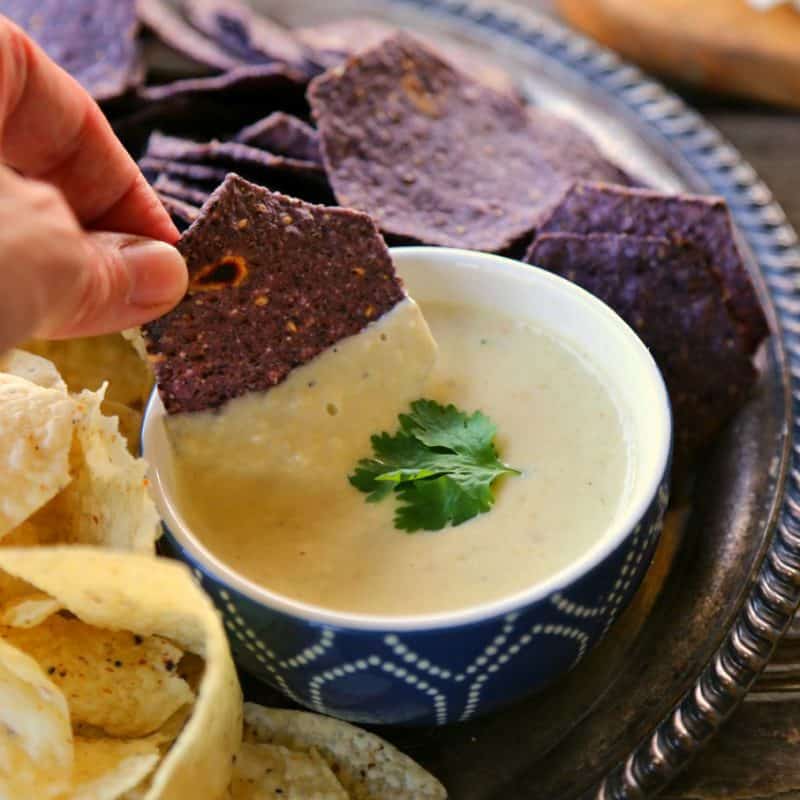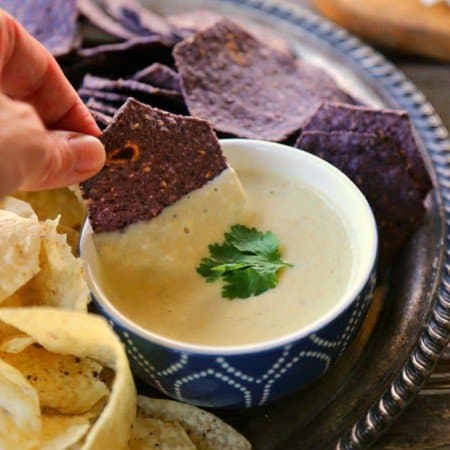 This perfectly dippable combination of melted deli American and Monterey Jack cheeses, chopped green chiles, and garlic is the ultimate white queso dip. Dunk tortillas, pretzels, or spread on tacos, burritos, or your face!
Ingredients
4

ounces

Land O Lakes Deli American

4

ounces

Monterey Jack Cheese

1

can diced green chiles

1/3

cup

milk

3

tablespoons

of water

1

clove

garlic

or 1/2 teaspoon granulated garlic, peeled and minced or pressed through a garlic press

1/4

teaspoon

cumin
Instructions
Dice the Land O Lakes Deli American and Monterey Jack Cheese. Add the cheese and the remaining ingredients to a microwave safe bowl. Place the bowl in the center of the microwave. Microwave on HIGH for 5 minutes, stirring well after each minute. After the 5 minutes are up, stir well until the dip is an even texture. It will thicken as it stands.
Nutritional information is an estimate and provided to you as a courtesy. You should calculate the nutritional information with the actual ingredients used in your recipe using your preferred nutrition calculator.
For more information about LAND O LAKES® Deli American, visit
I Am Deli American
. You can also connect with them on
Facebook
,
Twitter
,
Pinterest
, and
Instagram
!