It's been just a little over a week since I returned home from my 6-Day cruise to Ocho Rios, Jamaica; Grand Cayman; and Cozumel, Mexico on the Carnival Breeze. I've already discussed some of the trip with you, but want to break it down a little more for those who are considering booking a cruise.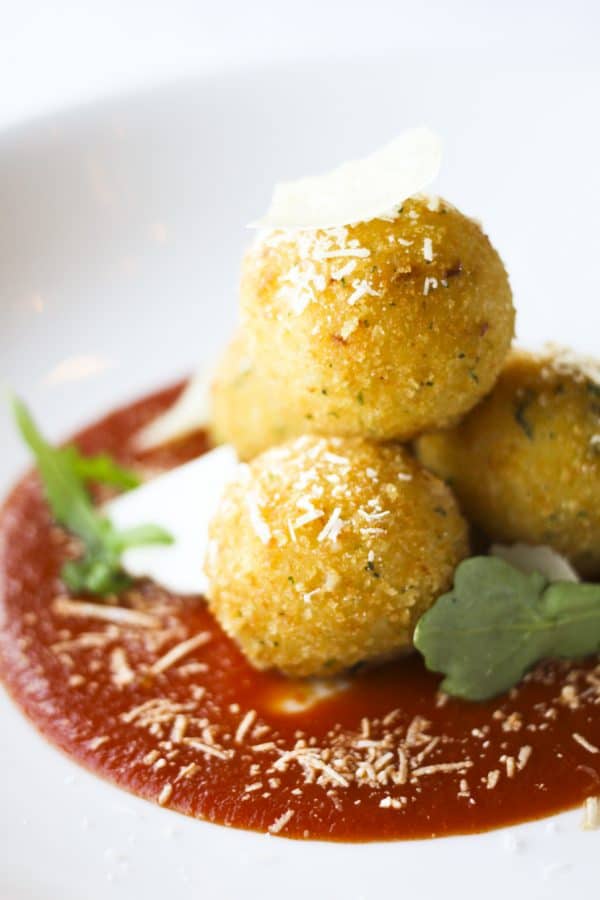 Dining on the Carnival Breeze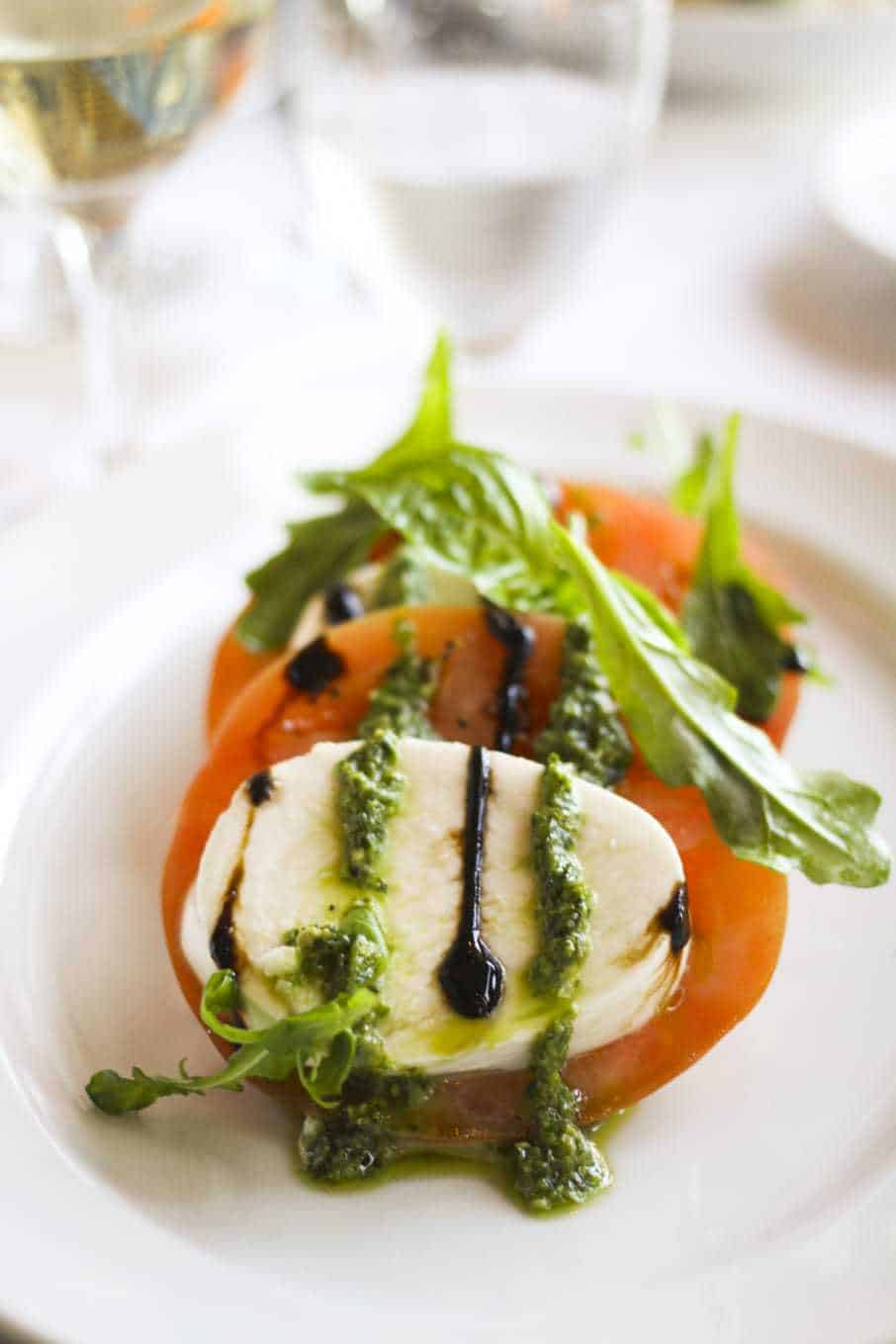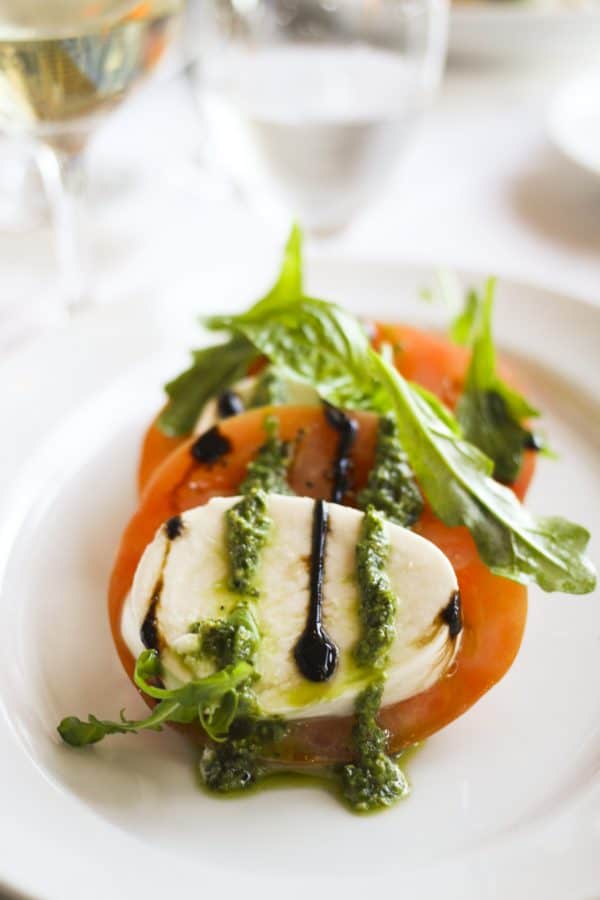 Recommendations for dinner at the Blush or Sapphire Restaurants:
Try some of the more unique menu specials from the appetizers: those ended up being our favourites. We loved the beet carpaccio, Andalusian gazpacho, and cured salmon crudo appetizers.
If you're looking to have a little culinary adventure, try the "Didja" offerings on the menu. They're designed to give you a fun introduction to foods you may have heard of but never had the opportunity to try; escargot, alligator, etc…
Don't be afraid to let the waitstaff know about certain minor dietary restrictions or preferences. They really do want you to have the best dining experience they can provide to you.
Important note: If you have major food allergies or restrictions, it would be best to contact Carnival ahead of time so they can discuss the best way to accommodate your needs.
Recommendations for Other Dining Options on the Carnival Breeze:
We also ate at the premium Fahrenheit 555 steakhouse, Bonsai Sushi, and Cucina del Capitano. Each of these is available at a nominal surcharge and can tailor your dining experience on board. The steakhouse is a real special treat. We were insanely in love with the tomato confit and the chef shared his recipe with us. Bonsai Sushi is a gem on the ship. The food is sold a la carte and is spectacular; most especially their miso soup. Cucina del Capitano is refined-classic Italian fare.
The Blue Iguana Cantina, Guy's Burger Joint, Tandoor, Pizza Pirate, Comfort Kitchen, and room service are all part of the experience and included in your fare. We loved the fish tacos from Blue Iguana Cantina madly and ate far too many of them. The burgers at Guy's were fabulous, to be sure. Also wonderful were the Italian style pizzas at Pizza Pirate, which is open 24 hours a day. If you want a real late night treat, though, try the chocolate cake from room service. If you're smart, ask them to double the quantity of chocolate mousse they send up with it. We LOVED that stuff.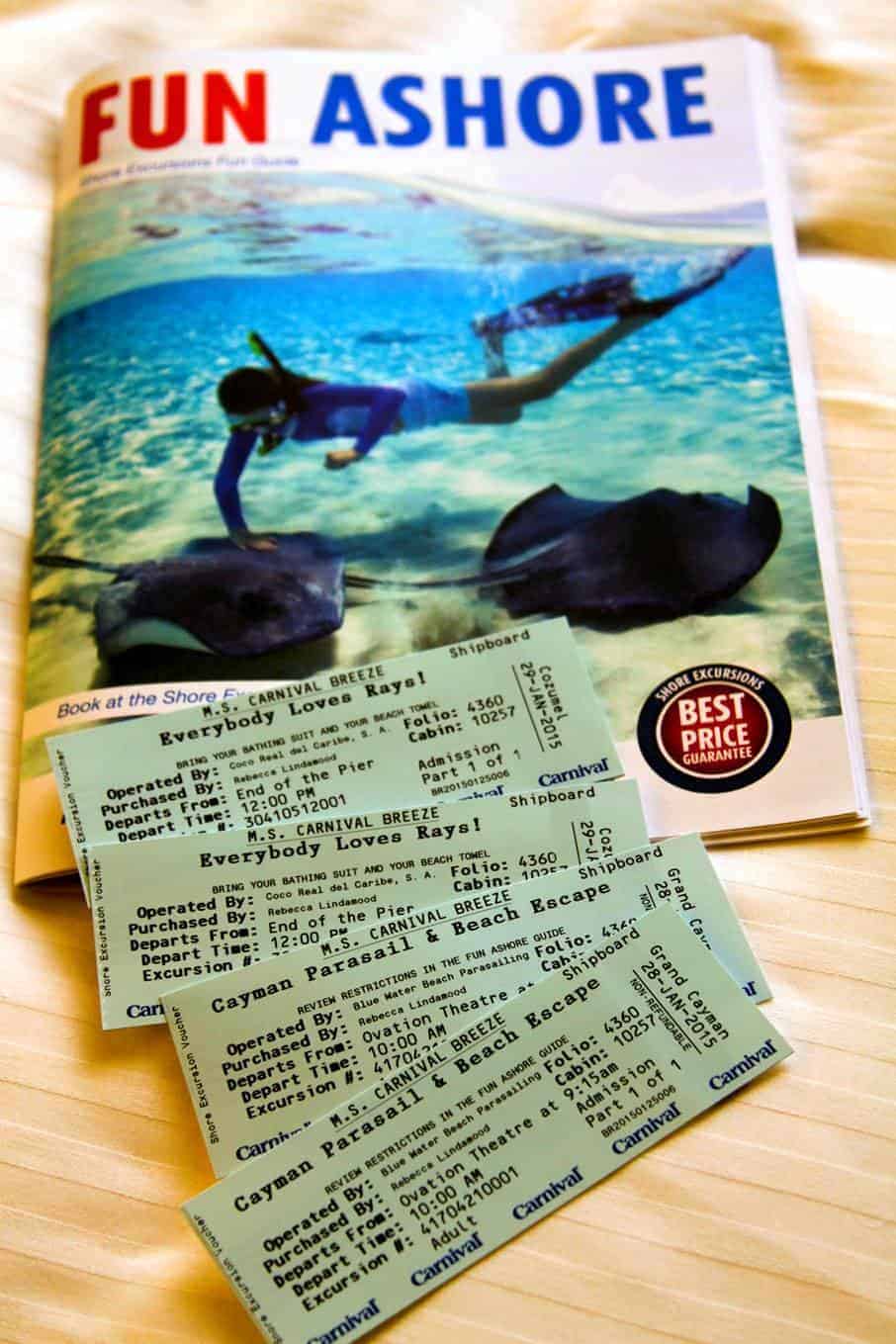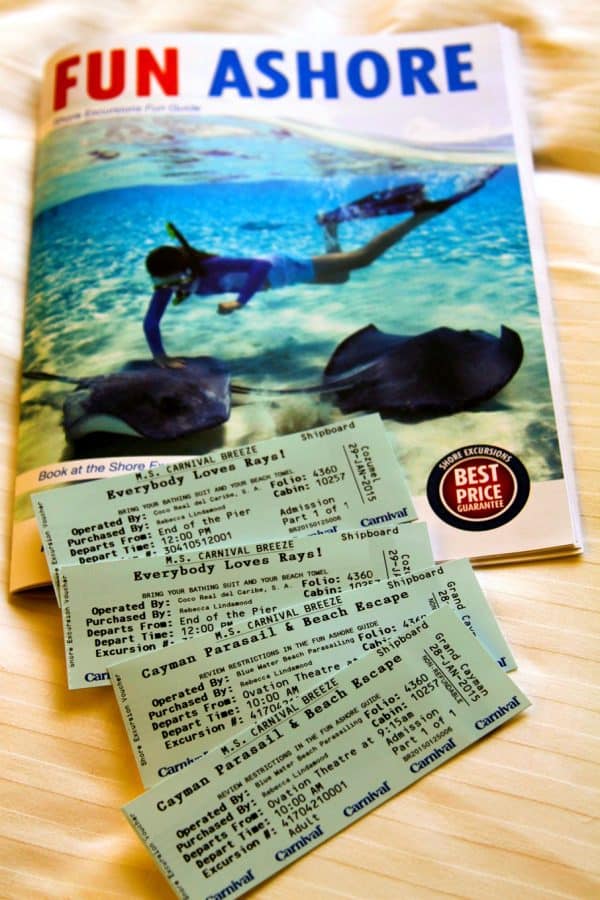 Excursions on the Carnival Breeze
Our parasailing excursion on Grand Cayman was cancelled due to weather. Unfortunately, this was outside of the control of Carnival. They offered to slide us into another excursion, but we were already booked for a similar excursion in Cozumel. They automatically refunded our 'Sail and Sign' account. Don't feel badly for us, though, we ended up spending the day on the ship availing ourselves of the waterslides and spa (more to come on that below).
In Cozumel, we had the opportunity to feed, hold, learn about, and swim with stingrays at the "Everybody Loves Rays" excursion. The staff was funny, knowledgeable, and helpful. The excursion was very efficiently managed and it seemed like all involved had a good time.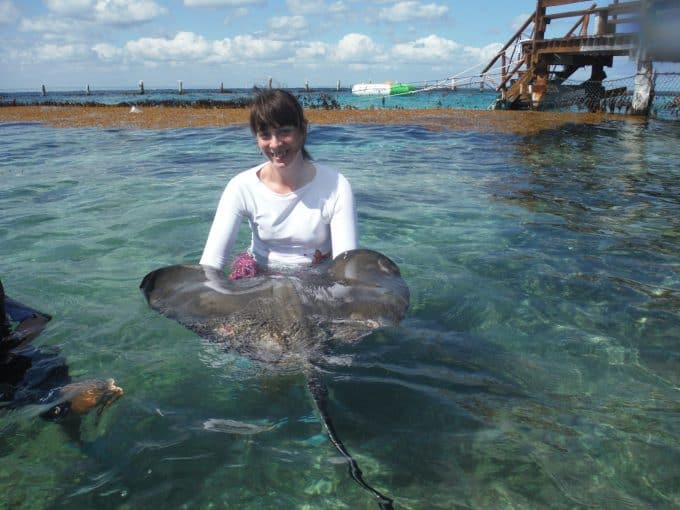 Recommendations for "Everybody Loves Rays" Excursion in Cozumel, Mexico:
If you're bringing little kids, you might want to prepare them that the sting rays are pretty big and powerful. The best case scenario for bringing littles would include having two adults so you can take turns handing off duties if a kid is frightened. That way the adults both get a chance to experience the excursion and don't have to watch from the beach with a scared kiddo.
Bring a waterproof camera with you. You won't be allowed to use it in the feeding/holding portion of the excursion, but you can take it with you while you snorkel and swim with the stingrays. Don't worry, though, they take loads of pictures of you while you're holding the stingrays and you can purchase a cd from them. The cd seemed a touch on the pricey side at $30 for one person or $40 for two, but they include quite a few bonus photos/screensavers of stingrays along with your photos.
When the excursion is over, do yourself a favour and buy the fish tacos and a mojito from the little cantina they have at the beach. The servings were generous and oh-so-tasty.
Entertainment on the Carnival Breeze
We tried Harry Potter trivia -at which we both failed miserably-, the Punchliner Comedy Club, shopping, water slides, the Piano Bar, on deck movies, dance parties on deck, live shows, and everything in between. We loved the Piano Bar, where Ben plays all sorts of classics from all genres while everyone sings along. He also puts some hysterical spins on the songs and takes song requests. As the evening progresses and the drinks keep flowing, Ben's lyrics get a little racier and crowd gets more involved. Hilarious, but definitely adults only. The bartenders in The Piano Bar were fabulous, funny, and personable.
Speaking of adults only, the live comedy shows from 9 pm and later are definitely for an older crowd only. Again, hilarious, but no kids, as they so explicitly tell you! There are earlier, clean shows by the comedians that are family-friendly so the whole crew can attend.
The water slides were a HOOT. Advice: If you can, take advantage of the slides when the ship is in port and mostly empty. You won't have to stand on line at all. Meseidy and I zipped down the slides several times (with my waterproof camera) in just a few minutes. Yes, we are big kids. Big dorky kids.
The Spa and Fitness Center on the Carnival Breeze
The Spa:
We snapped up a Top-to-toe spa treatment on sale on our fourth day of the cruise. The treatment included dry brushing, a full-body massage with bamboo rollers and hot stones (included because we booked our treatments for earlier in the day), a facial, and a scalp massage. In a word, the whole experience was fabulous. We floated out of the spa smelling great and feeling relaxed to the core. If you can visit the Spa, I highly advise doing so!
The Fitness Center:
This fitness center is fully stocked with just about everything; exercise cycles (standard and recumbent), eliptical machines, treadmills, free weights, and just about every other piece of equipment you could want to help you keep in fighting form while on the cruise. The fitness center also offers group exercise classes and presentations on healthy living and weight loss techniques.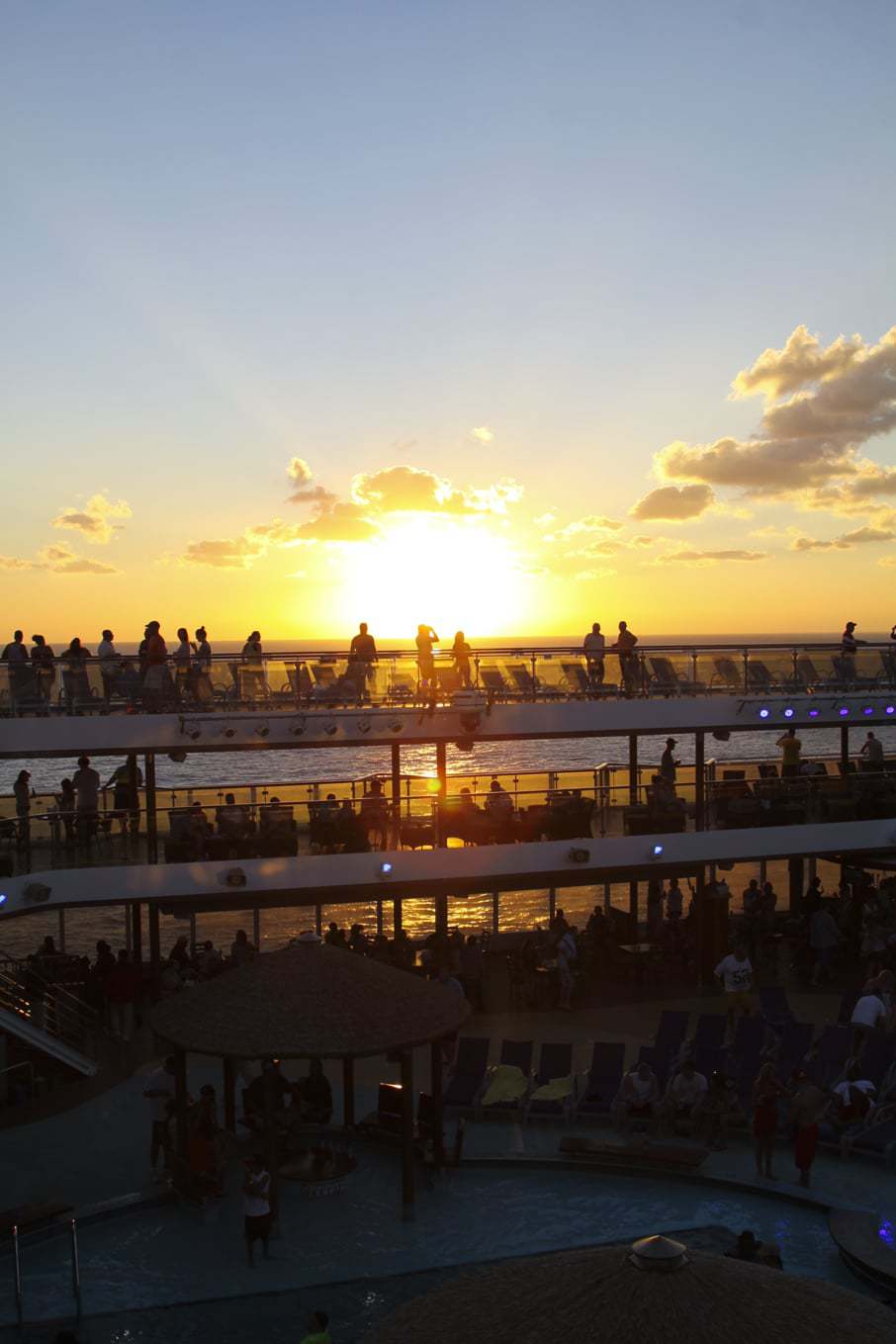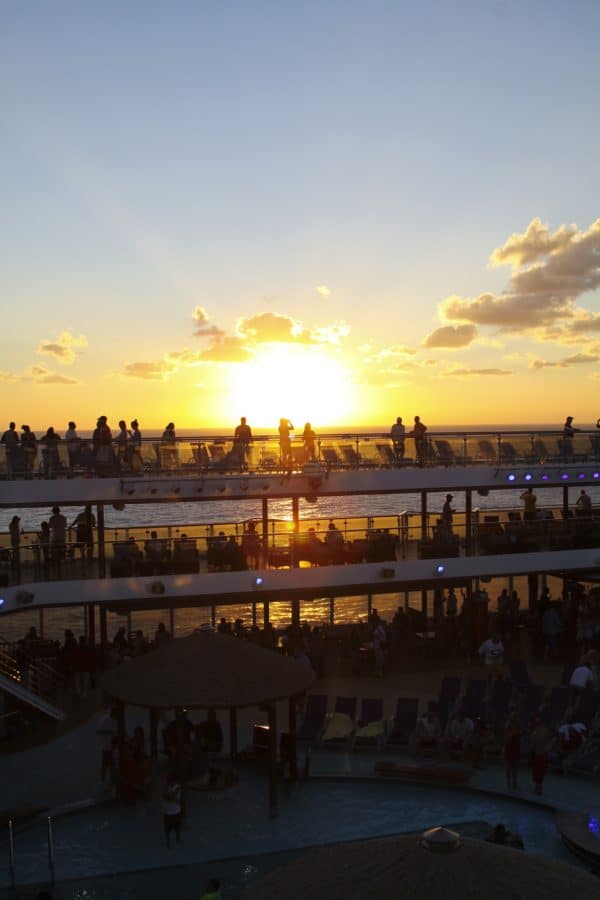 Overall Experience on the Breeze
It was a high energy, vibrant crowd on the Breeze: everyone seemed to be ready to have a great time. We tried all the activities and were able to retreat to our cabin and relax on our balcony when we needed a quiet moment or two. One of my favourite moments of the entire cruise was unexpected and unplanned. We were walking the deck just before sunset with our cameras.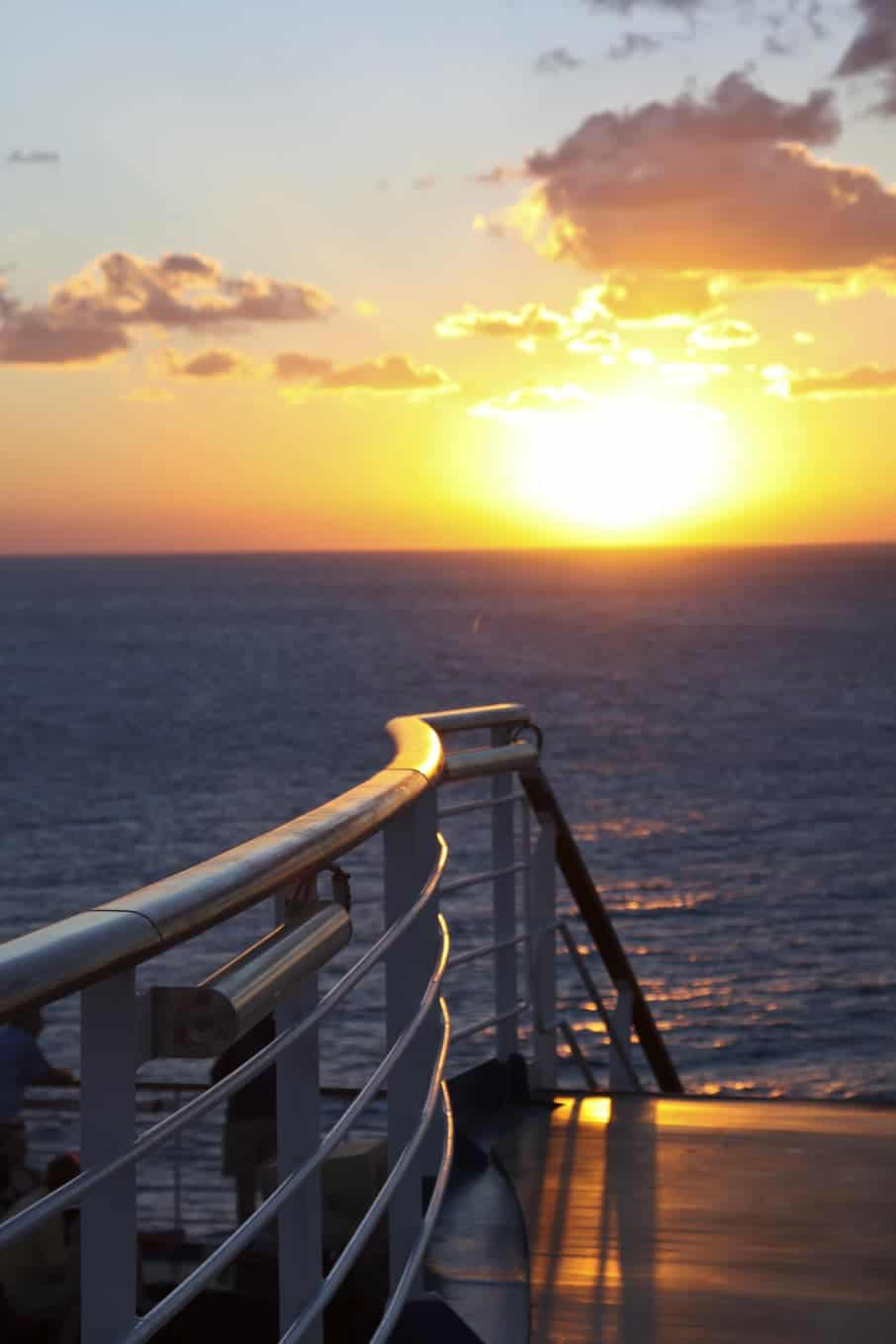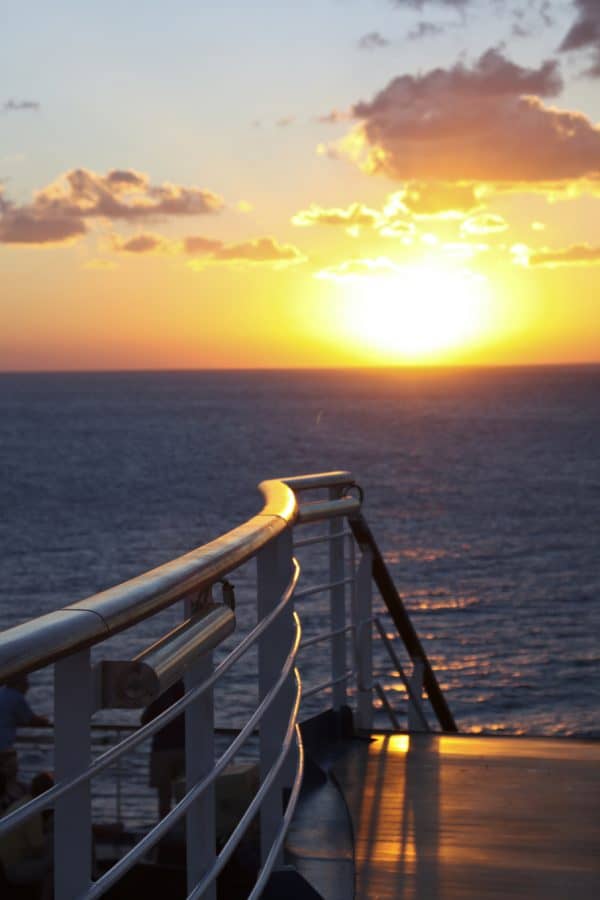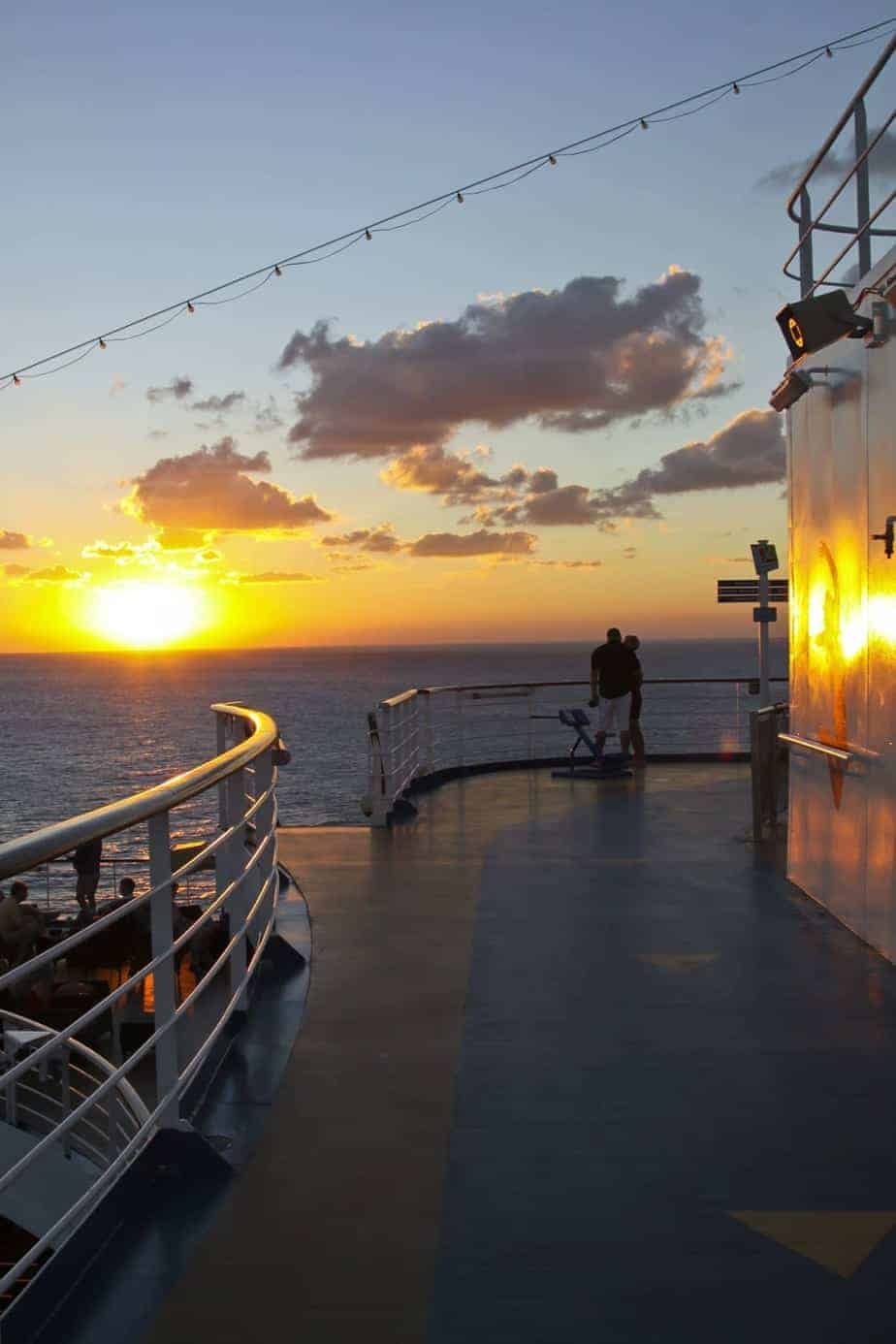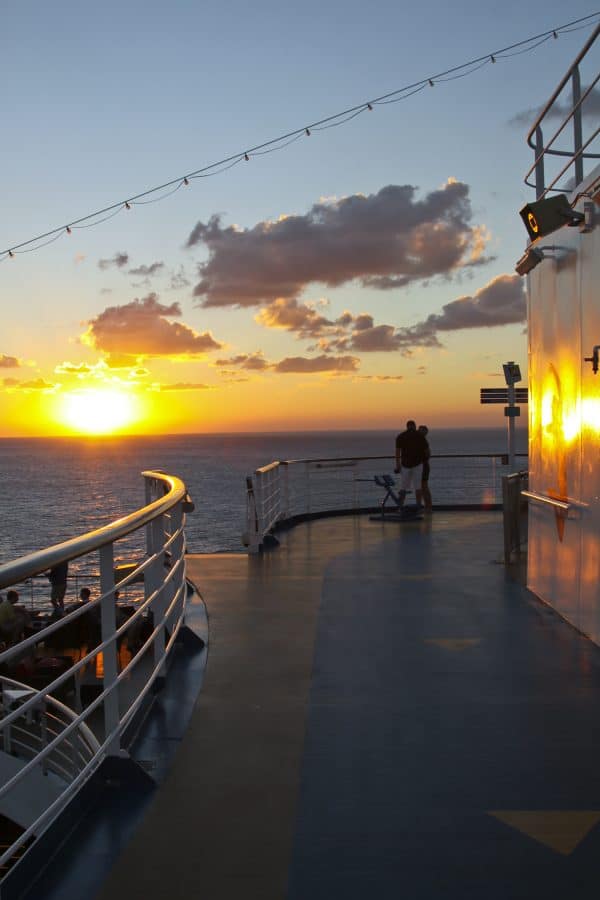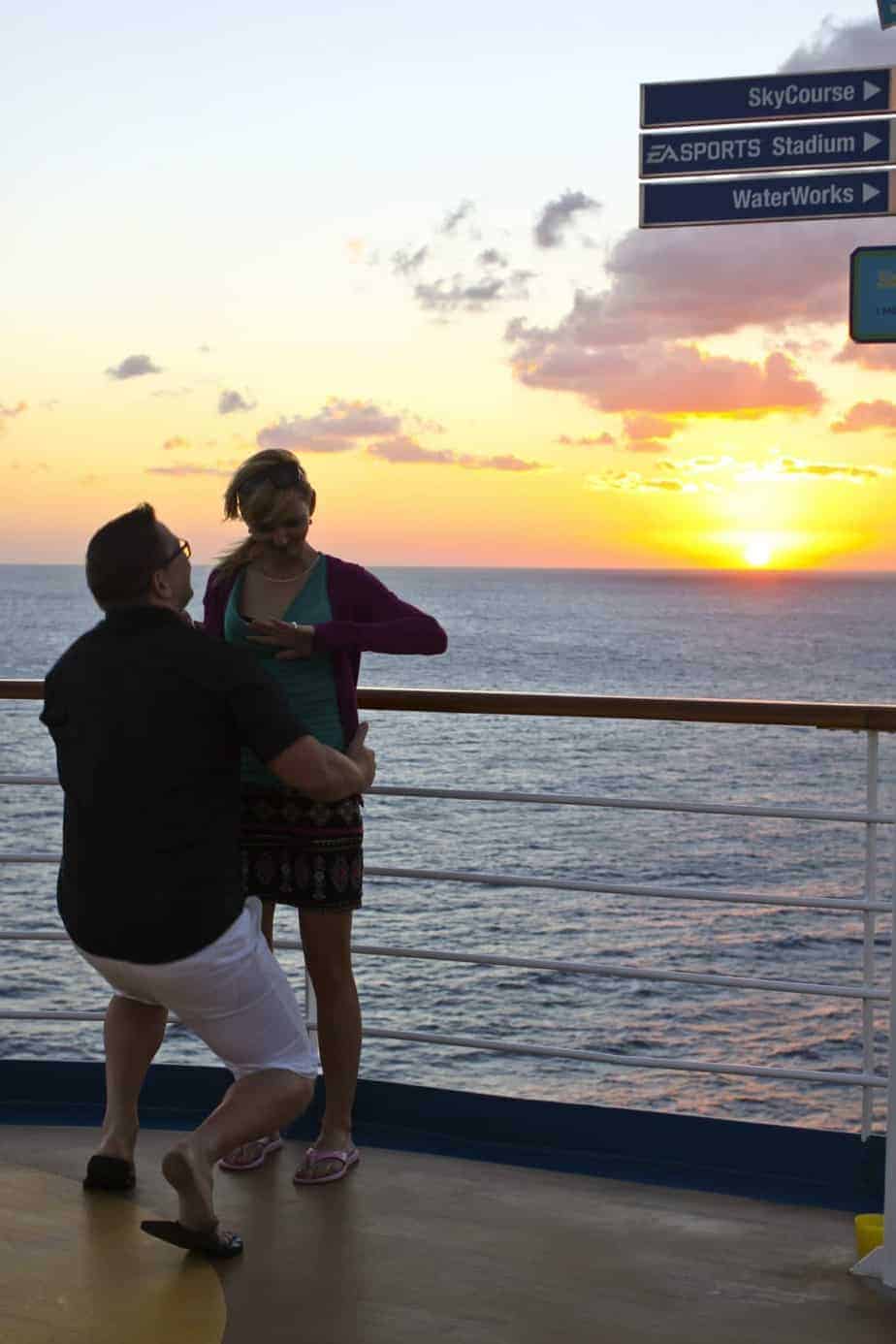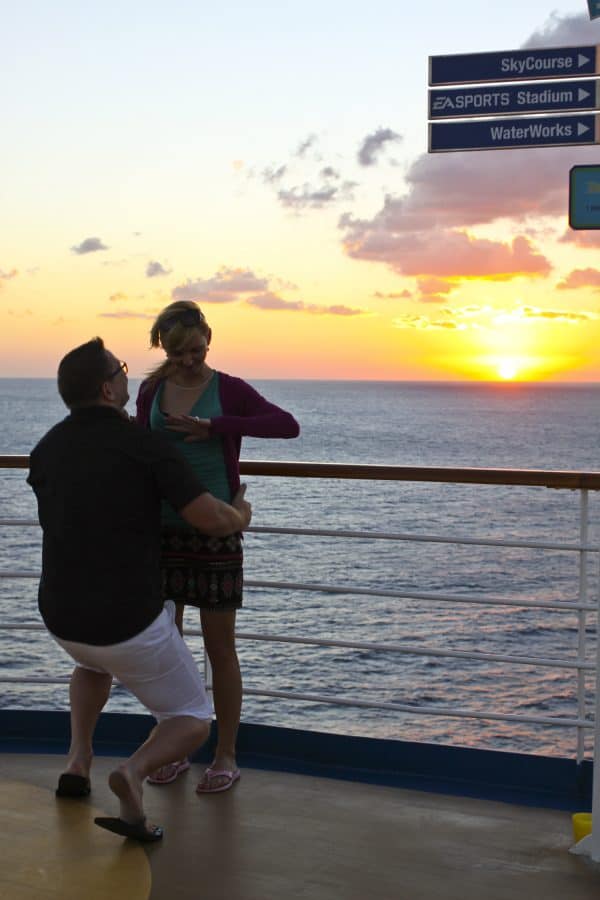 We rounded the corner of the deck just in time to see a man drop to his knees in front of his girlfriend and ask her to marry him. What a view! And OH the ROMANCE! I offered to email the photos to the happy couple -Spoiler alert. She said yes.- and they were tickled that someone had caught the moment on camera. I felt the LOVE people!!! It was the Love Boat!
Connect with Foodie with Family
facebook | pinterest | instagram