Leif was really looking forward to dinner Wednesday night. He loves ham ("the pink meat"), garlic bubble bread and homemade pasta. But he adores ice cream and anything that goes with it. I had planned this meal to please him particularly. 
" But Mousie, thou art no thy lane,
In proving foresight may be vain:
The best laid schemes o' mice an' men
Gang aft agley,
An' lea'e us nought but grief an' pain,
For promis'd joy!"

Robert Burns, from "To A Mouse"

 
My schemes for a spectacular meal were laid last week and promptly tossed aside when my little Leify spiked a 104.9 temperature. I turned off the oven that was baking the garlic bubble bread and abandoned the loaf to whatever fate would befall it while taking my baby viking to the urgent care department.
I stuffed the resting pasta dough into the freezer for a later meal. I turned off the ice cream freezer and poured the base into a gladware container and crammed that in the freezer, too. 
The only part of the meal that was done, the Scots bannock for the dessert, was stuck on a plate in the microwave and we were off to the hospital. 
He had to go see the doctor AND miss his anticipated vittles. The little Nordic conqueror was not pleased. 
 
Two days later, fever gone and appetite increased, Leif asked what happened to his bannock. I brandished the bannock and he said he wanted dessert before dinner. The bannock was wrapped in foil before it got a quick refreshing toast in a hot oven.
The ice cream base went back into the machine and churned away into creamy, sweet vanilla ice cream.
The raspberries that had macerated a bit too long in their sugar went into the blender with some lemon juice, were strained and became a beautiful fresh raspberry coulis.
Leif wanted chocolate on his plate as well, and since the desire for the presence of chocolate requires no explanation, on it went.
The recipes for the ice cream, coulis and bannock are below. The bannock can also be made savory by omitting the topping sugar and adding any variety of ingredients; diced ham and cheddar, chives and bacon, assorted minced herbs, etc… If you've never had a bannock it is best described as a cross between a biscuit and a scone. It can stand in for any biscuit recipe. When topped with sugar it makes a more than admirable shortcake. It is a failsafe, simple recipe and it makes so many meals and desserts special. Big thanks to my dear friend Alison (McDougall) Santora for the bannock recipe!
McDougall Scots Bannock
4 cups all-purpose flour
1 cup white whole wheat flour
8 teaspoons baking powder
1/2 teaspoon salt
1&3/4 cups milk
1 egg
6 Tablespoons vegetable oil
Optional ingredients: fine diced ham, shredded cheese, bacon, minced herbs, sugar, etc…
Whisk dry ingredients together in a large bowl. Combine wet ingredients in a separate bowl, then add to the dry ingredients, stirring just until moistened. Preheat oven to 425°. Turn bannock dough onto floured surface, knead lightly for a dozen turns and separate into two balls.
Line a baking sheet with parchment paper. Flatten dough balls to about one inch thick and put at least three inches apart on prepared pan. If preparing a sweet bannock, sprinkle the top of each round of dough generously with granulated sugar. Bake in 425° oven for about 15-20 minutes or until golden brown.
Below is a picture of how the Scots bannock looks before going into the oven and how it looks dressed and ready to eat. 
Here is the beautiful bannock ready to be sliced into wedges and devoured. For size reference purposes, that is a pie plate in which the bannock sits.
Raspberry Coulis
1 lb frozen or fresh raspberries. If using frozen, thaw prior to preparation
1/2 cup granulated sugar (white or demerara)
2 Tablespoons fresh lemon juice
Macerate the raspberries in the sugar and lemon juice in a medium bowl for an hour. When the hour is up, pour the contents of the bowl into the blender. Cover and blend on high for 1 minute. If desired, you can strain out the seeds by pouring the coulis through a fine mesh sieve. This gives it a more finished texture. Pour coulis into a clean squeeze bottle or a mason jar with a tight fitting lid. Refrigerate until ready to use.
Simple Vanilla Ice Cream
…Because sometimes simple is best! This recipe appeared in my Record-Eagle column last Monday.
Simple Vanilla Ice Cream
Makes about 7 cups
1- 1/2 cups cold milk

1 -1/4 cups granulated sugar

3 cups heavy (whipping) cream

1 -1/2 Tablespoons pure vanilla extract
Pour milk into a blender and add sugar. Put the cover on the blender and blend on low until the sugar is dissolved. Add the heavy cream and vanilla extract to the blender and pulse 5 times on low speed.
Freeze according to instructions from your machine's manufacturer. Mine requires about 25 minutes of freezing.
The ice cream will be soft-set when done. You may transfer to an airtight container and place in the freezer for about 2 hours if you desire a firmer consistency. Remove from the freezer and allow to soften for about 5 minutes before serving.
How to put together the dessert? 
Cut the bannock into 8 equal wedges. Squirt a little raspberry coulis and chocolate sauce on the plate. Split a wedge in half lengthwise. Place the bottom half of the bannock wedge on the plate and place a large scoop of ice cream on top of the bannock. Drizzle some raspberry coulis over the ice cream. Top with the sugary half of the bannock. Garnish with something pretty, green and edible from your garden. For extra bling you can use sugared mint leaves or violets.
Leif's pneumonia blues cure.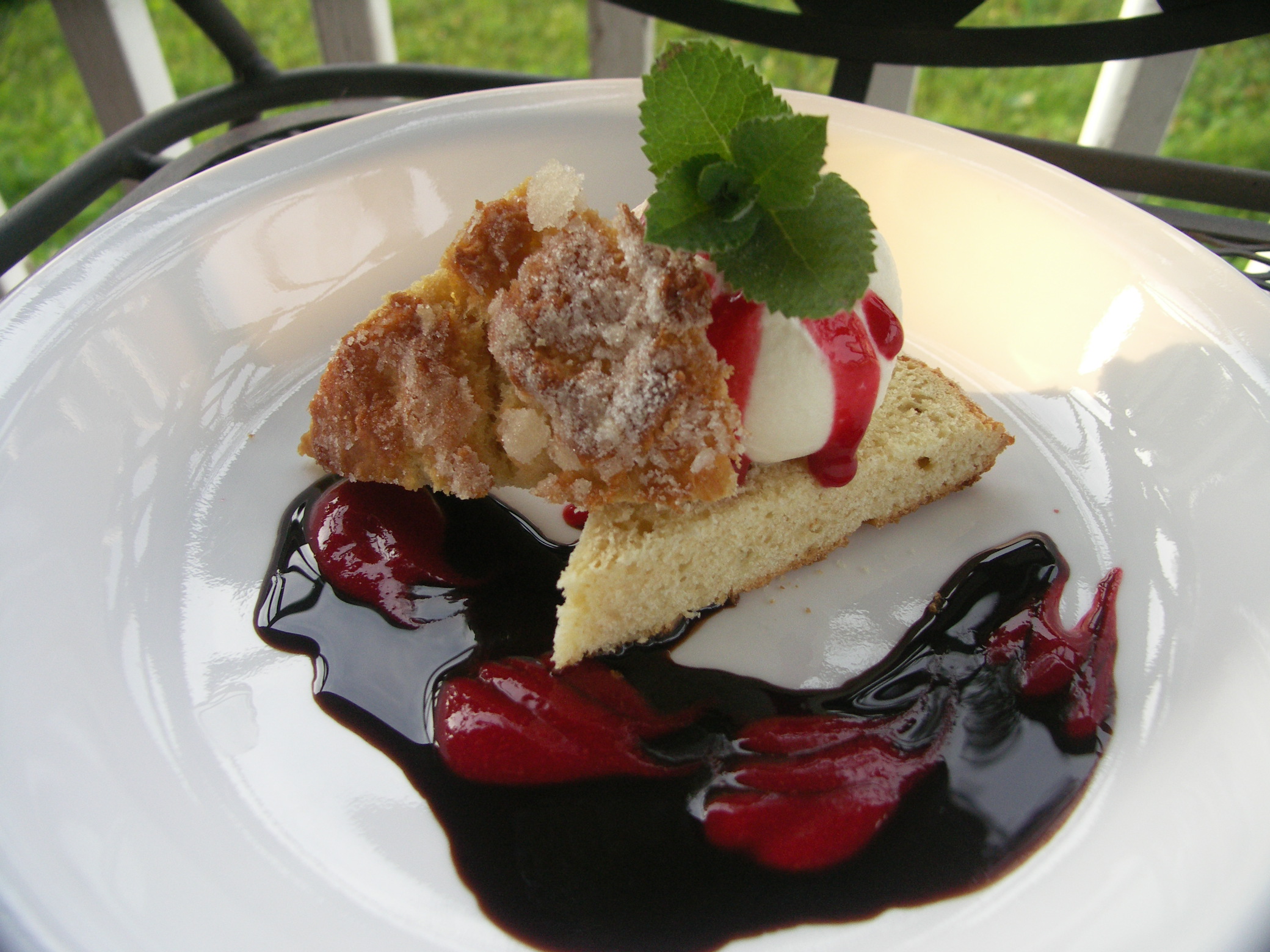 Here's the happy boy (sadly he had already wiped his mouth!)  As you can see he's not fond of wearing shirts.