Why is it that sometimes the least attractive food tastes the best? I have a friend who is a transplant from Texas living in my cold, windy, snow-buried corner of Western New York. She braves it without complaint. Well, without more complaints than the rest of us who can be fairly crabby about the whole thing.The one thing she doesn't seem to love is the utter lack of readily available, excellent Tex Mex food. A couple of weeks ago she said she was going to try a Tex Mex place in Rochester and promised to report back. I wasn't holding my breath for a positive report, so I was surprised when I saw photos of real-deal Tex Mex goodness on her instagram feed. She described the irresistible combination to me and I knew I had to recreate it. The result was Tex Mex Mash; decidedly un-pretty, but undeniably delicious.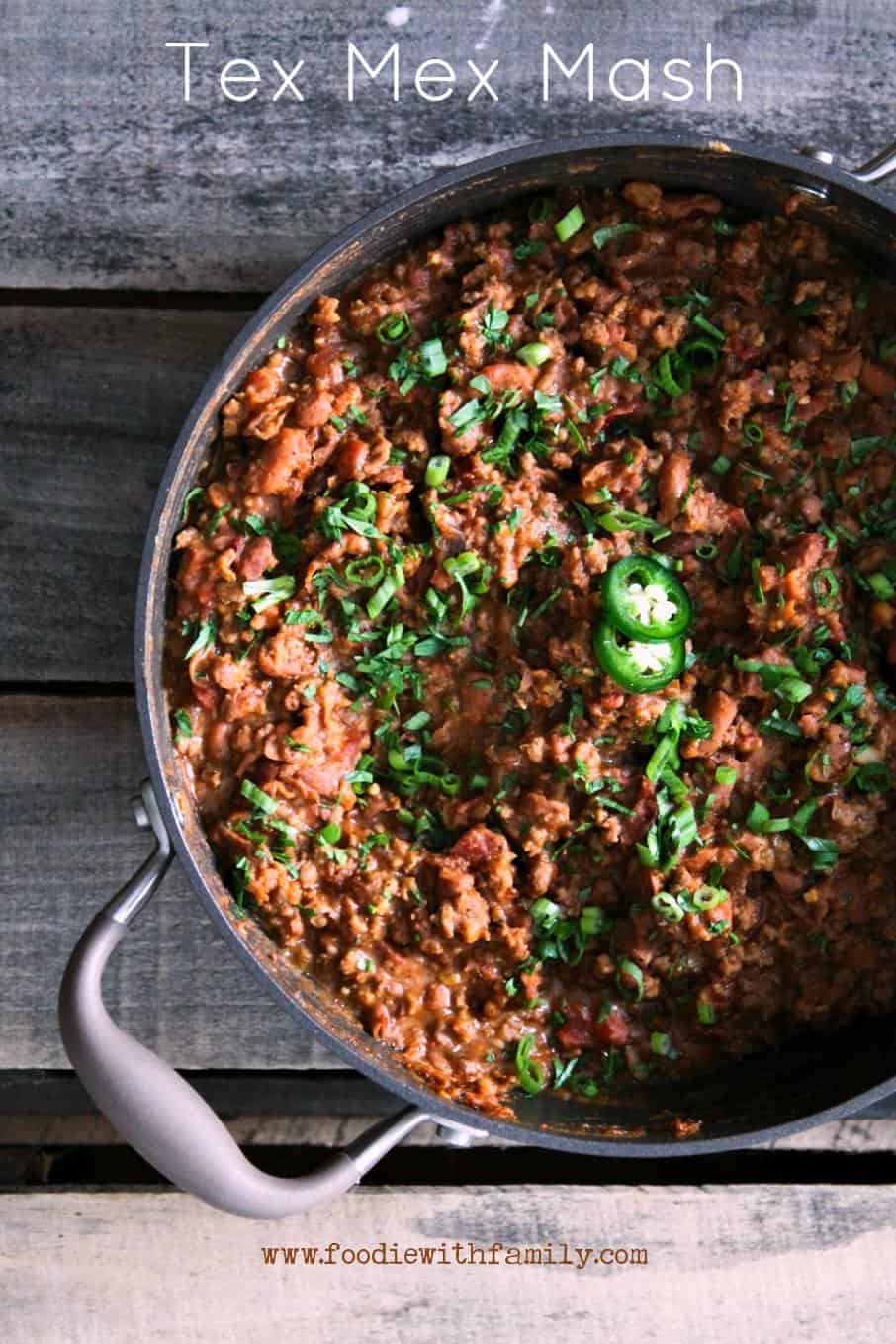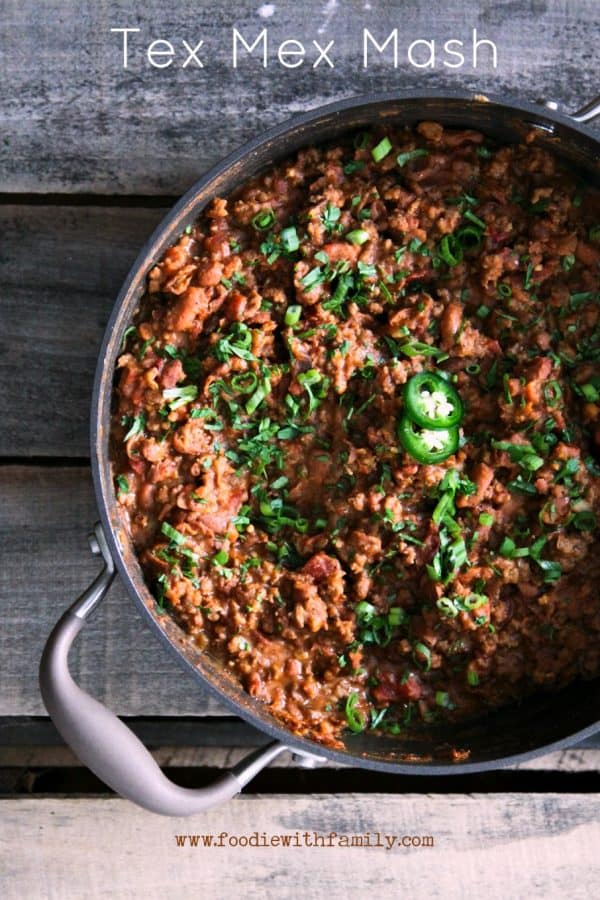 But since I'm familiar with the First Rule of Food Blogging -No food is too ugly to go unphotographed so long as sufficient quantities of green herbs and garnish are tossed over the top- I decided to bring the deliciousness that is Tex Mex Mash to you. It was too darned good to keep to myself.
So what is this ugly duckling that tastes like Tex Mex heaven? It's the combination of smashed pinto beans and seasoned, browned ground beef simmered in a garlicky tomato and chipotle sauce and garnished with crispy bacon, loads of chopped cilantro or parsley, and sliced green onions. Whoa. Just WHOA. The guys kept dipping spoons in the pot as it simmered and thickened. When it was done, we served portions spooned over hot rice with a dollop of guacamole on top. The next day, we reheated the leftovers for lunch and served it over crispy tortilla chips with yet more guacamole and a squeeze of fresh lime juice over the top. The pan never seemed to empty despite all of us eating vast quantities of it in every way we could imagine it, and -even better- we never seemed to tire of it. I imagine this will be a regular feature at the boys' sleepovers when I'm faced with feeding teeming hordes of teenage boys who have two hollow legs each. Why? Any recipe that can feed a family of 7 with 1 pound of ground beef and 2 cans of pinto beans with other easily sourced goodies and still have leftovers is a winner and a half and deserving of a place in the regular rotation.
Cook's Notes
Crisp your bacon in your pan before you do anything else. This allows you to harness the incredible flavour power of bacon fat. Transfer the crisped bacon to a paper towel lined plate with a slotted spoon and leave all that good fat right there in the pan. It's not like you're cooking a pound of bacon, here, so don't sweat it.
I do brown the ground beef in a separate pan as I find it simpler than just using the one pot for everything. Besides that, it lets you start the two pans going simultaneously, cutting down on the overall cooking time. Hooray for time savers!
I started with two cans of Trader Joe's Pinto Beans (in their liquid), but any canned pinto bean you like is good for the job. If you prefer to cook them from scratch, that is delicious, too! Just substitute 3 cups of home cooked pinto beans in their liquid.
Why the emphasis on the liquid? Simmering the beans in their own liquid adds depth of flavour and helps the beans to smash themselves. I know it sounds silly, but essentially you're exploding the cell walls with all that bean liquor and it makes it so silky in texture!
Don't bother putting the chipotles in adobo on a cutting board and wrestling with the slippery little fiends. Simply lay them on a saucer and smash them thoroughly with a fork before adding to the pot.
There's no real hard and fast rule to how long you simmer the beans… Let them go until they smash easily with a spoon or potato masher, but pull them from the heat when they're as thick as you prefer them. I like them thick enough to stay on a spoon but loose enough that I can scoop the Tex Mex Mash onto chips easily.
Don't add the crispy bacon until you're ready to serve, or you'll most of the crispiness!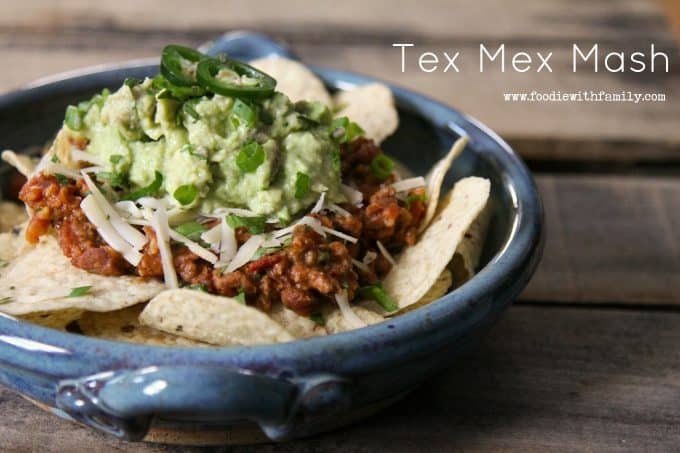 Connect with Foodie with Family
facebook | pinterest | instagram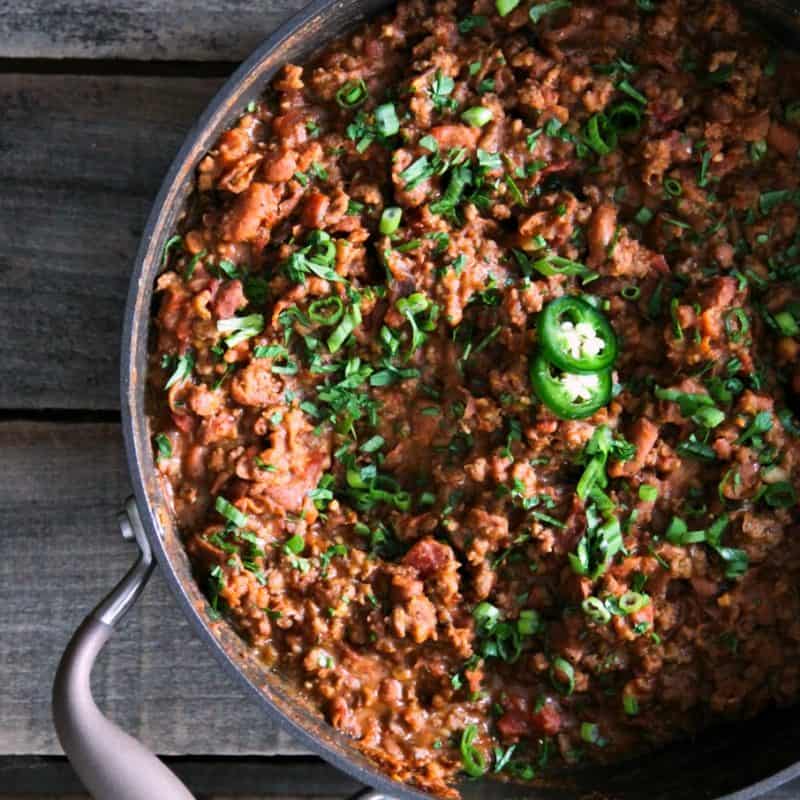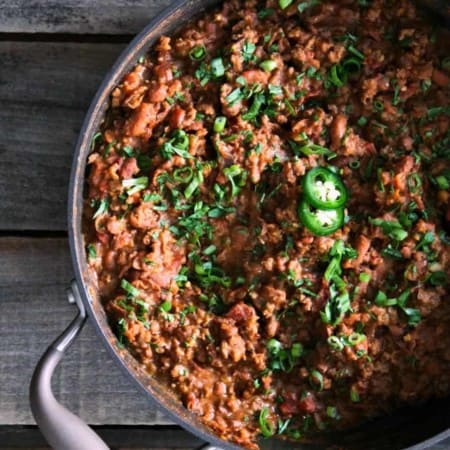 Ingredients
4

strips bacon

sliced crosswise into 1/8 to 1/4 inch thick pieces

2

cans pinto beans and their liquid

or 3 cups cooked pinto beans in their liquid

1

can petite diced tomatoes

14.5 ounces each

2

to 4 chipotles in adobo plus 1 tablespoon of the adobo sauce

depending on desired heat

1

pound

lean ground beef

3

cloves

garlic

peeled and minced

1

tablespoon

chili powder

1

teaspoon

kosher salt

1/2

teaspoon

cumin
Optional:
chopped fresh cilantro

green onions, and jalapeno for garnish
Instructions
In a wide pot, cook the bacon over medium low heat until crispy. Use a slotted spoon to transfer the crispy bacon to a paper towel lined plate. Set the bacon aside and return the pot to the burner, raising the heat to medium. Pour the pinto beans and their liquid, the tomatoes, and the smashed chipotles in adobo and sauce into the pot and bring to a simmer. Let it cook, lowering the heat if needed to keep it from evaporating too quickly.

Break up the ground beef in a second pan over medium high heat. Add the garlic, chili powder, kosher salt, and cumin and continue to cook, breaking it up and stirring it to combine, until the beef is browned. Drain off any accumulated fat or liquid from the beef and set the beef aside.

Keeping the beans over the heat, use a sturdy spoon or a potato masher to roughly mash the pinto beans, leaving some whole for texture. Stir in the browned ground beef. Garnish with the crispy bacon and cilantro, green onions, and jalapeno, if desired.

This is best served hot or warm.
Nutritional information is an estimate and provided to you as a courtesy. You should calculate the nutritional information with the actual ingredients used in your recipe using your preferred nutrition calculator.