Hot days require cold things to eat. That is the law in my house. I decreed it. And so it was written.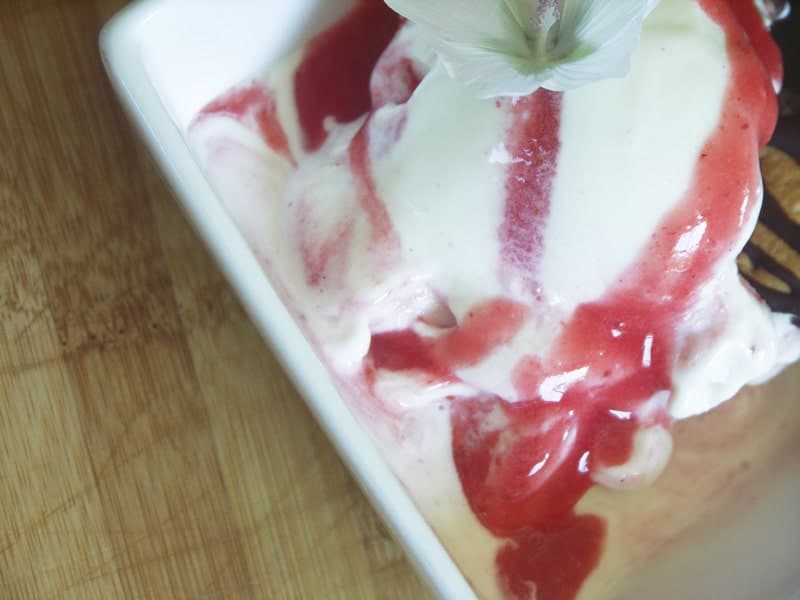 There is nothing quite like ice cream to relieve the heat from the inside out, but The Evil Genius is still on his crazy "I want to be healthy!" kick. And so, loving wife that I am, I'm trying to mess with him. Now, don't get me wrong. I'm not shooting down his healthy diet attempts, I'm just trying to make him think that I am. It's complex. Let me explain.
I have finally found the holy grail of diet-friendly desserts; frozen yogurt. Yes. I knew frozen yogurt existed before, and I had even tried it and liked it. But my problem was that every time I made it at home (with this notable exception) it tasted like, well, yogurt. And while yogurt is a pleasant thing most times, when I'm biting into something that looks like ice cream, I want it to taste like ice cream, too. When I made my Blueberry Frozen Yogurt last month, it was a revelation. It was frozen yogurt that tasted so much like ice cream that it totally confused all the menfolk in my house. The boys thought I was teasing them by calling it frozen yogurt. The Evil Genius thought I was trying to secretly fatten him. It took another round of blueberry frozen yogurt, with them watching me make it, to convince them that it was really that healthy for them.
But when they were really and truly convinced it created a new, more insidious problem. They nagged me for it constantly. They wanted more, more, more… As much as I love food, I get a little fickle if I have to prepare the same thing three times a week. (Unless by 'prepare the same thing three times a week' you mean unwrapping individual bite-sized dark chocolate bars.) I had to move on from Blueberry Frozen Yogurt. The next step was a natural. My favorite ice cream flavor is Fill-in-the-blank* Cheesecake. Clearly that was the next candidate for health-i-fication.
*Fill-in-the-blank= strawberry or blueberry. Either will do!
Happily, the first attempt at Strawberry Cheesecake Frozen Yogurt was a grand slam home run. Using 2% milk fat Greek yogurt and American-style Neufchâtel* cheese, I churned up a perfect creamy, healthy version of Cheesecake Ice Cream swirled with a fresh ruby strawberry coulis. Go on. I know! Seriously, it was cheesecakey. It was fruity. It was smooth. And it didn't taste even remotely healthy! I call that a success!
*American-style Neufchâtel cheese is often sold next to cream cheese in the dairy section of grocery stores. It is packaged identically to cream cheese, and usually says "1/3 less fat than Cream Cheese" or something like that on the label. It is, in most cases, interchangeable with cream cheese in recipes. This case is no exception! You get the flavor and the creaminess imparted by cream cheese with less impact on the old rear. And goodness knows I do enough to pad that area already.
And wait until you hear my secret ingredient; balsamic vinegar. For those of you who have eaten a drizzle of balsamic vinegar over fresh strawberries this will not come as a shock, but if you've never had the combination before I should probably set your mind at ease. It doesn't taste like vinegar on strawberries. Balsamic vinegar has an amazing ability, in small quantities, to make strawberries taste more like strawberries than ever before. It transforms regular strawberries into the most intense tasting berries you've ever had. It -in short- performs miracles. But unlike  a stage mother, it fades into the background and doesn't call attention to itself.
It's hot out. I think you need some frozen yogurt. I think you deserve this.
For a photo-free, printer-friendly version of this recipe, click here.

Strawberry Cheesecake Frozen Yogurt
Yield: About 2 quarts of frozen yogurt
Ingredients for the cheesecake frozen yogurt:
4 cups 2% milk fat Greek Yogurt
8 ounces (1 brick) American-style Neufchâtel cheese (do not soften ahead of time)
3/4 cup cold milk
1 cup plus 2 Tablespoons granulated sugar
2 Tablespoons pure vanilla extract
Ingredients for the Strawberry Coulis:
3 cups whole, hulled strawberries, frozen or fresh
3/4 cup granulated sugar
2 tablespoons lemon juice
3/4 teaspoon balsamic vinegar
Add all of the ingredients for the coulis to your blender carafe. After positioning the lid on the carafe, turn the blender on and process until smooth. Pour into a measuring cup, jar or squeeze bottle with a tight fitting lid. Refrigerate until needed.
Rinse and dry the blender carafe and lid. Add all of the ingredients for the cheesecake frozen yogurt to the carafe. Place the lid on top and process until smooth. Pour into a bowl or container. Cover tightly and refrigerate for one hour prior to churning.
Freeze the ice cream mixture according to the manufacturer's instructions included with your ice cream maker. It takes about 25 minutes in my ice cream maker.
Something to keep in mind is that this frozen yogurt, unlike most ice creams, churns up fairly firm. Listen for signs that your ice cream maker is struggling. Turn it off immediately if it is. If it is not quite as hard as you'd like it, you can always pop it in the freezer for a bit prior to serving.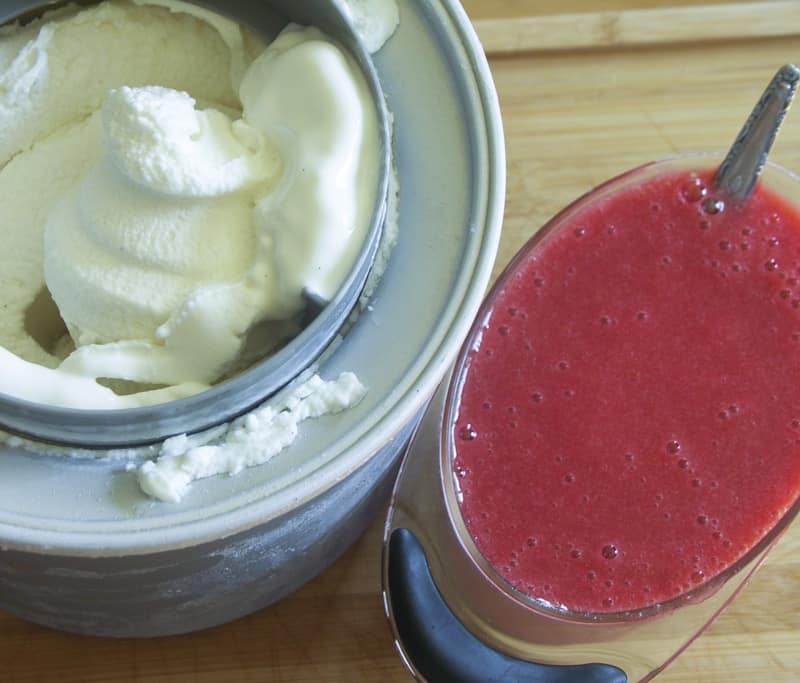 To create the strawberry swirl:
Use a wooden spoon to transfer the churned frozen yogurt from the ice cream maker to a storage container. Squirt, pour or dollop strawberry coulis by the tablespoonful over the frozen yogurt. I use about 1/2 cup of the coulis. Store the remaining coulis in the refrigerator.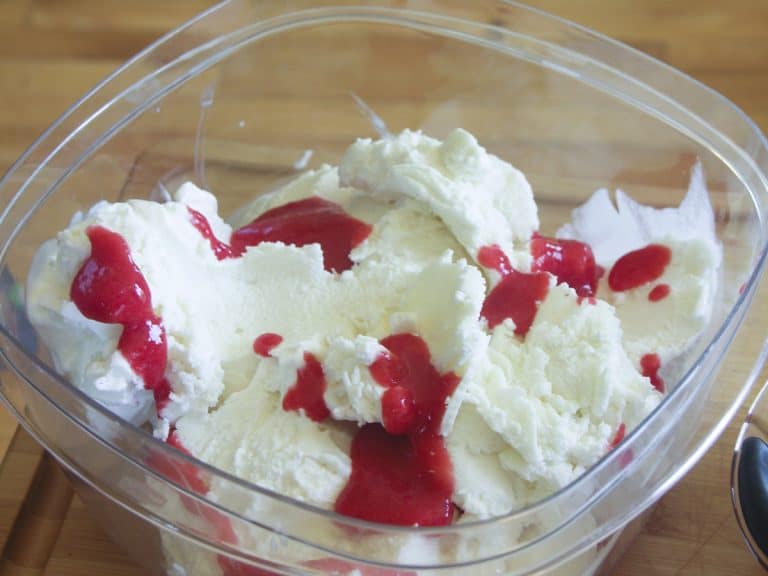 Use two butterknives to cut and swirl the coulis into the frozen yogurt.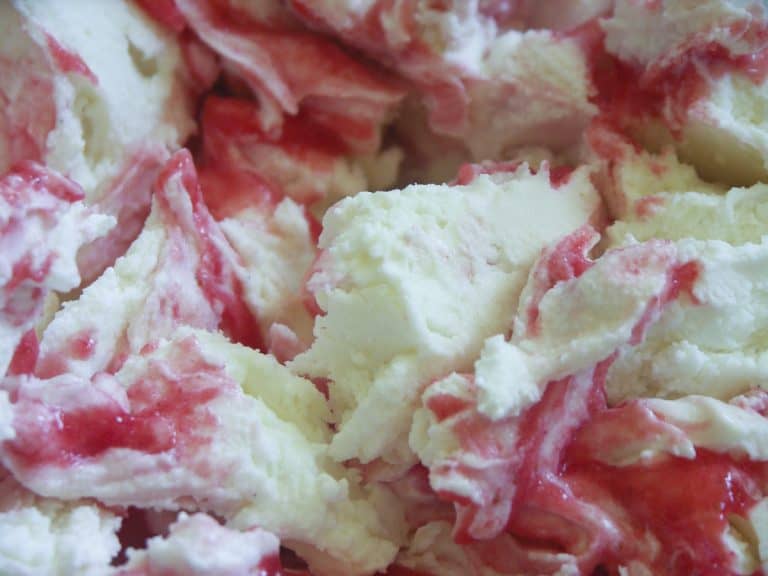 Smooth the surface of the swirled frozen yogurt with a wooden spoon or silicone spatula.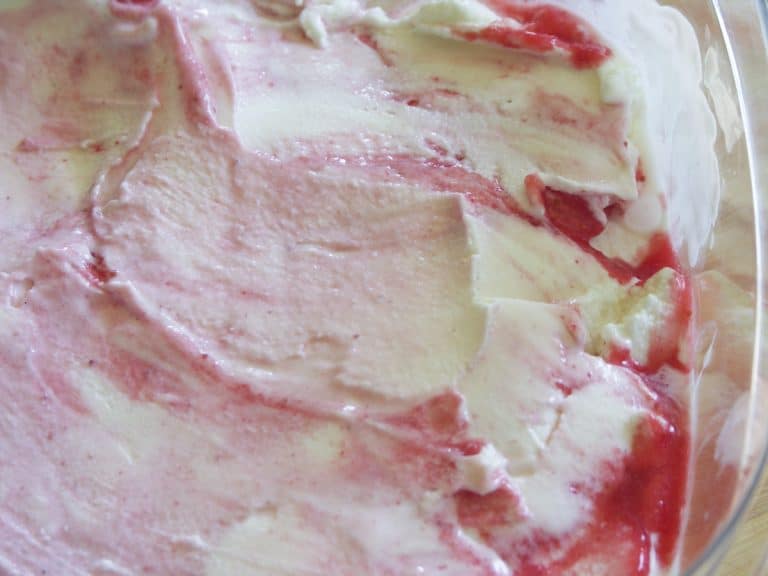 Cover tightly and freeze for 10 minutes prior to serving. If you freeze longer than 10 minutes, you may need to leave the container out on the counter top for some time prior to scooping.
Serve on cones or in a bowl topped with chocolate covered graham crackers and drizzled with more coulis.
And if you have a 12 year old who is art-directing the photography of your frozen yogurt, you can hang on a minute or two while he scours the yard for the perfect flower to decorate your dessert. "Voilà!," quoth Liam, "It's perfect!"