Déjà Food
Pronunciation: \ˌdā-ˌzhä-ˈfüd\
Function: noun
Etymology: Yo Momma. (Actually, my step-momma… but I wanted to say that)
1. Leftovers. But with a French name, therefore, more sophisticated.
Among the catalog of wonderful things my step-mother, Valerie, introduced me to when she and my father married are many now-standards for me: SOB Smoothies ('Strawberry', 'Orange', and 'Banana' Smoothies. What were you thinking she meant?), Colcannon, The California Raisins Christmas Special, Dorothy Sayers mysteries and Déjà Food. Déjà Food is nothing but leftovers, but isn't it amazing how a simple change in words make it sound less like drudgery and more like something exciting?
The only person I've ever met who gets thrilled at the word 'leftovers' is my third born son, Ty (also variously known as Tyger [for Tiger Woods- his hero], Tylo [for our cat Milo- his favorite creature on earth] and Ty-Tron [his robot alter-ego].)  He would do nearly anything, including selling one of his brothers, to ensure that he has leftovers he can eat the next day. …And if there's just enough of an entree to serve us one meal, he'll deliberately under-eat his portion of the dinner, conscientously wrap his own precious leftovers in foil and deposit them in the fridge. The next morning, he'll shake himself out of bed early, run downstairs in his jammies, grab his silver wrapped goodies and plunk himself down at the table. He unwraps it reverently and munches it in silence with big blue eyes then smiles and says, "Thanks Mom!" before running off to face the day.
I am less devoted to leftovers than Ty. Once the initial thrill of the evening's dinner wears off, there are very few dishes that I want to eat two or three or four nights in a row. Because I am mighty frugal, I always find a way to get the extra food consumed. But it takes a déjà food approach to make me excited about leftovers…
The Spicy Chicken and Super-Sharp Cheddar Calzones were made entirely of leftovers and standard pantry items making this a frugal and fast meal. With a salad, this would make an ample dinner for two adults. On those nights when you're really, REALLY hungry, it will feed one ravenously hungry adult. Or it will be a sufficient lunch for one eleven-year old Liam who we all know has two hollow legs.
Calzones are a wonderful way to make déjà food of your leftovers. You can do just about any combination you want. As long as you keep a batch of the Master Dough Recipe from Artisan Bread in Five Minutes a Day, you can whip up calzones at a moment's notice. Do you have last minute dinner guests? A busy night of running from practices, rehearsals, games, meetings, etc…?(That was a bit of the old subconscious showing, eh? I meant running 'to' practices, rehearsals, games, meetings, etc...) Leftover meat, cheese, veggies and other odds-and-ends, bits-and-pieces in almost any flavor combination can come together to make an amazing dinner. You can combine leftover taco meat, shredded cheddar or Monterey Jack cheese, chopped onions and olives for a Mexican Calzone and serve it with sour cream and salsa. You can use a few pieces of pepperoni, some browned bulk pork sausage, shredded or cubed mozzarella cheese and serve it with marinara sauce for a Meat-Lover's Pizza Calzone. How about leftover steamed spinach (squeezed dry, of course), browned lamb (or no lamb),  feta cheese, thinly sliced onions and a pinch or two of oregano served with a Tsatsiki sauce? A Greek Calzone! It can do ANY flavor combination. You have to work this into your rotation. You'll be so glad you did.
For a printer-friendly, photo-free version of this recipe, click here!
Spicy Chicken and Super-Sharp Cheddar Calzones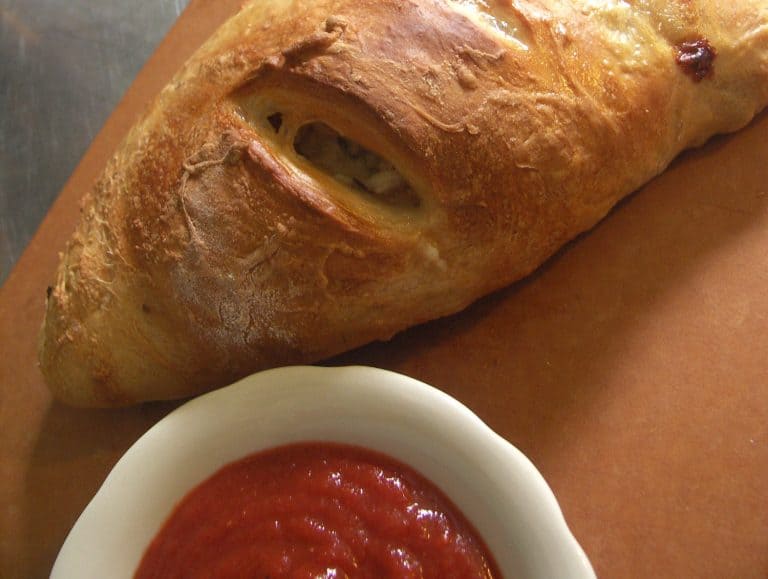 Ingredients:
A grapefruit sized piece of bread dough from the Master Dough Recipe from Artisan Bread in Five Minutes.
1 cup cooked chicken, cut into small cubes (about equivalent to one grilled or otherwise cooked boneless, skinless chicken breast)
1/2 cup (or more) extra sharp cheddar cheese cut into small cubes
1/2 cooking onion, sliced thin
1/2 teaspoon crushed red pepper flakes, optional
1 1/2 teaspoons each olive oil and semolina or cornmeal for pan
Preheat oven to 425°F.
Drizzle olive oil over the bottom of a rimmed baking sheet or pan. Sprinkle semolina or cornmeal evenly over the oil. Set aside.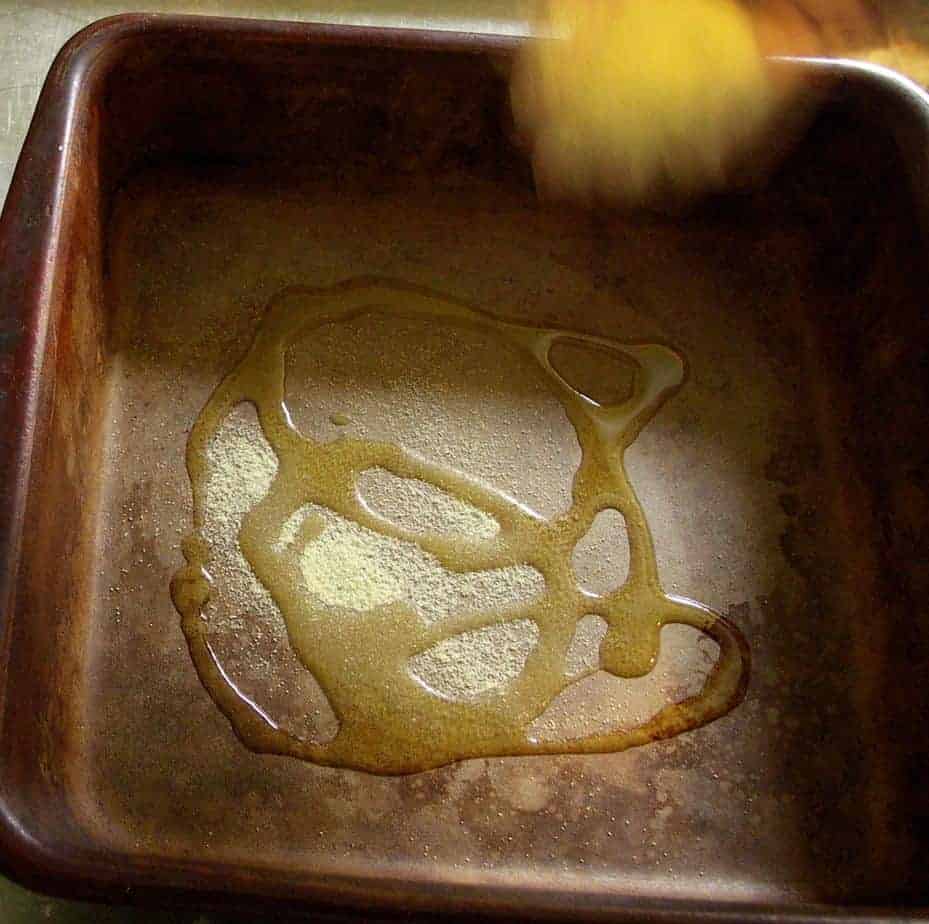 In a bowl or on a cutting board, gently toss together the onions, chicken, cheese and crushed red pepper flakes.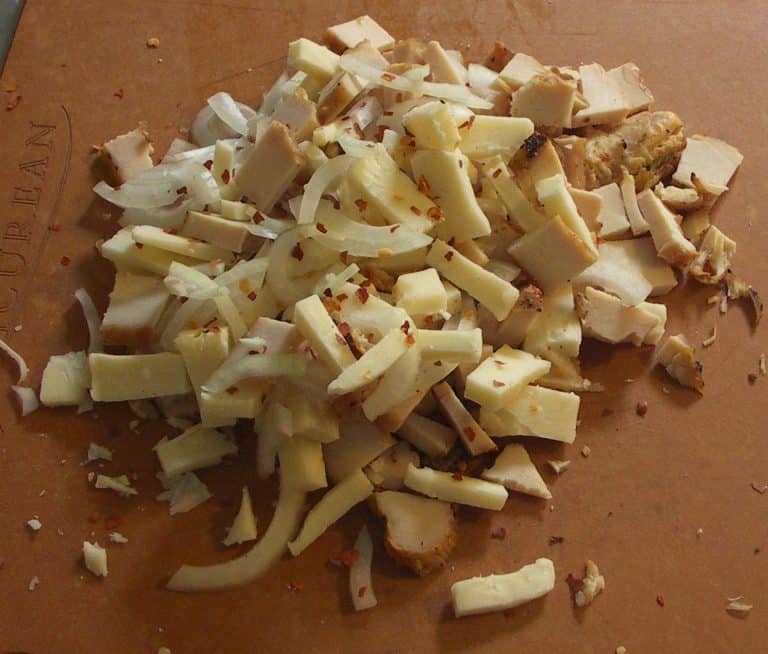 Set aside.
Lightly flour your work surface, dough, and  rolling pin.
Use  rolling pin to roll the dough into an approximately 8 to 9 inch circle.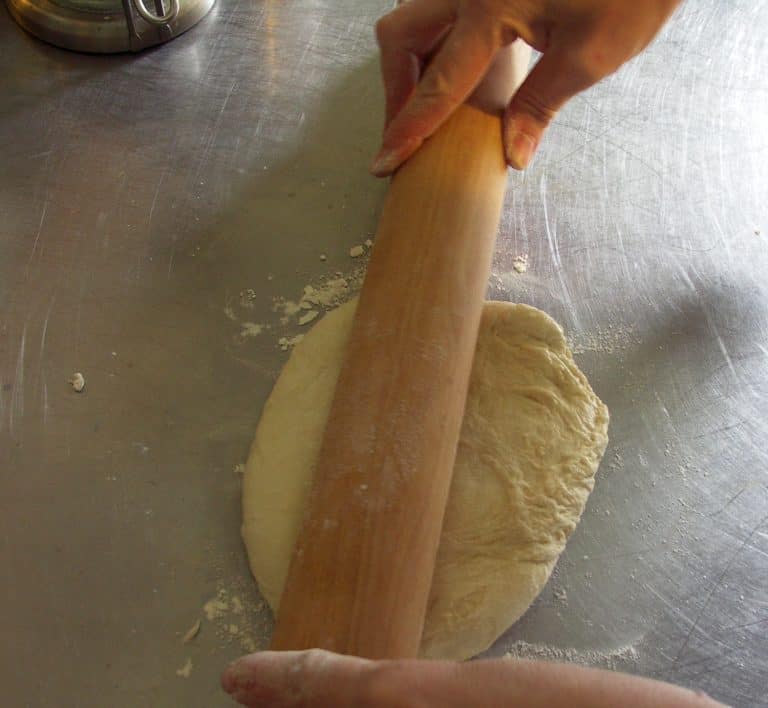 Transfer the chicken, cheese, and onion mixture onto half of the circle of dough, leaving about 3/4 of an inch of bare dough around the edge.
Carefully lift the empty part of the dough over the filling, tucking in any stray bits of filling that want to poke out.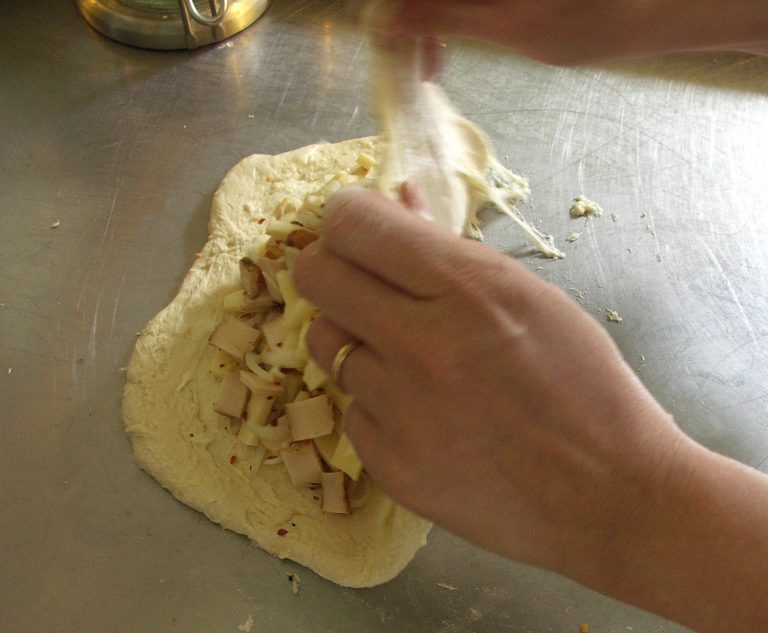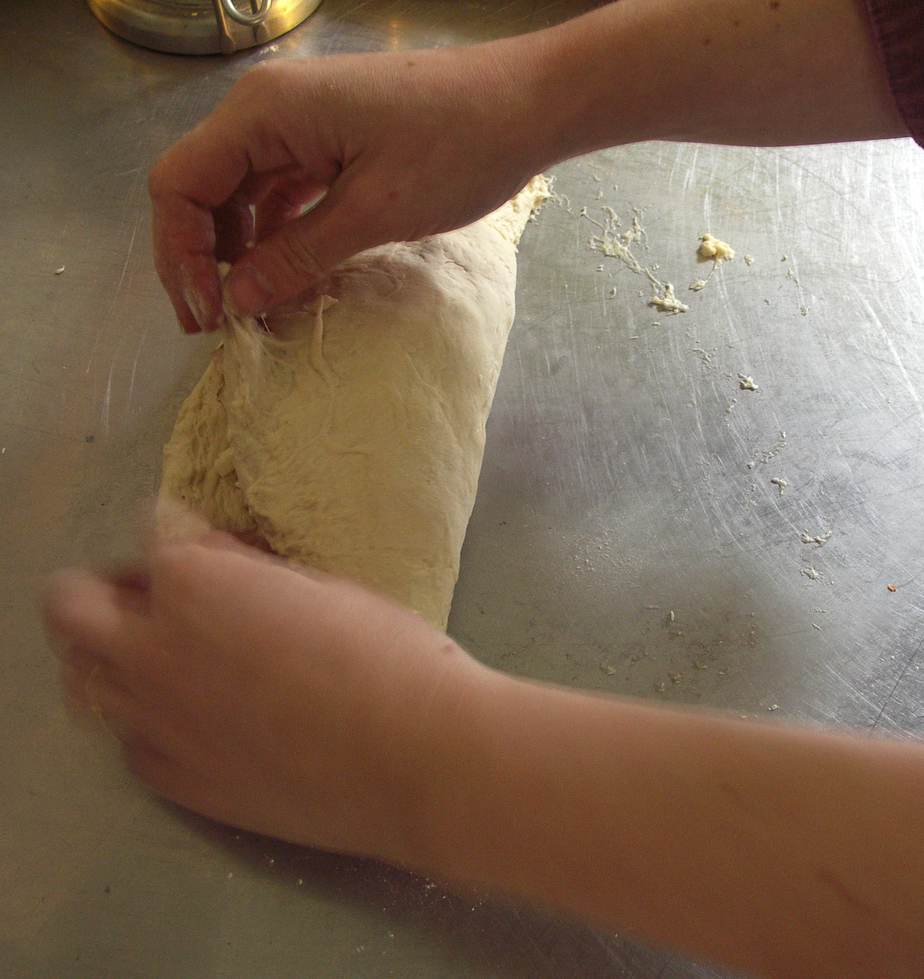 Fold edges back in on themselves and pinch together tightly to hold dough shut.
Gently transfer to the prepared pan. Use a very sharp knife to slash two small steam vents in the calzone.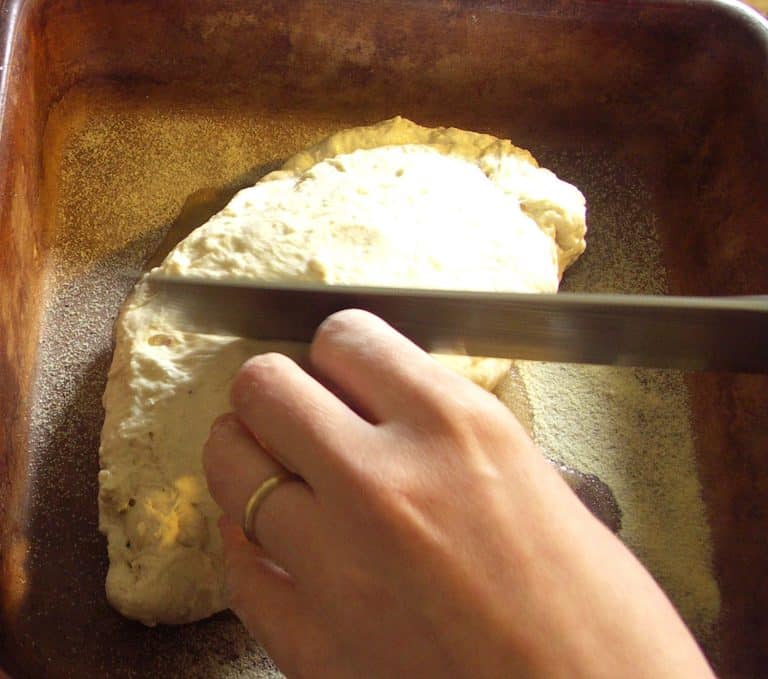 Bake for 25-30 minutes (depending on how brown and crispy you like your calzones.)  Remove from oven and allow to cool for at least 5 minutes prior to serving.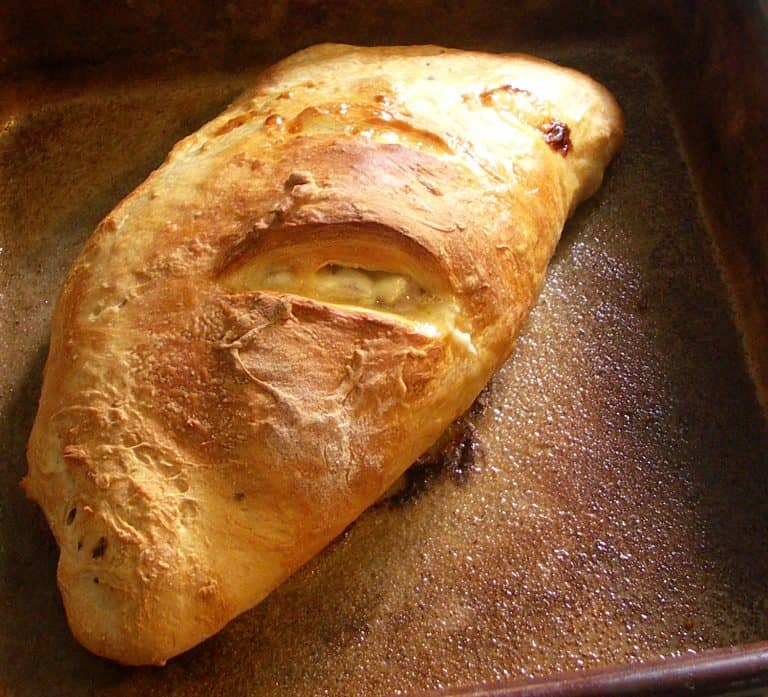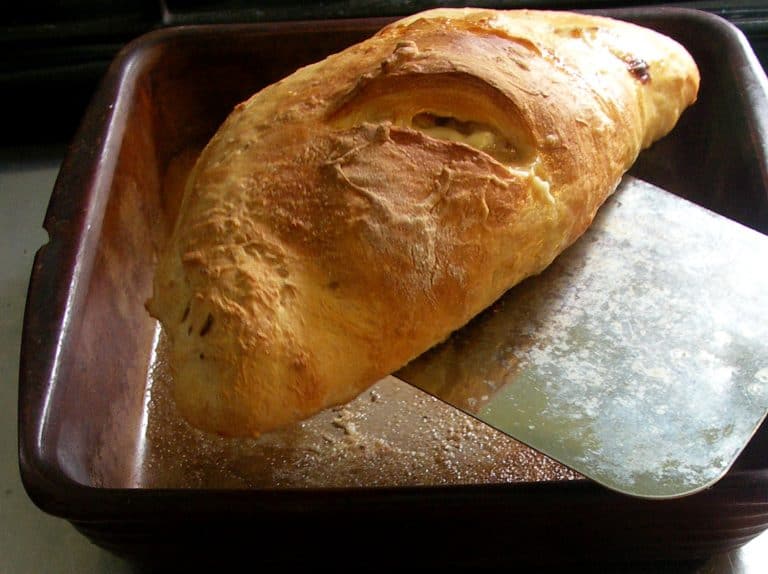 Serve alone or with bleu cheese dressing or marinara sauce.