I steadfastly and categorically refuse to complicate food unless there's a very compelling reason. I'm happy to say that in the case of today's Simple Mushroom Kale Pasta with Pancetta recipe -as you can probably guess from the 'simple'- no such compulsion exists. We are combining simple, fresh ingredients in an uncomplicated way and ending up with a perfectly balanced, soul-soothing, earthy and filling bowl full of pasta that is done in 30 minutes.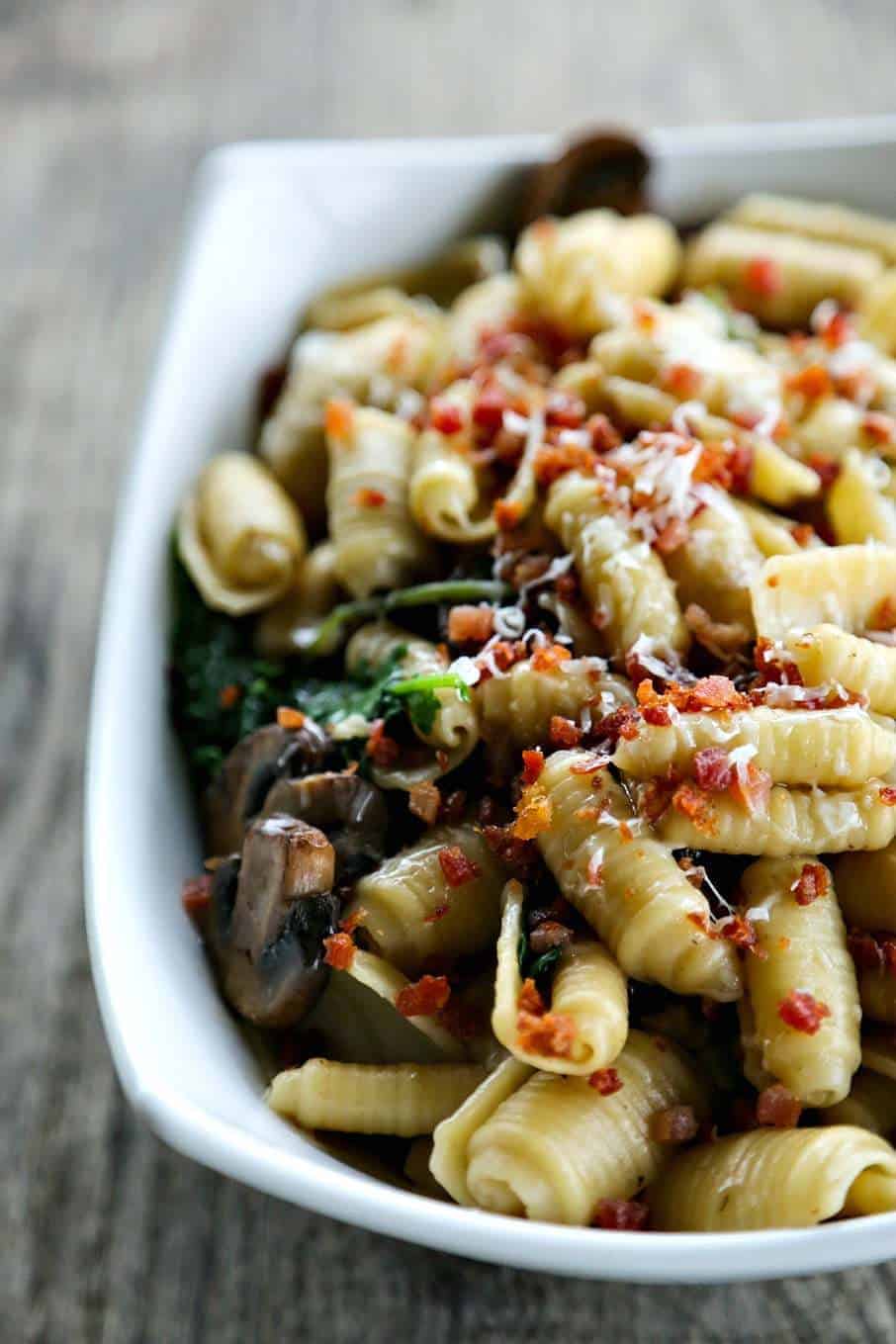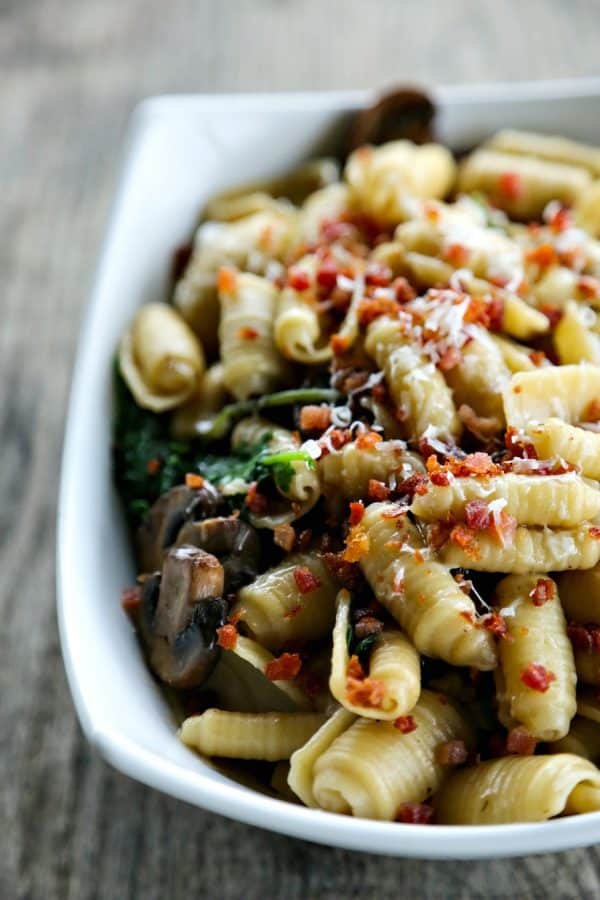 Can I get an amen?
Simple Mushroom Kale Pasta with Pancetta is inspired by my recent stay in Tuscany where I was thrilled to find that the Tuscan people share my reluctance to bedevil beautiful ingredients with unnecessary complexities. When you have lovely baby bella mushrooms, baby kale, pancetta, garlic, a little white wine, and a good bag of pasta, there's no reason on earth why you would need to start tossing in a bunch of other crazy things.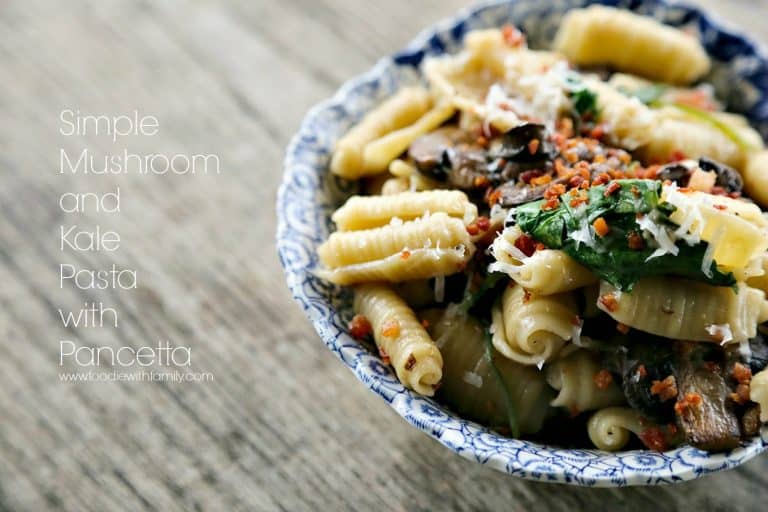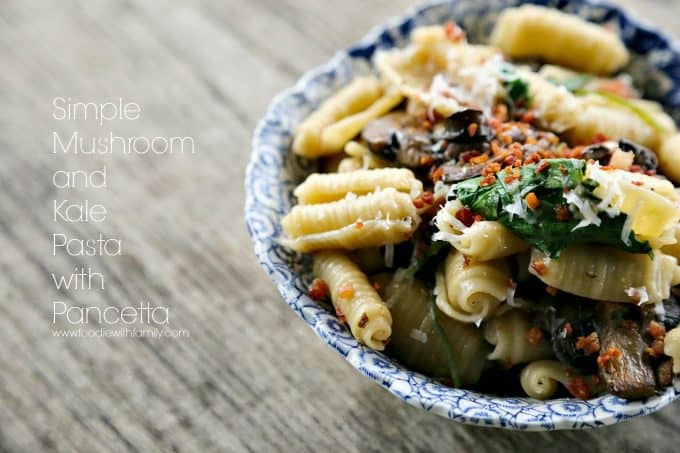 Cook's Notes
When you render the fat from the pancetta, you may find you need to augment it with a little bit of extra oil to bring it up to the neighborhood of 2 tablespoons. If you need to do so, add a pure olive oil (not extra virgin, but just plain pure olive oil) to bring the level up a bit.
When you add mushrooms to the pan, you need to give them a quick stir to distribute the oil and salt, then LEAVE THEM ALONE! It's that long, undisturbed contact with the heat is what gives the mushrooms that beautiful sear instead of sweating them.
The method of cooking the garlic by just lightly smacking it while it is still in its skin and adding the clove -kit and caboodle- to the pot is one shared with me by my new friends in Tuscany. The brilliance of it is that you get that beautiful mild garlic flavour infused through the dish while protecting the delicate stinky rose from scorching which ruins it. At the end of the cooking process, you can squeeze the now roasted garlic out of the paper into the dish, or fish it out and be done with it. Either way, you have an amazing garlic flavour through the whole dish.
As usual, I advise you to use a white wine that you would appreciate if you were sipping it. Cooking wine concentrates its flavours, so you want to start with something good!
While your mushrooms are searing, you can add your pasta to the boiling water. You should be prepared to pull the pasta when it is 2 minutes underdone. This will allow it time to finish cooking in the pan with the mushrooms, white wine, kale, and cheese.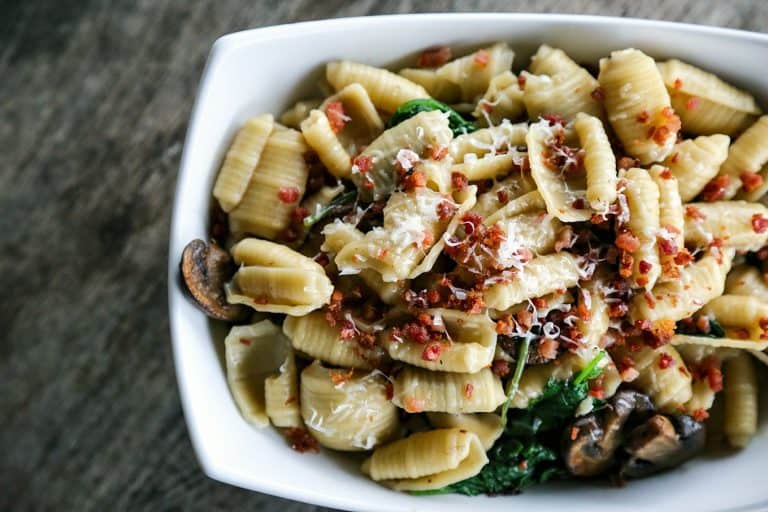 Connect with Foodie with Family
facebook | pinterest | instagram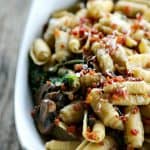 Print