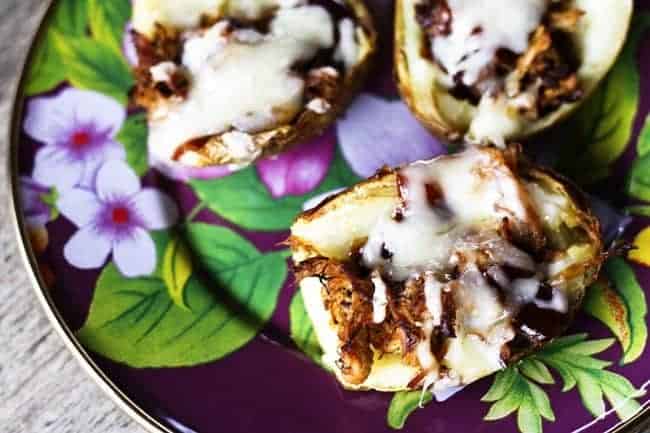 I think it's only fair I warn you I may not be held responsible for the number of exclamation points I use because I. Am. So. EXCITED! I have a simple, fabulous recipe to share with you AND I have a super, fantastic giveaway, too.
Let's start with the recipe because it's almost Super Snack, er Bowl, Sunday. If you have leftover baked potatoes and pulled pork you're already halfway there. It's hard to imagine an easier appetizer unless it comes out of a box. The potatoes are halved and halved again, scooped to leave just a bit of potato behind in the skins, brushed with olive oil and sprinkled with salt, then baked 'til golden brown and crispy around the edges. Then they're piled high with pulled pork, a squirt or spoonful of your favourite barbecue sauce and topped with melty Monterey Jack cheese. Back into the oven for eight minutes to heat the pork and melt the cheese and then HEY PRESTO! You have the hit of the party.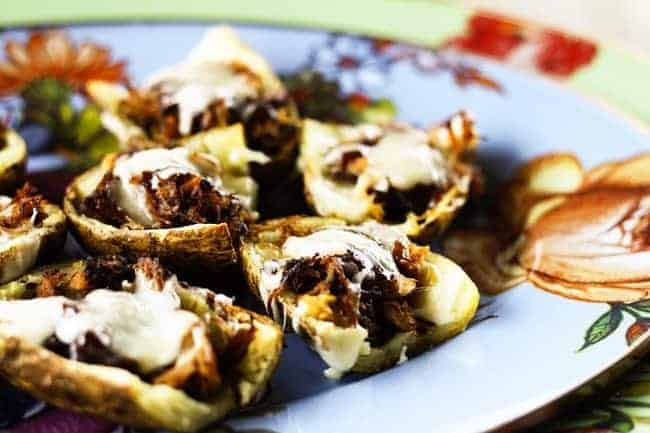 This barbecue sauced, pulled pork piled, gooey cheese topped, crispy baked potato skin is sure to keep the hungry crowds cheering at your game day party. Guaranteed to please the meat lovers in your life!
Ingredients
6

leftover baked potatoes

olive oil for brushing

salt

2

cups

leftover pulled pork like this or this

or storebought

3/4

cup

-at least- of your favourite barbecue sauce
Instructions
Preheat oven to 425°F.

Halve the leftover baked potatoes at the midsection of the potato and then halve those again lengthwise so you have quartered potatoes. Use a spoon to scoop away the insides of the potato to leave just about 1/8- to 1/4-inch thickness of potato in the skins. Brush the scooped surfaces generously with olive oil and sprinkle lightly with salt. Lay on a baking sheet, scooped sides up and bake until the top edges are golden brown and the potato has started to crisp up.

Divide the pork evenly between the potato shells, piling the pork into the scooped wells. Drizzle at least 1-2 teaspoons of barbecue sauce over the pork then return the pan to the oven until the pork and barbecue sauce are heated through, about 6 minutes. Remove the pan from the oven and top each potato skin with at least 1 tablespoon of shredded cheese, or more to taste. Return the pan to the oven and bake just until the cheese is melted and hot.

Remove the pan from the oven and carefully transfer the potato skins to a serving plate. Serve hot.
Nutritional information is an estimate and provided to you as a courtesy. You should calculate the nutritional information with the actual ingredients used in your recipe using your preferred nutrition calculator.
GIVEAWAY TIME!!!!!!!!!!!!!!!!!!!!
The platter and plate holding my potato skins above are from MacKenzie-Childs and they make me smile just to look at them.
Are you familiar with MacKenzie-Childs? If you aren't, it's time you were. If you are familiar with it, then you are probably getting pretty excited right now. MacKenzie-Childs sells artisan made ceramics, enamelware, housewares, furniture and accessories, but that doesn't even begin to cover what they really give you. Everything they have is pure gorgeous whimsy. I like pretty things but looking through their offerings made audibly gasp. Just look!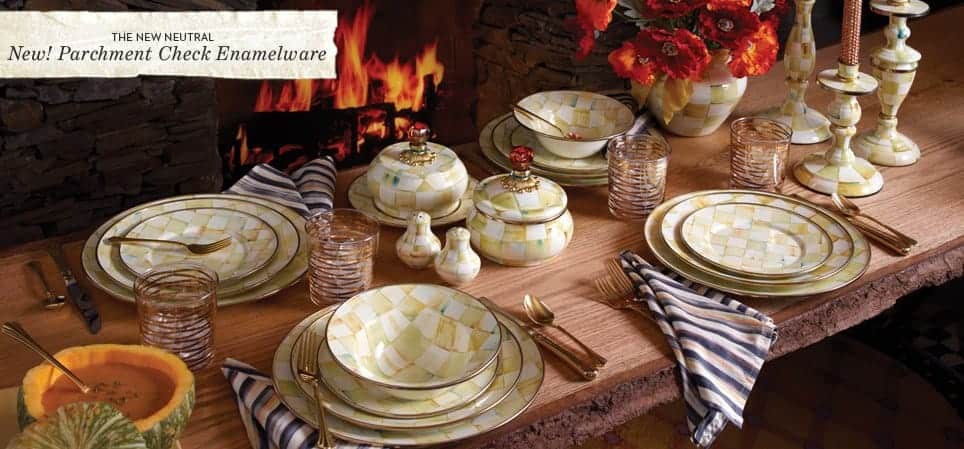 Could it be any more gorgeous? Don't think so! And oh my word. Look at the furniture. It's like Alice in Wonderland in a very, VERY good way.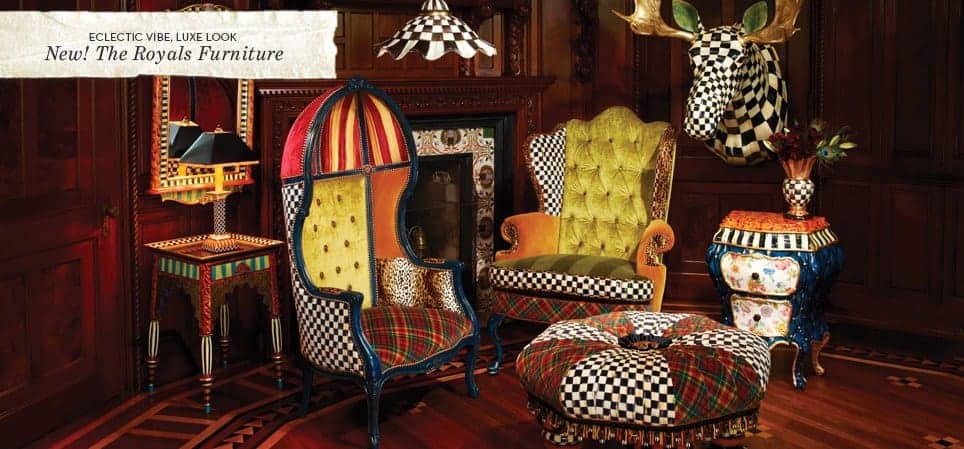 Are you ready to find out what the giveaway is? Hmmm? To celebrate their 30th Anniversary, MacKenzie-Childs is offering a $500 Gift Card (FIVE HUNDRED DOLLARS!) to purchase whatever your heart desires on MacKenzie-Childs.com or in one of their stores. How much fun is that?
We're going to try a little something different with this giveaway. Please use the Rafflecopter widget below to enter. And if you don't mind, let me know what you think of it below. Does it make the giveaway easier? Tougher? I'd love your feedback on Rafflecopter, MacKenzie-Childs and, of course, the Barbecue Pulled Pork Potato Skins!