The secret  is this:  Almost everything is improved by the presence of Nutella. You know the stuff, right?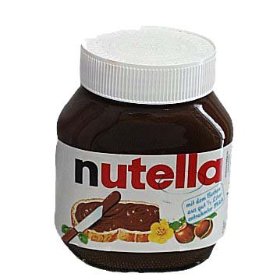 I was first introduced to the creamy, hazelnutty, chocolately heaven-in-a-bottle way back in the day when I was an exchange student in La Belle France. There was a bakery where you could actually bring your bread and have them spread it with Nutella for the equivalent of about fifty cents. I loved France.
My kids, for better or for worse, are growing up with the omnipresent monster-sized jar of Nutella in the house. Thankfully, our local(ish) warehouse store carries cranium sized jars of my favorite fix-it-all ingredient. 
I think Nutella really can fix it all. Got a cake or bowl of ice cream that needs pizzazz? Warm a little Nutella up and drizzle over the top. Oh my yes! Out of butter, jam or marmalade for your toast? Do I even need to say it? Are you going somewhere last minute or having an impromptu play group at your house or having last minute company? 
Try this quick frozen dessert that I make around here. It's not fancy. It's not polished. But all that taken into account, I have never had someone refuse one of these. I've also never had someone fail to nicely ask for seconds and/or eyeball the one their kid was eating and ask several times whether they really wanted to finish it. Please try these. I think you might even thank me.
Okie dokie. The recipe below is for the Nutella Peanut Butter Graham Cracker Sandwiches, but you can see that I used vanilla wafer cookies for some of them. I'm crazy like that. Use whatever cookies you have on hand and it'll still be delicious.
Ice Box Nutella Peanut Butter Graham Cracker Sandwiches
Ingredients:
One box graham crackers, any flavor
One jar Nutella (I don't recommend any Nutella substitutes. They're specifically not so good.)
Natural peanut butter (None of the corn syrup in my p.b. please.)  You can use crunchy or smooth!
This couldn't be simpler. Spread Nutella on one whole graham cracker. Spread peanut butter on another cracker. The thickness is up to you. Just remember you'll be attempting to put your teeth through the frozen version of this and plan accordingly! Gently sandwich together and set in a freezer safe container with a lid. Continue on until you've run out of crackers, Nutella or peanut butter. 
Now comes the hard part. Do not eat them immediately. Put the lid on it and stick it in the freezer for at least an hour. Longer is fine, not necessary, but fine. 
How do we like this recipe?
An emphatic 14 thumbs up out of a possible 14. If the dogs had opposable thumbs they'd hike them for this, too. They're snuck more than their share out of the hands of kids who were momentarily distracted. Danged dogs. I'll just say one more thing about this dessert. We NEVER have any leftovers. No matter how many I make. You've been forewarned.