Here's the deal. I'm turning 40 this week. I don't see this as a thing to hide. I think every single day I'm alive is empirical evidence that I'm okay at this being alive thing and is a reason to brag. I'm here! And to celebrate this week, I'm posting some of my favourite foods and have some SERIOUSLY fabulous giveaways. I kicked it off with fried pies yesterday, and today? Well, today, I am giving you another of my favourite foods -a milkshake- that is DIVINE. Today's milkshake is a Peppermint Patty Milkshake full of one of my two favourite candy bars -York Peppermint Patties-, chocolate ice cream, chocolate syrup, and a splash of milk only big enough to keep things moving. It's topped with a ridiculous amount of whipped cream, more chocolate syrup, and a frozen peppermint patty. And this amazing milkshake recipe is topped with a GIVEAWAY of epic proportions. Read on, friends…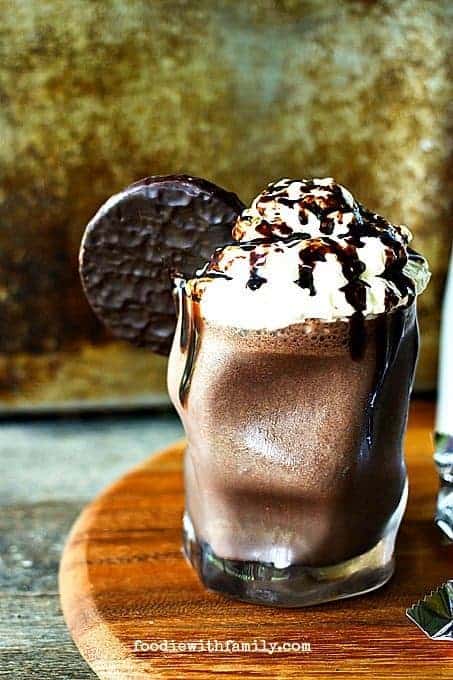 I have a long, sordid history with York Peppermint Patties. I used to take my allotted lunch money and divert it to the purchase of a full-sized Peppermint Patties plus Andy Capp's Hot Fries on Monday and Wednesday, a Reese's Peanut Butter Cup and Hot Fries on Tuesday, and a KitKat and Hot Fries on Fridays. I'm sorry, Mom and Dad. Please don't make me pay restitution on this.
I always loved that cool peppermint filling juxtaposed against the bitter-sweet dark chocolate outside. When I discovered that they were even BETTER when stashed in the freezer, though? It was all over but the purchase of the stretchy pants. I just can't handle a muggy, hot, summer day without a bag of frozen peppermint patties in the chill chest. It was natural that they should make their way into a milkshake, then.
One hot and steamy day last week, I re-upped my stock of peppermint patties at the local store. I came home and the only way I could make room in the deep freeze for the new stash of candy was to remove the almost-empty half gallon of chocolate ice cream from the freezer. Lacking any other freezer space (something which I must remedy before picking my 100+pounds of blueberries next week) I decided to toss it into my blender and zap it along with a couple of peppermint patties that had partially melted on the way home. A splash of milk went in along with chocolate syurp and ZAP went the blender. A smooth, thick, ultra chocolatey, freshly pepperminted milkshake came out. The only possible course of action was to top it with an insane cap of whipped cream, another drizzle of chocolate syrup, and one of the larger peppermint patties stuffed onto the side of the glass. It's okay. I shared. I let the boys each have a sip before barricading myself in the bathroom to finish it off.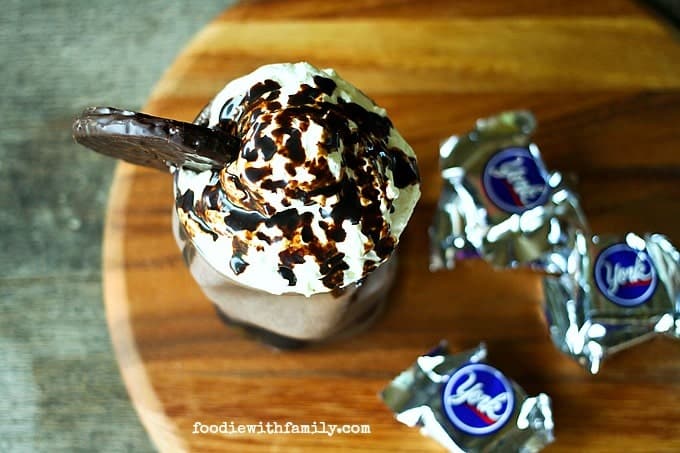 Hey. You only get one 40th birthday month, right? RIGHT?!?
Cook's Notes
The darker your chocolate ice cream, the closer your end product will be to the flavour profile of the peppermint patty. I'm thankful that we can buy Dark Chocolate ice cream at our local store. If you can't find it, just use regular chocolate ice cream and a teaspoon of unsweetened cocoa powder.
There may be some tiny little flecks of the peppermint filling in your milkshake no matter how long you blend it. I find this charmingly refreshing.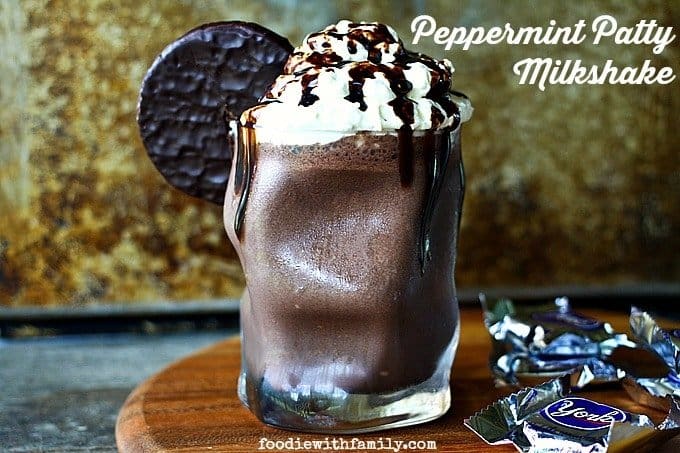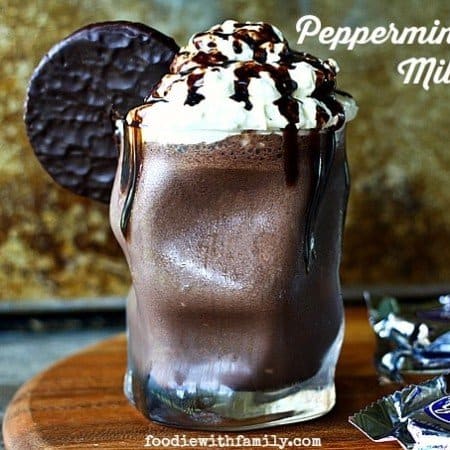 Ingredients
6

miniature peppermint patties

1 1/2

cups

dark chocolate

or regular chocolate + 1 teaspoon unsweetened cocoa powder

1/8

cup

milk

1

tablespoon

chocolate syrup

1/8

teaspoon

peppermint extract -Optional

or 1 drop peppermint essential oil, but boosts the peppermint flavour
For garnish:
generous whipped cream

drizzle of chocolate syrup

one peppermint patty for the side of the glass
Instructions
Add the miniature peppermint patties, ice cream, milk, chocolate syrup, and peppermint extract or oil to the blender. Blend on the milkshake setting (or on low for 15 seconds, medium for 20 seconds, then low for 10 seconds.) Pour into a glass or jar, garnish with whipped cream, chocolate syrup, and a peppermint patty. Serve immediately.
Nutritional information is an estimate and provided to you as a courtesy. You should calculate the nutritional information with the actual ingredients used in your recipe using your preferred nutrition calculator.
 The Giveaway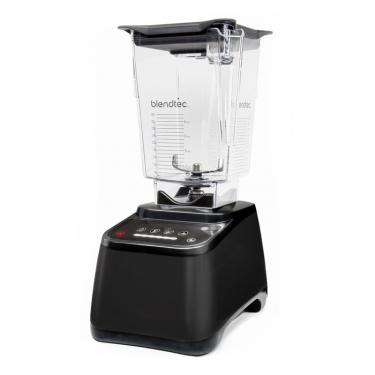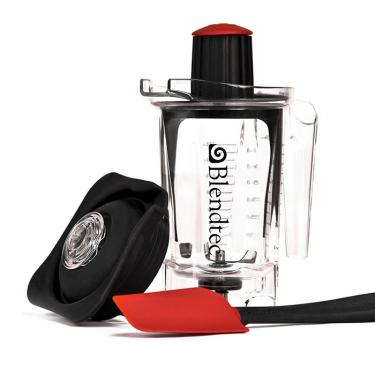 To help celebrate my 40th birthday, the good folks at Blendtec are offering the same blender kit that I own and use daily: the Designer Series Certified Refurbished Blender with both Wildside and Twister Jars. This is a serious piece of kit, friends! I use my Blendtec daily. Sometimes I use it multiple times each day. Ask anyone who owns one; they're simply amazing.
So how do you enter to win? It's simple! Please leave a comment below saying what the first thing is you'd make in your own Blendtec blender!! If you need a little inspiration, visit the Blendtec recipes page. Or visit the Blendtec Blog for an idea! Yours truly has something up there involving even MORE milkshakes!
UPDATE: Between facebook, instagram, and email, I've had at least 40 requests for a link to the glasses in the pictures above since posting this this morning! I'm nothing if not observant, so here's a link. (Affiliate, of course!)

Fine print: This is NOT a sponsored post. Blendtec has offered one Designer Series Certified Refurbished Blender with both Wildside and Twister Jars as a giveaway to one Foodie with Family reader. This giveaway is only open to residents of the United States. I'm sorry to all my international friends! One winner will be chosen on Tuesday, August 5, 2014 and will be notified by email. The winner will have 48 hours to respond, or a new winner will be chosen and notified.

I am a Blendtec affiliate, though, and if you purchase a blender after clicking on the product link, I will receive a small commission.