I told a friend I was planning on writing a post on fish cakes. Her response? "Ew. Fish cakes? Ew. That just sounds so wrong."
Point granted. Admittedly you don't often hear the words 'fish' and 'cake' put together. But crab cakes are amazing, how could fish cakes sound so wrong? We're talking about crispy, brown, fish patties flecked with onion, celery and herbs topped with creamy tartar sauce.

"I don't know. The dish sounds good," she said, "but that name needs some serious help."
"How about New England Fish Cakes?" I asked.
"Oh yeah!" she said, "That sounds wonderful!"
Problem solved. Everything fish-related sounds a little better with 'New England' tagged on to it. It conjures up visions of craggy faced fishermen in bulky sweaters and yellow rubber boots haggling over prices for their day's catch at the wharf.
~~~   ~~~   ~~~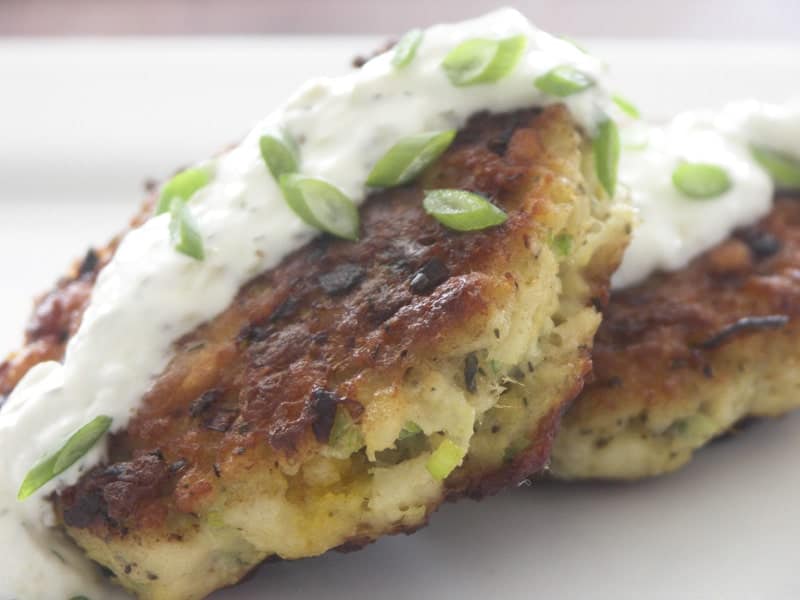 My dear friend's reaction notwithstanding I am 100% head-over-heels for these fish cakes, er, New England Style Fish Cakes. They have that satisfying crunchy brown outside that can only come from time spent with a hot skillet and sizzling oil. Laced with tiny bits of scallion, parsley, celery and other herbs and spices, the inside is everything fish should be; flavorful, light textured, and moist.
Fish, while fantastic for your health*, is not something that dings everyone's chimes. I was so confident in the flavor and texture of these that I served one to a confirmed fish-hating friend. With a little cajoling she ate a bite. Then she finished her portion. Then she asked for a second helping. The next week, she made them for her family. She's been making them regularly ever since. And she still swears she hates fish!
*According to the American Heart Association, "Fish is a good source of protein and, unlike fatty meat products, it's not high in saturated fat. Fish is also a good source of omega-3 fatty acids. Omega-3 fatty acids benefit the heart of healthy people, and those at high risk of — or who have — cardiovascular disease. Research has shown that omega-3 fatty acids decrease risk of arrhythmias (abnormal heartbeats), which can lead to sudden death. Omega-3 fatty acids also decrease triglyceride levels, slow growth rate of atherosclerotic plaque, and lower blood pressure (slightly)." For more details on what fish can do for you, visit the American Heart Association's page on fish!
For a printer-friendly, photo-free version of this recipe, click here!
New England Style Fish Cakes
Ingredients:
2 pounds firm fleshed boneless and skinless white fish fillets such as cod, blue hake, or haddock
2 cups of freshly made medium fine breadcrumbs. This is roughly equivalent to 6 slices of bread.
3 medium stalks of celery, finely diced
1 bunch scallions, thinly sliced then chopped again until finely minced
1/4 cup fresh parsley, chopped
3 large eggs
1 Tablespoon dried basil
1 ½ teaspoons Old Bay Seasoning or other seafood seasoning blend
salt and pepper to taste
neutral oil, such as canola, for pan-frying
Line up your fish fillets on a clean cutting board. And don't walk away from the cutting board to answer the phone or people (and by people I mean my children) are bound to mess with your ingredients. See what I mean?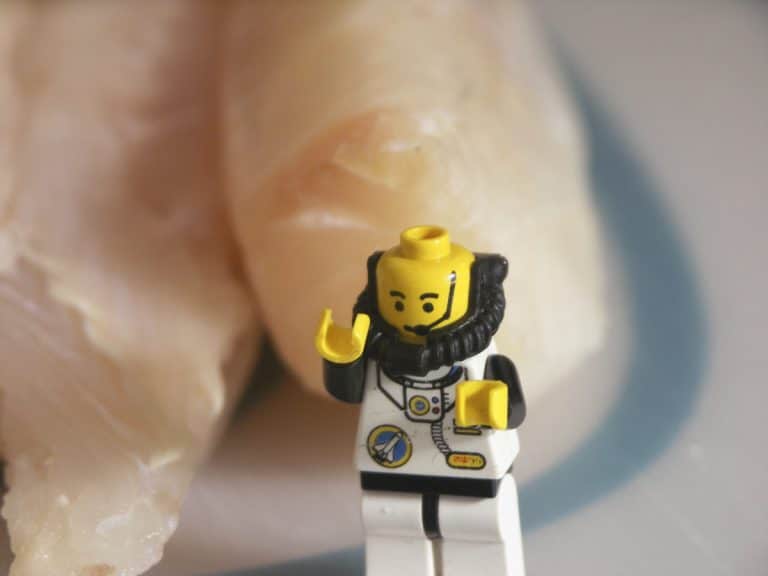 Remove the Lego David Bowie from your cutting board and roughly cut the fish fillets into two-inch chunks.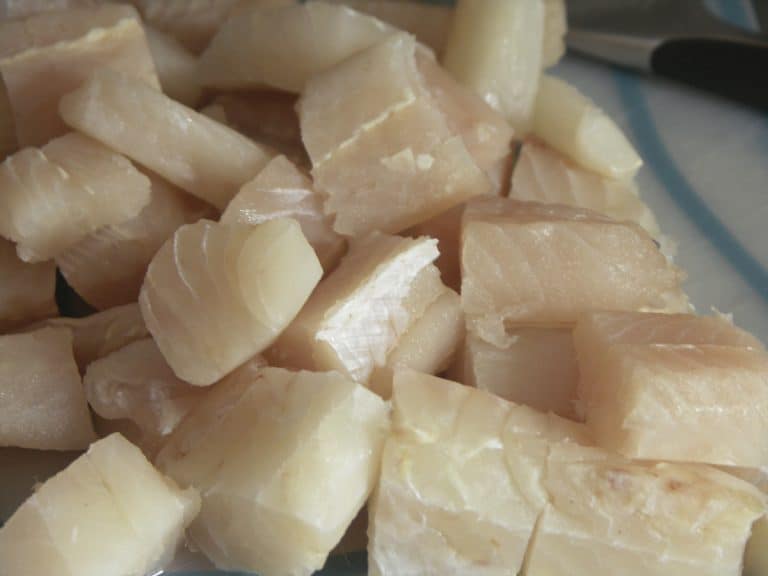 Place the pieces into the work bowl of a food processor fitted with a blade. You are going to puree your fish. I'm aware that sounds revolting, but keep on keeping on, please. The end result is more worth it than I can possibly express. Pulse several times until the fish is broken down into a puree that still contains some pieces. No pieces should be larger than pebble-size. It should look like this. It only gets better from here!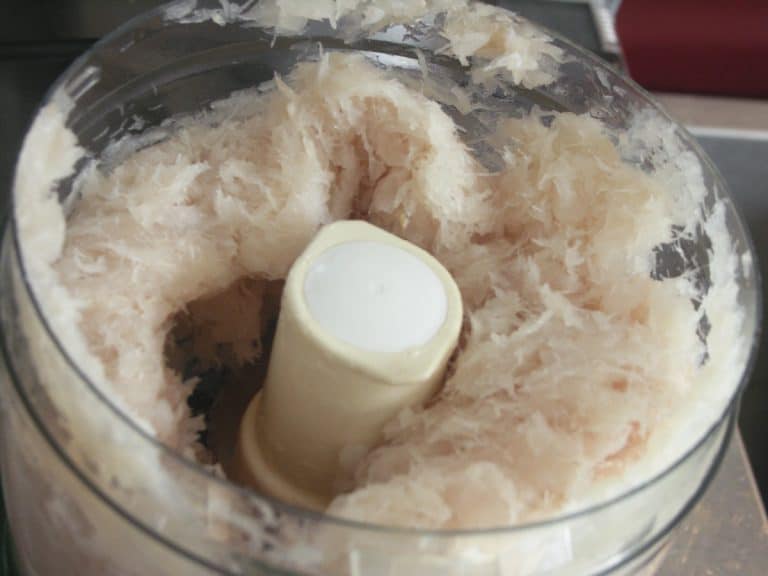 Add the processed fish and the remaining ingredients to a large bowl and mix until uniform.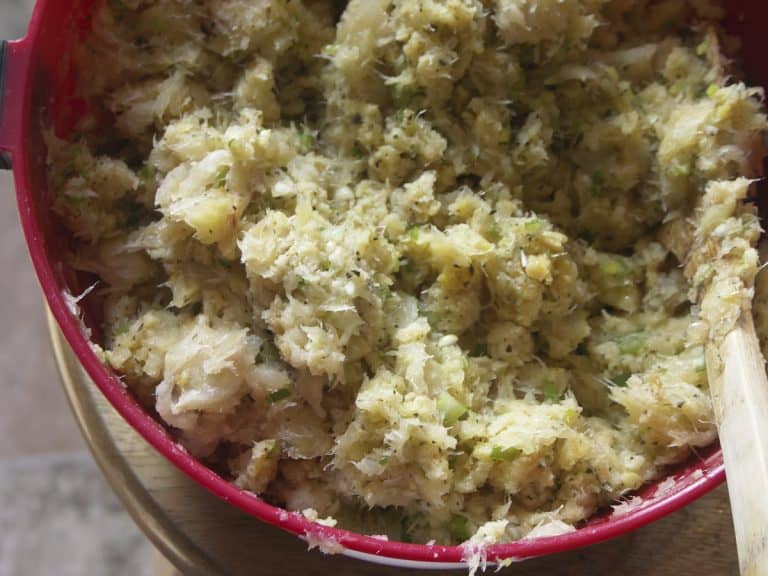 Place a 12-inch nonstick skillet over medium-high heat and add a thin coating of oil to the pan; a tablespoon should be sufficient. Swirl the oil to coat the pan.
Don't pre-form all your fish cakes, because the patties tend to fall apart if left to rest on a plate It's best just to form right before adding them to the pan. To do this most easily, rapidly form ½-cup of the fish mixture into a thin patty. Don't squash them mercilessly! That light end texture relies on a gentle hand.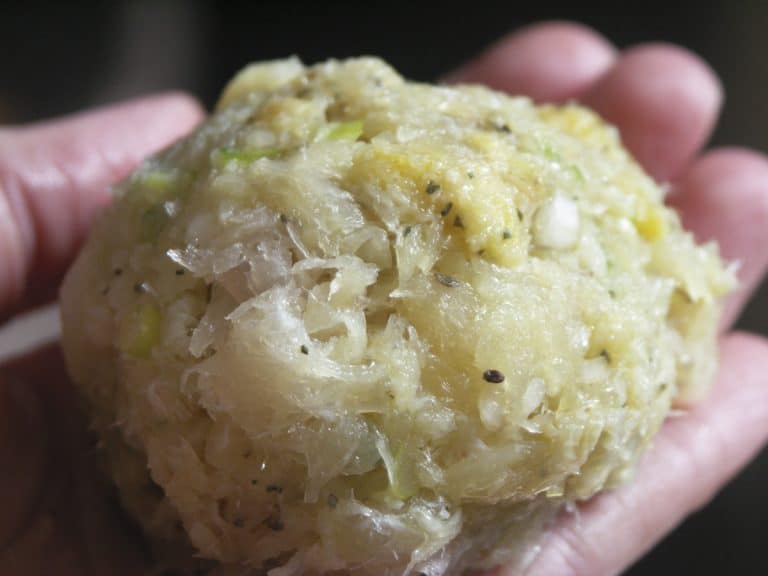 Quickly and carefully place the patty into the oiled pan.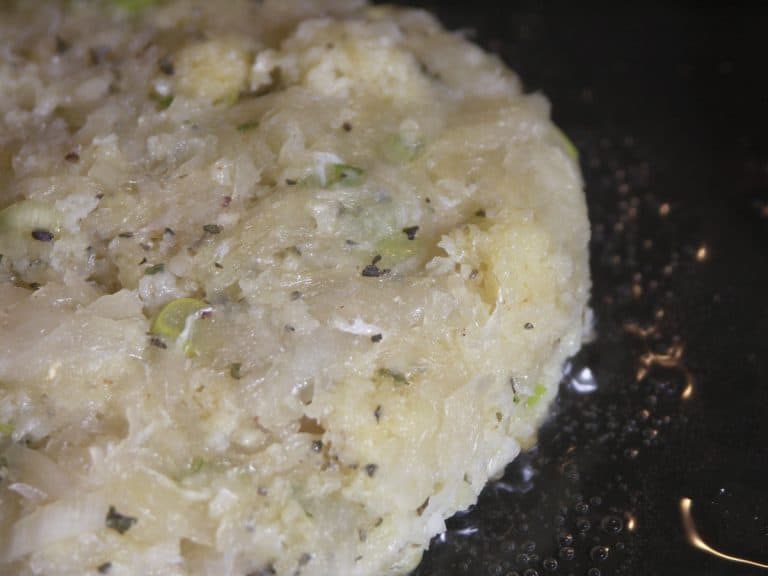 Using a 12-inch pan should allow you to cook four patties at a time. Once all four patties are in the pan, raise the heat to high and cook for five minutes. After five minutes, use a wide spatula and an additional rubber spatula, if needed, to flip the patties one at a time. Take care to control how your flip them so you're not splattered with any hot oil in the pan. The first side should be a beautiful brown when they're turned. This first side looks like perfection.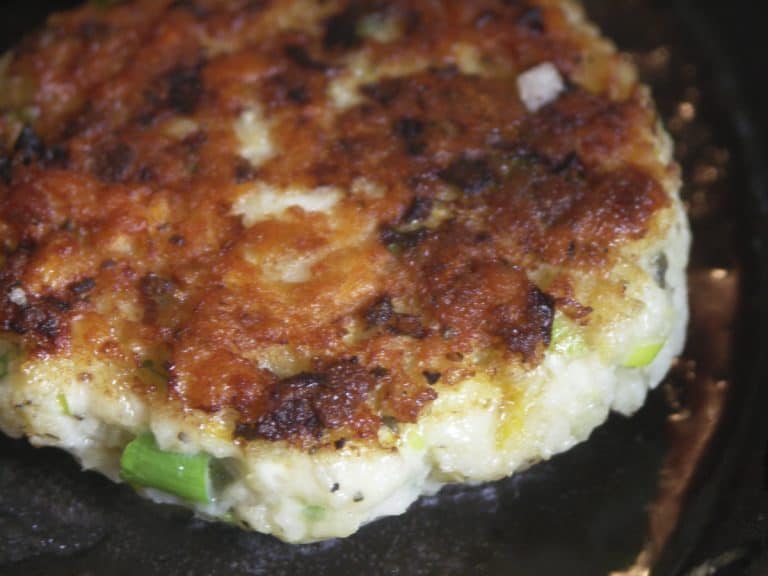 Fry the second side for five minutes and transfer the fish cakes to a plate lined with a paper towel. Repeat with the remaining fish mixture, adding a little oil to the pan as necessary.
Serve immediately, either plain or with tartar sauce. They definitely have enough flavor to be served alone…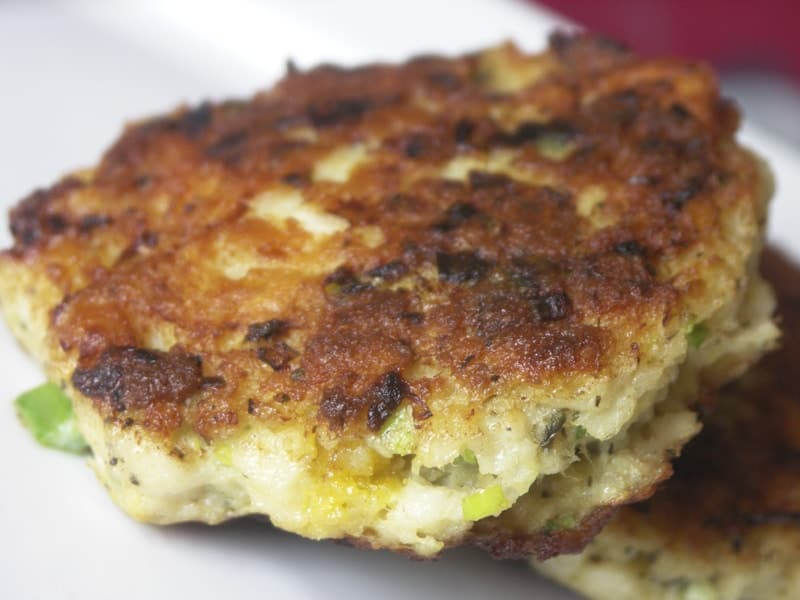 If you serve with tartar sauce, make it a good one. These New England Style Fish Cakes deserve the best!
For my money, this tartar sauce recipe is the best you can possibly make. It is the massively down-sized recipe that The Evil Genius learned to make when he worked at a very popular South Florida restaurant. He recalls making multiple twenty-five gallon batches for daily lunch and dinner services. We're talking about one seriously road-tested and approved tartar sauce recipe.
This addictive tartar sauce is much more flavor-packed than most alternatives. Oh yes, put it on fish, but don't stop there. It's an explosive change to the usual mayonnaise on a hamburger. French fries take on a whole new dimension when dipped into Tart-er Tartar Sauce. Once you've tried it, you'll plan meals around it!
Tart-er Tartar Sauce
Ingredients:
1 cup Greek yogurt
¼ cup mayonnaise
¼ cup minced scallions
2 Tablespoons minced cabbage
1 Tablespoon minced green pepper
1 Tablespoon lemon juice
2 teaspoons dill pickle relish
½ teaspoon dried dill weed
¼ teaspoon celery seed
Stir all ingredients together in a bowl, cover tightly and refrigerate for at least an hour before serving.