Oh my gosh. Where to start with this one? This is going to have to be a little stream of consciousness, so please bear with me. Maybe I should start with the fact that I am a confirmed anglophile.
I love British literature, history, architecture, food, and television. I especially love British comedy. Keeping Up Appearances, Monty Python, The Office, and others, but especially Mr. Bean. Yep.
I just outed myself as the biggest dork in America, probably. I have seen every episode of Mr. Bean so often that I can recite them.
And you know what? It doesn't stop me from snort laughing when I watch them. Now stay with me… because I'm about to explain what this all has to do with Marmite Chex Mix – which tastes like a giant bowl full of warm Worcester Sauce Twiglets- because if you're not a fan of Mr. Bean, you may not know where I'm going with this…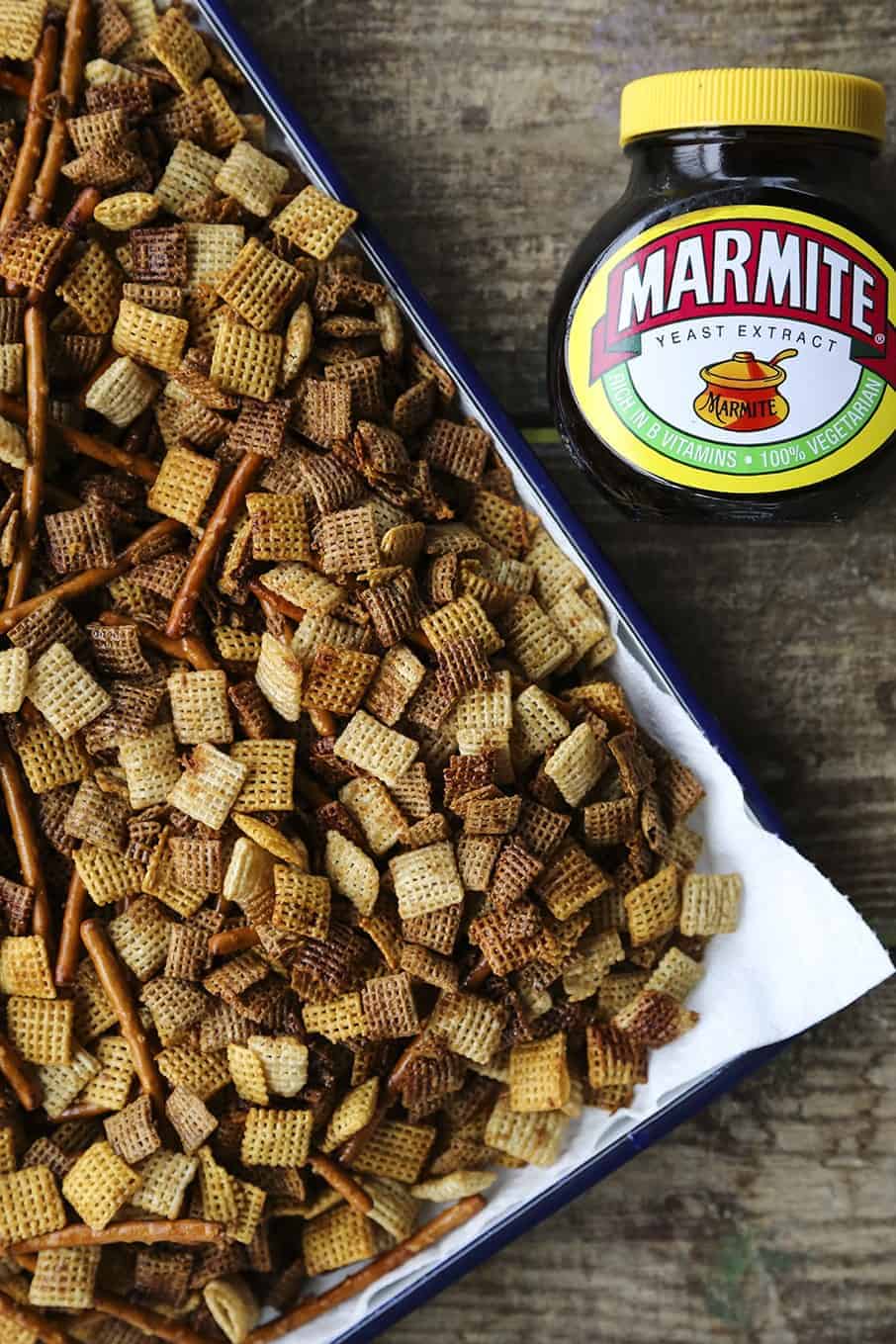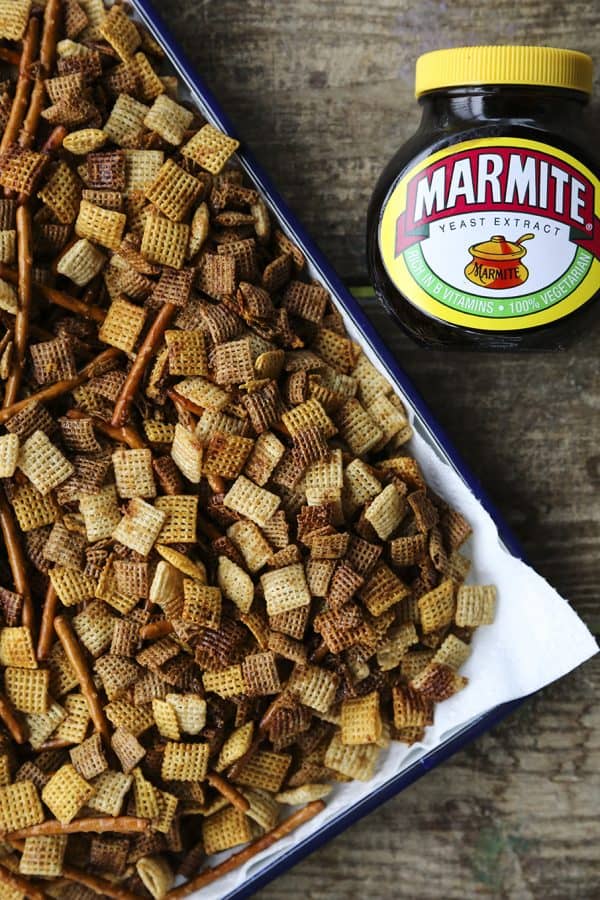 First, though, let me tell you that Marmite Chex Mix is pretty much the new ne plus ultra of Chex Mixes. It has all of the ridiculously comforting, buttery umami of Marmite and butter on toast combined with the habit-forming crunch factor of Chex Mix turned up to 11.
I could eat it by the bucket. Or should I say bou-quet?
People. Why hasn't this been done before?
…and for those of you (and I know there are many) who are throwing curses and gaggy faces at Marmite and Vegemite in general right now, just hush. There are literally DOZENS of us who love Marmite, and we will have our fun.
(Look. I know that's an Arrested Development quote, and that isn't even remotely British, but I. DON'T. CARE. It worked contextually.)
Here's the deal. In "Do It Yourself, Mr. Bean", Mr. Bean holds a disastrous New Year's party.

In this episode, he runs out of Twiglets… As an confirmed anglophile, I needed to know what these crunchy little snacks were, so I ordered some through Amazon.com a few years ago.
THAT established a serious fixation with the knobbly, little, pretzel like snacks with the Marmite flavour. In fact, The Evil Genius and boys ALL became obsessed with the snacks. But MAN, they were expensive to import, so it was relegated to being special ordered for our annual re-viewing of Mr. Bean's new year's party and being craved the rest of the year. Sigh.
…Then it hit me. MAKE YOUR OWN, STUPID.
I mean, it's not like that's what I do for a LIVING or anything. Sheesh. Our first attempt (oil, Marmite, and pretzel sticks) was a success flavourwise, but left me and my kitchen coated in a sticky layer of Marmite. Microwaving the Marmite with the oil to loosen it up only did a marginal job.
The Marmite bubbled high, threatening to boil over while the oil just kind of sat there chilled out. When I stirred and tried to whisk it together, it simply didn't hold. The taste was good, but still… There had to be a better way.
And then it occurred to me that what we needed was a vehicle for that bold Marmite flavour that wasn't just little knobbly bits. Maybe if Mr. Bean had a bowl of Chex Mix, those friends of his would've stuck around.
That's when the REAL lightbulb went off. Marmite Chex Mix. Effectively TWIGLET Chex Mix. a.k.a Marmite Nuts & Bolts.
I won't lie. I was feeling pretty brilliant at that point.
And then another little epiphany. I would ditch the microwave and oil, and sub in butter. Buttered toast with Marmite is so very British, too, right? The beauty of this approach was that the butter and Marmite melted slowly together into a smooth, velvety looking umami sauce. No sticky, clumpy Marmite wrestling that time!
Worcester Sauce Twiglets Recipe
I decided to add a little Worcestershire Sauce (or Worcester Sauce as it is called in the UK) to the mix because I had read that people bemoaned the loss of Worcester Twiglets (which I had never tried-TRAGEDY) and I'm all in on making stuff that people can't find any more. The result was a buttery, crunchy, TOTALLY LIKE A TWIGLET snack mix that Mr. Bean would've loved and that we DO love.
So… before your Christmas and New Years fizzle out like poor Mr. Bean's did, put on your Christmas socks, get your head out of that giant turkey, grab a jar of Marmite (DO BE QUIET, MARMITE HATERS) or Vegemite (g'day, mates from down under!), and a stick of butter and get to making a Chex Mix your UK food loving friends will fawn over.
Merry Christmas and Happy New Year!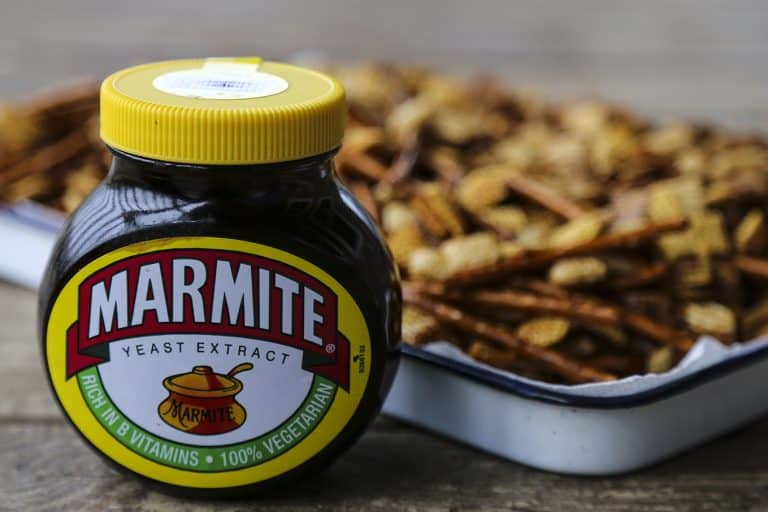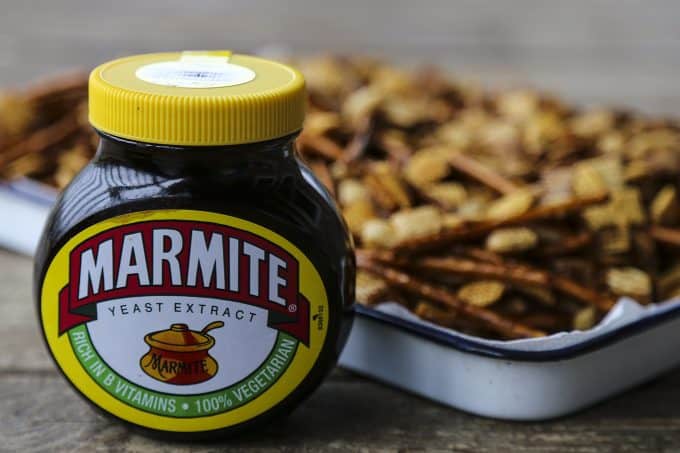 Marmite Snack Mix

You'll probably be wondering about that gigantic range of Marmite given in the recipe. That's because Marmite is a bit polarizing (HUSH, non-fans of Marmite) and even those who love it have pretty disparate range of how much they like on stuff.
Two teaspoons is for the beginning or low-level fan. Three tablespoons is for the person who sweats Marmite. That bit in the middle is for most other folks. If you like Marmite, you know how much you like. Adjust accordingly.
For the love of all that is good, do not try to microwave the butter and Marmite. The Marmite will (as described above) bubble violently, threatening to overflow whatever bowl or measuring cup it is in, and the butter will melt far slower. It's a disaster waiting to happen.
Instead, use the little saucepan approach. Yes, it messes up another pot, but it'll be a little one, and it's easily cleaned.
Okay. Here's the deal. You can absolutely cook this in the microwave IF you have a large enough microwave safe bowl. We're talking a very big bowl, though.
When you stir it partway through the cooking, you have to bring the contents from the bottom to the top. If you have a bowl where it just fits, you'll be either eating a significant number of pretzels and Marmite butter coated Chex pieces, of flipping them back into the bowl biting back cuss words. Your choice.
I find it is easier to spread it out on a sheet pan. There are fewer escapees from the pan. Again, though, your call.
VEGANS: clearly butter makes this unsuitable for you. That being said, Earth Balance in place of the butter makes an admirable substitute.
Melt together as directed in the recipe. It is my understanding that there are some vegan Worcestershire sauces out there, too. I've never tried one, because I don't object to regular sauce, but go for it!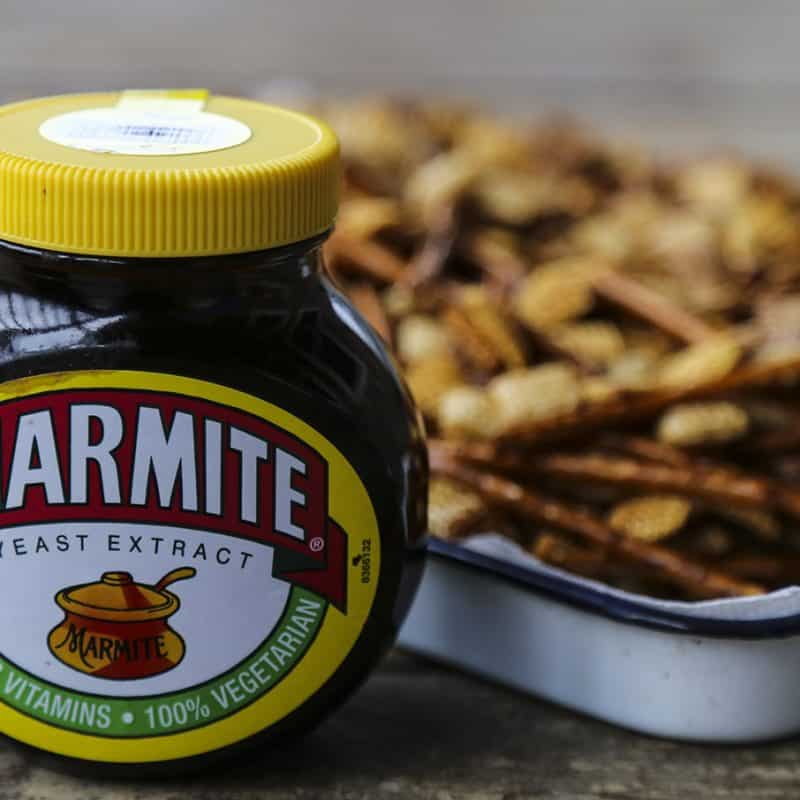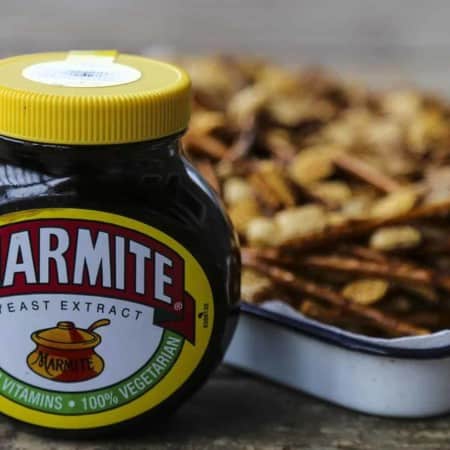 This Chex Mix is like the United States snack world coming together with the UK snack world and forging a beautiful, crunchy, salty, Twiglet like snack pact.
Ingredients
3

cups

Rice Chex

3

cups

Corn Chex

3

cups

Wheat Chex

2

cups

thin pretzel sticks

6

tablespoons

unsalted butter

2

teaspoons

to 3 tablespoons Marmite or Vegemite

1

tablespoon

Worcestershire Sauce
Instructions
If using an oven to bake the Chex Mix, preheat to 250F.

In a very large mixing bowl, gently toss together the Rice, Corn, and Wheat Chex with the pretzel sticks.

In a small saucepan, melt the butter and Marmite together over very low heat, swirling and whisking, until smooth and even. Whisk in the Worcestershire sauce. Pour the mixture over the cereals and pretzels, tossing gently to coat everything evenly.
To Bake in the Oven:
Spread the mixture out evenly on a half sheet pan. Bake for 1 hour, stirring every 15 minutes, Allow the Marmite Chex Mix to cool on the pan. Store in an airtight container at room temperature.
To Cook in the Microwave:
Transfer the mix to a large, microwave safe bowl. Microwave on HIGH for 4 to 6 minutes, stirring every 2 minutes. Spread out on absorbent paper towels to cool. Store in an airtight container at room temperature.
Nutritional information is an estimate and provided to you as a courtesy. You should calculate the nutritional information with the actual ingredients used in your recipe using your preferred nutrition calculator.