I'm celebrating today because my first book is hitting the book stores! Please enjoy this preview of the contents of the book, and when you've done that, scroll to the bottom for a giveaway!
Oh my goodness, guys. Today is going to stand in my memory as one of the most exciting days of my life. Today is the day my book hits the stores and is officially for sale. To celebrate, I want to share one of my family's favourite recipes from the book: Instant Hummus in a Jar. We are talking about chickpeas canned with lemon juice, garlic, and sesame seeds; everything you need for hummus in one pretty little package. Why is this a favourite of everyone in the house? For starters, we are hummus crazy. As a canner, I love it because it is ridiculously easy to make. As a mom,  I love it because my three eldest can make a batch of hummus themselves as easily as cracking a jar, straining a little liquid, and plopping the contents into a blender or food processor. It doesn't hurt that everyone who has tried it says it is some of the best hummus they've ever tried. I'd call that a win/win/win.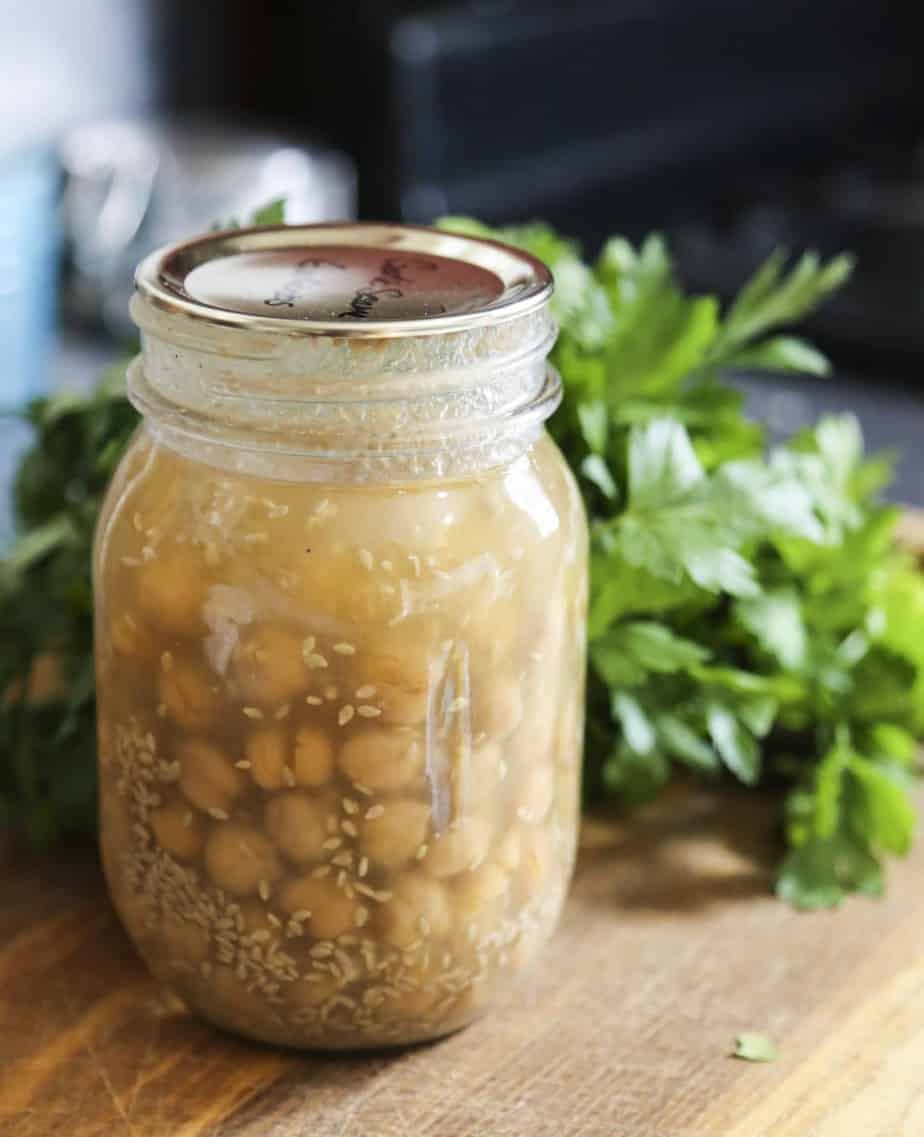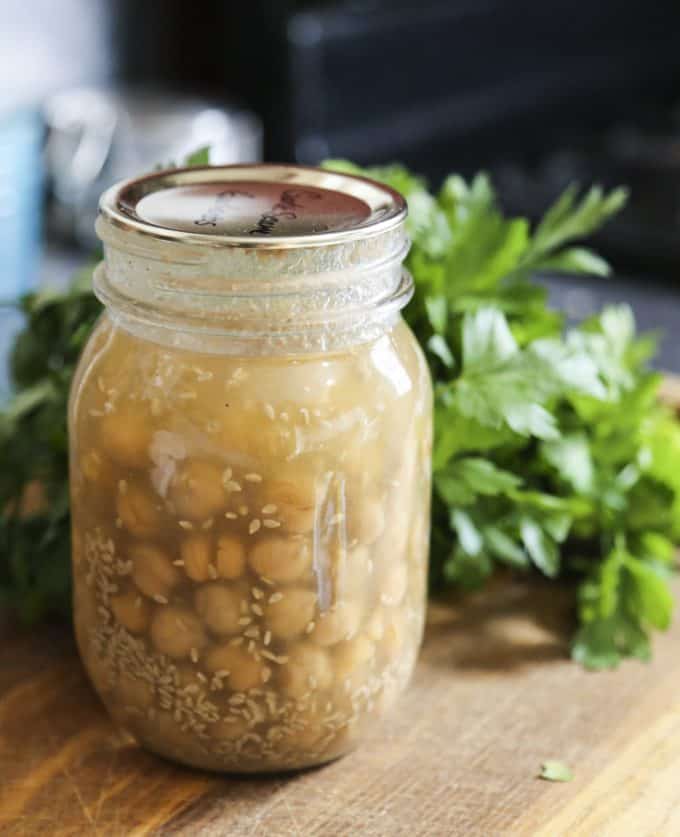 So let's chat for just a sec about what makes "Not Your Mama's Canning Book" a little different than all the other wonderful books on the market. It's a modern take on canning, to be sure, with a globally inspired collection of canning recipes, but there is more to it; it also contains nearly 40 recipes to make FROM those goods you've just canned. Why? Because all the beautiful jars on the shelf don't amount to any help at all unless you know how to use them!
Before I get to the recipe (because it is DEAD easy), I'd also like to share a couple of insider stories about the process of writing and photographing the book. My family was instrumental in getting this book done. Not only did they eat every single thing that went into the book, but they offered actual physical help in making it happen. They schlepped dishes out onto the porch (my preferred place to shoot photos) and back into the kitchen where they bravely volunteered to eat the beauty plate (translation: fought over who got to eat the prettiest plated food.) They held reflectors for me. And hilariously, they held a white board behind the shelf pictured on the cover so I could get a pristine, clean look. This they did 5 times in various permutations as I worked to meet the specifications laid out by my publisher. First, the jars and shelf were taken onto the porch and the board was held by my 16  and 18 year old. Next came my middle son and his best friend on 3 different attempts, one of which was in gale force winds, and -finally- my husband and my middle son held the white board for the money shot. I paid them in food. They did not complain.
And about this recipe specifically, I have a story. I had very limited time because I was finishing up recipe development during The Nutcracker season at Neglia Conservatory of Ballet where my son attends AND was in the middle of birthday season for my boys AND it was smack dab between Thanksgiving and Christmas and I generally felt like a crazy woman. It was the one day of the week I didn't have to drive an hour and a half or make a feast or birthday cake, and I was prepared to put the finishing touches on the Instant Hummus in a Jar recipe by canning one last batch. I gathered my ingredients, went to the pantry, and realized with horror that I was completely out of dried chickpeas. Not a big deal if you live in the city, but friends… I'm in the middle of nowhere. The only place that would carry dried chickpeas for miles upon miles -the Amish bulk food store- was closed because it was Sunday. I was in trouble. I put out a Hail-Mary call for dried chickpeas on facebook, and my long-time, dear friend, Lisa answered with "I have them! I'll send them home with your kids after youth group!" Oh my word, y'all. What would we do without good friends? Well, we'd be hummusless, for starters. Thank you, Lisa!
Onto the hummus!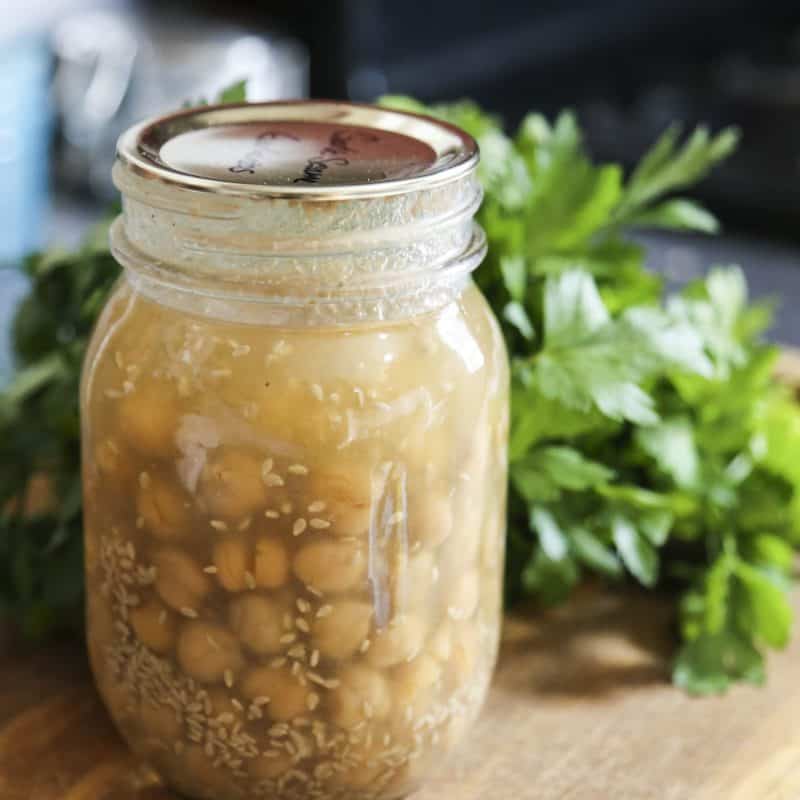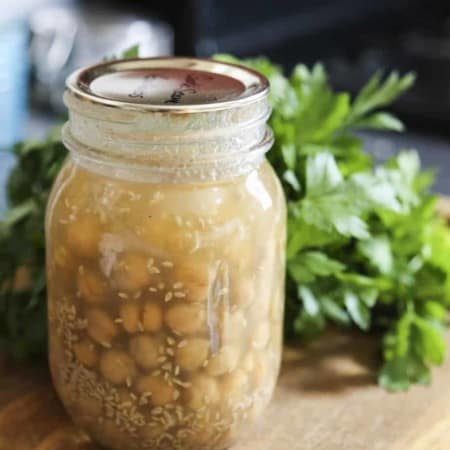 Instead of gathering a multitude of ingredients, hummus can be as easy as popping open a jar, pouring the contents into a food processor, and letting it go until smooth as silk!
Ingredients
1 1/2

pounds

dried garbanzo beans

picked over and rinsed

water

1 1/2

cups

toasted sesame seeds

18

large cloves garlic

lightly smashed and peeled

1 1/2

cups

lemon juice
Instructions
Soak the garbanzo beans for 12 to 18 hours. Drain well, then transfer the beans to a large stockpot. Cover with water by 2 inches and bring to a full rolling boil.

Add 1/4 cup of sesame seeds and 3 large garlic cloves to each of 6 pint jars. Use a slotted spoon and canning funnel to transfer the boiled beans into the jars, leaving a generous 1-inch of headspace. Follow this by adding 1/4 cup of lemon juice and then top off the liquid in the jar to witihin 1 full inch of headspace by adding the beans' cooking liquid.

Use a chopstick to release any air bubbles in the jar and adjust the liquid level, if needed, by adding more bean cooking liquid. Moisten a paper towel with vinegar and use it to wipe the rims of the jars.

Place the lids on the jars and fasten appropriately, whether it's turning a ring to fingertip tightness or fixing clamps in place.

Process in a pressure canner according to the manufacturer's instructions at 10 pounds of pressure for 75 minutes. Let the canner come back to atmospheric pressure naturally, then open the lid and transfer to a towel-lined rack to cool undisturbed for 24 hours. Remove the rings, wash and label the jars, and store in a cool, dry place for up to 1 year.
To Make Hummus from Instant-Hummus-In-A-Jar:
Pour the liquid from the jar through a fine-mesh sieve to prevent losing the seeds. Reserve the liquid and set aside. Pour the contents of the jar into a food processor fitted with a metal blade or blender. Use reserved liquid to thin, if desired. Add salt to taste.
Nutritional information is an estimate and provided to you as a courtesy. You should calculate the nutritional information with the actual ingredients used in your recipe using your preferred nutrition calculator.
The Giveaway:
Well, hello. I'd love to give away 5 signed copies of "Not Your Mama's Canning Book: Modern Canned Goods and What to Make with Them"! I'd also like to throw a new canning funnel with each of those books, if it's okay with you!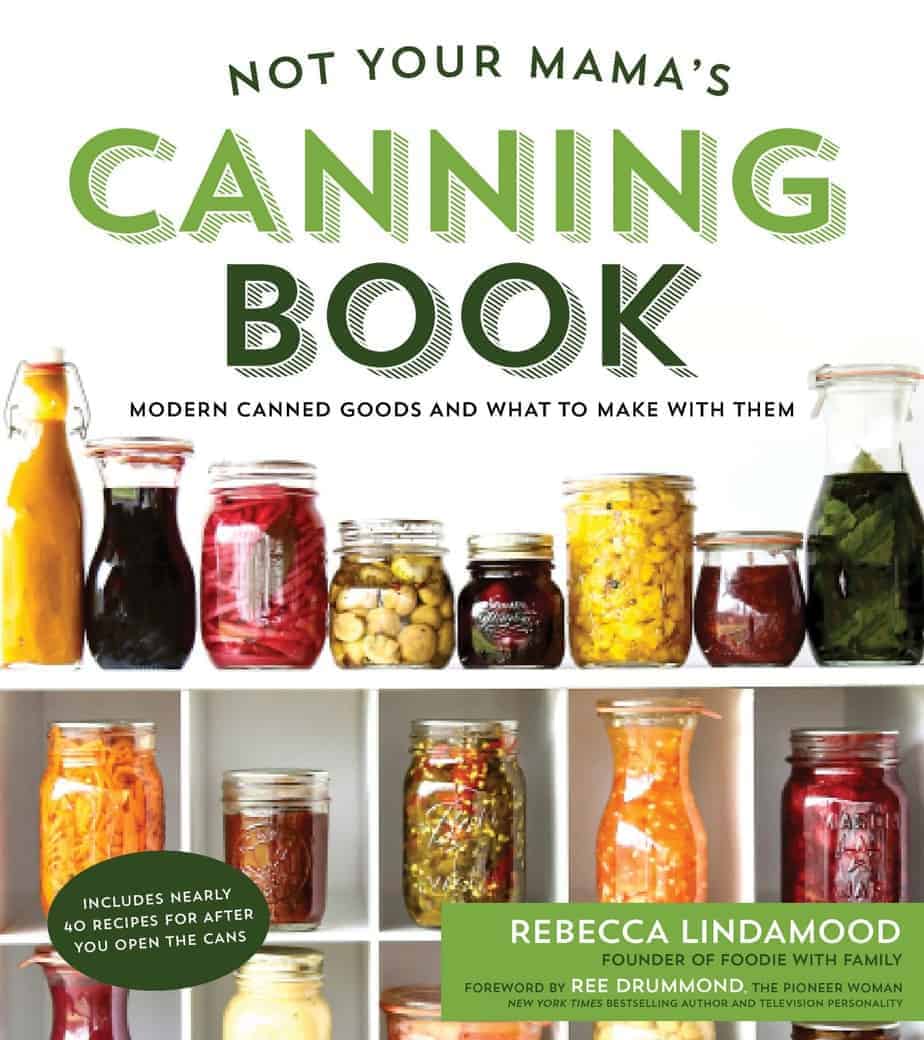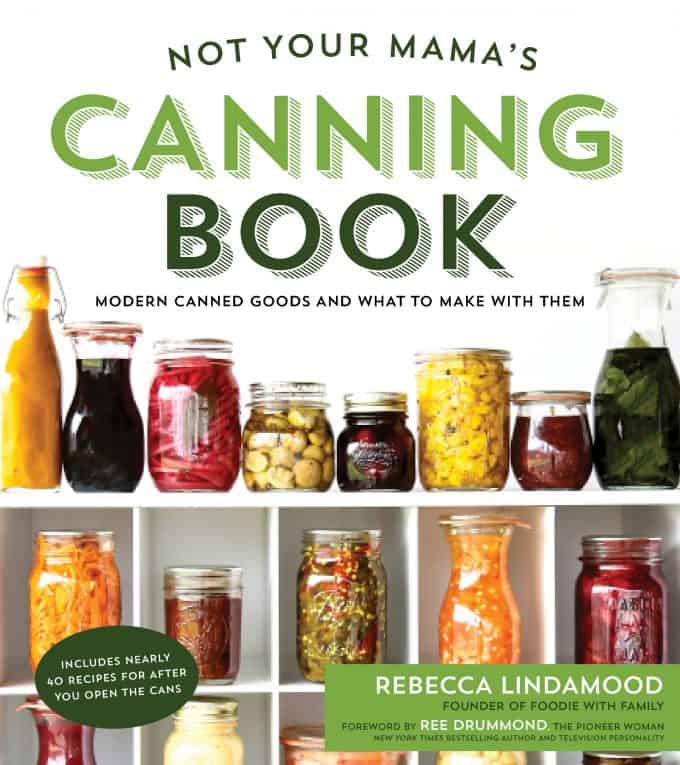 Not Your Mama's Canning Book Giveaway
Not Your Mama's Canning Book: Modern Canned Goods and What to Make with Them is available to order through these fine retailers!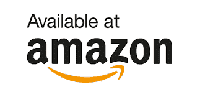 Save