Foodie With Family Gift #2:  Grandma's English Toffee
English Toffee. In it's simplest and most refined form it is the perfect marriage of butter, sugar and chocolate. And my Grandma's toffee is toffee at it's best. I'm not bragging. I'm stating a fact. The toffee itself has only two ingredients: butter and sugar. She tops it with a layer of good chocolate and occasionally showers the top with a coat of finely chopped, toasted nuts. It is sublime.
I know from personal experience that when you give a batch of this toffee as a gift you've just started your own fan club. Many years ago my husband began working at his office just before Christmas. As an icebreaker, he took up a plate filled with Christmas cookies and this toffee to share with his new co-workers. He brought home an empty plate and I forgot all about it.
Six months later, the kids and I dropped by his office in the middle of the work day. As the Evil Genius introduced me for the first time, at least five people said some variation of, "You're the one with the toffee! Can I have that recipe?" And now, I know the holiday season has begun when my husband passes along requests for 'some more of that amazing toffee' from office mates. 
I can't guarantee this toffee will bring peace on earth, but it'll at least buy you goodwill among men!
Time Required For Project:
The toffee takes about 30 minutes of cooking time and then requires a couple hours of setting-up time for the chocolate to firm. You should count on at least 3 hours of firming time, depending on the warmth of your room. Your best bet is to make it the day before it's needed.
The Cost Breakdown:
$1.99 for 1 pound of butter
$0.75 (generous estimate) for 2 cups of sugar
$1.99 for a bag of semi-sweet chocolate chips (Ghiradelli is available at Wegman's for this price)
$0.75 (depending on whether you use them) for 1/2 cup of chopped nuts
Grand Total:  $5.48 for 2 1/2 pounds of English Toffee
"Homemade" vs. "Purchased" Price Comparison:
Foodie With Family's Grandma's English Toffee
Yield: 2 and 1/2 pounds.
Ingredients:
2 cups sugar (no substitutes)
2 cups butter (no substitutes)
12 ounces semi-sweet or milk chocolate chips, optional
1/2 cup finely chopped pecans, almonds, peanuts or other nuts, optional
Method:
Line a 15″ x 10″ x 1″ jellyroll pan (or half sheet pan) with waxed paper. In a heavy-bottomed saucepan that holds at least 4 quarts, combine butter and sugar over low heat. 
Stir occasionally until a small amount of the mixture dropped in ice water forms brittle strands (or until it reaches 300°F on a candy thermometer. This process usually takes 25-30 minutes. DO NOT TRY TO SPEED IT ALONG BY RAISING THE HEAT UNDER THE PAN! 
Please excuse my type-screaming, but it's important. Patience, Grasshopper.
Equally important in a more 'how to stay out of the burn unit" way is the following warning. Be careful!!!! This stuff is like lava. And not only is it incredibly hot, but it sticks because it's loaded with sugar and fat. So I'll say it again to keep myself from worrying that someone will be running to the ER with Grandma's toffee stuck to them. Be careful! And specifically, do not try to eat just a little bit of the hot toffee off the spoon after pouring it. You, your lips, and your tongue will regret it. Trust me!
As soon as the mixture reaches 300°F, pour onto waxed paper lined pan and quickly spread as evenly as you can. Eyeball your candy. If it looks like the fat has separated out (which will look like pools of oil around the outside edge of your toffee) let the candy stand for five minutes then -carefully holding the waxed paper to keep your toffee from sliding into a messy heap- pour the oil off from the pan into a clean bowl. Otherwise just proceed to the next step.
Sprinkle the chocolate chips gently and evenly over the top. 
Allow chocolate to stand another five minutes and then use a spatula to spread the chocolate over the toffee. 
If using the chopped nuts, sprinkle over the chocolate immediately after spreading.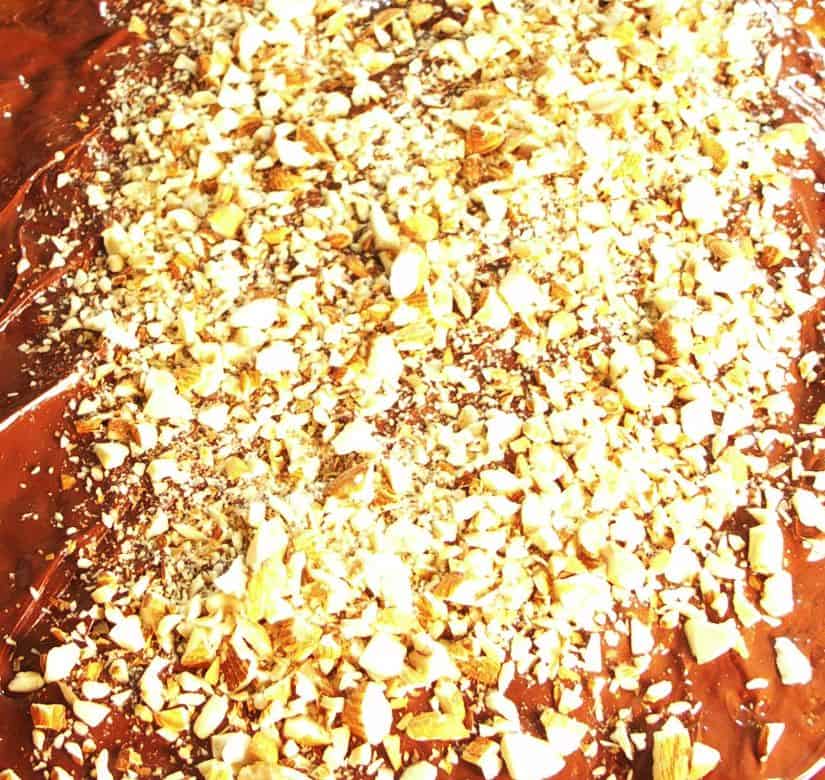 Cool toffee completely and then break into pieces. Devour. Make more to give as gifts.