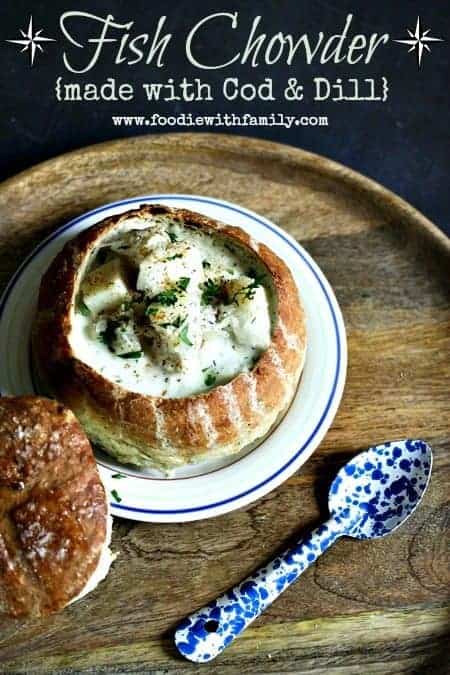 You know why I never order chowder when I go out to eat? It's because chowder is a food that I want to hunker over with my face just inches from the bowl sniffing it and generally behaving like a happy animal. Chowder is comfort food writ large for me and comfort food is meant to be eaten at home in your coziest clothes with a book standing by ready to read the second you're done whipping up the dinner dishes.
Admittedly that's an idealized version of chowder consumption. Most of the time, I have to settle for the ability to hover my face over the bowl at my own table with a limited amount of lingering before running out the door to take my kids to one activity or another. Still, though, it's a homey food to me that brings a sense of peace with it.
Corn chowder, potato chowder, and clam chowder (New England or Manhattan) are all wonderful, but today's chowder is something extra special. This creamy, thick chowder broth made of clam juice and heavy cream is full of pieces of tender cod and potato, and fragrant dill. I serve it in gorgeous Onion, Dill, Sour Cream Bread Bowls to really kick up the dill. The circle of bread that is cut out of the bread bowl to make room for the soup is buttered and stuck under the broiler to toast briefly, then serve with the chowder for dunking purposes. Imagine tearing a piece of the onion and dill studded bread with flaky sea salt crust and dunking it into the thick, fragrant chowder. That reduces me to pure want. How about you?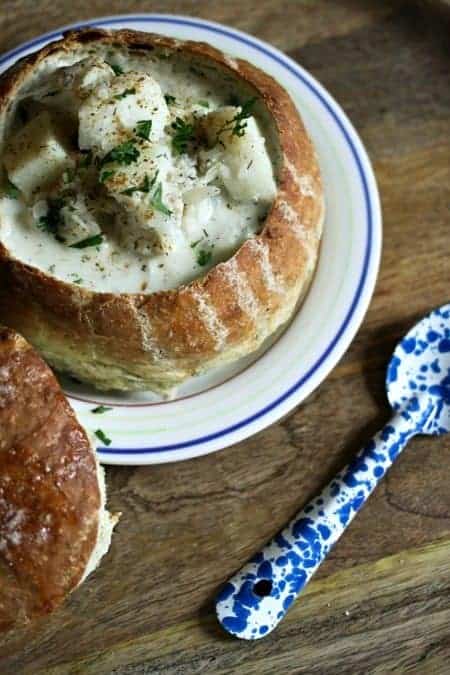 While it seems like chowder in a bread bowl would be time intensive, it's not true! This entire dish can be ready for your dinner tonight, bread bowl and all! Since the bread bowls are done in one hour from start to finish, and forty minutes of that is baking time, you can make the chowder while the bread bakes. They can both cool to manageable temperatures together, and then VOILA! Lenten Friday or any night deliciousness in just about an hour!

Cook's Notes:
 A word about the clam juice. My goofy kids were excited to eat something with clam juice in it, but I know that's not a universal reaction. Trust me when I tell you it's not overly clammy. It doesn't scream CLAM JUICE! BOOM! when you take a bite of the soup. It DOES, however, contribute to the overall seafood feel of the dish, so I don't recommend omitting it.
If you have a religious or health objection to cooking with wine, you can use a 1/2 cup of water in its place. If doing this, there is no need to boil for 3 minutes before adding the clam juice to the pot.
The reason one potato is grated rather than cubed is that the smaller bits of potato end up being the thickener for the chowder so no flour or cornstarch is needed to get a lovely, thick broth. If you prefer a 'brothier' chowder, you can just cube all of your potatoes.
The separate heating of the heavy cream keeps it from curdling when you add it to the chowder. If you boil the cream, you may curdle it. It's not difficult to prevent it, it just requires a little attention.
If you decide to substitute milk or light cream for the heavy cream, be aware that some curdling may happen. It shouldn't be massive curdling, but it may be noticeable.
Letting the chowder cool to an eatable temperature before serving it accomplishes two things. First and most importantly, it allows the flavours a chance to blend. Secondly, if you're serving it in bread bowls, it allows you to eat it immediately, reducing the amount of time the chowder sits in the bowls which cuts down on sogginess.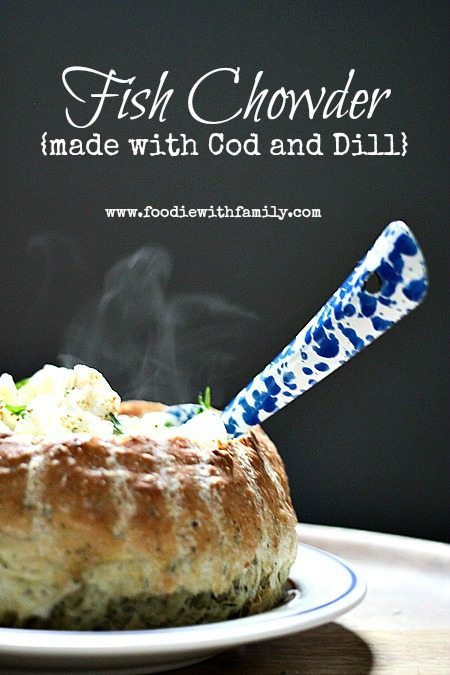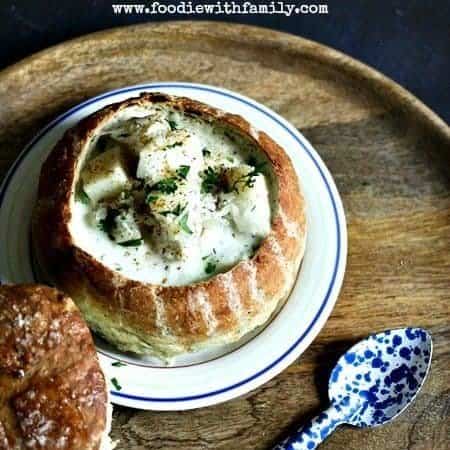 Ingredients
5

red potatoes

peeled

2

medium onions

peeled and finely minced

3

tablespoons

butter

1

cup

dry white wine

2

cups

clam juice

1

bay leaf

1

teaspoon

old bay seasoning

1 ½

to 2 lbs cod

cut into 1 ½-inchpieces

2

cups

heavy cream

3

tablespoons

chopped fresh dill

*See Notes

salt and pepper to taste

additional chopped dill and parsley for garnish
Instructions
Melt the butter in a soup pot over medium heat. Add the onions and a pinch of salt and sautee until softened, about 5 minutes. Add the white wine and raise the heat to high to bring to a full boil. Let boil for 3 minutes.

Grate one of the potatoes and cut the remaining 4 potatoes into 1 inch chunks. Add both of them to the onions along with the clam juice, bay leaf, and Old Bay seasoning. The liquid should just cover the potatoes. If it doesn't add a little water or vegetable stock to cover. Bring to a boil over high heat, lower the heat to medium low and simmer until the grated potatoes disintegrate and thicken the broth and the potato chunks are just tender. Do not cook until the large potato pieces are completely soft because they will continue to cook as the fish cooks. While that simmers pour the heavy cream into a small saucepan. Place the saucepan over a medium flame and warm it just until steam rises from the top but do not let it simmer or boil.

Stir the cod into the potatoes and pour the heavy cream over the top. Lower the heat under the pot to medium low. Keep it on a low simmer (do not boil!) until the fish is cooked through and potatoes are completely tender. Remove the bay leaf and adjust with salt and pepper to taste. Stir in the fresh dill and let cool to a temperature that is comfortable for eating. This additional standing time improves the flavours as well!

Serve in bread bowls if desired.
Notes
*If you cannot find fresh dill, you can use 1 1/2 teaspoons of dried dill weed in its place. You will want to add it earlier in the cooking process, though. If you use the dried dill, stir it in when you add the hot heavy cream and the cod.
Nutritional information is an estimate and provided to you as a courtesy. You should calculate the nutritional information with the actual ingredients used in your recipe using your preferred nutrition calculator.