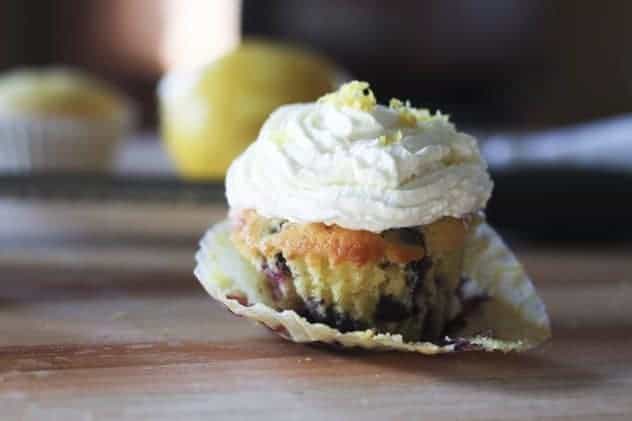 I have the privilege of being able to make the cake for the upcoming wedding of my brother and his wonderful fiancée this summer. Besides being excited to be such a big part of their day, I'm thrilled that I'll be occupied in making sure the cake is just-so and therefore will hopefully not be sitting at the table sobbing from joy over the nuptials and having a massive aging crisis over the fact that my baby brother is now wed.
Ahem.
I have to say that I am a seriously fierce big sister. I'm hyper protective of my little brother and more than just a little bossy. (I'm looking more charming by the moment, aren't I?) I remember one time Luke had to talk me and another of our sisters out of beating up a kid who had punched him. In retrospect, it's probably for the best. I had never thrown a punch in my life and didn't have a clue how to do so. I probably would've ended up getting creamed. Nothing screams "pick on me!" like having your big sisters fight your battles and then lose them for you.
I gave the secret stink-eye to girls he dated over the years but then came Elvi. The second I met her I knew. I knew that my brother was going to marry her. And if he didn't? Well, we were going to adopt her as a sister and he'd be on probation. Luckily, my baby brother is a smart guy.
Aside from being a talented artist (see my header above for an example! Shout out to Elvi!), she's just plain fun to be around. She has an infectious laugh and a fresh perspective on almost anything. For example, in our food obsessed family, my first question was, "What flavour cake do you want?" She looked at me funny and said, "You know. I hate to admit this, but I don't really care how it tastes. I just want it to look a certain way."
While I picked up my lower jaw from the floor and fixed it back in place, I considered what she had said. Well, obviously! She is an artist. The real deal. With studio space and everything. She's visual! Heeeeyyyy… Does this mean I get to decide the cake flavour?
"Hey, Elvi, does this mean I get to decide the cake flavour?"
She said yes. SHE SAID YES. That was almost as good as her saying yes to my brother. I talked snickerdoodle cakes, carrot cakes and all sorts in between. She didn't care as long as it had the specified form! Jack. Pot.
And then it hit me. Blueberries and lemons. Nothing screamed my brother more than blueberries and lemons. Blueberries because I'm fairly sure my brother starts panting with anticipation about a week before blueberry season. There is no safe blueberry around him. Lemons because, well… There's more than one reason, but here's a warning. The story I'm about to share is not appetizing.
When we were little we had a station wagon. The drive to the grocery store was pretty lengthy (as in more than a half hour) and over winding country roads full of C.O.D. curves*. Luke -about four or five years old at the time- had a squirrely travelling stomach in the best circumstances and was just about exhausted from a day of "being in town" and out of his routine. He was sitting in the 'way back' of the wagon (the rear facing rumble seat) and called to mom that he was hungry. She told him to dig into the bags and eat one of the little single serving containers of lemon yogurt (here comes that lemon!) Luke ate it and promptly threw up over the back of the car, his sisters and everything else he could look at while his head made like a rotating sprinkler.
*Come Over Dear curves. In other words, you're taking a hairpin turn that requires you to lean against your nearest neighbor in the car.
So lemon and Luke. What can I say? It's an association.
But there's more. Lemons equal sunshine. My sunshine haired baby brother who always looked like he had a halo around his head because of his white blonde hair. And Elvi is sunshine. She brings light and joy to the room just like the sun does. I cannot think of a better cake to represent the two of them.
This is my first experiment along the road of providing the perfect wedding cake for two of my very favourite people and I do believe we already have a winner. The tender, fine lemon cupcakes are dotted with juicy, sweet and tart blueberries and topped with a cloud of whipped cream and a pinch of fresh lemon zest. These bright, sunshiney cupcakes are a little burst of spring and freshness.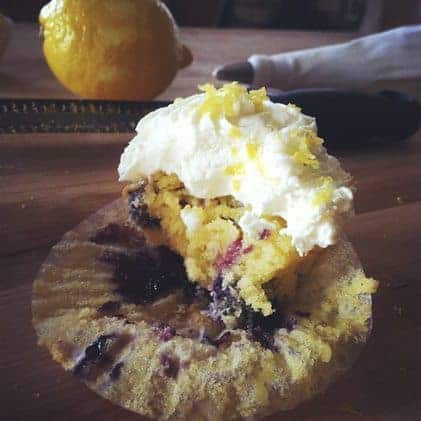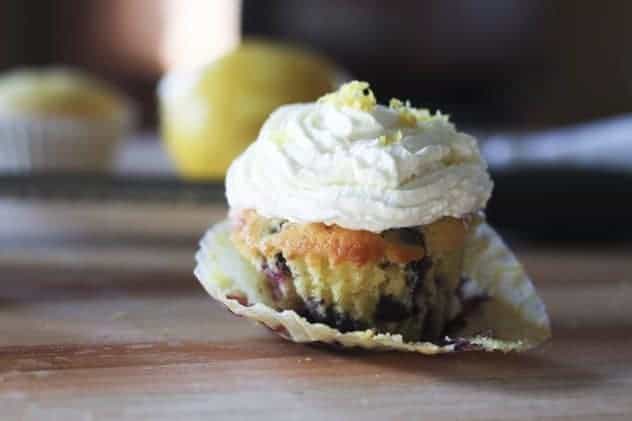 These bright, sunshiney, tender lemon cupcakes are dotted with juicy, sweet and tart blueberries and topped with a cloud of whipped cream and a pinch of fresh lemon zest for a burst of spring and freshness! Inspired by and adapted from both Sweetapolita and Julievr at Babble Blogs
Ingredients
1

cup

butter

at room temperature

2

cups

sugar

4

eggs

1

teaspoon

pure vanilla extract

1/2

teaspoon

pure lemon extract

3

cups

all-purpose flour

2

teaspoons

baking powder

1/2

teaspoon

salt

grated zest and juice of a lemon

1

cup

milk

divided

2

cups

of fresh blueberries

or frozen blueberries, thawed and drained, tossed with 3 tablespoons of flour
To Serve:
2

cups

whipping cream

1

tablespoon

confectioner's sugar

additional lemon zest
Instructions
Preheat the oven to 375°F.

Line 24 muffin tins with muffin papers (you may have enough batter to make a few extra cupcakes, so if you have more tins and papers, keep them handy.)

In a small mixing bowl, whisk together the flour, baking powder and salt and set aside.

In a stand mixer or in a bowl with a hand mixer or sturdy spoon, cream together the softened butter, sugar and lemon zest on high speed or until light and fluffy and even. Scrape down the bowl and add the eggs -one at a time- beating well after each addition. Beat in the vanilla and lemon extract.

Add about 1/3 of the flour mixture, mix in well, add about 1/3 each of the milk and lemon juice and mix well. Repeat until they are used up, ending with the milk and lemon juice.

Shake any excess flour from the blueberries and gently fold them into the cake batter. Fill the prepared muffin tins 2/3 full of batter. Tap the pan gently on the counter two or three times to settle the batter. Bake for 20-25 minutes, or until the cupcakes spring back when gently pressed in the center and a toothpick or knife inserted into the center of the cupcake comes out without gooey batter on it.

Turn out of the pans onto a cooling rack and let cool completely.

Store the cupcakes, unadorned, at room temperature in a tightly covered container for 3-4 days.
Just Before Serving:
In a stand mixer (or with a hand mixer or whisk) on high speed, whip the whipping cream and confectioner's sugar until it holds a peak when the beater is removed from it. Pipe or dollop the whipped cream onto the cupcakes and top with a pinch of fresh lemon zest.
Nutritional information is an estimate and provided to you as a courtesy. You should calculate the nutritional information with the actual ingredients used in your recipe using your preferred nutrition calculator.