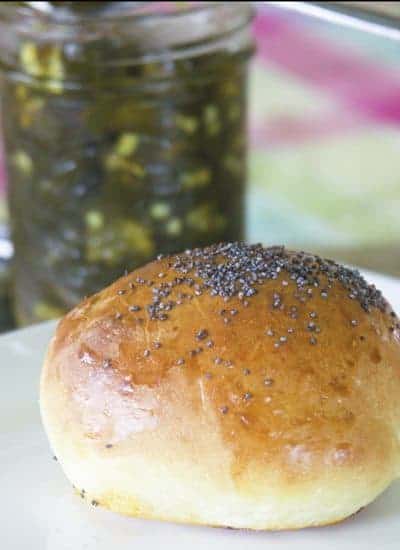 Wake. Breakfast. School. Work. Snack. School. Work. Lunch. School. Work. Snack. Work. Chores. Play. Dinner. Play. Bed. Repeat 4 times. Weekend.
Routines can be good things, but getting them to become routine is the tricky bit. And fitting everything extra (cooking, planning, friends, activities) into this fresh Fall routine? Hoo boy. It makes me feel a little panicky.
Feeling panicky fires up my organizational thinking. Give me boxes. Give me label guns. Give me a freezer full of quick meals. Watch me go people!
Stocking your freezer with items that can form the base of a fast homemade meal is a sanity saver. And please.
Pretty please, don't suggest once-a-month cooking to me. I've tried it. I failed. Miserably.
I am a fickle girl and while I approach it with enthusiasm, I fall down on it for the same reason that I can't shop for a month at a time. My solution is to make rubber chicken meal starters; big batches of food that form the base of many quick meals.
I've got a kids-of-all-ages pleasing, time-saving, budget-friendly, brain-soothing rubber chicken meal that all starts with a lip-smacking Barbecue Bacon Cheeseburger Meal Starter.
Once you have this meal starter under your belt you can stir it into macaroni and cheese, top a pita-bread or pizza dough with it and pile on some grated cheese before baking it then tossing on chopped tomatoes and onions for a quick cheeseburger pizza, scoop it up with tortilla chips for some barbecue bacon cheeseburger nachos for game day*.) But today? Today is all about the Barbecue Bacon Cheeseburger Stuffed Sandwiches.
Oh yes, my dears. I am about to make you very popular. Barbecue Bacon Cheeseburger Stuffed Sandwiches do everything but your windows. They make a fantastic brown-bag lunch (if you have access to a way to heat it at lunch time), great dinner-on-the-go, incomparable hand-held tailgating (or sports watching) snack food, and they're freezer friendly to boot.
By removing the sandwiches from the oven a few minutes early and wrapping with foil before freezing, you have the foundation for a meal that is done in thirty minutes or less on hand. I tell you that if you serve these with a big pile of Candied Jalapenos you will be a certifiable super star. Gimme a high-five!*
*I have a decidedly geeky habit of high-fiving. My kids and high-school senior sister have tried to cool-ify my high-fives by adding a fist-bump and some slide-y action afterward and telling me not to yell, 'HIGH FIVE!' with it but I fear they've only succeeded in pointing out that no matter what I do, I will never, ever be cool again.
My food, however, is crazy cool. Because all my cool is poured into my food there is none left for me. It's a price I'm willing to pay.

So let's recap. Cook this big batch of meal starter (you already won because it has BACON in it!).
Divide it up into smaller portions and freeze or refrigerate those portions. Use one portion to make Barbecue Bacon Cheeseburger Stuffed Sandwiches (a meal-starter in and of themselves because they freeze like a dream. A dream I tell you!).
Are you excited yet? I am. Let's get cooking…
HIGH FIVE!
Bacon Cheeseburger Stuffed Sandwiches
Preheat oven to 400°F. Line a large baking sheet with a piece of parchment paper. Set aside.
On a lightly floured surface, divide the bread dough into 12 even pieces. Roll each piece into a ball. Working with one piece of dough at a time, flatten bread dough into a circle that is about 1/4″ thick. Place about 1/4 cup of the meat filling into the center of the dough circle. Gather up the edges of the dough around the filling and cinch to seal. Place seam side down on the parchment lined pan. Repeat until all the dough is used.
Gently cover the dough with a piece of lightly oiled plastic wrap or a damp tea towel. Let rise in a warm place for 15 minutes or until slightly puffy. Brush with the egg wash and sprinkle with any desired toppings.
Slide the pan into the preheated oven on the center rack. Bake for 18-24 minutes, rotating the pan 180 degrees halfway through the cooking time, or until the rolls are deep brown and shiny and the bread is cooked all the way through. Remove the pan from the oven and let the rolls rest on the pan for 5 minutes before transferring to a cooling rack. Let the rolls rest at least 15 minutes before eating.
If you wish to freeze the rolls remove them from the oven about 5 minutes early and let cool completely on the pan before putting the pan directly into the freezer. When the rolls are frozen through (about 6 hours), wrap each one in foil and transfer to a resealable freezer bag. Kept like this in the freezer they will be good for about 3 months. To reheat, place foil wrapped rolls on a pan and heat in a preheated 400°F oven for 15 minutes. After 15 minutes, open the foil so the rolls are exposed and continue heating until hot all the way through.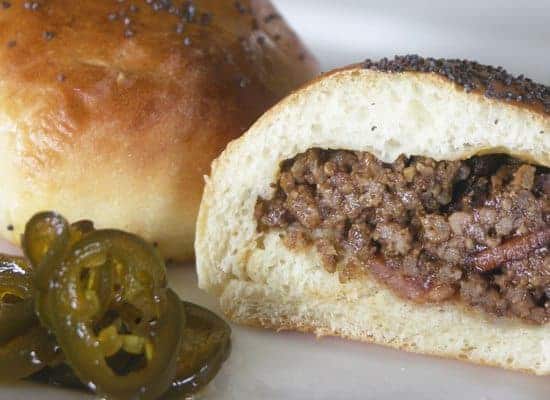 Big Batch Barbecue Bacon Cheeseburger Meal Starter
Yield: 5 meals worth of starter
Ingredients:
5 pounds 90% lean ground beef
1 pound sliced smoked bacon, cut into 1/2″ strips
2 cups ketchup
1/2 cup packed light brown sugar
1/2 cup cider vinegar
2 Tablespoons prepared yellow mustard
3-5 cloves of garlic, peeled and minced
1 teaspoon Kosher salt
1/4-1/2 teaspoon crushed red pepper flakes
4 cups shredded Cheddar or Monterey Jack cheese
freshly ground black pepper, to taste
Optional:
1 small onion, peeled and finely chopped
In a very large skillet (or a stove-top safe roasting pan over two burners) cook the bacon strips over medium heat, stirring frequently, until deeply colored and crispy. Use a slotted spoon to transfer the crisp bacon to a paper towel lined plate. Cover the plate with foil and set aside. Drain most of the fat from the pan, leaving about 1 Tablespoon, and return the pan to medium heat.
(If using the optional onions, add them to the pan now.)
Break up the ground beef into the pan. Cook the beef, stirring and breaking up large clumps of the beef, until the beef is browned and no longer pink in the center. If necessary (if there is a lot of liquid or fat remaining after browning the beef), drain the beef in a colander, wipe the additional fat from the pan, and return the drained beef to the pan.
Lower the heat on the pan to medium low and add the ketchup, sugar, cider vinegar, mustard, garlic, salt and red pepper flakes to the beef mixture. Stir to evenly coat and cook until the sauce coats all the beef and is hot. Add the reserved bacon and shredded cheese and stir until the cheese is completely melted and the bacon is evenly distributed. Taste and add black pepper to your liking.
Divide the beef mixture into heat-safe containers with tight fitting lids. I usually divide the starter into 3 cup portions. Cool quickly (by resting in a bowl with ice water halfway up the sides of the containers.) The beef mixture will be good in the refrigerator for four days or in the freezer for up to four months.
Buttermilk Sandwich Bread
Ingredients:
1-1/2 cups Cultured Buttermilk (You're making your own, right?)
2 Tablespoons softened butter
4 cups bread flour (1 pound and 1 ounce by weight.)
2 Tablespoons sugar
1 Tablespoon plus 1 teaspoon vital wheat gluten (If you can't find this it can be omitted, but it helps the structure and texture of the finished bread.)
2 teaspoons salt
2-1/2 teaspoons instant yeast or SAF yeast
Optional:
1 egg beaten with 1 Tablespoon tepid water to glaze the bread
Bread Machine Instructions:
Load all ingredients into the pan according to your bread machine manufacturer's instructions. Program for a simple white cycle and press START.
Immediately remove bread from the pan to a cooling rack when the cycle is finished. Cool completely before slicing.
(For instructions on preparing bread dough by hand or with a stand-mixer see the printer friendly version!)