I know the West Coast is already experiencing spring in the air, but out here in the Great Lakes States and the North East, we are still decidedly parked under Old Man Winter's thumb. Sunday, we had what was quite literally the coldest day since 1899. Honest to Pete, people. It didn't get above -5°F all. day. long. The sun was -as my beloved Grandma always used to say- like a fake smile. It kept luring us out there with the pretty blue, cloudless skies and unusual February sun just to laugh at us. Thankfully, I had a well stocked pantry and decided to do a little "Chopped at Home" with my refrigerator and pantry. I rustled up some boneless, skinless chicken breast, a red bell pepper, Greek yogurt, and some meltable cheese and went to work.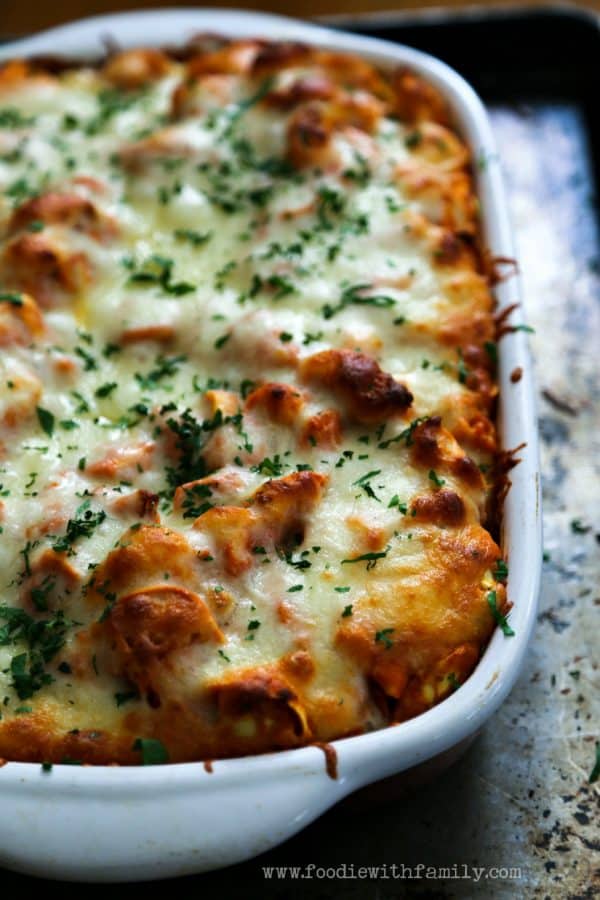 Creamy Sun-Dried Tomato and Chicken Tortellini Bake was my secret strategy to defeat the bitter cold without making a grocery store run and it ended up being a crowd-pleasing "Chopped at Home" effort. EVERY single member of the family went bonkers for it and it's not hard to see why; tender, juicy cubes of browned chicken tossed with refrigerated three-cheese tortellini, a quick blender sauce of roasted red pepper, julienned sundried tomatoes in oil and herbs, Greek yogurt for creaminess, and a generous amount of delicious melty cheese. Good golly. You wanna forget how cold it is outside? Make Creamy Sun-Dried Tomato and Chicken Tortellini Bake. The sauce alone is amazing. My kids kept dipping fingers into it and asking whether I could make it again some time for them to use as soup for grilled cheese sandwiches. I expect that'll happen soon, but in the meantime, my crew ate an entire 9-inch by 13-inch baking dish of Creamy Sun-Dried Tomato and Chicken Tortellini on one cold Sunday afternoon.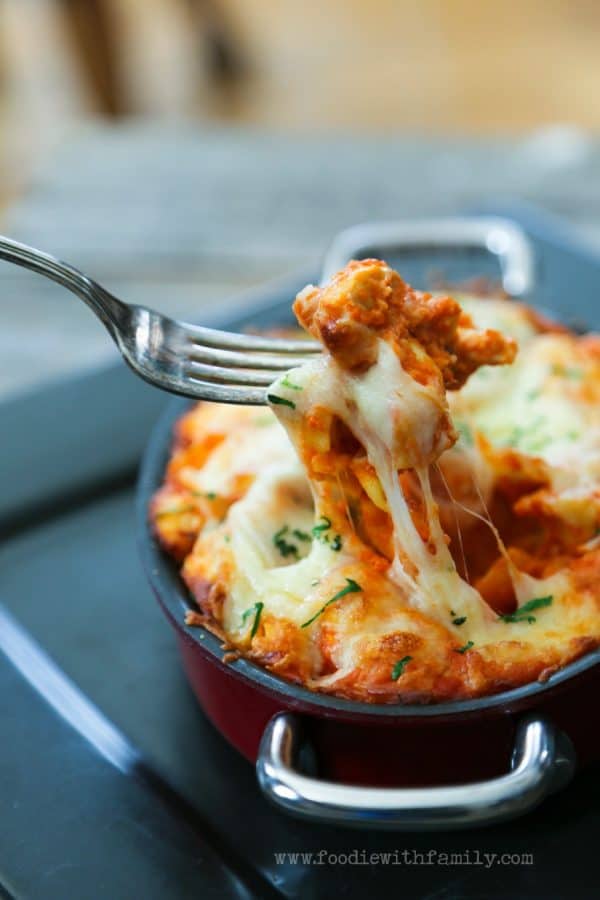 Cook's Notes
A full jar of julienned sun-dried tomatoes packed in oil with herbs is the major taste delivery vehicle in Creamy Sun-Dried Tomato and Chicken Tortellini Bake. You use a little of the oil from the jar to sauté the chicken, but the rest goes right into the sauce, making it rich and exploding with summery garlic and tomato flavour.
I roasted my red bell pepper for this dish over the high burner on my stove top, but if you have an electric cook top, don't despair. You can use a hand held torch to blister and blacken the skin all over or you can do the same thing close to the broiler element in your oven, turning it from time to time with tongs. If all else fails, grab a jar of roasted red peppers and use about as many strips from that as you would get from a red pepper you roasted yourself. It's okay. I don't want to go out in this weather either. This is a perfectly acceptable substitution.
As far as sauces go, it's hard to get easier or more full of flavour than this one. You add those roasted red peppers, the sun-dried tomatoes with their oil and herbs, a little garlic, the Greek yogurt, the chicken broth, and the basil to a blender and let 'er rip. Voila. Super smooth, creamy, roasted red pepper and sun-dried tomato sauce that's good enough to blow any jarred sauce out of the water and just might find its way onto other pastas in your house. It surely will here.
You do NOT need to pre-cook the refrigerated tortellini for this recipe. While it bakes, it will soak up all the good stuff from your lovely sauce and eliminate a step in the process. Who doesn't love a little time saver?
If you're feeling like individual servings, you can absolutely mix the sauce, chicken, tortellini, and 2 cups of cheese together in a mixing bowl and divide between ramekins or individual sized baking dishes. Cover with foil and bake for 20 to 25 minutes, or until bubbly and hot, top with the remaining cheese, and return to the oven until the cheese is fully melted and golden brown around the edges. My kids thought eating an individual serving dish of Creamy Sun-Dried Tomato and Chicken Tortellini Bake was the height of fancy living. I didn't dissuade them.
Connect with Foodie with Family
facebook | pinterest | instagram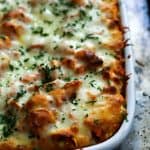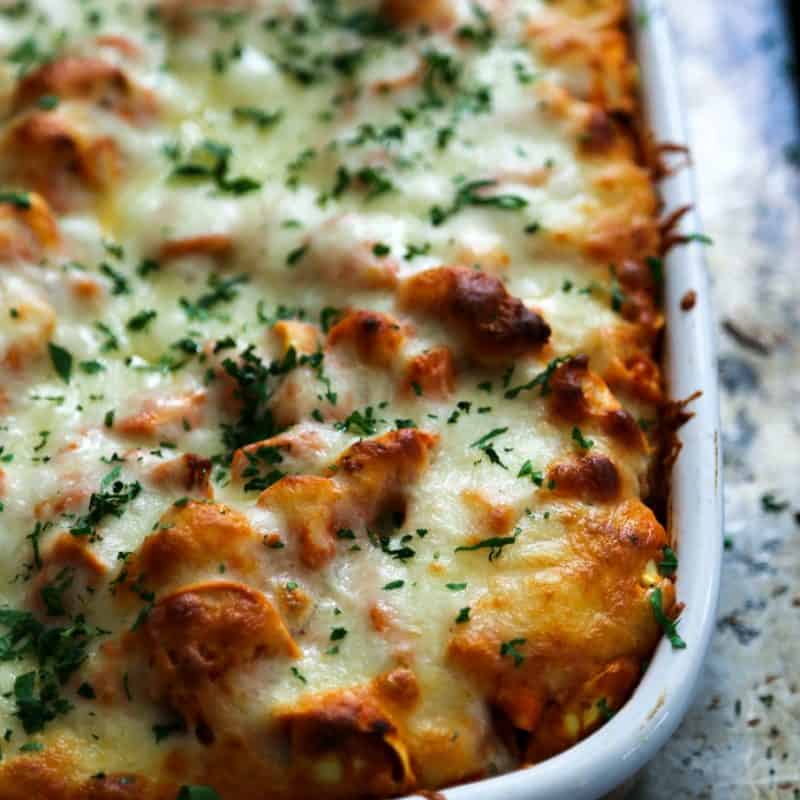 Creamy Sun-dried Tomato and Chicken Tortellini Bake
Ingredients
1

red bell pepper

1

jar julienne sun-dried tomatoes in oil with herbs

8.5 ounces

1

can diced tomatoes in juices

28 ounces

3/4

cup

Plain Greek yogurt

unflavoured

1/2

cup

chicken broth

2

large cloves garlic

peeled and minced or pressed

1/2

teaspoon

dried basil

4

boneless

about 1 pound, skinless chicken breasts , sliced into 1/2-inch cubes

2

packages refrigerated cheese tortellini

20 ounces each

4

cups

Sargento® Chef Blends™ Shredded 6 Cheese Italian

divided
Optional, but tasty:
chopped parsley

for garnish
Instructions
Using tongs, hold the red bell pepper over a direct flame on your burner, turning occasionally, until the skin is blistered and blackened all over the surface. If you don't have gas burners, you can do this with a broiler or a hand-held torch, turning until you've blistered and blackened the whole thing. Place in a paper bag, cinch the lid closed, and wait 10 minutes. Open the bag and use paper towels to slough the burnt skin away. Remove the stem and seeds and place the red pepper flesh in a blender or food processor fitted with a metal blade. Set aside.

Preheat oven to 350F. Lightly oil or spray a 9-inch by 13-inch baking dish with non-stick cooking spray. Scatter the cheese tortellini in the pan with 2 cups of the Sargento 6-Cheese Italian Blend. Set aside.

Open the jar of sun-dried tomatoes in oil with herbs and drain about 1 tablespoon of the oil into a heavy-bottomed skillet. Set the jar of sun-dried tomatoes aside and place the skillet over medium high heat. Add the cubed chicken to the sun-dried tomato oil along with a pinch of salt and let it stand 30 seconds or so before stirring. Continue stirring every 30 seconds or so until it is opaque all the way through, about 7 minutes. Spoon on top of the tortellini and cheese.

Pour the remaining sun-dried tomatoes and oil into the blender or food processor with the roasted red pepper. Add diced tomatoes, Greek yogurt, chicken broth, garlic, and basil to the blender and process until smooth. If it is too thick, you can add another splash of chicken broth to help it move. The final product should be about as thick as spaghetti sauce. Pour this over the contents of the baking dish and gently toss to coat and distribute everything evenly. Spray a piece of foil with nonstick cooking spray, crimp the foil over the baking dish, and place on a rimmed baking sheet before placing both pans in the oven. Bake for 30 minutes or until bubbly. Remove the pan from the oven, discard the foil, and sprinkle the remaining cheese evenly over the top. Return the pan to the oven and bake until the cheese is fully melted, bubbly, and golden brown at the edges.

Let stand at least 5 minutes before serving. Garnish with chopped parsley, if desired.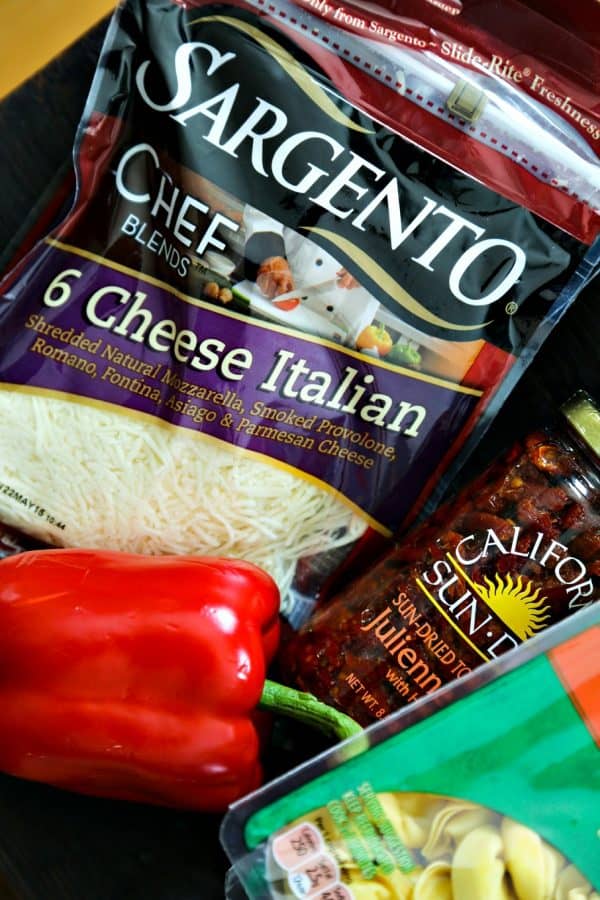 Are you up for a little
Chopped at Home Challenge
of your own? Take the same four ingredients I did -boneless, skinless chicken breast, red bell peppers, Greek yogurt, and Sargento® Chef Blends™ Shredded 6 Cheese Italian  (and anything else you'd like along with it) and submit your culinary creation to the Food Network's Chopped At Home Challenge from Sargento® for a chance to win $10,000, an appearance on Food Network, plus a trip to the Food Network New York City Wine & Food Festival.
Click here for details
.
Available in 30 versatile varieties, unique blends and distinct cuts, Sargento Shredded Cheese is always cut from blocks of 100% real, natural cheese. For more inspiration, check out the Sargento Pinterest page or visit Sargento.com for more information. The Chopped at Home Challenge gives viewers a chance to create their best recipe using the selected basket ingredients, including Sargento Shredded Cheese, for a chance to win $10,000!
This is a sponsored conversation written by me on behalf of Sargento®. The opinions and text are all mine.