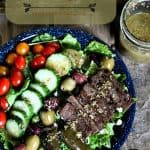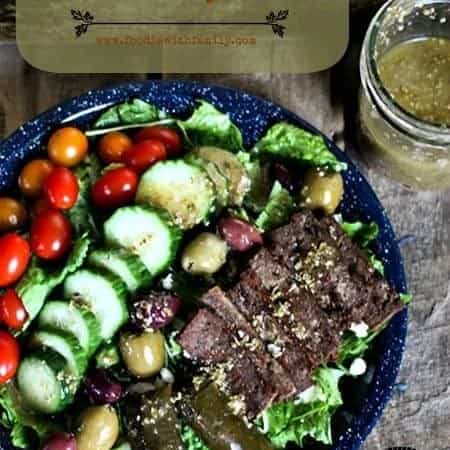 Print
Greek Salad Gyro Plate {restaurant diy}
This Greek salad Gyro Plate is no side dish; it's a meal in itself. Crisp romaine lettuce a,fresh cherry tomatoes, cucumber slices, kalamata olives, crumbled feta cheese, dolmades, Greek dressing, and gyro meat all combine to create a salad that will fill you up without weighing you down.
Per Salad:
4-6

cups

mixed salad greens

mostly romaine

10-12

slices

gyro meat prepared as for gyros

1/2

of an English cucumber

seedless, sliced into 1/4-inch thick rounds

1/2

cup

small cherry tomatoes or chopped

seeded tomatoes

1/4

cup

pitted kalamata olives and/or feta stuffed olives

1/8

to 1/4 cup crumbled feta cheese

2-3

dolmades

stuffed grape leaves
Place the salad greens in a large bowl or on a large plate. Arrange the cherry tomatoes, sliced cucumbers, and olives in rows on the salad greens. Crumble feta cheese over everything then pile the prepared gyro meat on a corner of the salad. Serve with Greek Salad Dressing on the side to dress just before eating.