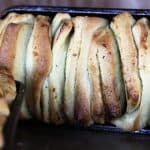 Print
Ranch Bake-In-Slices Bread
Ranch Bake-In-Slices Bread is a wonderfully versatile snacking bread that bakes itself into slices. Eat hot straight from the oven, sop up soup, stew or sauce, or use to make the most spectacular grilled cheese sandwich this side of heaven.
1

pound

sandwich bread dough

homemade like this or purchased

1

stick of unsalted butter

4 ounces by weight, 8 tablespoons, melted, plus extra for buttering the loaf pan.

1

tablespoon

plus 2 teaspoon of dry Ranch salad dressing mix

1

teaspoon

dried dill weed
On a clean, lightly floured surface, roll the bread dough out into a rectangle that is about 1/4 of an inch thick. Pour the melted butter over the rectangle and use a pastry brush to more or less evenly distribute it. Sprinkle the dry Ranch dressing mix and dried dill weed over the dough. Cut the dough into pieces that are roughly the size of a playing card.

Butter a standard loaf pan and prop one end up on a box of toothpicks or something similar so that the pan tilts up at on end. Stack five pieces of the dough at a time and place in the pan, starting at the lower end so gravity holds it in place. Repeat until you've added all of the dough to the pan. Cover lightly with plastic wrap and let rise for 30 minutes at room temperature.

While the dough rises, preheat the oven to 350°F. Uncover the dough and bake for 30-40 minutes, or until the top of the bread is deep golden brown. Let the bread rest in the pan for 5 minutes before turning out onto a plate or cooling rack. Eat immediately or store wrapped with a clean towel at room temperature.