Print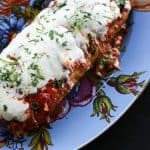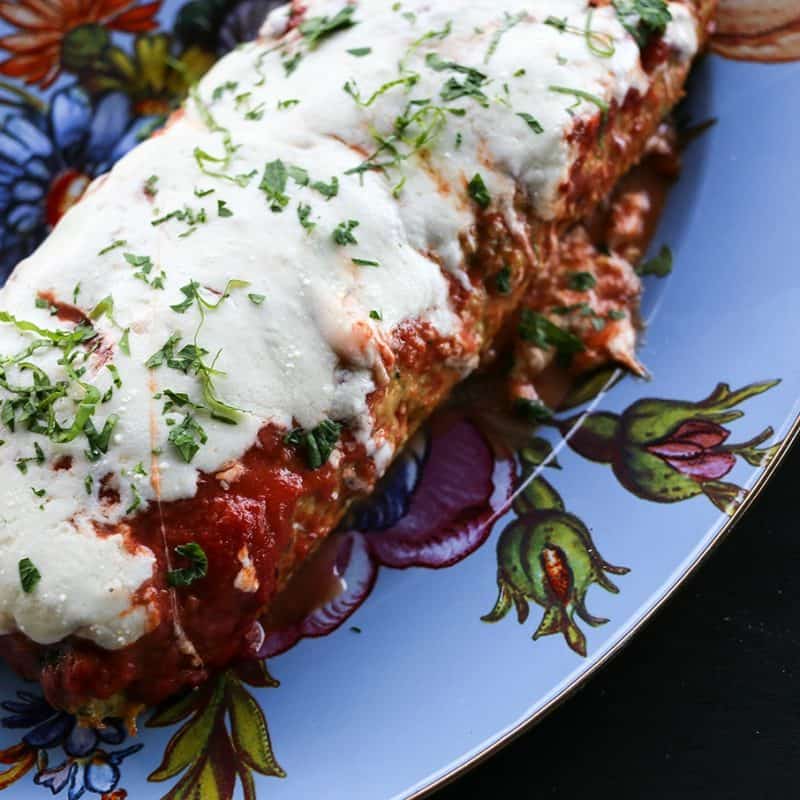 Chicken Parmesan Meatloaf
All of the flavours in classic chicken Parmesan are amplified in this simple meatloaf from "The Weeknight Dinner Cookbook" by Mary Younkin.
1 1/2

pounds

ground chicken

preferably thighs if possible

2/3

cup

panko breadcrumbs

gluten free panko will work fine

1/4

cup

finely minced onion

2

tablespoons

minced parsley

2

cloves

garlic

minced

zest of 2 small lemon

about 1 teaspoon

2

eggs

3/4

cup

shredded Pecorino Romano or Parmesan cheese

1 1/2

teaspoons

kosher salt

divided

1/2

teaspoon

freshly ground black pepper

1

can crushed tomatoes

14-ounce

1/2

teaspoon

granulated garlic or garlic powder

1/4

teaspoon

crushed red pepper flakes

4-6

ounces

mozzarella

freshly shredded
Preheat the oven to 350°F. Line a large baking sheet with aluminum foil. In a large bowl, combine the ground chicken, panko, onion, parsley, garlic, lemon zest, eggs, Pecorino Romano cheese, 1 teaspoon of the kosher salt, and pepper. Lightly mix together, using your hands or a large spoon. Transfer to the lined baking sheet and shape into a loaf approximately 2 inches high and 4 inches wide, making the loaf as uniform in size as possible. Smooth the top and place on the middle oven rack. Set a timer for 30 minutes.

While the meatloaf is cooking, stir together the tomatoes, granulated garlic, red pepper flakes, and the remaining 1/2 teaspoon salt. After the meatloaf has cooked for 30 minutes, pour 1/2 cup of the sauce over the top and spread gently to coat. Bake for another 15 minutes, then repeat with the sauce and sprinkle with the mozzarella.

Bake until the cheese has completely melted, 6 to 8 minutes. The meatloaf is done cooking when the center temperature reaches 160°F on a meat thermometer. It should be mostly white when it has finished cooking. Let the meatloaf cool for 10 minutes before slicing and serving.
Cook's Notes (From The Weeknight Dinner Cookbook, by Mary Younkin):
Fresh mozzarella is a fairly soft cheese, and as a result, it will be much easier to shred if you place it in the freezer for 5 to 10 minutes before shredding it.
This recipe doubles nicely. We really like having leftovers for sandwiches the following day. Simply divide the meat mixture in half and form two separate meatloaves. The meatloaves can be cooked together on opposite sides of the same large baking tray.