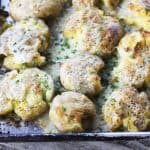 Print
Cheddar and Chive Crash Hot Potatoes
Leftover salt potatoes are turned into something heavenly when smashed, drizzled with olive oil and roasted until dead crisp. Then they become stratospheric when you top them with massive quantities of extra sharp Cheddar cheese, broiled 'til bubbly and hit with a shower of chopped chives right before serving. Inspired by Ree Drummond, Krysta Guerrero, and Jill Dupleix.
1

batch leftover salt potatoes

warmed slightly, about 20 potatoes (*See here if you don't have leftover salt potatoes )

6

tablespoons

extra virgin olive oil

divided

Freshly ground black pepper

to taste

2

cups

grated extra sharp Cheddar cheese

or more if you're especially fond of cheese. I am.

a large handful of chopped fresh chives
Preheat oven to 450°F.

Drizzle 3 tablespoons of extra virgin olive oil evenly over a rimmed baking sheet. Scatter potatoes on the olive oil and use a potato masher or heavy mug to gently smash the potato until it is about two times as large in diameter as it was when you began. Drizzle the remaining 3 tablespoons of extra virgin olive oil evenly over the potatoes. Grind black pepper over the potatoes to taste.

Pop the pan into the oven and roast until the potatoes are sizzling, brown on the bottom, and golden on top, about 20-25 minutes. Remove the pan from the oven and turn the broiler to High. Sprinkle the grated Cheddar over the hot potatoes. Return the pan to the oven and broil until the cheese melts and gets just a couple little golden brown toasty bits.

Remove the pan from the oven and let the potatoes rest for 3 minutes before tossing the chopped chives over the top and serving.