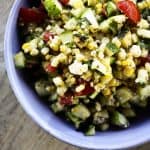 Print
Grilled Summer Salad
Summer vegetables take center stage in this seasonal salad that takes advantage of grilling sweet corn and zucchini to bring out the best of both. Serve this at your Labor Day festivities to guarantee praise! A light lemon dressing and a little feta cheese (optional) round out this refreshing and healthy-habit forming dish that can be a stand-alone vegetarian meal or accompany grilled meats of fishes with equal aplomb.
2

medium to large zucchinis

olive oil

Montreal Steak Seasoning or salt and pepper

2

large beefsteak type tomatoes

2

ears leftover grilled corn

cut from the cob.

1

clove

garlic

peeled and minced or pressed

1/2

cup

crumbled feta cheese

a fistful of fresh parsley

roughly chopped

1

tablespoon

lemon juice

salt and freshly ground pepper to taste
Preheat a clean gas grill to HIGH (or build a hot bed of coals on a charcoal grill.)

Slice the zucchini into 1/2-inch thick slabs. Brush both sides of each slab with olive oil and sprinkle with Montreal Steak Seasoning or kosher salt and freshly ground black pepper. Place the zucchini directly on the grill. With the lid open on the grill, leave the zucchini slices in place until there are grill marks on the zucchini, carefully lifting the corner with tongs to check occasionally. This should not take more than 3 minutes. Flip the zucchini and cook until the other side has grill marks, about 2 minutes. Use tongs or a spatula to transfer the grilled zucchini to a rimmed pan.

Put the rimmed pan, uncovered, in the refrigerator until the zucchini is cool to the touch, about 30 minutes to an hour.

Dice the chilled, grilled zucchini and the tomatoes. Toss them together with the remaining ingredients in a large mixing bowl. Transfer to a container with an airtight lid and refrigerate for at least an hour before serving.