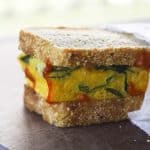 Print
Supreme Spinach and Egg Breakfast Sandwiches
Hearty, healthy, frugal and filling, these simple egg and spinach breakfast sandwiches are the happy combination of a spinach, egg and cheese bake that is made ahead of time and frozen in individual portions. When it's time to eat, just reheat as many portions as you need. What a great way to start the day!
To Make the Supreme Spinach and Egg Breakfast Bake:
2

dozen eggs

1/2

cup

milk

4

cups

fresh baby or tender spinach leaves

pre-washed or washed and dried

3

cups

grated Cheddar

Pepper Jack or Monterey Jack Cheese (or a blend)

1/4

cup

to 1/2 cup finely minced onion

freshly ground black pepper and salt to taste

nonstick cooking spray or softened butter for the pan
To Make Each Breakfast Sandwich:
1

piece

of the Supreme Spinach and Egg Breakfast Bake

2

pieces

of bread

toasted ( English Muffin Bread is an obvious choice! )

hot sauce to taste
To Make the Supreme Spinach and Egg Breakfast Bake:
Preheat oven to 350°F.

Generously butter a 9-inch x 13-inch x 2-inch baking pan or spray well with non-stick cooking spray. Be sure to get the corners and sides well, too.

Evenly distribute the spinach leaves over the bottom of the prepared pan. Scatter the onions over the spinach, then about half of the grated cheese and set aside.

Crack all of the eggs into a large mixing bowl. Add the 1/2 cup of milk and use a whisk to beat together until the mixture is an even colour. Pour gently and evenly over the spinach, onions and cheese. You can gently shake the pan a little from side to side to get the egg to fill in spaces around the spinach leaves if necessary. Scatter the remaining grated cheese over the top and bake for 22-25 minutes or until the eggs are set in the center (no longer liquidy, but they can still have just a little shimmy to them.) and golden brown around the edges and in places on top.

Remove the pan from the oven and let cool for 10 minutes before using a knife or thin spatula to run around the edges and loosen the cooked egg. Lay a cutting board on top and invert the pan and board carefully together. The egg should come out (mostly) in one piece. Allow it to cool for 10 more minutes before slicing into 10 to 12 pieces. I like bigger sandwiches, so I tend to cut it into 10 pieces. For a more delicate sandwich, cut into 12 pieces.
To Eat a Sandwich Right Away:
Place one piece of the egg bake on one piece of toast, drizzle with hot sauce to taste, top with the remaining piece of toast and eat! These are nice and moist, so you may wish to wrap one end of the sandwich with a towel or paper towel.
To Freeze the Supreme Spinach and Egg Breakfast Bake:
Place a single layer of plastic wrap down on a tray or pan. Use a spatula to arrange the pieces of egg bake on the plastic wrap with a little space between them. Cover loosely with plastic wrap and set in the freezer until solid. When they are firmly frozen, wrap each piece of egg bake with plastic wrap.

Transfer the wrapped pieces to a resealable freezer bag. Mark the date and contents and freeze for up to 6 months.

To Reheat the Frozen Egg Bake and Make a Sandwich:

Unwrap one piece of egg bake, place on a plate and cover loosely with the plastic wrap that contained it in the freezer. Heat for 1 to 1 1/2 minutes on HIGH in the microwave. Remove plastic wrap, carefully move the egg bake to a piece of toast (because it will be hot!), drizzle with hot sauce, and top with the remaining piece of toast. Happy Breakfast!