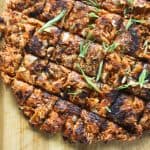 Print
Kimchi Pancake (Kimchijeon)
Kimchi undergoes a magical transformation in this crispy, savoury snack cake from something for die-hard lovers only to something that even unadventurous eaters want to try. Beware, though, this is so good it's habit forming!
1

cup

chopped kimchi

3

tablespoons

of kimchi juice

the liquid in which kimchi is packed

2

tablespoons

chopped green onion

½

cup

water

½

cup

all-purpose flour

½

teaspoon

salt

Neutral oil for frying

canola, peanut, grapeseed, vegetable, etc…
In a mixing bowl, stir together all of the ingredients (except for the frying oil) until the mixture is evenly coloured and there are no dry flour spots.

Add about an 1/8-inch coating of neutral oil to a heavy-bottomed 10 to 12-inch skillet (cast-iron or nonstick) over medium high heat. Spread the kimchi pancake batter thinly in the pan and fry until the bottom is crisp and the top is cooked most of the way through (some wet patches of batter, but mostly cooked batter on top.) Carefully flip the pancake using two spatulas for control, then continue cooking the pancake until the underside is crisp and has some charred bits. Flip the pancake over again and cook the first side for 1 minute more.

Serve garnished with chopped green onions whole in a platter for people to pull apart with fingers or chopsticks, or cut into bite sized pieces.