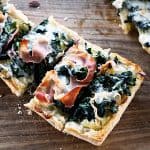 Print
White Spinach French Bread Pizzas {with or without Prosciutto}
Rich, creamy sauce, abundant spinach, cheese so copious it threatens to run off of the edges of the bread, pool, and bubble to brown in places -and does, in some cases- as it melts, and long strips of salty prosciutto. Now that's a French bread pizza.
1

loaf French bread

2

tablespoons

Extra virgin olive oil

2

cups

garlic Alfredo sauce

See foodiewithfamily.com for a fabulous Roasted Garlic Alfredo Sauce recipe., purchased or homemade

1

bag frozen cut spinach

cooked according to package directions, drained, and squeezed to remove excess moisture

3

cups

shredded mozzarella cheese

Optional but tasty: four thin slices of prosciutto

torn into rough strips
Preheat oven to 400°. Line a baking sheet with parchment paper or lightly spray with nonstick cooking spray.

Cut the French bread in half end-to-end like you're going to make a giant sandwich. Cut those halves in half again and arrange the pieces of bread on the prepared baking sheet. Drizzle the extra virgin olive oil evenly over the cut surfaces of the bread and place the pan in the oven, toasting until the edges of the bread turn golden brown. Remove the pan from the oven and spread the Alfredo sauce over the toasted bread. Divide and scatter the spinach, then mozzarella cheese over the Alfredo sauce. If using the prosciutto, arrange that over the top of the mozzarella cheese. Bake for 10-15 minutes, or until the cheese is fully melted and bubbly. If you like the cheese to have little toasted brown areas, you can leave the pizzas in for another 5 minutes or until it is done to your liking.

Let the pizzas rest for 5 minutes before slicing into servings if you're being refined. If you're indulging, put one whole section of the pizza on your plate. Serve hot or warm!