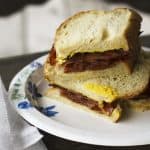 Print
Fried Bologna Sandwich
There is nothing fancy about this simple, hearty comfort food other than its near magical ability to put a smile on the face of anyone who eats it.
Make a cut from a center point of the bologna through the outer edge of the slice. In other words, kind of give your bologna slice a Pacman mouth.

Lay your bologna in a cold, heavy frying pan and turn the heat to medium.

When the pan is fully heated and the bologna starts to show signs of browning around the edges, flip over with tongs or a fork. Continue cooking until well-browned on the other side.

Pile the bologna onto one slice of the waiting bread. Repeat with any bologna that didn't fit in the pan the first time (you don't have to wait for the pan to cool off, just keep in mind it will cook faster.)

Spread yellow mustard on the remaining slice of bread use it to top off the sandwich. Slice in half and serve immediately.