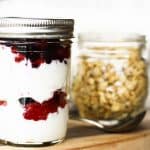 Print
Vanilla Yogurt and Berry Parfait | Make Ahead Mondays
Start your morning right with a Vanilla Yogurt and Berry Parfait. Less than 10 minutes 1 day a week will yield breakfasts for every morning! Creamy, sweet vanilla yogurt is layered with tart frozen mixed berries in jars and refrigerated for whenever the urge strikes. As the week goes on, the berries thaw and release their juice, flavouring the yogurt. Serve with granola or Grape Nuts!
For Six Parfaits:
1

container Greek or regular Vanilla Yogurt

32 ounce

1 1/2

cups

frozen mixed berries

unsweetened

6

jelly jars with lids or dessert bowls

8 ounce
Spoon about 1/4 cup into the bottom of each of the 6 jelly jars or dessert bowls. Over each of those, spoon about 2 tablespoons of frozen mixed berries. Press the berries lightly into the yogurt. Top with another 1/4 cup of yogurt, 2 tablespoons of berries and then divide the remaining yogurt between the jars over the berries. Cover tightly and refrigerate for up to a week.