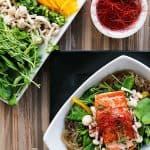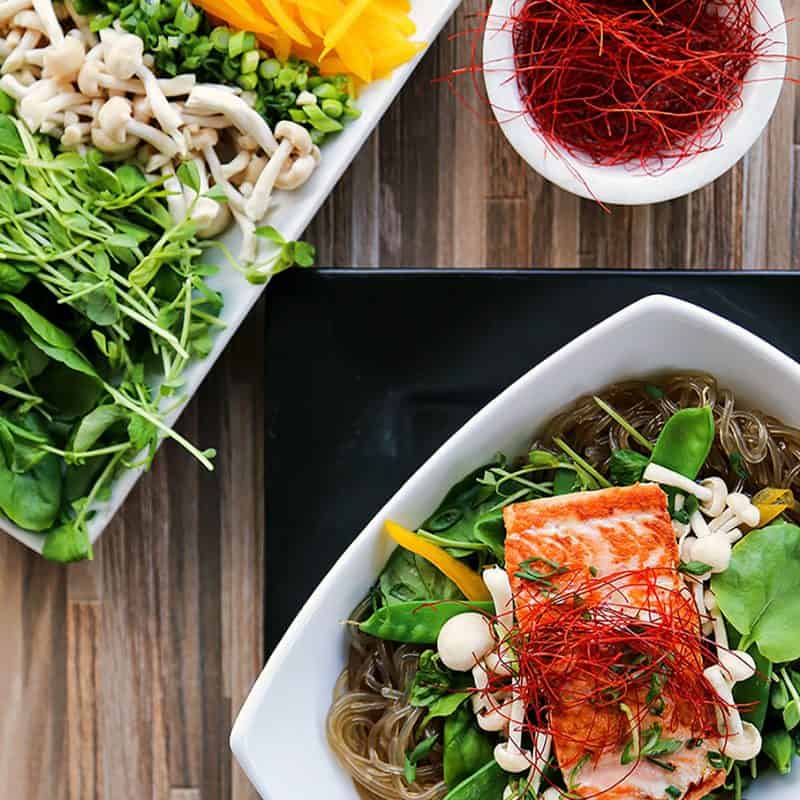 Print
Salmon + Greens Asian Noodle Bowls
Salmon + Greens Asian Noodle Bowl. Toothsome noodles topped with fresh mushrooms, watercress, pea shoots or bean sprouts, green onions, thinly sliced bell peppers, snow peas, and simple seared salmon, with a ladle or two full of garlic and ginger infused vegetable broth and a pinch of chili threads perched on top.
2

quarts

vegetable broth

4

inch

piece fresh ginger

lightly smashed with a pan or meat tenderizer

4

large cloves garlic

peeled

12

ounces

glass noodles

3

cups

snow pea pods

3

teaspoons

sunflower or canola oi

4

boneless

skinless salmon filets

2

cups

watercress leaves and tender stems or arugula

1

cup

pea shoots or bean sprouts

1

yellow bell pepper

stem and seeds removed, thinly sliced

6

green onions

root ends trimmed, thinly sliced, 1 tablespoon reserved

1

cup

very thinly sliced shiitake mushrooms or beech mushrooms

enoki
In a medium sized pot, bring the vegetable broth, ginger, and garlic to a boil. Lower the heat and simmer for 5 minutes. Drop in the glass noodles and simmer for 5 to 6 minutes, or until cooked through and tender but still toothsome. Use tongs to transfer the noodles, ginger, and garlic to a colander. Keep the broth simmering. Add the snow peas and simmer for 2 minutes. Use the tongs to transfer the snow pea pods to the colander, gathering them in a neat little pile to the side. Keep the broth simmering.

Place a cast-iron or other heavy-bottomed skillet over a high burner. When you can feel heat radiating from the pan and it is uncomfortable to hold your hand too close to the surface, drizzle in the sunflower oil and swirl the pan to coat the surface. Salt both sides of the salmon filets and carefully lower them into the pan. Do not attempt to move the filets for at least 2 minutes. When they are golden brown on the bottom and the cooked area extends at least halfway up the sides, ease a flexible spatula under them and flip carefully, about 3 minutes. Repeat on the second side, cooking the filets to your desired doneness. Transfer to a plate.

Divide the cooked glass noodles between 4 deep serving bowls. Distribute the watercress or arugula, pea shoots or bean sprouts, bell pepper, green onions (minus the reserved amount), and mushrooms over the noodles. Divide the hot broth between the bowls, then lay 1 or 1 1/2 salmon filets on each bowl. Garnish with the reserved green onions and a hearty pinch of chili threads. Serve immediately.