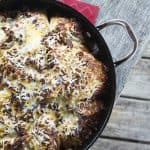 Print
Bacon Cheddar Bubble Bread
Crispy cheese capping soft, buttery bread that is studded with bacon and more melted cheese.
1

pound

refrigerated

or thawed, previously frozen bread dough

1/2

cup

butter

melted

1 1/2

cups

finely shredded Cheddar cheese

or a blend of Cheddar and Monterey Jack, divided

1

cup

crumbled leftover cooked bacon

2

tablespoons

chopped fresh chives

parsley, or a combination of the two

1

tablespoon

minced onions

optional

nonstick cooking spray or additional butter or oil for the pan
Preheat oven to 350°F.

Generously grease (or spray with nonstick cooking spray) an oven-safe 12-inch skillet or a bundt pan.

In a small mixing bowl, stir together the butter, 1 cup of the cheese cheese, bacon, chives or parsley, and minced onions. Set aside.

Divide the bread dough into 32 pieces and place the pieces in a large mixing bowl.

Pour the butter mixture over the bread and toss gently to distribute everything evenly and coat all the dough well.

Use your hands to arrange the dough evenly over the bottom of the greased pan.

Sprinkle the remaining cheese over the top of the dough.

Bake for 25-30 minutes or until the cheese on top is fully melted and crisped and the bread is golden brown.

Either turn out onto a serving plate or wait until the pan is comfortable to the touch before serving.