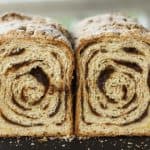 Print
Cinnamon Swirl Bread
Cinnamon Swirl Bread taken to another level: tender white bread topped with a cinnamon streusel crown and filled with the most deep, dark, moist cinnamon swirl imaginable. This makes the ultimate cinnamon toast. Adapted gently from King Arthur Flour
For the dough:

3

cups

12 3/4 ounces all-purpose flour

1/3

cup

3/4 ounce instant potato flakes or 1/4 cup (1 1/2 ounces) potato flour

1/4

cup

1 1/4 ounces nonfat dry milk

1 1/4

teaspoons

salt

1/2

teaspoon

cinnamon

3

tablespoons

1 1/4 ounces granulated sugar

2 1/2

teaspoons

instant yeast

4

tablespoons

1/2 stick or 2 ounces butter, softened to room temperature

1

cup

8 ounces water

For the Filling:

1/4

cup

2 ounces raw sugar

2 1/2

teaspoons

cinnamon

divided

1/4

cup

1 1/2 ounces raisins or currants

2

teaspoons

all-purpose flour

2

tablespoons

granulated sugar

1

large egg

beaten with 1 tablespoon of water until smooth

For Topping:

2

tablespoons

1 ounce cold butter

2

tablespoons

7/8 ounce granulated sugar

1/4

teaspoon

cinnamon

1/4

cup

all-purpose flour
For the Dough:
Combine all of the dough ingredients in a large mixing bowl (or the work bowl of a stand mixer), mixing until the dough comes away from the sides of the bowl.

Knead until the dough is smooth and satiny. By hand, this will take about 10 minutes. By mixer, it will take between 5 and 7 minutes.

Oil a large mixing bowl or proofing bucket and transfer the dough to it, covering lightly with plastic wrap.

Set aside in a warm, draft-free place to rise until puffy and nearly doubled in bulk.
For the Filling:
Pulse together the raisins, raw sugar, 1 1/2 teaspoons of the cinnamon, and all-purpose flour until the raisins have been obliterated and the sugar forms clumps. It will resemble this:

Stir together the remaining cinnamon and granulated sugar in a small bowl and set aside.
To Assemble:
Lightly oil your work surface and transfer the dough to it.

Gently roll the dough into a rectangle that is approximately 16" x 8".

Brush the dough with about 1/2 of the egg wash, scatter the raisin/cinnamon mixture evenly over the top, then sprinkle the cinnamon sugar evenly over everything else.

On the short end of the rectangle, begin rolling the dough up log-roll style. Keep it tight but don't be so heavy handed that you stretch the dough. Making a tight roll eliminates air pockets in the swirl.

Pinch the seams and ends closed.

Tuck the ends under and move the log into a greased 8 1/2" x 4 1/2" standard loaf pan.

Cover with lightly greased plastic wrap or parchment and let rise at room temperature for about an hour, or until the dough has risen just above the edge of the bread pan.
To Top and Bake:.
Preheat oven to 350°F.

Combine the butter, sugar, cinnamon and flour with a pastry blender (or in a food processor) until crumbly.

Brush the top of the risen loaf with the remaining egg wash and sprinkle all the topping over the egg wash. very gently press the topping into an even coating.

Bake the bread for about 45 minutes. If it begins browning too quickly you can tent it with foil in the last 15 minutes of baking.

Place bread pan on a cooling rack for five minutes, then run a butterknife around the edges of the loaf to loosen it.

Place the pan on its side and slide the loaf out (this should minimize the amount of streusel topping that falls off.) Turn the loaf upright and cool completely before slicing.