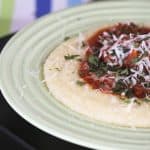 Print
Make Ahead Meatballs | Baked Meatballs In Sauce and Polenta (Make Ahead Monday)
There is no dish more comforting than a bowl of creamy polenta topped with piping hot perfect meatballs in garlicky red sauce with a generous handful of grated cheese on top. ...And when the meatballs are waiting for you in the freezer, this dinner comes together in mere moments. Make Ahead Mondays save the day! These versatile meatballs are also great in barbecue sauce, in sweet and sour meatballs, in soups and on sandwiches and pizzas.
For the Make Ahead Meatballs:
4 1/2

pounds

of lean ground beef

1 1/2

cups

fresh bread crumbs

1

cup

onion

minced super fine (I use the food processor to obliterate them to placate the anti-visible veg crowd)

3

cloves

of garlic

peeled and very finely minced or pressed

3

large eggs

1/2

cup

fresh parsley

finely chopped (or substitute 3 tablespoons dried parsley flakes)

1

tablespoon

kosher salt

1/2

teaspoon

freshly ground black pepper

2

tablespoons

Worcestershire sauce

1/4

teaspoon

ground nutmeg

preferably freshly ground
For the Baked Meatballs in Sauce:
25-30

frozen meatballs

directly from the freezer

5

cups

of your favourite red sauce

Marinara, ragu, etc...

2

anchovy fillets

finely chopped

1/2

cup

shredded Romano

Parmesano or Asiago cheese

1

cup

shredded mozzarella cheese

nonstick cooking spray or olive oil to grease the pan
For the Creamy Polenta:
5

cups

chicken stock

or water

1

teaspoon

kosher salt

1

cup

coarsely ground cornmeal

polenta grains

1/4

cup

crumbled gorgonzola cheese

substitute Parmesan cheese if you don't like bleu cheese!

4

tablespoons

butter

coarsely ground black pepper to taste
Additional Optional Garnish:
Freshly grated Parmesano

Romano or Asiago cheese

Minced fresh parsley
To Make the Make Ahead Meatballs:
Preheat oven to 350°F.

Line 2 rimmed half-sheet pans (13-inch x18-inch) with parchment paper and set aside.

Combine all of the ingredients in a large mixing bowl and use your hands to mix it gently until all ingredients are evenly distributed. Use a medium sized disher* to scoop equal sized amounts of the meat mixture onto the prepared pans leaving about 1/4-inch of space between the meatballs. If the shapes are shaggy, you can go back through and lightly roll each one between your hands to even out the shape a bit.

*No disher? No problem. Cover your work surface with waxed paper and turn the meat mixture out onto it. Gently pat it out into a large rectangle. Use a pizza cutter or knife to mark the mixture into 10 evenly sized columns on the long side of the rectangle and 6 evenly sized rows on the short side. This will give you 60 equally sized amounts. Roll each one into a meatball, placing them on the parchment lined sheets as directed above.

Bake the meatballs for 30 minutes. Transfer the meatballs to a platter, cover lightly with plastic wrap and refrigerate until completely cool. Place the platter in the freezer until the meatballs are frozen through. When they're completely hard, transfer them to a resealable plastic bag, squeezing as much air from the bag as possible before sealing. Label the bag and freezer for up to 8 months.
To Make Baked Meatballs in Sauce:
Preheat oven to 375°F. Spray a 9-inch by 13-inch pan with non-stick cooking spray or brush with olive oil. Arrange the frozen meatballs evenly in the pan

In a mixing bowl, stir the sauce, chopped anchovy fillets, and shredded Romano, Parmesano or Asiago cheese together. Pour the mixture over the meatballs, then sprinkle the mozzarella cheese over the top.

Bake, uncovered for 30-40 minutes, or until the sauce is bubbly, the cheese is slightly browned and the meatballs are heated through.
To Make the Creamy Polenta:
Bring the stock or water to a boil over high heat in a medium, heavy-bottomed pot. Add the salt, lower the heat to medium and then whisk in the cornmeal, a little at a time, until it is all in and the cornmeal begins to swell and stay suspended in the liquid. Drop the heat to low and let simmer, stirring occasionally with a wooden spoon, until the polenta is quite thick, the grains are all swollen and tender and the liquid is absorbed.

Turn off the heat, add in the butter and crumbled or grated cheese, and stir until both are completely melted and incorporated.
To Serve:
Ladle the polenta into serving bowls and top with 3-6 meatballs, depending on how hungry you are! Garnish the bowls with additional grated Parmesano, Romano or Asiago cheese and minced fresh parsley if you'd like.